Trauma informed practice in the early years
Trauma informed practice in the early years
Claire Dorris, Senior Research and Policy Analyst at the National Children's Bureau, underlines why evidence-based practice is vital in work to lessen the effects of early trauma.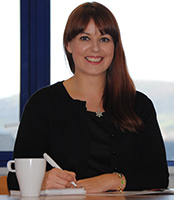 We know from research just how important a child's early experiences are to their development, and how these experiences can shape their educational achievements, the type of job they get, their family circumstances and much more.
We also know that children who experience sustained traumatic experiences in the early years, known as Adverse Childhood Experiences or 'ACEs', are even more likely to have poor outcomes in later life.
A Better Start (ABS) areas were funded in part due to the higher levels of poverty and wider multiple adversities faced by families in these areas compared to other areas of England. Consequently, the families that ABS services work with are therefore more likely to have experienced trauma. This is why ABS partnerships are working in a 'trauma-informed way' – that is, working to understand and acknowledge the trauma that families may have experienced and how this might have impacted them, and using this information to decide how best to support them.
In developing their services, ABS partnerships have paid close attention to the evidence, which reinforces the need for prevention and early intervention approaches, ensuring basic needs are met, prioritising the development of strong attachments and parent-infant relationships, and providing a healthy environment in which children can live and grow. Partnerships are delivering a wide range of preventative and specialist services, supporting families who have already experienced trauma, or who are at increased risk of trauma, all aiming to make a lasting difference for children and families they work with.
While many ABS services have been designed to primarily impact on the outcome areas of social and emotional development, speech and language development and diet and nutrition, they all recognise the importance of embedding effective trauma-informed practice. You can read more about some of the services being delivered across the partnerships by clicking on the links below:
There are challenges when working with children and families who have experienced trauma or adversity. Practitioners may be worried about doing something wrong, or about retraumatising the person they are working with by asking them to retell their story. They may also be concerned at the potential secondary impact on staff and volunteers of working with those who have experienced trauma. The commitment across ABS partnerships to overcome these challenges and best support families is clear, and there are several common threads of 'good practice' which are ultimately contributing to improved outcomes for children and families. These include:
Sharing knowledge: ABS partnerships have all prioritised awareness raising activities, making sure that everyone working with families knows what trauma is, how it can affect children and families, and how best to support them, and have developed resources and training/ information sharing opportunities to do this.
Working with others: ABS partnerships have shown that working in partnership with others who have a role to play in supporting families is particularly important, for example across police, health, education or social care sectors. This collaborative approach ultimately provides families with a much better service, uses everyone's skills and knowledge in the best way, avoids anyone duplicating what someone else has already done.
Supporting the workforce: Working with trauma-experienced families can be difficult for practitioners. Providing appropriate opportunities for the workforce to feel safe and supported, to process what they have heard following difficult sessions, and to find support for their own wellbeing are essential components of a trauma-informed model of practice, and evident across ABS partnerships.
The five ABS partnerships are driving forward change, working collaboratively with others to inform and influence the development of practice both locally and more widely.
You can read more about this work in our latest Programme Insight: Trauma-informed practice in early child development. Insights from The National Lottery Community Fund's A Better Start Programme
About A Better Start
A Better Start is a ten-year (2015-2025), £215 million programme set-up by The National Lottery Community Fund, the largest funder of community activity in the UK. Five A Better Start partnerships based in Blackpool, Bradford, Lambeth, Nottingham and Southend are supporting families to give their babies and very young children the best possible start in life. Working with local parents, the A Better Start partnerships are developing and testing ways to improve their children's diet and nutrition, social and emotional development, and speech, language and communication.
The work of the programme is grounded in scientific evidence and research. A Better Start is place-based and enabling systems change. It aims to improve the way that organisations work together and with families to shift attitudes and spending towards preventing problems that can start in early life. It is one of five major programmes set up by The National Lottery Community Fund to test and learn from new approaches to designing services which aim to make people's lives healthier and happier
The National Children's Bureau is coordinating an ambitious programme of shared learning for A Better Start, disseminating the partnerships' experiences in creating innovative services far and wide, so that others working in early childhood development or place-based systems change can benefit.
Sign-up to join our mailing list