'Around Again': Building a community support project
'Around Again': Building a community support project
Debbie Halfpenny, Family Mentor Assistant Manager at Small Steps Big Changes in Nottingham, lifts the lid on work to support families in the local community who may be struggling.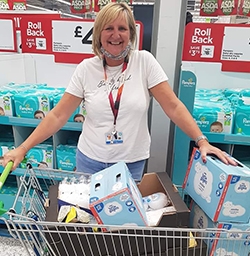 As a manager working in the Small Steps Big Changes (SSBC) commissioned Family Mentor Service, I was regularly hearing of and coming into contact with families who were really struggling. Nottingham City has high levels of deprivation and the Covid-19 pandemic had disproportionately increased disadvantage for some families and communities.
As a team working with the families impacted, we wanted to help address these inequalities in a way that was low cost, built with community-need and community-capacity in mind and capitalised on the covid-19 community spirit; all of which would hopefully support it to be sustainable in the longer term.
'Around Again' started in September 2020 and was brought to life through the Family Mentor Service alongside The Vine – a community hub, which provides a physical space from which to run the service. The Family Mentor Service, delivered in St Ann's, Hyson Green and Arboretum by Framework HA, is the driving force behind the offer, with staff members and volunteers involved in the practical running of the scheme.
A Facebook page "Around Again Nottingham" was set up, which marked the baby bank being officially open for business. The premise behind the bank is simple:
It's free to everyone
People donate baby equipment, toys and clothes that still have use but are no longer required
Donated items are then gifted to others.

The cycle starts again

The baby bank cycle
Our method of operating is exemplified in the name 'Around Again'; parents can request what they need but if there is still some use left in the items after, they are asked to donate them back to go 'Around Again'.
This has been very positively received, with feedback reflecting that the opportunity to be able to contribute later down the line reduces people's negative feelings about having to receive donations in the first place; it makes it feel less like they are receiving charity.
Initially there was some scepticism and concerns that the offer might be abused, this however has not been the case. What we have seen is that people genuinely want to support the scheme.
It's also given us a great opportunity to engage with families. A chat as they collect or donate, allows us to share information about the support SSBC offers and build relationships and trust with families that we may, otherwise, have struggled to engage with.
We've also linked up with local partners and agencies so they can collect items on behalf of families among their caseloads. This has included midwifes, health visitors, family nurse partnership (FNP) nurses, Salvation Army, and homeless shelters. We've also worked in partnership with other baby and food banks, taking larger items (because we have storage) which they've had donated and providing smaller items to families they are in contact with.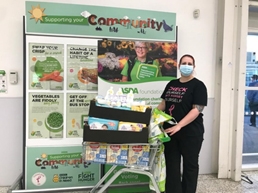 Within a few months 'Around Again' has grown phenomenally reaching a wider and wider audience. We are now one of the named charities of our local Asda supermarket, receiving regular donations of toys, nappies, baby toiletries, toothpaste and toothbrushes.
We are working with Himmah and Hope Church who send us regular donations of baby food, milk and nappies. Read On Nottingham (Nottingham's National Literacy Trust Hub) have donated books for our families and we have also recently partnered with the Hygiene bank project who supply us with nappies, sanitary wear, and cleaning products.
We are now in the process of starting a reciprocal referral arrangement with Sharewear who distribute clothing, bedding, towels etc. So, everyone benefits.
We've been truly overwhelmed by how much the communities have given to support us, not only individuals and partner organisations but also through our random act of kindness appeal in the run up to Christmas. This resulted in over 1500 gifts being donated – including 300 from our local county fire service, which not only donated but helped to distribute to some of the 11 chosen charities who benefitted from the appeal.
Over the winter months we ran a community coat rail, which was constantly refilled https://www.nottinghampost.com/news/nottingham-news/people-being-asked-leave-coats-4725955
Due to the success of this we're looking at a uniform rail for the start of the September term.
We have a baby event planned in July, which will not only offer opportunities for families to collect baby items but will also be a fun event supported by lots of our partners from across the city.
It has enriched the lives of so many in such a short time, and been such a whirlwind I find it hard to believe. The hope is that going forward this project will remain within the community for as long as it's needed.
About A Better Start
A Better Start is a ten-year (2015-2025), £215 million programme set-up by The National Lottery Community Fund, the largest funder of community activity in the UK. Five A Better Start partnerships based in Blackpool, Bradford, Lambeth, Nottingham and Southend are supporting families to give their babies and very young children the best possible start in life. Working with local parents, the A Better Start partnerships are developing and testing ways to improve their children's diet and nutrition, social and emotional development, and speech, language and communication.
The work of the programme is grounded in scientific evidence and research. A Better Start is place-based and enabling systems change. It aims to improve the way that organisations work together and with families to shift attitudes and spending towards preventing problems that can start in early life. It is one of five major programmes set up by The National Lottery Community Fund to test and learn from new approaches to designing services which aim to make people's lives healthier and happier
The National Children's Bureau is coordinating an ambitious programme of shared learning for A Better Start, disseminating the partnerships' experiences in creating innovative services far and wide, so that others working in early childhood development or place-based systems change can benefit.
Sign-up to join our mailing list.