The great outdoors, coming alive in Blackpool
The great outdoors, coming alive in Blackpool
Colin Smy, Community Engagement Officer at Blackpool Better Start, describes how developing parks and open spaces is a key element in improving early years outcomes in the town.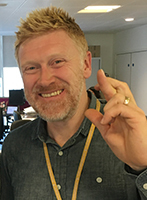 In 2015, we began work on an ambitious plan to rebuild several of the parks in Blackpool. The Parks & Open Spaces Project came about because we wanted to improve children's health and development by giving a boost to their physical activity.
But making this happen could only be possible if we improved our open spaces. While parks have always existed in Blackpool, there are very few with play equipment appropriate for 0 to 4-years-olds and a number of the parks within the A Better Start wards had spiralling levels of anti-social behaviour. The general opinion of these parks was either do not use them at all, or keep the trees high to block them from view. Basically, the complete opposite of the effect a park should have in a community.
To turn this around we've invested £1.6m into local outdoor spaces. Eight parks, five play areas and two community gardens have benefited and we're rapidly approaching the end of the project. There are some small tasks to finish off and one in particular that we're very excited about, but we don't want to give too much away yet so watch this space!
All of our parks have been completed in collaboration with the local community. No park has been re-designed without extensive input from the local people who will use them. These parks certainly haven't been designed and built for those of us who work in the Centre for Early Childhood Development; they have been created for the children in their early years, and their families, who live in our A Better Start wards. It was their ideas that led to pirate ships, musical blocks, singing stones, nature trails, fairy meadows, rainmakers, memory swings, worm farms, mud kitchens and so much more to be introduced to parks across Blackpool.
A key element in the requests we received has been to provide 'natural' play, so we've incorporated mounds, wooden climbing frames and low level equipment that children can actually reach.
What looks like a mound of earth to adults, can be a mountain or a castle to a child in their early years. So what started as just a simple build project grew as took the opportunity to make these kind of changes to heart. Our initial idea of just some minor landscaping changes to a few parks grew was bolstered with an increased budget and led us to actually build new parks and even physically move some of the existing ones.
And if building parks wasn't enough we also created a brand new workforce of Early Years Park Rangers. After the initial work to improve a couple of parks was completed, we saw the value of having the Rangers help families engage and interact with their revamped open spaces.
The Early Years Park Rangers have brought another dimension to the Parks and Open Spaces Project and has helped families get the most from the parks and nature by delivering weekly sessions and forest schools all across Blackpool. We've had over 6000 registrations for Early Years Park Rangers' activities and families continue to enjoy their sessions during the current crisis.
Way back in 2015, we held our first consultation at Revoe Learning Academy to start development on that park. The community that came out that day were clear that the park was not something they had much affinity for. However, they got on board and used their imagination to help shape the designs for the early years play area and brought hard work and thousands of pounds of donations to help clear the space for the community garden. Two unused bowling greens and a brick building were transformed over the next year to become busy community spaces. There followed the clearing of overgrowth, removal of dead trees, the transformation of a third bowling green, the installation of a nature trail and picnic benches. A second phase of development has turned the park into a vibrant space used by not only the Revoe community but families from all over Blackpool. We've held two big Fathers' Day events on the park and the space continues to grow. Crime and vandalism is a thing of the past and the space just feels alive.
In George Bancroft Park, we took an under-used playground and literally moved it to the other end of the park, to make it more accessible for families, in a better lit and safer position. We've held events across this park, attracting nearly 1000 people with a genuine interest in accessing open spaces again.
The development of Claremont Park was another big project where we took great care to involve local families and partners. We wanted to make sure we got it right and so took the time to listen and adapt plans till we had a design that really reflected community interests. We also put in a forest school and, like Revoe Park, the turnaround in use of the space has been phenomenal. During lockdown, this park piloted a joint project between the Park Rangers, Active Blackpool, Blackpool Football Club Community Trust and Westminster Academy, to provide outdoor activity sessions for over 60 children every Wednesday.
The Mereside project has already provided three new play spaces and an open park area and will eventually see a wildflower meadow at the entrance to Blackpool by the famous windmill. All these ideas have come from local people, even forming a new community group on the way, which has since gone on to clear space for a new community garden and planted the Mereside orchard.
Similarly, Grange Park has seen three spaces revolutionised at the Family Hub, making play spaces available front and back and two spaces at the brand new Community Centre @thegrange. A giant apple pagoda has been created in the centre of an early years farm that the Early Years Park Rangers are able to access during all weathers to offer activity sessions to families and children.
Our expertise has even been called on to build a new playground right in the middle of a new-build housing estate at Queens Park, marking a significant change in the attitude to how social housing should look for Blackpool families.
More than anything the opportunity to experience the outdoors has been radically transformed in Blackpool. From high rises to community neighbourhoods, there are lots more green spaces and places for children to play. Everywhere the project has worked, you'd be hard pressed to find a space that the community isn't proud of and doesn't feel an affinity for. Children and families in the area now have a stake in their local parks and outdoor places, and that's good for everyone.
About A Better Start
A Better Start is a ten-year (2015-2025), £215 million programme set-up by The National Lottery Community Fund, the largest funder of community activity in the UK. Five A Better Start partnerships based in Blackpool, Bradford, Lambeth, Nottingham and Southend are supporting families to give their babies and very young children the best possible start in life. Working with local parents, the A Better Start partnerships are developing and testing ways to improve their children's diet and nutrition, social and emotional development, and speech, language and communication.
The work of the programme is grounded in scientific evidence and research. A Better Start is place-based and enabling systems change. It aims to improve the way that organisations work together and with families to shift attitudes and spending towards preventing problems that can start in early life. It is one of five major programmes set up by The National Lottery Community Fund to test and learn from new approaches to designing services which aim to make people's lives healthier and happier
The National Children's Bureau is coordinating an ambitious programme of shared learning for A Better Start, disseminating the partnerships' experiences in creating innovative services far and wide, so that others working in early childhood development or place-based systems change can benefit.
Sign-up to join our mailing list.