Transition Network
Transition Network dreams of a world where people in their local communities have the ability to deal with the societal and environmental challenges which affect them. In that world, communities will be more organised and connected to each other; more aware of opportunities, and better able to act when they arise; be better able to help set the agenda of change, holding more power within decision-making processes that affect them.
Fundamentally, Transition Network's dream is of thriving community power and agency, based on the Transition model's principles of social justice and community resilience, as interpreted by communities themselves. To achieve this goal, Transition Network has been awarded just over £5,900,000 in National Lottery funding for their ten-year transformational and long-term change project* 'Growing infrastructure, networks and capacity for Transition in Britain' by The National Lottery Community Fund's Growing Great Ideas programme. The project will build on the amazing work that Transition groups have been doing over the last 10 years in their local communities.
Transition Network's commitment to community-led change underpins its belief in subsidiarity; in the decentralisation of power and decision-making to the appropriate level: as centralised as necessary for the work to be effective, but as close to the community as possible to enable meaningful, empowered involvement from those who are best placed to know what's needed in the community.
"Part of our vision is to create more of an infrastructure to support that development to happen," says Mike Thomas, Strategic Development Worker. "We want to support the local Transition groups to build what they believe their vision of a thriving community is, give them an infrastructure for thinking more systemically, for having a more holistic vision, as well as learning from them what has been successful so it can be shared with others."
When it comes to who constitutes those communities, Mike is very clear about the central place of inclusivity in Transition Network's vision. Both within communities and between them, Transition Network's goals over the coming decade and beyond recognise the fact that access to resources, power and agency are unevenly distributed, and seek to rectify this state of affairs. For instance, local council declarations on the climate emergency (where they exist) depend on the council area's geography, demography, resources, population density, and myriad other factors. In some parts of the UK, legislation, such as Wales' Future Generations Act, enables change, whereas in others, change is limited by macro-scale factors such as scarce resources, or lack of expertise.
"This is not just about a small group, but about who else is in the community, who's most affected, who already has some of the solution," Mike says.
Ecologies at different scales
Transition Network is part of a complex ecosystem that is multi-layered, and Mike describes it as consisting, broadly, of two levels, or scales.
The first, he says, consists of communities, Transition groups, and individuals within those communities connecting with each other and organisations relevant to them. Every Transition group in the UK (of which there are around 300), has links with other organisations. At this level, Mike describes the project's role as facilitating even more connections, particularly with groups and networks whose work lies beyond the remit of traditionally 'green' issues.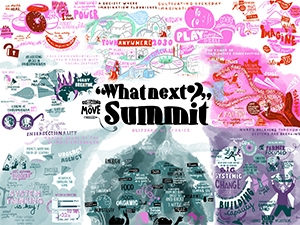 The second, Mike says, is the higher-level scale wherein Transition Network is attempting to bring together organisations to find synergies which enable them to increase their impact on the ground. As part of this strand, they recently held the 'What Next Summit', which brought together organisations and community activists across the UK to build community power. They are also working as part of a network of organisations, called the CTRLshift coalition, which seeks to provide a space for those organisations working on systemic transitions across a range of sectors - from reform to radical alternatives - to collaborate and to mobilise local and regional communities to step into and exercise agency over their futures. It currently includes people from Regenerate Devon, the Permaculture Association, Shared Assets, Big Local, Timebank Hull and East Riding, and more.
Power to the people
The project takes inspiration from the 'Transit model' for change, of widening, deepening and lengthening: deepening the movement by becoming more embedded and enabling communities to act more effectively; widening by fostering more activity in more places, with a more diverse range of people; and lengthening by making the work more resilient and better able to be reproduced.
To this end, one of the things Transition Network will be doing with the funding made possible thanks to National Lottery players is a grant stream to provide local communities and groups with seed funding and free support in order to build capacity and resilience. Mike says they will help these groups to build their own ecosystems, particularly by supporting them to think through who isn't yet benefiting from the work, and what needs to be addressed within communities in order to help them to thrive in an inclusive way.
They will also work with groups to create a hub structure within the Transition movement in England and Wales, to enable local Transition groups to have a voice within the national network, and to enable them to interact with the international Transition movement (which operates in over 30 countries worldwide). By creating the infrastructure for more connectivity between groups, this work will enhance the resilience of the transition ecosystem.
One of the major challenges Transition will face in achieving these goals, though, is building on existing connections to create a thriving community of linked up groups.
"It's a bit like when you're at a wedding," explains Mike, "and no one's dancing. And then three people get up and start dancing. Next thing you know, everyone's up dancing. You've got to get the three people up dancing, and then once you've done that hopefully you'll get a lot more people wanting to come to the party."
In practice, Mike says the question is how to create infrastructure such that, first of all, people actually want to use and engage with it, and second of all, it creates benefits for communities without being too much of a burden for them to engage with. People understand and are willing to talk about big social problems - but scaling up their ability to do the work to address those problems remains challenging.
Part of the answer will be reducing the reliance on voluntary labour. As it stands, Mike says, the Transition movement is mainly voluntary.
"We need to think a lot more about how livelihoods can be created out of this work," he says, "and how transition becomes a long-term viable approach. You can't do that without people being able to make a livelihood out of it."
Seed funding which Transition Network has already given out, using COVID response funding from The National Lottery Community Fund has also had very powerful outcomes, like arranging visioning activities with local councils to spark change. With "proper investment", Mike believes these groups could have a much bigger impact.
You can keep up with what Transition Network are doing at their website, www.transitionnetwork.org (redevelopment underway; follow on Facebook and Twitter) and their Covid response Transition: Bounce Forward project here (follow on Facebook and Twitter). You can learn more about the CTRLshift project here.
Photo credits:
Anita Roy
Fanny Didou
* Confirmed funding for three years, with funding after this to be agreed with our UK Funding Committee.
Growing Great Ideas
Our Growing Great Ideas programme has a focus on supporting transformational and long-term change.