Slow Ways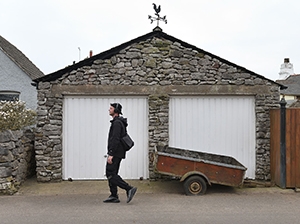 Walking. A humble activity, and yet powerful, too. An activity which, according to Slow Ways can help solve the problems which face society: from fragmentation of communities, to the ecological and climate crisis, challenges with healthcare and economic uncertainty on both personal and societal levels. Slow Ways believes that walking (and wheeling) between places, in community, can be vital for the development and maintenance of identity and culture, and now it has been awarded £3 million in National Lottery funding for a seven year transformational and long-term change project* by The National Lottery Community Fund.
Slow Ways is an initiative that aims to create a national network of walking routes, using existing paths to connect every village, town and city across the UK. The purpose of the network is to make it easier for people to walk or wheel between neighbouring settlements, and to imagine, plan and go on walking journeys. It was born to realise a relatively simple belief: as Founder and Chief Exploration Officer Daniel Raven-Ellison puts it, "we should all be able to walk reasonably directly, safely, and enjoyably between any two neighbouring settlements in the country. And if we can't do that, maybe something is going a bit wrong."
Fundamentally, Slow Ways is about building walking infrastructure at various scales in a way that brings people and communities together.
"Walking infrastructure should be delightful," says Rob Bushby, Slow Ways Partnership Lead. "Infrastructure is often very turgid and boring and off-putting, so how do you make it really exciting and an attractive part of peoples' lives?"
This infrastructural vision spans scales - from the national to the hyperlocal. In a very concrete sense, these routes are "ultra-personal", connecting "local people to local places, local communities," says Daniel.
And yet this intimate, personal aspect of Slow Ways doesn't make the project individualistic - far from it. "The fact that you're having that same experience as someone at the other end of the country - facing the same problems, the same issues, the same hope, the same ambitions - is extremely binding," Daniel explains.
More than just walking
Slow Ways isn't about providing more hiking routes for those who identify as 'walkers'. While, of course, those who already enjoy recreational walking are included within Slow Ways' audience, they aren't necessarily the focus. Instead, Slow Ways is keen to involve those who don't already feel that they are 'walkers'.
"It's not purely about walkers...it's about walking," says Bushby, noting that Slow Ways' vision is to create infrastructure for walking that people can integrate with their day-to-day lives and existing activities - like to get together for a knitting group.
A diverse ecosystem of groups is evolving around the development of the network of walking routes itself. Around 800, including historical re-enactment groups and Scouts, have signed up across the country to help map and review Slow Ways routes. Fifteen town and parish councils (so far) formally support the project in various ways.
Despite the richness of this interest, there is plenty of room to expand the ecosystem, particularly through connections with "unusual suspects", as Rob puts it. He recognises the importance, as well as the challenge, of fostering this diversity both in terms of how people use Slow Ways (for example, to get to football matches), and in terms through which people feel comfortable and welcome to use them - particularly relating to factors such as class, ethnic and cultural heritage, nationality, ability or disability, access to the digital world, and age.
"The people using paths around the country do not reflect the diversity of Britain," says Daniel. "Not only does that have an impact on their opportunities... but it actually has an impact on how successful Slow Ways can be in delivering a successful network; we're not going to gain from their experiences, their leadership, their stories, to make what we're doing really flourish."
For instance, Slow Ways are trying to work with people with diverse mobility requirements and related organisations to understand and share which parts of the landscape are accessible to whom, in order to better co-create routes.
The Path to Success
Slow Ways started during the first COVID-19 lockdown, when over a single month 700 volunteers contributed a years' worth of volunteering to create 7,000 routes, stretching over 100,000 kilometers. The next stage of the journey is now to review each route for directness, safety, access and enjoyability.
Once the network has been completely reviewed, the emphasis will shift to one of narrative building, with a focus on making the network part of the public imagination.
"We want to get millions of people walking these routes," says Daniel. "They'll become both established in our culture but also self-maintaining because they'll become part of our expectation of how we can move around. In a future where, hopefully, people will be driving less...actually it could become one of the main ways that people think about moving around the country."
Slow Ways believes that the methodology they have developed could also work across other geographies - Ireland and Northern Ireland are next in mind - and other modes of transport, such as sailing.
No journey is without its challenges, though, and Slow Ways is no different. Rob says it will be necessary to balance encouraging as broad as possible field of engagement from communities around the UK, whilst maintaining the integrity of the concept. Rob hopes this balance can be achieved by maintaining the simplicity of the Slow Ways concept as it develops - retaining a commitment to democratic openness and accessibility alongside its guiding principles and motivations.
Walking together
Fundamentally, the Slow Ways team recognises that they cannot achieve their ambitions alone. Firstly, they need people to walk the routes - to review and survey them, but also just to use them to get from one place to another.
"If people walk Slow Ways routes and enjoy them, then we've nailed it," says Daniel.
Secondly, explains Daniel, more partnerships are needed to help Slow Ways root walking as a transport option in communities' imaginations. We also want to integrate the data created into other transportation and mapping platforms in collaborative and innovative ways.
"The vast majority of our audience in the future will be people who haven't even heard of Slow Ways," says Daniel.
"It might seem audacious, but it is something we had before we had roads for vehicles," he says. "We have a national cycle network, we have a national road network, we have a national rail network - why haven't we got a national walking network?"
You can take a look around Slow Ways' website here, or keep up with the journey by following them on Instagram or Twitter. If you'd like to join in the journey by walking, reviewing or surveying routes, you can sign up here.
Photo credits:
Henry Iddon
Nico Hambleton / Slow Ways

* Confirmed funding for three years, with funding after this to be agreed with our UK Funding Committee.
Growing Great Ideas
Our Growing Great Ideas programme has a focus on supporting transformational and long-term change.