'It saved my mental health' - Josh follows his dream of becoming a blacksmith
'I suffer from depression; Hereford MAKE is the only thing that gives me hope' says Josh Fincher.
Josh, now 34, was working towards becoming a psychotherapist when he had a breakdown two years ago and had to put his studies on hold.
"I got rejected from university to study psychotherapy because they were full and I needed to do something for a year. I knew I needed to do something but I still wasn't particularly well so I couldn't do anything too taxing or difficult" says Josh.
Josh, now unsure of his future, enrolled on a two day a week blacksmithing course in Brinsbury, close to his home town. Although it was an art Josh had always been intrigued by, he had never tried it before. 'I'd never done anything with my hands before, I could barely put a nail in a wall and I spent a year discovering how much I wanted to do this,' recalls Josh.
Choosing a career path
Once the blacksmithing course had come to an end Josh was faced with a difficult decision. He had received an unconditional university offer to study psychotherapy but after hearing about a full-time blacksmithing course at Hereford College of Arts through a friend, Josh knew he had to apply.
Josh took the plunge and made the decision to pursue blacksmithing.
'The hardest part was working out how I was going to tell people that I wanted to do blacksmithing instead. I had to tell my family who had been supporting me all this time that I needed more financial help and that was incredibly difficult" says Josh.
Despite these challenges, Josh, who had never even visited the city of Hereford before, made the move across the country to embark on the blacksmithing course as a mature student.
Hereford MAKE
It was at the Hereford College of Arts freshers' fair that Josh met James Baker, co-founder of National Lottery-funded Hereford MAKE and went along to the forge after college.
The social enterprise, which primarily attracts disadvantaged students, received just under £40,000 from The National Lottery Community Fund's Reaching Communities programme in May last year.
With their funding, they purchased equipment for blacksmiths, photographers and carpenters as well as helped fund the group to provide video tutorials so that service-users could continue learning during lockdown.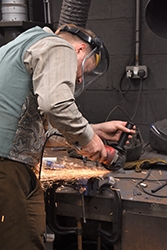 Josh, who describes himself as both a service-user and a volunteer, attends Hereford MAKE several times a week after college – his dream is to become a cutler and he's able to practise this at the forge as it is not a subject covered by his course, as well as use his blacksmithing skills to help other students with their work.
'Without MAKE I wouldn't have been able to practice the thing I want to do for the rest of my life, my mental health would have nosedived' says Josh.
Life throughout lockdown
When Hereford MAKE had to close its doors for lockdown in March 2020, Josh was devastated.
'I've been diagnosed with depression for about six years, it's a horrible, debilitating condition and certain situations can exacerbate it, he says. 'Lockdown can make you feel a lot worse.'
With National Lottery funding, Hereford MAKE was able to continue teaching virtually during lockdown with online video lessons. When they opened again in July it was transformed to make the workspace Covid-19 secure. The forge provided the students with a safe environment to continue their blacksmithing work during the summer holidays before college began again in September.
'We made sure everyone was two metres apart and wore polycarbonate face shields. It's a very different place to what it was last year but we're making it work,' says Josh.
Looking forward
Thanks to National Lottery players, Josh has been able to get his work into an art gallery exhibit and practice the skills needed to become a cutler, someone who makes cutlery, in the future. Josh has recently started working for the group as a communications support worker.
Josh describes the forge as 'life-changing' and confirms that 'You couldn't go into Hereford MAKE and find someone that it hasn't changed their life, I do not have a strange story, my story is MAKE.'
Josh adds 'My direction for the next five years looks a lot brighter than it did six months and that's all because of Hereford MAKE.'
Thanks to National Lottery players, £36 million is raised every week for the UK's good causes, and £41 billion has been distributed to 565,000 good causes across the UK since 1994.
Read more stories of how National Lottery funding has helped communities across the UK. https://www.tnlcommunityfund.org.uk/news/people-stories

Reaching Communities England
Offers a larger amount of funding (over £10,000) for projects that last up to five years. We're looking for projects that work with their community – whether that's a community living in the same area, or people with similar interests or life experiences.