Small Grants, Big Impact
I am very happy to announce the publication of our new report, 'Small Grants, Big Impact' highlighting the impact and reach of The National Lottery Community Fund's smallest awards programmes.
Every day, people around the country make the active decision to go out and support their community, whether by volunteering, helping at their community centre, or by making sure elderly neighbours have support and someone to talk to. It is this activity - and much more - that we support through our small grants, a precious funding route for people to apply for anything easily and quickly from just - £100 to £10,000 - that can be put towards what their community needs.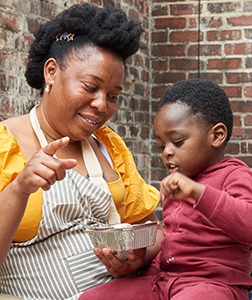 Small grants are what keeps community buildings and spaces open, but they also provide a small yet vital funding stream from which community action can flourish, grow and scale over time. On one hand they keep the roof fixed, repair the boiler, and keep the lights on, but on another they enable community spirit to carry on and build important relationships and social capital.
We have used small pots of money for a variety of good causes; to make sure young people have access to playgrounds, to allow community shops to flourish and to maintain community pubs and gardens. And we have also used small grants to bring communities together, most recently for Her Majesty the Queen's Platinum Jubilee, where over 1,200 grants totalling £7.6 million were used to help people around the country come together and celebrate.
I believe it is these small grants that make up the bedrock of community funding and allow us to reach people in areas that otherwise would be difficult to reach.
I also believe they are an important stream of funding in the wider ecosystem of grantmaking and, thanks to National Lottery players, here at The National Lottery Community Fund we are able to distribute these sums at scale.
Last year, over 40% of the organisations we funded received grants from us for the first time. That is why I am so proud that The National Lottery Community Fund is the largest funder of community activity in the UK, with the majority of the projects we support receiving small grants. In fact, 84% of the grants we awarded last year were for £10,000 or under. This means that we are able to award over 12,000 of them each year, reaching every constituency and community in the UK and reaching over 90% of all UK wards.
We have kept the process simple and open for all, allowing communities across the country that may not have applied for other grants to access our funding. We have also continued to work on ensuring we have reach into funding cold spots and areas with less social capital, for example our awards to Priority 1 Levelling Up Local Areas have increased from 42% to 50% in the last three years. These areas represent a third of the UK population.
That is why I am so happy to announce this report, which showcases the reach and impact of our smallest grants programmes –through which their collective reach may represent the broadest spread of impact from National Lottery funding.
Whether it is to help communities maintain important local infrastructure, to support young people with skills and places to go, or to give volunteers the opportunity to work on what they know their community needs, these small amounts of money make a big difference.
Faiza Khan MBE, Engagement and Insight Director at The National Lottery Community Fund
For more information on strengthening your application for small grant funding, read our helpful Awards for All blog