Strengthening your Awards for All England application form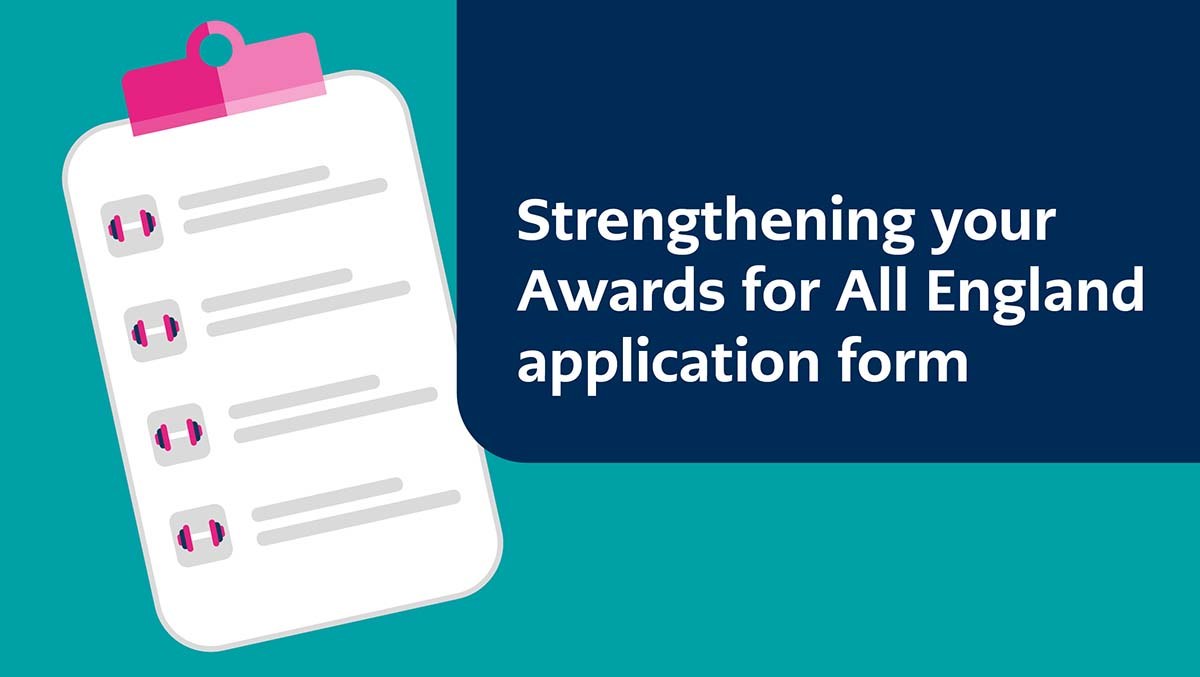 We want our customers to have a good experience when applying to us for funding. We've developed the following guidance to help you avoid some of the most common pitfalls when applying.
1. Apply early
It can take up to 16 weeks for us to review an application. Starting early gives you time to find the best funding programme and gather the information you need to write your application. This kind of preparation makes it so much easier as our assessment will be based wholly on the information you give us in your application.
You can't apply if you already have National Lottery Awards for All funding - we can only fund your organisation for a maximum of £20,000 within a 12-month period. And you can only hold one grant, for each different country in the UK, at a time.
If you want to apply for a new grant – you'll need to wait until your last grant with us is closed. You also can't apply if you've already sent a National Lottery Awards for All application and are waiting for a decision.
2. Check and recheck
We can only assess an application if we have all the information. Every week, as many as a quarter of applications we receive are missing vital information. One of the most common mistakes is failure to provide the right bank statement.
So, it's important to read through the funding programme information to make sure your project idea meets all the criteria and you must complete all sections and include all relevant information.
Double check your organisation details
Make sure you tell us what type of organisation you are e.g., constituted group or club, registered charity, community interest company (CIC), community interest organisation (CIO) and so on. These are legal terms and should be checked before you apply
The organisation name you use on your application form must be the same as on your governing document
If you have a registration number make sure you include it in the application
If you are registered at either Charities Commission or Companies House, please make sure your details are up-to-date before applying. For example, the name and address of your organisation that you use on your application form must be the same as what is registered, and the name of your current trustees or directors must be correct. If it isn't, do not apply until you've updated your registration details
It's really important that organisations that apply have at least two people on their board or committee who are not related. By related we mean married to each other, in a civil partnership with each other, in a long-term relationship with each other, living together at the same address or related by blood. All companies who apply must have at least two directors who are not related in any of these ways and be registered at Companies House. This also applies to companies that are also registered as charities. 
Make sure you use the right contact people
We require contact details, home addresses and dates of birth of two different people from the organisation. Both contacts need to have different email addresses and phone numbers and must not be related. We can't proceed with your application if both contacts are the same person or related.
Avoid using a shortened version of your name, or a nickname. We may use this information to carry out some basic identity checks and if we're not able to confirm your details, we will have to ask you to provide additional information and delay our decision.
Your senior contact must be legally responsible for the application. This means that they need to ensure that the application is supported by the organisation applying, the funding will be delivered as intended and monitoring will be carried out as part of the project if we decide to fund it.
If you're a company registered with Companies House, the senior contact also needs to be registered as a Company Director or Company Secretary and needs to be listed on the Companies House website. This also applies to companies which are also registered charities
If you're a registered charity (and not a company), the senior contact needs to be listed as a trustee on the Charity Commission's website.
Be sure that you attach a bank statement that meets our requirements
The bank statement (or bank welcome letter if the account was opened within the last three months) must be uploaded as one single file. If you have several pages, you can take one photo of them all and upload that.
Please read our financial controls guidance. It's important that any organisation applying to us meets both this guidance and our terms and conditions.
Double check you answered all the questions on the form – this is your chance to tell us about the work you do to support your community. Why not get someone to act as a critical friend and read over your application, particularly the finances section?
If you are stuck, talk to us! It's better to clear up issues, ask questions, or check eligibility in advance of applying. We are very happy to hear from you, and are available to support you at every stage, even if you are just at the initial stage of developing your Awards for All project. Give our Advice team a call on 0345 4 102030 or email us at general.enquiries@tnlcommunityfund.org.uk. We cannot give assurances of success but can discuss our funding priorities and criteria.
3. Community involvement
Remember to tell us why you want to run the project and how the community is involved. This means explaining why the project is wanted by your community, and how you know this. We want to understand how your project plans have come from listening to your community, and we will take this into account when assessing.
National Lottery Awards for All England
A quick way to apply for smaller amounts of funding between £300 and £20,000.