National Lottery funding will be supporting a host of Welsh Community Festivals this summer
At last, festivals are back, including a range of Welsh community festivals funded by The National Lottery Community Fund.
On the 7 of May 2022, the first ever Welsh Community Music and Culture Festival in Crymych was held, Gŵyl Fel 'na Mai. It was originally planned for 2019, but had to be delayed due to the pandemic. The main aim of the festival was trying to raise awareness of the Welsh Arts and supporting music in West Wales by holding concerts, gigs, plays and art exhibitions. The festival was successful in their application for a National Lottery grant of £9,994.
National Lottery funding helped to develop Gŵyl Fach y Fro in Barry this summer too, with a grant of £10,000. This is the only Welsh festival in the Vale of Glamorgan, and this year they'd like to further develop community elements and activities for children. The festival has been held since 2015, and the local residents feel it is key to ensure the Welsh language thrives in the area.
Another festival which has benefitted from National Lottery support is Tafwyl. This year, they wanted to develop the festival's wellbeing area. With a grant of £10,000, they wanted to offer more activities to support their festivalgoers, from mindfulness sessions to yoga, cooking classes to self-confidence workshops.
There was considerable enthusiasm around holding Gŵyl Maldwyn again following the pandemic too. This year, the organisers chose a new location, which meant they could offer weekend accommodation. With the support of a National Lottery grant, they accomplished that, as well as developing marketing elements like a website and advertisements.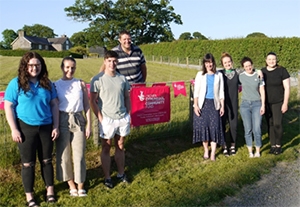 The organisers ensured the whole community could be part of the festival, from school-aged children, to young people and older. The committee was expanded to ensure all ages were represented, inviting three young people to join, as they have been most affected by the pandemic.
Emyr Wyn, Chairman of Gŵyl Maldwyn, said:
"The grant we have received from The National Lottery Community Fund has enabled us to move to a new site and expand our activities for the whole community. The festival will be open to people of all ages, children and young people on the Saturday, and a party for everyone in the evenings. We also welcome people who have moved to the area and attend Welsh for Adults lessons."
Through our National Lottery Awards for All programme, you can receive a grant of up to £10,000 if your project meets at least one of our funding priorities:
Bring people together and build strong relationships in and across communities
Improve places and spaces that matter to communities
Help more people to reach their potential, by supporting them at the earliest stage.
You can learn more about our National Lottery Awards for All programme. Your project may be eligible.
It's important that your event is developed by working with the wider community, as Ruth Bates, Head of Communications at The National Lottery Community Fund, explained: "We are looking for the wider community's contribution to planning and delivering any work we fund."
If you think your project meets at least one of our funding priorities, apply for a National Lottery Awards for All grant, to make a difference in your local community.