Community art project bringing people together in rural Ceredigion
Menter Silian runs community projects in Silian, Ceredigion near the West coast of Wales, with the aim of breathing new life into the parish and its surrounding areas. They provide outdoor activities, such as gardening groups, walks, treasure hunts and barbecues for the community. The idea for an art project came from a coffee morning event with 40 local people. The local chapel offered the use of its vestry for the project.
The group was awarded a grant of £5,685 by The National Lottery Community Fund to run a community art project ahead of this year's National Eisteddfod event, which this year is being held in nearby Tregaron.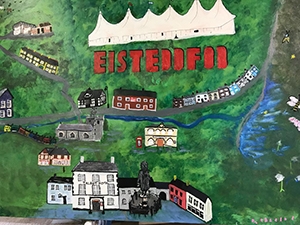 'Dressing' nearby villages to mark the Eisteddfod is a long-held tradition in Wales. Community groups, a primary school, places of worship and youth organisations in villages along the A485, the main route to get to Tregaron, all came together. They created a series of art workshops to create a large, colourful mural, depicting local landmarks and celebrating the area. It is now proudly displayed on Silian Bridge, ready to welcome visitors to the festival in August 2022.
The local community are heavily involved with the group and are encouraged to give feedback and share ideas to inform future projects and ensure their needs are met. In a recent survey of village needs, opportunities to get together was a top priority, and this has been achieved through this art project. It has reinforced local connections, both within the community of Silian and neighbouring villages, between people who have been affected by rural and social isolation and lack of access to services during the pandemic. It brought community members together of all ages, abilities and backgrounds, linking them to a nationally important event celebrating Welsh language and culture.
Dr Nikki Vousden, Secretary of Menter Silian said: "The people of Silian don't yet have an indoor space to meet, and we were aware that the social isolation experienced by many local residents had been worsened by the pandemic. The idea for the project developed through chatting to people at a community event we held earlier in the year. We thought it would be a great opportunity to bring Silian and the wider community together and create a display we can all be proud of, which showcases our unique local landscape and built heritage".
Councillor Eryl Evans, Chair of Menter Silian said: "Feedback has been really good, and the project has highlighted just how much an opportunity to get together was needed. Having a cup of tea and a chat whilst creating works of art which will showcase our locality was the ideal way to get people feeling part of their community again. It was really great to see people enjoying the creativity and companionship. I hope it will spur local people to visit the Eisteddfod and enjoy the biggest cultural event to happen in our area since the Eisteddfod visited Lampeter in 1984".
You can learn more about Menter Silian's projects and follow their progress on Facebook and Instagram.
National Lottery players raise £30 million each week for good causes throughout the UK. Looking for funding to support your community to thrive? Find out more about applying for a grant