Bringing People Together: How projects are developing ways to do just this
It has been a year since we launched our Bringing People Together programme. For The National Lottery Community Fund bringing people and communities together is core to our purpose and goals. Set up to build stronger connections across communities in the UK, this funding is supporting ideas that strengthen these connections by exploring and developing the conditions needed to build better and longer-lasting ways of bringing people together. To date we have awarded just over £3 million to 13 project who are working across two or more countries within the UK and the programme is still open to applications from voluntary and community organisations.
What we've funded so far
New Constellations is using their grant of £300,000 for a two-year project to support and enhance community engagement. They have already had success in Barrow-in-Furness with community representatives including council leaders, community champions, local charities and business owners coming together to develop a roadmap for a better, more connected future for the Cumbrian town. Now, thanks to their National Lottery grant, New Constellations is expanding to other parts of the UK. The group have just finished recruiting 18 new community leaders from different communities across the UK. Like the pilot project in Barrow-in-Furness, these community leaders will work on a specific issue common to all in the area as part of their aim of imagining and shaping a better future.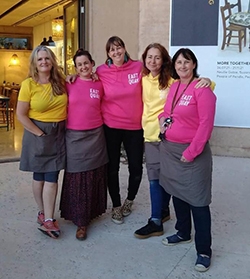 Somerset-based project, Onion Collective CIC, is using their grant of just under £300,000 to support their two-year project – Understory - a collaboration with gaming technology company Free Ice Cream. The project will create a digital network mapping tool to enable communities to ask deeper questions about their relationships with each other and with the place in which they live. Alongside the innovative mapping tool which gives people a 3D visualisation of connections and will underpin community-building activity, the project will host workshops to encourage and support people to explore the web of relationships and connections in their communities.
Tough Options received £160,000 to examine and help support conflict resolution and management within communities. This partnership, led by the Forum for discussion of Israel and Palestine in England and Corrymeela in Northern Ireland, is bringing together two diverse groups of young people, from Manchester and Northern Ireland, who are all facing challenges and divisions within their communities. The young participants will share their individual experiences and examine their own conflicts through the lens and perspectives of each other's conflict. The end goal is to build a network of young leaders who will go onto being a catalyst for conflict resolution and management within their own communities.
Through its project 'Together We Are', Groundswell is building community resilience to protect against the social isolation that can leave people vulnerable to harmful influences, such as extremism. Using their National Lottery grant of just under £300,000, the project is shining a light on work led by smaller grassroots initiatives working towards community cohesion. Groundswell's work is supported by an interactive online mapping tool which links groups and events on a hyper-local basis creating much wider networks. As a result of our funding, Groundswell is now expanding into three new areas; Lewisham in London, Manchester and Glasgow.
Led by the University of Bristol, Good Grief Connects aims to bring about a shift in society's attitude towards grief, death and dying, through the development of compassionate, connected communities equipped to nurture people through loss, both personal and collective. With their grant of almost £300,000, the project is bringing people together from across different communities to develop new content focusing on issues of culture, sexuality, ability, and social disadvantage, extending its reach into underserved communities in Wales and inner-city London. Supported by the annual Good Grief Connects Festival, the project will create a collaborative infrastructure of bereavement support across the whole of the UK.
Open for applications
Many of the groups above are only a few months into their projects but are already creating and developing new conditions and innovative infrastructures to bring people and communities together to help them prosper and thrive. The projects mentioned are also just some examples of what we have supported so far, and we look forward to sharing more in the future.
This funding programme is open for applications, and we are currently looking to fund groups for up to £1 million for projects lasting up to five years. We expect most of our funding to support groups requesting between £200,000 to £500,000 with a smaller number of awards made for projects above £500,000.
If you feel your project is ideal for this programme you can find out more about Bringing People Together funding here.