A message from Blondel Cluff CBE, Chair of The National Lottery Community Fund
As Chair of The National Lottery Community Fund, I am privileged to be able to see first-hand the thoughtful, innovative and exciting ways in which communities are seeking to celebrate Her Majesty The Queen's 70 years of dedicated public service.
Thanks to National Lottery players, we have awarded £4.5 million to 91 projects across the UK through our Platinum Jubilee Fund, providing opportunities for people to come together and create lasting legacies for communities.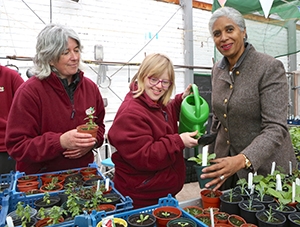 Amongst these is Headway Worcestershire in the west of England, which will host the world's first 'Acquired Brain Injury Games', where people with acquired brain injuries will come together to take part in a series of sporting events. Group for Recycling in Argyll and Bute Trust, Scotland, will bring young people and the older generation together to share skills with each other that reduce waste in the community. Meanwhile in Wales, The Merthyr Tydfil and District Naturalists' Society will develop people's skills in beekeeping, teaching them about honeybees and how pollinating insects are important to the natural world.
We are also proud to support The Big Jubilee Lunch with £2.3 million of National Lottery funding. Taking place on the Platinum Jubilee weekend, this event will bring thousands of communities together and help people celebrate the Platinum Jubilee while getting to know their neighbours better.
In addition, grants of up to £10,000 from The National Lottery Awards for All programme – which gives out almost £80 million of National Lottery funding in all parts of the UK each year – are available for community-led events during the Platinum Jubilee year.
Our latest Community Research Index shows that over half of all UK adults, potentially 25 million people, are likely to join in with celebrations in their local community. By the time the event arrives there could be even more.
I am delighted that people want to celebrate Her Majesty The Queen's incredible achievement, but I am even more excited by the legacy they will help to create.

Creating a lasting legacy for communities
When people come together connections are made, bonds are strengthened and community spirit burns more brightly.
Like-minded people may join together to create a project or support network, people become enthused about helping others or find out about volunteering opportunities, somebody facing life challenges realises they are not alone or finds out about upskilling and employment support services…
Manifold valuable opportunities arise from the simple act of bringing people and communities together and ultimately play a key part in creating an environment in which they can better prosper and thrive.
This is a fitting legacy indeed and I can think of no better way to celebrate a life of dedicated public service.
You can find out about the Platinum Jubilee celebratory events happening in your area by visiting the official map
Community spirit to continue strengthening through the Commonwealth Games
There is another moment to create a lasting legacy when the Birmingham 2022 Commonwealth Games begin later this summer. This is a key moment for not only the West Midlands, but the UK as a whole - an exciting chance to bring people together through sport and community activity, spurring fresh purpose and pride.
I am proud that The National Lottery – across sports, heritage and culture - is investing over £40 million to support the Games and its legacy, with funding going into infrastructure, the home nation teams and grassroots sport programmes through to employment, training and volunteering opportunities, as well as the vibrant Birmingham 2022 Festival.
I was delighted to visit the West Midlands Combined Authority's Jobs and Skills Academy earlier this year to see the huge difference National Lottery funding is making to the lives of young people – particularly those who are unemployed or at risk of unemployment. This support will help them to access volunteering and employment opportunities generated by the Games, building their skills and confidence so they can go on to secure jobs in the future.
I am looking forward to seeing the impact the Games, and money raised by National Lottery players, will have on people's lives and future generations to come.
Shaping the future
In the last five years alone, we have awarded £3.4 billion in 72,000 grants, supporting vital work in communities across the UK – that is at least one project in nearly every local neighbourhood. Thanks to National Lottery players, every seven minutes we back a community project that makes amazing things possible.
2022 is not just a year for reconnecting with our communities and each other, but also an opportune moment to take stock and look to the future. As the UK's largest funder of community activity we must consider our own impact and legacy, which is why we recently launched a Strategy Renewal process that will shape how we continue to invest in communities and make an impact into the future.
As part of the launch, I visited two extraordinary projects, WeMindtheGap and Erlas Walled Victorian Garden in Wrexham, North Wales. I am incredibly grateful to both the projects and all involved for taking the time to share thoughts, ideas and experiences with me.
Meeting them served to remind me how vital it is that we have this conversation now, to help shape how we will use National Lottery funding to support the UK's diverse communities going forward. On behalf of us all here at The National Lottery Community Fund, please do get involved – you can find out how to here
I am really looking forward to meeting more groups and communities throughout the year to hear their ideas and to better understand the challenges, hopes and opportunities they see for their communities so that we can ensure our funding works for everyone.
Thank you