Stories
How communities across the UK are taking action on the climate emergency.
Inspiring stories and personal reflections
Welcome to our Climate Hub
It's a pleasure to launch our new Climate Hub. This is the latest step in our commitment to tackling the climate and ecological emergency and follows the work we have undertaken over the last few years, in building up a holistic approach to supporting all communities to take action on climate change.

The Climate Hub reflects the critical importance of the subject matter to us and to communities across the country. As the largest funder of community activity in the UK, we want to ensure we can inspire, educate and support communities in their work to tackle the climate crisis.
This Hub is a key part of our environment strategy and will provide regular blogs, thought-pieces, case studies and resources to support our work and that of projects looking to take community-led climate action. I hope it is a place to find inspiration, as well as further information about our climate funding, and what we are learning through that work.
As with most things, change has to start at home. We're proud to be able to share more about the Fund's approach to reducing our own organisational carbon footprint and our commitment to carbon neutrality.
We are here to help the communities we serve to think carefully about their own environmental impact, and how organisations of all sizes can be encouraged to reduce their carbon footprint.
While our specific funding, like Together For Our Planet and the Climate Action Fund, supports projects to take community based action to tackle the climate emergency, we believe all our grant holders have a role to play. Making positive choices to take climate action is an option for all.
In this important year for climate action, as governments and other stakeholders from across the world come together in Glasgow for COP26 to agree the next steps in our global approach to the climate challenge, the Fund's ambition is to set out a clear stall for the central role of communities in a coordinated response. We know communities have a vital role to play.
The challenge brought by the pandemic over the last 18 months has highlighted the unique power and importance of community action and togetherness. The pandemic has also given us important lessons to learn about how we must come together, plan and work together to address the climate emergency, reducing our carbon emissions as well as making our communities more resilient to future shocks.
We know that relying only on actions by business and government policy will not be enough to bring down the UK's carbon emissions to acceptable levels. This fact was highlighted in the UN's recent Emissions gap report. People must be actively engaged to achieve the behaviour changes that are needed, and communities are often best placed to lead this important work. Communities have a vital role to play in addressing the climate and ecological emergency, and The National Lottery Community Fund is here to support them to do just that.
Nick Gardner, Head of Climate Action
1.5m available for a UK-wide learning network to support communities to deliver energy projects
Peter Capener, Co-Founder and MD of Bath & West Community Energy and Deputy Chair of Community Energy England reflects on the community energy sector across the UK and shares learnings to help shape funding to support a UK-wide community energy learning network as part of the Climate Action Fund.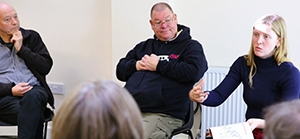 I was certainly excited to carry out a rapid review of learning within the community energy sector, Nick from the Fund told me "We want to provide £1.5 million to establish a UK wide learning network over three to five years and want to know what's already out there"
At last, I thought, a focus on learning. It's an area that definitely needs much more support if we are to mobilise, enable and inspire greater levels of community action on energy.
The Fund recently commissioned the Ashden Climate Solutions to do some scoping research which highlights that there is a scarcity of funding to support the sharing of knowledge and learning across community energy and energy efficiency projects. Particularly between more established groups and less experienced groups that are just starting to explore the potential for action in the energy space.
Research also highlights the importance of network development and connecting across regions and devolved administrations, the need for more investment in network infrastructure that could encourage new approaches to learning and skills sharing and the value of a targeted climate action theme that could contribute to the growth of community energy focused initiatives.
But there was now a need to understand how a new network might build on existing learning opportunities.
This new review set out to summarise what learning opportunities are already available in community energy, what has worked well, what people want to see in the future and how new funding could support existing work to avoid duplication. It involved an online survey that received 67 responses, identifying 116 learning activities with 102 unique activities, together with an online workshop that brought together 18 stakeholders from across the sector.
It's important to note that 80% of survey respondents were learning providers and the remaining 20% were learning participants. 51% of respondents were community based (29% voluntary, 21% paid), 35% were based in wider community energy associations, networks or other support organisations and 14% were from public or private sector organisations.
Most of the learning opportunities identified (64%) are still currently available, covering key topics like renewable energy and energy efficiency/retrofit.
Learning provision was generally highly valued with an average score of 4.3 on a scale of 1 to 5, 5 being the most successful in meeting learning aims. On average, energy providers scored a higher learning provision (4.4) than the participants (4).
Target audiences

Most learning activities are targeted at early start up community energy groups, followed by experienced voluntary community energy groups and non-energy community groups, with fewer learning opportunities available for experienced community energy groups or external partners like local authorities or the wider energy industry.
Participants report that time is the main constraint in taking up learning, particularly for volunteers. So, it's interesting that most learning is targeting groups that are perhaps least able to take advantage of it.
Whilst it's clearly important to support those just starting out, it also seems important to support those community groups able to scale their impact in terms of mobilising communities and reducing carbon emissions.
Creating the conditions where community mobilisation can flourish will also depend on enabling a higher proportion of both the public and private sector to see the value of community action and how it can underpin their drive towards net zero. A very specific learning need.
Demand for future learning - Format
Demand for training in the future emphasised the value placed on informal networking and peer mentoring (with longer term resourcing for mentors) from both participants and providers.
Structured learning like training and targeted workshops/webinars have a very important place and are the most prevalent form of learning currently provided. Yet, a more unstructured and interactive approach is clearly valued and can be effective in responding to individual learning needs, particularly around knowledge transfer and building longer term learning partnerships.
Demand for future learning - Content
There were distinct differences between what different groups were looking for from future training.
Community groups with paid staff are more interested than voluntary groups in local energy supply, business development and community energy benefits. Voluntary groups are more interested than groups with paid staff in behaviour change, working with volunteers and demand side response (shifting electricity demand to reduce evening peak demand, and more easily adopt increasing levels of renewable energy within the system)
It's notable that established groups with paid staff are more interested in business development than voluntary groups. This suggests early start ups might benefit from a bit more business planning and thinking.
It's interesting that voluntary groups are keen on learning about new energy markets focusing on flexibility and demand side response. This is an area that is particularly challenging to engage with now, with the complexity of, and lack of value in, the established flexibility markets. Maybe a greater focus on easier first steps might be helpful.
The most significant mismatch between what is currently available and what was requested, was around learning on behaviour change, where current opportunities are low, but demand is high.
Key issues raised
Issues raised in the survey also include the need to match learning outcomes more clearly with learning needs and prior knowledge, and a need to focus learning on enabling practical action. During the workshop, there was a strong plea for action learning, where learning extends beyond a one-off session isolated from practical delivery. How many times have we been on training courses, and then six months later when we actually need the knowledge, we've forgotten key parts of it?
Other issues included the value of cross border learning at a national level, but also the value of locally offered learning that is particularly relevant to local needs, the importance of capacity building, more vocational training and the need to remove barriers to participation and increasing diversity.
Structuring an open network
There is a fair amount of learning already available, a lot of which is clearly valued if not always ideally targeted, accessible, or well resourced. In future, better mapping, and signposting of existing learning will be critical.
It was also recognised that it was important to avoid duplication by building on what is already available where appropriate. There's a need to integrate a process of collaboration and co-production within the development of any funding bid, so bids are not just dependent on the knowledge or interests of a few strong characters or organisations.
There was also a clear need expressed for the network to be open to change, allowing for new learning providers to engage and new learning needs to be addressed, as the sector develops over time. Not everything can be tied down and planned out on day one. So, no closed shops.
Purpose
During the workshop, participants suggested that the purpose of a new learning network should be to underpin a more rapid and just transition to net zero by enabling and empowering communities to maximise their impact on carbon reduction and fuel poverty. Time to get our collective thinking caps on …
If you are interested in applying to the energy learning network strand, we encourage you to contact us at climateactionfund@tnlcommunityfund.org.uk before you submit your expression of interest. The deadline to submit your expression of interest is 28 July 2023. Read the full criteria and find out how to apply

Energy and Climate: Putting communities first to take climate action
The Climate Action Fund is now open for applications focusing on community-driven energy projects. We want to provide National Lottery funding to both place-based and UK-wide projects that show the active role of communities in addressing climate change while tackling the energy challenges facing people.
Why we are focusing on Energy and Climate
The production and use of energy contributes over two-thirds of global greenhouse gas emissions. The UK is committed to reducing its carbon emissions by 78% by 2035, and to achieving Net Zero emissions by 2050. Energy use in households across the UK, from heating, hot water and using electric appliances, makes up about 20% of the country's carbon emissions.
If every household took energy efficiency measures, it could achieve 11% of the UK's 2050 carbon target. In late 2022, the UK government launched its £18 million 'It All Adds Up' energy saving campaign to raise public awareness of low or no cost actions people can take to improve energy efficiency in homes.
In recent months, rising energy bills have highlighted the challenges of our dependence on global fossil fuel markets for power and heat. Research shows these rising energy prices are likely to hit lower income households disproportionately, as they spend a higher amount of their income on utility bills and may already be experiencing fuel poverty.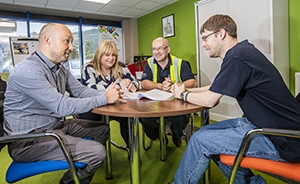 Changing how we use energy will have a big impact on our climate while also delivering significant economic and health and wellbeing benefits for people and communities. Energy efficiency measures that improve the affordability of energy can have a measurable effect on improving mental wellbeing and physical health, such as reduced symptoms of respiratory and cardiovascular conditions, rheumatism, arthritis and allergies.
Community energy projects can have multiple benefits, including developing new skills within communities, supporting the transition to new energy systems, stimulating the local economy, and lowering energy bills as well as reducing carbon emissions. We believe that successful community energy projects can inspire action at scale, develop long-term sustainable behaviours at a local level and crucially ensure these co-benefits produced from community energy projects are distributed and accessed fairly across communities in the UK.
Types of projects we'll fund
We recognise that some groups experience significant barriers to participating in community energy projects; this is particularly true for lower income households, people with health conditions, rural residents and renters, all contributing to a widening divide between access to, and affordability of, transitioning to new energy systems.
Additional barriers that may impact involvement in energy projects include limited access to trusted information and knowledge, long-standing habits that are difficult to change, and misconceptions around energy efficiency. Through the Climate Action Fund, we would particularly like to support Energy and Climate initiatives that understand and help remove these barriers to participation and involve those who are at greatest risk of being left out of the climate conversation.
This fund is not for small-scale projects with limited potential to scale, and unfortunately, we cannot support projects that are largely looking for capital funding. Instead, we are looking to support ambitious projects with a strong track record and the potential to build momentum and inspire others to take action across the UK. We are particularly interested in projects that can bring different players together to achieve longer-term transformational change.
Read the full criteria for The Climate Action Fund – Energy and Climate and how to apply. Examples of projects that focus on Energy and Climate If you are considering applying to the Climate Action Fund, the following projects - some funded thanks to National Lottery players and others not - offer inspiration for the kind of projects we are looking to fund (although this is not an exhaustive list).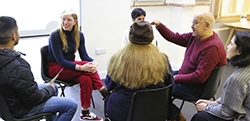 Green Meadows, a National Lottery funded project, is working with local people to build a community, through practical learning, training and advice, to act together on climate change. Their free Future-Fit Homes surveys provide residents with tailored energy saving plans to reduce carbon emissions, lower energy bills and improve the warmth of homes. Green Meadows shows what is possible in energy efficiency when a neighbourhood is empowered to mitigate climate change and build resilience through individual and collective action.
Futureproof, in the Southwest of England, seeks to make low carbon home improvements the natural choice. Led by the Centre for Sustainable Energy (CSE) alongside partners Bristol City Council, the Green Register and Greenhouse PR, the project offers a range of activities including a telephone advice service, training for local firms, and Green Open Homes demonstrations that enable homeowners to learn from and be inspired by real examples of low-carbon home measures. They run in-person and online events, including home retrofit case studies presented by homeowners.
zero carbon house in Birmingham has been designed to remove the use of fossil fuels. No carbon is released into the atmosphere from this unique family home and there are no fuel bills either. It is the UK's first zero carbon retrofit – the only existing house to have been upgraded to one of the most exacting standards in green design, Level 6 of the original UK Code for Sustainable Homes. zero carbon house's open days allow people interested in retrofit and reduced carbon living the opportunity to see and touch the house and speak to owners to discover how it works. Projects that deliver additional social and economic benefits:
Healthy Homes which is part of the Edventure project is using National Lottery funding to ensure that people in Frome who are at risk of cold homes get the support they need. Letters and webinars, pop up events delivered in partnership with the Centre for Sustainable Energy signpost residents to trusted advice to help improve their health, save money and reduce their carbon footprint. With 30% of Frome's emissions coming from household energy use, improving energy efficiency is crucial in reducing the local carbon footprint and keeping vulnerable people well through the colder months.
The Cold Homes Energy Efficiency Survey Experts (C.H.E.E.S.E.) Project, a Bristol-based not-for-profit CIC and previously funded National Lottery project, aims to reduce domestic energy losses by using unique thermal imaging equipment to show people where they are losing heat from their homes. These surveys, which are free for households on lower incomes, give residents information on low-cost impactful remedies to save money, improve their comfort and wellbeing, and lower their energy consumption and carbon footprint. Projects that promote behaviour change:
Using National Lottery funding, Climate Action Fife is working across key sectors and stakeholders to build capacity and resilience across Fife. Climate Action Fife are developing new behaviour change campaigns alongside a programme of energy efficiency outreach engagement talks, workshops and events with a focus on long-term behaviour changes. Prioritising groups most in need, Climate Action Fife takes a deeper approach to climate action engagement, involving those currently left out of the climate conversation.
Warmworks Scotland, a joint venture between Changeworks, Energy Saving Trust and Everwarm, delivers Warmer Homes Scotland. Funded by the Scottish Government, the scheme draws on the latest behaviour change theory, including the Scottish Government's ISM model (Individual, Social and Material), to help vulnerable and lower-income families. The project provides step-by-step advice on energy efficiency, encouraging long term behaviour change and offering start-to-finish support to install improvements such as better insulation and new or repaired heating. Capacity building projects that help communities to develop knowledge and skills:
Community Energy Pathways, delivered by Community Energy South, provides the skills and tools for community energy groups to develop, build local resilience and create jobs across communities. The programme also supports local authorities to identify how community energy can be incorporated into council climate action plans to build systemic change with communities leading from the front.
The Retrofit Engagement Programme, delivered by Zero Carbon Harrogate, aims to reduce the climate impact from domestic energy use by accelerating the delivery of local retrofit services. The National Lottery funded project is working in collaboration with Harrogate Borough Council to run an in-depth survey that will identify residents' knowledge gaps on domestic energy saving measures and retrofitting. In addition, the programme will futureproof the district's builders and tradespeople by providing retrofit training.
Projects that enable communities to understand and engage with opportunities for clean energy generation, which do not use fossil fuels:
National Lottery funded project Energy Local use smart meter data and partnerships with energy retail companies to create 'energy clubs' – groups of local communities who sign up to try to match their demand to times when local renewable generation is highest. The Energy Local model makes power truly local, benefiting the community's economy whilst decarbonising the power system. This enables people to make the most of local zero-carbon energy, increase revenues for small to medium scale renewables and make savings on energy bills.
The National Lottery Community Fund expects to commit over £75 million to support communities on cost-of-living through the next year. See a list of all our funding programmes currently open and available across the UK.
If the Climate Action Fund is not right for you, you may want to consider other funders. Our Climate Action Hub features other possible funders that you could contact. Please note, The Climate Action Fund is still open to applications focusing on the link between Nature and Climate too. Find out more about the criteria for Nature and climate and Energy and Climate, including details on how to apply.
Nature and Climate: Putting communities first to take climate action
This is an old blog. The funding has now closed.

The Climate Action Fund recently closed to applications with a focus on nature and climate. The COVID-19 pandemic has clearly demonstrated the interconnection between society, economy, and the natural world. This presents a huge and relatively untapped opportunity for communities to play a central role in working with nature to address the causes and consequences of climate change.
Why we focused on nature and climate
The UK has lost a lot of its natural environment to human activity – more than most other countries in the world. It currently ranks 189th in the world for biodiversity. These effects are often felt hardest in some of our most deprived communities.
Described as a 'silent killer', biodiversity loss receives less media attention than global warming despite its greater impact. News coverage focuses on the devastating effects of floods, droughts, and fires; yet biodiversity loss has longer-term implications for the future of our planet.
Three quarters of the Earth's wetlands have been lost since the start of the industrial revolution, and there has been a 68% decline in the world's population of mammals, birds, amphibians, reptiles and fish over the last 50 years.
The climate and nature emergencies are closely connected. Projects focused on nature offer effective ways of protecting, restoring, and managing ecosystems while also addressing climate change and loss of biodiversity. But, just as importantly, such projects can also deliver many benefits to local people, including the potential to boost employment and teach people new skills, supporting communities to seize opportunities generated by the transition to the green economy.
This human element is important when designing new projects. Better access to nature has a significant effect on our health and wellbeing. In a recent study by RSPB (Royal Society for the Protection of Birds), 63% of people said watching and hearing the birds added to their enjoyment of life since the onset of COVID-19. Spending time in nature has a wide range of proven health and wellbeing benefits that include improved sleep, a reduction in anxiety and depression, lower blood pressure and reduced stress levels.
While nature may appear accessible to us all, Public Health England's 2020 review found that older people, those in poor health, people of lower socioeconomic status, those with a physical disability, ethnic minorities, and people living in deprived areas were all less likely to visit green spaces. During the pandemic, 73% of children from lower income households spent less time outdoors compared to 57% in higher income households (Natural England).
Types of projects we funded
We were interested in providing National Lottery funding to projects that use nature to encourage community-led climate action in the places we live and work, and that can bring other important social and economic benefits, such as improved health across communities or the development of 'green' skills or jobs.
We were particularly looking to identify and support projects that will inspire communities to take climate action and:
Have the potential to scale and grow
Engage with people from different levels of their ecosystem (communities, private sector, academia, media, policy and practice) to create conditions for systemic change
Use stories or creative approaches to respond to climate change through nature
Test new narratives around nature to promote behaviour change and engage with new audiences who are not engaging in climate action
Demonstrate their environmental and carbon impact
Have a strong appetite and attitude towards sharing learning and connecting with others to share practice and collaborate
We want to fund community-led partnerships designed, involving, and delivered by local people who understand what is needed in their local area. We were looking to support UK-wide partnerships delivered across at least two UK countries.
Projects should have clear plans that address participation barriers for under-represented people and communities. They should aim to engage the public, including those who are not already taking climate action.
We also want to fund some projects led by people and communities more adversely affected by climate change, for example, communities that live in flood-risk areas.
In urban areas, projects that construct green roofs, plant trees, restore hedges, improve flood management, or establish sustainable drainage are considered relevant. Projects that restore wetlands, reinvigorate saltmarshes, or revive the habitats of our declining species can also make a big contribution.
Read the full criteria for the programme and find out how to apply
Examples of projects that focus on nature
The following projects, some funded thanks to National Lottery players and others not, offer inspiration for communities thinking about applying to the Climate Action Fund programme. We are also open to hearing about new ideas and approaches to community, climate, and nature.
Using nature to address growing climate problems: Communities Prepared, a National Lottery funded project, is a national community resilience programme that equips Community Emergency Volunteer (CEV) and Flood Warden groups with the knowledge and confidence to prepare for, respond to, and recover from a range of emergencies, from flooding and severe weather incidents to pandemics.
In the South Downs, Ouse Valley CARES (Climate Action, Resilient Ecosystems and Sustainability) have been using National Lottery funding to seek to implement natural solutions to sequester carbon and 'make space for water' in the Ouse catchment area, helping reduce flood risk and improve drought resilience; connect habitats, improve water quality, boost green space, and build education.
Exploring food producing systems that are less damaging to nature: Based in the Isle of Skye, National Lottery funded project Climavore has created a platform that brings together all levels of the ecosystem. Climavore collaborates with experts in several fields, from ecology, marine biology, agronomy, nutrition, and engineering to local farmers, fisherfolk, historians and schoolchildren to promote alternative and regenerative coastal food systems.
Zero Carbon Guildford are trialling vertical farming methods in the town centre, working together with the local farmers' market and other partners to showcase local food production and move towards local 'food sovereignty'.
Creating new, accessible natural spaces in the places we live and work: Backyard Nature inspires children and families to help plants and animals thrive on their own patch of nature – whether they live in the heart of a city or the middle of the countryside.
The Wildflower Alleys in the Heart of Belfast was a community-led response to tackling the high pollution and crime rates locally by transforming the backstreets of their neighbourhoods into thriving urban wildflower gardens.
Encouraging environmental awareness by increasing outdoor learning opportunities: Supported by The National Lottery Heritage Fund, the My School, My Planet pilot programme used outdoor learning to support children from disadvantaged backgrounds to re-engage with learning following the first COVID-19 lockdown. The programme encouraged a greater connection for pupils with their natural heritage and climate change.
In West Yorkshire, The Growing Resilience programme led by Calderdale Council and funded thanks to National Lottery players is focused on working with rural communities to deliver sustainable land management and to grow sphagnum moss - an important plant in natural flood management as well as forming peat bogs over time, a vital carbon sink. 70 young people from local schools are experimenting with growing sphagnum moss in their classrooms and a further 37 community volunteers are actively growing sphagnum moss.
Using creative approaches to engage communities with climate and nature: Using National Lottery funds, WWF-UK's 'Mobilising UK Communities to Tackle the Climate and Nature Crisis' project supported at least 250 local community leaders from diverse backgrounds to hold digital community screenings of 'David Attenborough: A Life on Our Planet'. An online training series and workshops enabled locally appropriate actions on climate change.
Manchester Climate Change Agency (MCCA), also a National Lottery funded project, works with local partners and Hubbub on 'In our Nature', a campaign supporting local groups to bring their own creative climate solutions to life. To date, the project has launched innovative urban greening projects exploring how spending time in nature helps connect climate change to our everyday lives including an immersive pop-up shop in Manchester city centre.

By Nicolas Croll

Youth voice and climate action: being a Youth Advisor for the Climate Action Fund
Niamh Mawhinney, 24, Leeds
For as long as I can remember I've had a passion for climate action. I vividly remember standing in Trafalgar Square at the age of eight with my sister and dad, ready to join my first climate action walk. It wasn't until much later that I began to fully comprehend the complexity and urgency of the global situation we find ourselves in. Over the past four years, it has been my goal to be part of the solution on an individual and community level; mobilising myself and others to do more to protect our natural environment.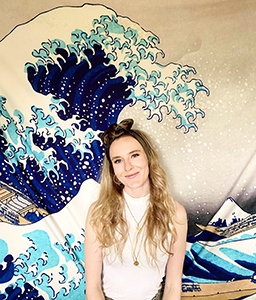 While volunteering for Our Bright Future this year, I came across the opportunity to act as a Youth Advisor for round two of the Climate Action Fund which is focused on tackling waste and consumption. I was intrigued by the prospect of being involved in such an exciting project. We live in a consumption-driven society, it was reported that in 2018, the UK alone produced 222.2 million tonnes of waste. It's hard to know where to begin with such a multifaceted issue, particularly when we consider the impact of the fast fashion, food and tech industries. We often hear what is happening at an international level, exemplified by the recent media coverage of the COP 26 Climate Action Summit. However, I was keen to learn more about what is happening at a grassroots and community level.
It was both refreshing and uplifting to see first-hand the inspiring initiatives the Climate Action Fund is supporting. Projects run by organisations such as Fuse Youth Café in Glasgow and Global Action Plan go beyond seeking to reduce waste and overconsumption (which will inevitably have a positive effect on reducing carbon emissions) but they actively mobilise people and communities to collaborate, an effort we need now more than ever.
Moreover, my role as a Youth Advisor has allowed me to appreciate the extent to which both The National Lottery Community Fund and their partners value youth voice. So often, we are surrounded by media coverage sharing the harmful effects of climate change, followed by a blame game of who is responsible. It is no surprise that for some young people climate anxiety is a real concern. This is why it is crucial that we give young people the opportunity to have a front-row seat at the table. Through initiatives like the Climate Action Fund, young people like me have the opportunity to have a direct voice in prioritising and highlighting the issues that young people and marginalised communities are facing.
My involvement with the Climate Action Fund has fuelled my ambition to continue making a difference in every way I can. Whether that is by emailing my landlord for better recycling facilities at my accommodation, making more conscious choices of where I buy my clothes from or sharing sustainable initiatives on social media. I've learned that no action is too small. I have also recently joined the UN Young Leaders educational programme, an academic course where I will conduct in-depth research on the global 2030 sustainable development goals as well as champion global youth leadership. My aspiration is to continue to help build a more sustainable future for all of humankind.
Waste not want not: How National Lottery funded community larders are reducing food waste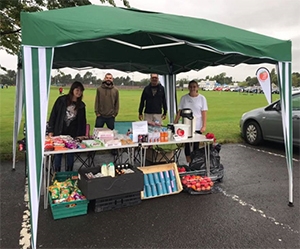 "Climate change is a global crisis and we can easily feel powerless to do anything about it. But we can take action at a local level."
Saskia McCracken, Volunteer Co-ordinator at National Lottery funded Inverclyde Community Development Trust.
Across the country local community groups like Inverclyde Community Development Trust are showing us innovative ways to reduce our carbon footprint, and in particular, help drive down Scotland's food waste.
According to the WWF, an estimated 40% of all food grown goes to waste each year. When this food rots, high amounts of methane gas are released, which is a leading cause of climate change.
With that in mind, we spoke with the people behind two National Lottery funded community pantries and larders to find out how they are putting surplus food and locally grown produce to good use.
Inverclyde Community Development Trust
The pantries are run by volunteers and sell good quality surplus food at affordable prices.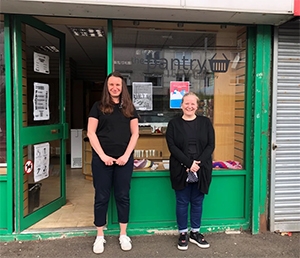 Following the success of their Zero Waste Pantry in Greenock, Inverclyde Community Development Trust will be opening another pantry in Port Glasgow thanks to a recent National Lottery award of £149,456.
The pantry will be membership-led, run by volunteers and selling good quality surplus food at affordable prices. Anyone in Inverclyde can become a member and will be able to purchase about ten items for £2.50 per shop – which usually equates to a £10 to £15 shop. This means the community can save money while supporting sustainability by buying locally sourced food and food that would have otherwise gone to waste.
Reflecting on the success and challenges of the group's pantry model, Saskia McCracken, Volunteer Co-ordinator at Inverclyde Community Trust, says:
"We currently partner with another National Lottery funded project, the Inverclyde Shed, who supply locally grown, organic fresh fruit and vegetables to our Greenock pantry, and we look forward to developing this partnership when we open the Port Glasgow pantry."
"Our Greenock Pantry has gained over 650 members since opening in December 2020 and we've successfully distributed over 25 tons of produce which would have otherwise gone to waste."
Whilst more 'zero-waste' shops are opening, they are often unaffordable as they sell Fair Trade, organic and free range food, which can be expensive. Saskia says this can make them "inaccessible to the wider public". So the Trust are focusing on making good quality surplus food available to everyone by working with other National Lottery funded charities that can supply it, like Inverclyde Shed and FareShare.
By opening their second pantry they will be able to make sustainable food shopping accessible in the two biggest towns in Inverclyde.
EATS Rosyth
The EATS Rosyth team standing by their pop up food stall selling surplus food, tea and coffee and cakes for donations.
EATS Rosyth aims to improve food education, reduce waste, grow and share food, and in turn help the environment. Through their community garden, community hub and orchard, EATS encourages people to get involved in making their community a better place to live, and offers cooked meals using surplus food.
They provide advice and intergenerational training for people to cultivate their own gardens – teaching them how to grow their own food and prepare healthy meals. The group recently received £150,000 in National Lottery funding to keep up their brilliant work, and will continue to provide volunteering opportunities to the Rosyth community.
Ethan Daish, Food Project Manager for EATS Rosyth tells us more about the project:
"People often fall into the trap of buying too much food and disposing of perfectly good food past its best before date and we would be happy to repurpose it…We offer gardening and cooking workshops and raise awareness of environmental issues across the whole community."
As well as their workshops and intergenerational work, they also focus on providing food to their community, which through the pandemic became increasingly important.
"You can come to shop with us on a 'pay as you feel' basis. We probably rescue an excess of 10 tonnes of surplus food per year for sharing with the community, along with the produce from [our] garden and orchard."
Feeling inspired? Get in touch
We're proud to support communities across Scotland, and the whole UK, who take climate action. And if these projects have sparked an idea for you – or if you have a project idea in mind already – why not get in touch?
If your local community group has an idea for a project that will take action on food, transport, energy, waste and consumption or the natural environment you might be able to get funding through our Together for Our Planet programme.
And if you're looking for more inspiration…
Community pantries are one way of taking climate action at a local level, next time we talk about what some groups are doing to change attitudes towards growing food locally.
A Little Oasis for the Community: Beacon of Hope - Tackling Flooding in Flintshire
Enbarr Foundation CIC was set up in 2017 as an offshoot of a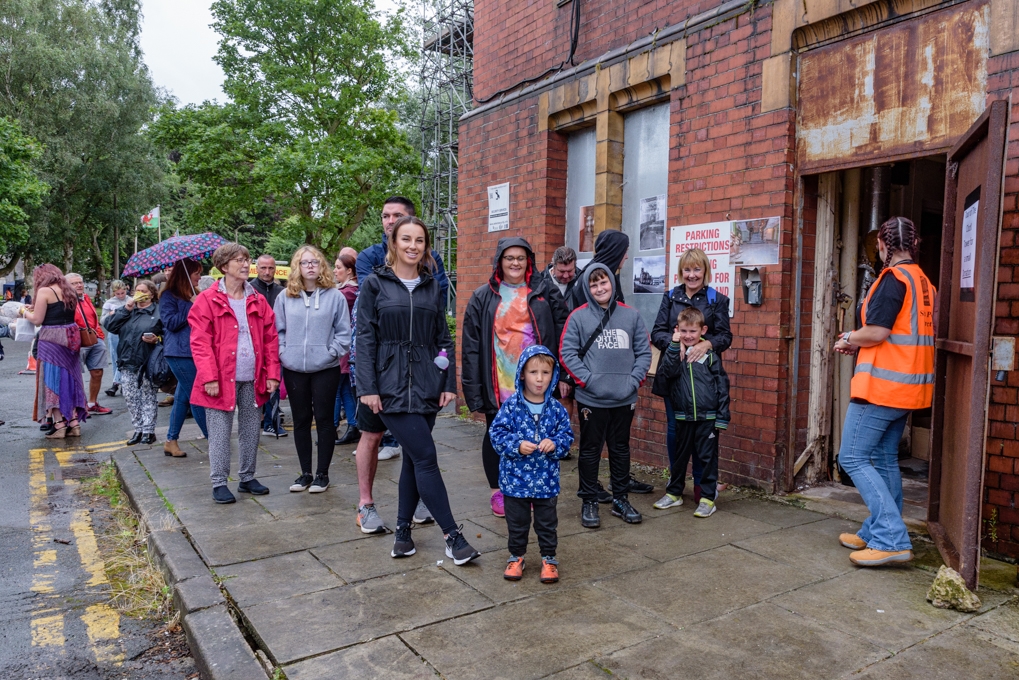 commercial recruitment organisation to support people to find employment through niche markets and skills and extra training.
In 2020 they were successful in getting a National Lottery grant to help work with the local community and build skills around a community garden.
We spoke to Vicki Roskams of Enbarr Foundation CIC to talk about their work and their Climate Action Boost grant to support their local environment.
Engagement
"The first thing we did was we held engagement events with people within our community to understand their priorities and what would make our community better for them. We made sure we reached out to our whole surrounding community as there are lots of little rural communities all connected together encompassing people from different backgrounds. We tried to bring everyone together with the sole purpose of focusing on, as we kept calling it, the Beacon of Hope. The Beacon of Hope is the clocktower building which lies in the centre of our grounds, and that was used as the conduit for change, and to help people think differently, come out into nature, improve their wellbeing, come together, and share a goal for the future."
Community gardens
"We found that people wanted to be able to use our sites garden again. They were untouched for 20 years and overgrown and unkept, and the flora and fauna was neglected and out of control and was harming the area more than enhancing it.
So, we decided as a community to tackle that and cut back the overgrowth bring us to a point where we could use the space as a place for people to go visit, and start seeing the heritage garden and features appear, enjoy themselves, and feel connected with nature. We were successful in getting National Lottery funding to bring people together and make that happen, and give the ecosystem a kickstart it deserved, whilst supporting the sites biodiversity and creating places for both fauna and flora to thrive"
Climate Action Boost
Enbarr Foundation CIC were later offered a chance to take part in The National Lottery Community Fund's Climate Action Boost scheme – a programme to support existing National Lottery groups to make their projects more environmentally friendly. They identified that flooding was a key issue in their area and worked with Renew Wales to identify a solution.
"There's a flood plain field right next to us that has been given planning permission to be built upon which is actually causing an uplift of water and causing a lot of wildlife to move onto the local estates. I spoke to Renew Wales and we discussed how we could collect water to put in flood mitigation systems for the area to protect people's homes as well as the local wildlife. We've also been told by Natural Resources Wales that the river could potentially flood and the river levels had risen 28% of the year.
I think a lot of people were against what we initially did as we started to cut back some of the self-seeded trees and Silver Birch. People tend to think, "shouldn't you be protecting trees to tackle climate change?" but we were focussing on an overpopulated area that was at risk. In one area we took off 100 trees and that uncovered absolutely amazing old plants that we didn't know about before. There was an olive tree, apple trees, a Chinese plum tree that had been gifted back in 1930's, a small orchard that hadn't been able to grow because of overpopulated land – we even found a fountain and a swimming pool once we cut plants back.
We then gave what we cut down to the community to use as fuel in woodburners, and to carve statues so the children could interact with the garden, repurposing what we had for the benefit of the community and to help tackle some local fuel poverty.
When I spoke to Renew Wales, we also talked about the idea of having a water tank to pull water off shotwick brook running to the river Dee as due to the uplift over the recent years from the building on flood plains it was starting to lift the foundations and break the culvert under the garage building alongside the clocktower.
Our project runs alongside the river and alongside it is a barrier that when the tide comes up it shuts the flow of the Dee. This then surcharges back up the culvert and under the nearby buildings. The water tank was an idea to help mitigate that – by storing the excess water in a tank we can then release it back into the Dee once the flood barrier was open again. The tower takes up to 10,000 cubic feet at a time and we divert around 60,000 a week. That's enough to fill an Olympic size swimming pool in a month. "
Impacts
"Now that we're clearing our garden and better protecting our land from flooding, we can get more people involved in learning about their local environment. When we run activities like dry-stone walling, for example, we can show how the insects living in among the nooks and crannies of the walls benefit local bird populations, and we can teach kids and their families about the world around them. And this is practical education that stays with people, and not something that you read about sitting behind a computer.
It's the kind of education where you can see things happening with your own eyes, and you can see over time how the bird and bee populations are growing, how new birds are flocking here, and how they use different parts of the landscape. These are all things that are now, for many people, newly down the road for them to enjoy when it wasn't there before. It's like a little oasis for them."
Future
"All we are is a facilitator for the community, and using our skills, knowledge and networks to make this happen. They took this project on and it's their ideas that make create the vision for the future. We have our networks, consultants, and so on but at the end of the day it's getting the communities ideas and ensuring that not only are we encompassing them into the project going forwards but we're also creating empowerment that they then become the Champions of what we're doing and making a sustainable change for the future. They are Guardians of our future - they take a really active role in change, reaching out to further communities, and creating that connectivity.
It's critical that the connectivity that we achieve isn't just about digital. It's about intergenerational connectivity and connecting people from one rural economy to the next. That's what creates conversations and that's how people feel like a part of their community. I feel that young people's voices need to be better heard in communities and their ideas and approach to tackling climate change haven't been taken on board yet by communities, and I think bringing people together is a way to help those voices be heard.
Without the National Lottery funding we would never have been able to be in the position we are now, that's fantastic."
Learn more about National Lottery funding available to support communities to take climate action.
Sustainability and community wrapped up in a nutshell: Play it Again Sport
Play it Again Sport is a social enterprise based in the Rhondda Valley and supported by the People and Work charity. They aim to remove financial barriers to sport and to reduce items being sent to landfill by selling donated sports clothing and equipment at reduced prices. They use the money raised to fund sports activities across the local area, taking the cost out of taking part.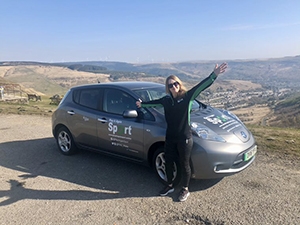 In Autumn 2020, they received £15,000 from our Climate Action Boost fund to purchase an electric vehicle (EV) and to provide an electric vehicle charging point (EVCP) in Rhondda Fach, increasing their commitment to sustainability further.
Natasha Burnell, Enterprise Manager at Play it Again Sport, tells us more about the project:
"Taking part in the Climate Action Boost has been a brilliant opportunity for us. It has enabled us to promote Play it Again Sport across the Rhondda Valley, to reduce our carbon emissions and lower our costs, whilst making sports and exercise more accessible.
We bought a Nissan Leaf, a 100% electric car, and it has cut our emissions from transport to zero. We have saved approximately £600 in fuel costs since we received our car seven months ago, which is a significant saving for a social enterprise. (It would have been significantly more, but our activities and collections were hugely reduced this year by the COVID-19 lockdowns).
We've been using the electric car to transport our weekly walking group to different locations, such as Llanwonno and the Four Falls walk in Pontneddfechan. This has meant that we've reduced the number of cars travelling from three carbon cars to one electric car and reduced people's costs accessing physical activity by supplying the transport.
We've also been using the car to collect donations from Cardiff and throughout Rhondda, as well as for our day-to-day travel when we're out delivering sport. We've saved money on all these journeys as using the EV is about two thirds cheaper than using petrol – which means the money can be diverted back to delivering sport rather than covering running costs.
Whilst making these journeys and transporting people and stock, it has triggered multiple conversations with people about electric vehicles. We have been proud to share our knowledge with the local community about charging, range, costs, long-term feasibility and the practicalities of driving an EV. People have been flabbergasted at the noise reduction when using an EV too (something I've become incredibly conscious of when driving it).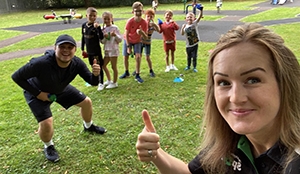 Renew Wales as mentors were fantastic, particularly in sourcing information that was not readily available – such as the future locations of EVCP's in Rhondda Cynon Taf as we wanted to ensure we would not be duplicating provision. The EVCP will be available for public use at Rhondda Fach Sports Centre soon - the first public one in Rhondda Fach. Renew Wales also helped hugely with finding information regarding the demographics of the local area, to pinpoint where and what we should be doing, and to give us context for the future.
We are now progressing with the development of a sustainability hub in Rhondda, which we hope to use to promote sustainability and provide real solutions for people to improve their commitment to the environment and to their own health and wellbeing. This hub would encompass Play it Again Sport, a zero-waste shop, repair café, Benthyg (a library of things) and workshops for sustainable activities such as beeswax wrap-making and clothing repurposing.
We are so grateful to the Climate Action Boost fund for the support in helping us become more sustainable, for providing the resources we needed, and for inspiring us to increase our commitment to sustainability further."
**
Climate Action Boost was a fund to support community groups to take environmental action to help tackle the climate crisis, including support from Renew Wales and Sustainable Communities Wales to develop an action plan. Read more here.
Learn more about National Lottery funding available to support communities to take climate action.
The first Great Big Green Week - how National Lottery funding helped make it happen
Author: Fiona Dear, Head of Campaigns at The Climate Coalition
The National Lottery Community Fund supported us with £100,000 to help make the UK's first Great Big Green Week happen this year. Here's how it went.
2021 is an important year for climate change in the UK. This November the UK will be hosting the biggest international summit our shores have seen in a generation. Known as COP26, the event will see world leaders and negotiators from around the world descend on Glasgow, with the outcomes decided there playing a critical role in tackling climate change over the coming decade and beyond. This is a huge opportunity for those of us in the UK to call for faster and more decisive action to tackle climate change at home and abroad.
To face this challenge we had to figure out a way to create a 'big bang' that showed how much appetite there is in the UK for action on climate change. We wanted everyone to be involved, but how could we create a moment that linked community action with international politics; that sent a strong message to leaders whilst reflecting the concern of those that won't take
action; that worked for seasoned campaigners and those that are newly concerned?
The answer lay in the incredible, creative, committed activity that's at the heart of our local climate movements. We learnt from the brilliant SustFest St Albans, Winchester Green Week and others. The clear and simple recommendation was to embrace the diversity of action that people are taking on climate change, by starting with where people are.
And that became the core principle of the Great Big Green Week. We asked people to organise whatever they wanted to during the week of 18-26th September. To strengthen and broaden networks, we invited keen campaigners to organise local green weeks - and we provided local grants to take away funding barriers.
What we saw was a reflection of the wonderful diversity of the climate movement, with many National Lottery funded projects getting involved too. Football clubs encouraged fans to walk or cycle to matches. Friends of local parks groups brought communities together for litter picks. Black churches made their grounds more nature friendly. Guided bike rides helped people discover new parts of - and people in - their community. Students visited nursing homes for intergenerational chats about climate change. Businesses offered big green discounts. Communities gathered for huge picnics - and to make cider. School children marched in Leicester. An electric van toured projects and events in Wales, a Climate Fringe Festival saw hundreds of events in Scotland and a young activist organised a Climate Craic festival in Belfast. Green lights illuminated the Wembley Arch, the BT Tower, the Deep Aquarium in Hull, bridges in Bedford and a walkway in Hastings. And celebrities helped to raise the profile of this activity from Pru Leith hosting a low carbon cooking demo, to well-known children's illustrators providing posters and colouring-in sheets.
Politicians got involved too. The Prime Minister himself tweeted a video encouraging people to join in, and #GreatBigGreenWeek was a top hashtag used by MPs for three days. So it was something that elected representatives wanted to be part of.
I could go on all day telling you about the brilliant events that happened as part of The Great Big Green Week. There are just too many stories, so I'll move on to some numbers. An estimated 5,000 activities took place, with a whopping 200 local festivals coordinating anything from 3 to 100 local events.
New people got involved: an impressive 45% of activity organisers had not previously organised a climate-related event, for 40% of those that took part, this was the first time they'd taken part in a climate activity. This was better than we'd hoped.
Participation in the Great Big Green Week was more ethnically diverse than previous coalition events. Our surveys told us that 91% of activity organisers and around 86% of those that took part identified as white - which is the same as the UK population. There's a lot more to look at here, and we're looking into how we can help non-white ethnic groups to become an established part of the climate movement.
So we know that the Great Big Green Week was a success because it tapped into the brilliant energy, enthusiasm and creativity that exists in local communities. What did local networks get out of it?
Well the Great Big Green Week seems to have helped groups form lasting relationships: results from our survey, that we ran thanks to National Lottery funding, shows that 88% of activity organisers feel more connected to other groups locally and, excitingly, 94% organisers plan to continue working with partners that they met through GBGW.
And a clear message that we got back from local event organisers, including those that have been running weeks like this for years, was that they valued the overarching sense of purpose that being part of a national week provided.
Whether we shifted the narrative is a trickier question. Although the Net Zero and other strategies have been released, there's still a big gap between targets and action – that's where GBGW helps: encouraging everyone and anyone to get involved and help tackle climate change locally in their community. We hope to see a step up in global ambition at the upcoming COP26 climate summit, and to see COP inspire more people to take community action, but whatever happens, we know that tackling climate change is not now or never, it's now and forever.
So what next? Another Green Week of course.
We've had overwhelming enthusiasm to host another Great Big Green Week, so it's on for September 2022, get planning!
My Journey with Our Bright Future
Naomi Simpson, 17 years old, Leeds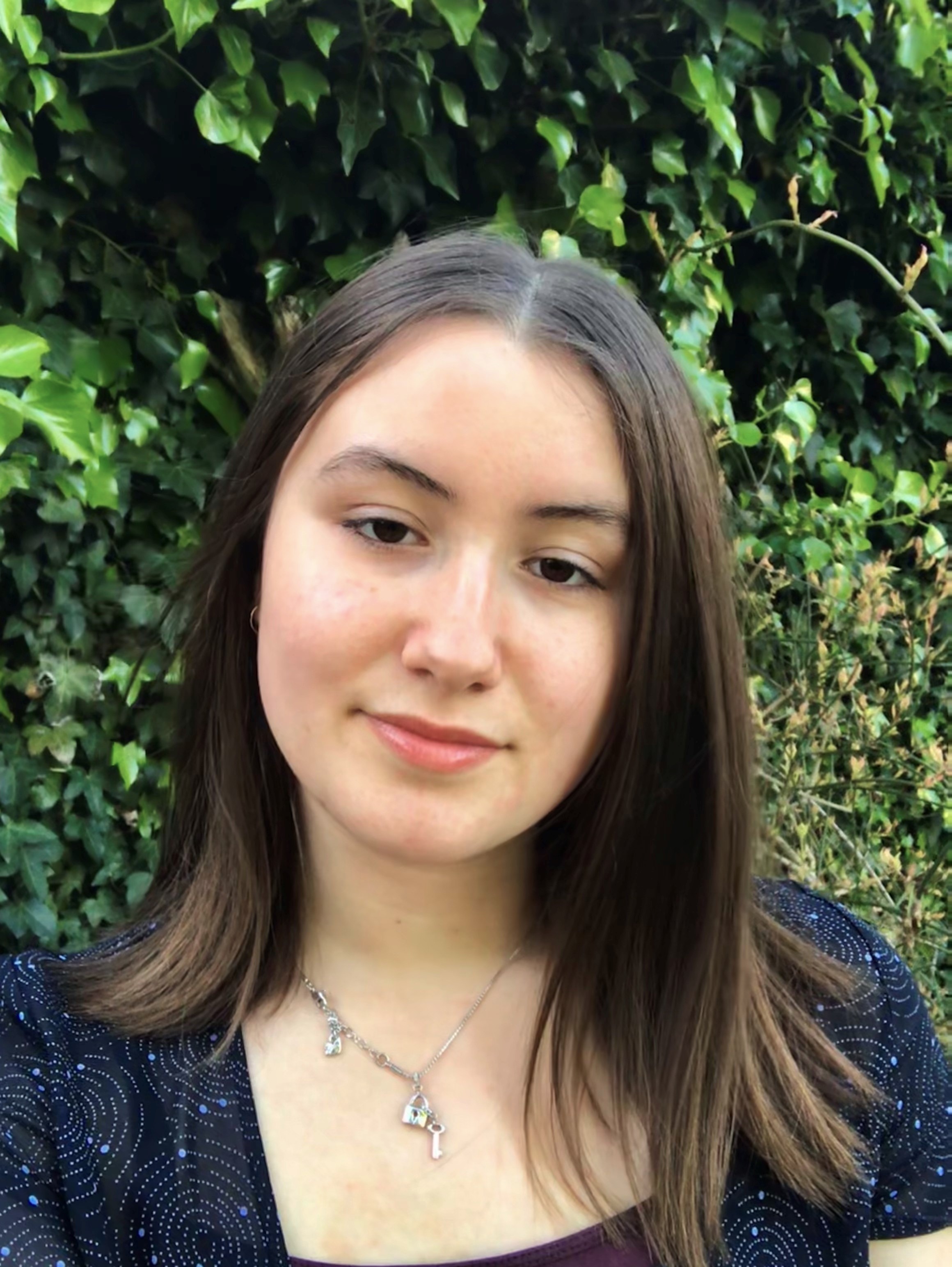 Throughout school I always had an interest in sustainability, but school failed to truly inspire me to make a real change. It was only when, five months into the global pandemic and nationwide school closures, I was drawn into the world of Our Bright Future.
I was scrolling through Instagram and flicked past an advert for a course called 'Bright Green Future', which was organised by Our Bright Green Future. I decided to sign up, and despite missing the deadline, I gained a place on the sustainability course.
I had no idea that joining onto this course would lead me into a world of climate action and give me a real sense of appreciation for our environment. After a few sessions on the course and hearing about the climate action my friends were involved with, I was inspired to take the opportunity to join Our Bright Future's Youth Forum.
Now, a year later, I continue to attend the Youth Forum's weekly meetings, while I prepare for my graduation from the 'Bright Green Future' course.
Our Bright Future is a programme funded by The National Lottery Community Fund. The programme includes 31 projects across the UK which aim to positively encourage young people into acting on climate change. It focuses primarily on three principle aims, these include: learning in and about nature, supporting young people in gaining environmentally focussed employment and to influence employers, businesses, policymakers, schools, and charities to focus more on the impact climate change has on young people.
For me, as a young person, it's clear that Our Bright Future really values my voice. The project staff and volunteers work towards providing future generations with a platform to talk about climate action and really encourage people to not just speak, but to act. No idea is a bad one, and the opinions of young people really do matter to Our Bright Future.
Over the years, Our Bright Future has seen over 115,000 people engage with their projects. Personally, the greatest impact the programme has had on me is the influence and encouragement to seek out more opportunities, I now regularly assist with my local Youth for Climate group, creating campaigns to raise awareness of climate change and the impact environmental degradation will have on our local communities.
Despite only being a teenager myself, an area of climate activism I am currently exploring is assuring the voices of younger generations are heard. A lot of youth groups only take members aged 16 and upwards, but I really believe it's important to have conversations about climate with children and young teens too.
The actions of influential young people continue to fuel my determination to make a difference. Alongside my full-time studies, and with continued support from Our Bright Future, I am gaining skills that put me in good stead to try and make a change.
Our Bright Future has really given me the confidence and experiences to apply myself and take up new opportunities. The project staff are supportive and encourage us to work closely with other young climate activists. Being part of Our Bright Future has been a pivotal experience for me and has cemented my dedication to contributing to an environmental movement that I believe will be pivotal to the assurance of our future.
A brighter future for Boys and Girls Club Wales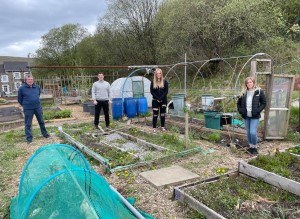 The Boys and Girls Clubs of Wales is one of the oldest youth organisations in Wales. It was formed in the early 1920s to bring together youth groups that had been supported through donations from miners. It is now an impressive collection of more than 170 youth clubs all around Wales who are part of its membership – with 30,000 young people and 3,500 volunteers.
Its overall aim is to support young people and meet their changing needs by providing them with a safe place to go, training, projects and activities that help them fulfil their potential. Projects have worked on themes including active inclusion, fundraising, internet safety, and engaging in community decision making. They also offer fun activities which breed confidence such as gorge walking and canoeing.
The Boys and Girls Clubs of Wales (BCG Wales) are participating in The National Lottery Community Fund's Climate Action Boost programme, which Renew Wales is helping to deliver. They were eligible for this programme having already been in receipt of National Lottery funding – to help gear up for the re-opening the clubs after the Covid-19 pandemic, with safety and sanitizing equipment, and running sessions such as mindfulness for the young people.
The CAB funding enabled them to create an environmental action plan and, through consultation with members, staff, volunteers, and young people they identified two priorities: growing produce, and reducing consumption & recycling.
Growing produce
Their aim is to engage around 40 young people in this activity in those clubs which have the necessary land available and the staffing support in place to deliver it. These are Nantymoel, Bettws, Grangetown, Llwynypia and Caerau. The young people will benefit from informal and practical training sessions (in some cases from local Allotment Society members) so they can build the skills and knowledge needed to grow their own produce. It is hoped the produce will be sold in the clubs or maybe distributed locally to families in need.
Most of the clubs are yet to fully re-open with their activities and so progress has not been as swift as hoped. However, several clubs have bought the equipment and have made a start, especially in Noddfa, Caerau, near Maesteg and also Nantymoel, where the raised beds have been built and polytunnel frames put up. They will be ready for planting very soon! Links are being formed with 'Edible Orchard' too which will result in growing fruit, and who knows, maybe some jams and chutneys being produced in the future?
One of the young volunteers at the Noddfa project said, "The garden project will be good for the kids as it is a healthy, fun, and educative way of seeing where and how their fruit and veg grow. As well as getting their hands dirty on the soil and some fresh air being outdoors. What child doesn't like to get a little muddy now and then? I am most looking forward to seeing how much the kids enjoy being in that environment and trying all of the things we grow."  
Reducing consumption and recycling
The young people of Wyndham and KPC Youth will participate in this scheme and will be educated on how to design, implement, and manage an efficient and effective recycling programme within their clubs. They will be encouraged to promote the use of locally produced or environmentally friendly products and to raise a greater awareness of the threat posed to the environment of single use packaging. Plans are underway to get these schemes started over the next few weeks as the buildings re-open and the young people are welcomed back. Renew Wales mentor David Thorpe will engage the young people in discussion about the wider implications of climate change and the context in which their action here, in this project, plays its part.
Joff Carroll, BCG Wales National Director says, "Creating an awareness of the dangers of climate change and how we at BGC Wales can help reverse the problem is important to us as an organisation. Encouraging young people to become involved in social action in their communities, especially during this challenging time, will aid and improve their wellbeing, mental health and self-esteem and create a more positive perception of young people in the community."
In addition to giving the young people practical skills and knowledge of a subject, it is hoped that both these projects will foster greater engagement within their communities, with locals buying the fresh produce and using the recycling facilities. There is also an appetite and scope for inter-generational relationships to be built with knowledge and experiences being shared through activities and conversations.  BCG Wales' central management believe that many more clubs will see what has been achieved and will want to follow suit and embark on their own schemes- indeed, some have already showed a keen interest.  There are several ideas for evaluating and celebrating the achievements as they progress, and we look forward to seeing these.
Green energy boost for Swansea Community Farm thanks to National Lottery
Swansea Community Farm is a community farm based in Fforestfach, Swansea that is focused on supporting people in the community with voluntary opportunities as a means to improve people's health, wellbeing and mental health.
Earlier this year they received a National Lottery Community Fund Green Top-Up grant of £9,900 to, with support from Renew Wales and Sustainable Communities Wales, install solar panels on their roof to improve the energy efficiency of their building.
The Green Top-Up grants a pilot in Wales that is supporting existing National Lottery projects to make small changes to their projects to tackle climate change in their communities. The Green Top-Ups pilot is part of our environmental strategy to make positive change to tackling climate change in communities. Find out more on how to reduce your environmental footprint on our website.
We spoke to Kate Gibbs from Swansea Community Farm about their grant, and how what difference it's making to their work.
Taking care of the local environment
"We are an environmentally focused charity and the top-up grant was a great opportunity to invest in the infrastructure at the farm to make our work more environmentally-friendly. In just a couple of months that the solar panels have been active they have saved 1,310.84 kg of CO2 Emissions and generated 5.13 MWh so far, which is the equivalent of planting 60 trees.
We worked with Sustainable Communities Wales to assess how much energy we were using on the farm before implementing the changes. Their energy report was really helpful in getting staff and volunteers to change their practices. For example, we have already regained a full understanding and control of our heating system, improving the timings for efficiency. We are also looking to invest in some of the other suggested changes from the report.
Another useful part of the process was that we had designed a conservation grazing project – working in partnership with PONT and the local authority's nature conservation team. Whilst we went with the solar project because of the short timescale of the Top-Up pilot we have since been able to pick up these discussions and are working towards grazing some animals on a local nature reserve for the future helping reduce the fire load and improving the habitat."
Expert advice makes a difference
"The Renew Wales and Sustainable Communities workers and support that we had were great and really took on parts of the task rather than just talking about what needed doing. This was particularly helpful given the tight timescales and capacity of staff. The energy survey by Sustainable Communities is a very useful document that will shape the farm's activities and plans for some time. Owen from Sustainable Communities Wales was fantastic to work with and was quick to answer our questions.
The capital investment from the Green Top-Up towards solar panels has been amazing and means that we can generate more clean energy and educate others about climate change. I don't think we could have done this without the funding; we have very tight budgets and investing in capital like this would have been impossible.
We have a large number of ideas and projects that we could run in the future that could impact climate change, educate others, and improve the physical infrastructure of this community facility; it's really important to us that we can help make these changes in our local community. Diolch!"
Swansea Community Farm received a grant from The National Lottery Community Fund of £9,900 to install solar panels and an interpretation panel for visitors. Find out more about Swansea Community Farm.
Greener Kirkcaldy
In Fife, National Lottery funding is helping Greener Kirkcaldy and partners to take collaborative action on climate change.
For the last 12 years, this community led charity and development trust has been working locally to combat the climate emergency, tackle fuel poverty and food insecurity and bring people together for a more sustainable community.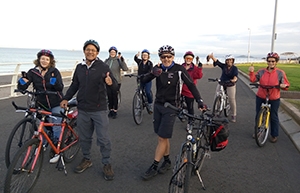 And thanks to an award of £197,289 from our Climate Action Fund, Greener Kirkcaldy is working in partnership with Fife Council, Fife College and Fife Communities Climate Action network to deliver the Climate Action Fife project. Together they are piloting a range of climate related activities, engaging people from all backgrounds and sectors, tackling carbon emissions and delivering ambitious longer-term plans.
Senior Development Worker, Craig Leitch says, "Since our award we have been able to engage a Fife-wide audience on a wide range of climate issues, including travel, how we manage our homes, work, eat and holiday. We have also been able to help build capacity in our community by creating a tree planting strategy, a community cycling plan, a climate engagement toolkit and have funded ten climate action activities in Fife through our small grants fund.
"Working with local partners has been fantastic. It has allowed the project to reach a much wider audience across the whole of Fife and gives a deep pool of expertise and creativity to draw on."
Other exciting parts of the project include a Young People's Climate Action team which is engaging a younger audience and developing a social media campaign in the lead up to COP 26, and a four-module course signed off by the Carbon Literacy Project.
"We are very excited that we can now deliver this course in our community," says Craig. "It will be rolled out to staff, volunteers and the general public in October and November 2021 and learners who complete it will become Carbon Literacy accredited."
"Our Young People Climate Action Team created a carbon footprint food game that was the main attraction at a number of family fun days that we ran over the summer. Their enthusiasm has been both infectious and inspiring."
With still much to plan, the Trust will soon be sharing their experiences to date with a wider audience. Craig continues, "Our Climate Action Toolkit is a collection of how-to guides, resources, write-ups and case studies that will allow other communities to deliver climate activities and to learn from our experiences. These will be available for download on the Climate Action Fife website."
Craig added; "So far this project has allowed us to learn a lot about what our community wants and needs to help them take action on the climate emergency. We will use this learning to inform our work going forward and continue to build capacity across the region, through activities, workshops, sharing resources and providing training. We want to build on the momentum that's been created across Fife and we look forward to continuing our work empowering communities to start taking action."
The Climate Action Fife project led by Green Kirkcaldy received their Climate Action Fund development grant in August 2020.
Women's Environmental Network (WEN)
In Tower Hamlets, National Lottery funding is supporting Women's Environmental Network and partners to support communities to act for a healthier planet.
Since 1988, WEN has been working to create a movement, which offers a more active and pioneering approach to tackling environmental, gender and health issues that impacts those living in and around Tower Hamlets.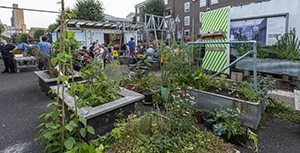 The charity has now taken one step further to achieving more systemic change in the local area. With more than £2 million in funding from The National Lottery Community Fund's Climate Action Fund, WEN has created a new and ground-breaking project, 'Just Food and Climate Transition' (Just FACT). The project, which brings together local partners, hopes to go beyond individual behavioural change, and create a community-driven system of approach. The partners involved with Just FACT include WEN, Blueprint Architects, Be.Green Youth Programme, Parkview & Cranbrook Climate Taskforce, St. Hilda's Food Co-op and several community hubs and climate markets.
Just FACT Programme Manager, Elle McAll explained the difference National Lottery funding has made: "Since receiving the grant from the Climate Action Fund, we have been able to go from strength to strength in Tower Hamlets. We have been able explore what sustainable and equitable food production would look like in the borough, as well as really focus on community outreach and engagement.
"The partnerships we have formed because of the funding have really been a great asset to Just FACT and WEN. We've been able to build strong relationships with housing estates and really explore and concentrate on the challenges people face and the opportunities available within Tower Hamlets.
"There have been Bengali cooking workshops, a local composting club has opened up and more recently, the young people from the Be.Green Youth Programme have been learning about the link between food and climate change. Providing young people, a voice and platform in this way has given them an opportunity to create their own climate campaigns to reach younger generations."
Working closely with Cranbrook Community Food Garden, Just FACT is planning to plant fruit bushes that will provide a source of free fruit to residents in local estates. The group has also implemented a sustainable water system by increasing the capacity to harvest rainwater in the garden.
Elle continued: "More recently, WEN brought together more than 50 people from the local community to celebrate the official start of the Just FACT programme. We encouraged all attendees to get stuck in and join us by planting trees for the local community to enjoy.
"Just FACT is more than just about thinking of ways to make Tower Hamlets sustainable. It's about encouraging and creating a system of change that we can share from one borough to another. It's creating a system that doesn't just focus on individual action on climate change, but praises and encourages community led climate action."
You can read more and find out what Just FACT and its partners have been up to here: https://www.wen.org.uk/2021/09/07/launching-climate-action-in-tower-hamlets/
Acorn Farm Project
August 2021
Hayley Doman and her family have been growing their own veg throughout lockdown. "It's not only great for the kids and I to have our own food supply, but it also looks wonderful growing in the garden, the strawberries have been great this year," said Hayley, from Derry/Londonderry.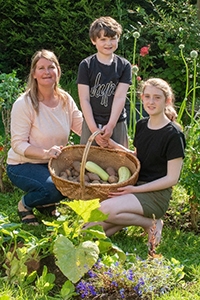 The Domans are just one family involved in The Community Foundation NI's Acorn Farm Project, run in partnership with Derry City and Strabane District Council, the Conservation Volunteers and University College Cork, which was awarded £200,000 in National Lottery funding last year.
"We just love getting out in the fresh air, weeding together and seeing what we produce, all while helping the climate and I am delighted that this money has been awarded to Derry and Strabane, as more of this is needed in the area," added Hayley.
The Acorn Farm, I Can Grow project, mentors 260 families on how to grow their own fruit and veg over an 18-month period. Those involved are encouraged to take up tools and learn the basics of food production at home.
Families are given everything they need to grow food at home, learning from horticultural experts to begin the creation of a more sustainable food system throughout the city. Research into the local food system is also being carried out and the longer-term vision is to create an innovation hub for sustainable food production in St Columb's Park.
As a Primary 1 teacher and mum of an energetic nine-year-old boy, Aine Kivlehan, has a great grasp of the positive impact of growing-your-own on children and family life.
Following the Acorn Farm, I Can Grow Project's call out for local people to get involved she signed up to be part of it straight away. Since then, Aine and son John have embraced growing together; reusing old wiring and containers to nurture their very own fruit and vegetables and taking great care of the seeds in the raised bed supplied by the project's horticulturalist.
"John really loves checking on the veg and watering the plants and I've enjoyed getting some tips which I've passed onto friends. It's lovely being able to lift something from your back garden and bring it into the kitchen to cook for dinner," said Aine.
It has been catching too with neighbours popping over to have a look and being inspired to give growing a go themselves. Aine looks forward to the time when, as a community, they can begin to come together, share produce and have little tasting sessions in each other's gardens.
She added, "We have to take care of our community and 'I Can Grow' is empowering us to be more self-sufficient while cutting out all the pollution involved in transporting food. We hope it's the start of a wider movement saving families money, helping them eat a bit healthier while caring for our environment & instilling that ethos within our children."
Shauna Kelpie, Fund Officer from Acorn Farm Project said: "We're delighted to receive support from The National Lottery's Climate Action Fund for this exciting and truly collaborative project. Through the COVID-19 pandemic, people have become more aware of how important a sustainable food supply is.
"Our focus is starting a wider conversation on issues and educating local people about their food choices. Take the tomato in your sandwich, this has been imported from another country, but by growing your own at home you get what you need and help reduce the carbon miles of its travel and in turn improve the quality of the air we breathe. Small things together can make a big difference."
The Mayor of Derry City & Strabane District Council, Alderman Graeme Warke, is also a supporter, he said, "Acorn Farm I Can Grow, is giving families in the Derry and Strabane area the confidence to grow their own and it's having a ripple effect with our growers becoming influencers in their own families and networks. It has become a great conversation starter with people taking more of an interest in where food comes from, its journey from farm to fork. We hope it will make local people more conscious of their eating habits opting for fresher, healthier meals and helping our environment by reducing the carbon miles associated with importing food; all while saving families money.
"This project is taking climate action and is building on a growing movement of people who have connected with nature during the pandemic. We hope it is another step towards building a cleaner, healthier, more prosperous, and sustainable district where people are confident and empowered to feed themselves. Our ambition is to become a sustainable food place as part of the food system movement to work with a network of others to affect change with our goal being the creation of Acorn Farm Geodesic Domes in St Columb's Park as a practical eco-demonstration venue for learning, growing, and sharing food and culture."