Stories
How communities across the UK are taking action on the climate emergency.
Inspiring stories and personal reflections
Welcome to our Climate Hub
It's a pleasure to launch our new Climate Hub. This is the latest step in our commitment to tackling the climate and ecological emergency and follows the work we have undertaken over the last few years, in building up a holistic approach to supporting all communities to take action on climate change.

The Climate Hub reflects the critical importance of the subject matter to us and to communities across the country. As the largest funder of community activity in the UK, we want to ensure we can inspire, educate and support communities in their work to tackle the climate crisis.
This Hub is a key part of our environment strategy and will provide regular blogs, thought-pieces, case studies and resources to support our work and that of projects looking to take community-led climate action. I hope it is a place to find inspiration, as well as further information about our climate funding, and what we are learning through that work.
As with most things, change has to start at home. We're proud to be able to share more about the Fund's approach to reducing our own organisational carbon footprint and our commitment to carbon neutrality.
We are here to help the communities we serve to think carefully about their own environmental impact, and how organisations of all sizes can be encouraged to reduce their carbon footprint.
While our specific funding, like Together For Our Planet and the Climate Action Fund, supports projects to take community based action to tackle the climate emergency, we believe all our grant holders have a role to play. Making positive choices to take climate action is an option for all.
In this important year for climate action, as governments and other stakeholders from across the world come together in Glasgow for COP26 to agree the next steps in our global approach to the climate challenge, the Fund's ambition is to set out a clear stall for the central role of communities in a coordinated response. We know communities have a vital role to play.
The challenge brought by the pandemic over the last 18 months has highlighted the unique power and importance of community action and togetherness. The pandemic has also given us important lessons to learn about how we must come together, plan and work together to address the climate emergency, reducing our carbon emissions as well as making our communities more resilient to future shocks.
We know that relying only on actions by business and government policy will not be enough to bring down the UK's carbon emissions to acceptable levels. This fact was highlighted in the UN's recent Emissions gap report. People must be actively engaged to achieve the behaviour changes that are needed, and communities are often best placed to lead this important work. Communities have a vital role to play in addressing the climate and ecological emergency, and The National Lottery Community Fund is here to support them to do just that.
Nick Gardner, Head of Climate Action
A brighter future for Boys and Girls Club Wales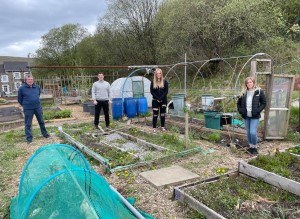 The Boys and Girls Clubs of Wales is one of the oldest youth organisations in Wales. It was formed in the early 1920s to bring together youth groups that had been supported through donations from miners. It is now an impressive collection of more than 170 youth clubs all around Wales who are part of its membership – with 30,000 young people and 3,500 volunteers.
Its overall aim is to support young people and meet their changing needs by providing them with a safe place to go, training, projects and activities that help them fulfil their potential. Projects have worked on themes including active inclusion, fundraising, internet safety, and engaging in community decision making. They also offer fun activities which breed confidence such as gorge walking and canoeing.
The Boys and Girls Clubs of Wales (BCG Wales) are participating in The National Lottery Community Fund's Climate Action Boost programme, which Renew Wales is helping to deliver. They were eligible for this programme having already been in receipt of National Lottery funding – to help gear up for the re-opening the clubs after the Covid-19 pandemic, with safety and sanitizing equipment, and running sessions such as mindfulness for the young people.
The CAB funding enabled them to create an environmental action plan and, through consultation with members, staff, volunteers, and young people they identified two priorities: growing produce, and reducing consumption & recycling.
Growing produce
Their aim is to engage around 40 young people in this activity in those clubs which have the necessary land available and the staffing support in place to deliver it. These are Nantymoel, Bettws, Grangetown, Llwynypia and Caerau. The young people will benefit from informal and practical training sessions (in some cases from local Allotment Society members) so they can build the skills and knowledge needed to grow their own produce. It is hoped the produce will be sold in the clubs or maybe distributed locally to families in need.
Most of the clubs are yet to fully re-open with their activities and so progress has not been as swift as hoped. However, several clubs have bought the equipment and have made a start, especially in Noddfa, Caerau, near Maesteg and also Nantymoel, where the raised beds have been built and polytunnel frames put up. They will be ready for planting very soon! Links are being formed with 'Edible Orchard' too which will result in growing fruit, and who knows, maybe some jams and chutneys being produced in the future?
One of the young volunteers at the Noddfa project said, "The garden project will be good for the kids as it is a healthy, fun, and educative way of seeing where and how their fruit and veg grow. As well as getting their hands dirty on the soil and some fresh air being outdoors. What child doesn't like to get a little muddy now and then? I am most looking forward to seeing how much the kids enjoy being in that environment and trying all of the things we grow."  
Reducing consumption and recycling
The young people of Wyndham and KPC Youth will participate in this scheme and will be educated on how to design, implement, and manage an efficient and effective recycling programme within their clubs. They will be encouraged to promote the use of locally produced or environmentally friendly products and to raise a greater awareness of the threat posed to the environment of single use packaging. Plans are underway to get these schemes started over the next few weeks as the buildings re-open and the young people are welcomed back. Renew Wales mentor David Thorpe will engage the young people in discussion about the wider implications of climate change and the context in which their action here, in this project, plays its part.
Joff Carroll, BCG Wales National Director says, "Creating an awareness of the dangers of climate change and how we at BGC Wales can help reverse the problem is important to us as an organisation. Encouraging young people to become involved in social action in their communities, especially during this challenging time, will aid and improve their wellbeing, mental health and self-esteem and create a more positive perception of young people in the community."
In addition to giving the young people practical skills and knowledge of a subject, it is hoped that both these projects will foster greater engagement within their communities, with locals buying the fresh produce and using the recycling facilities. There is also an appetite and scope for inter-generational relationships to be built with knowledge and experiences being shared through activities and conversations.  BCG Wales' central management believe that many more clubs will see what has been achieved and will want to follow suit and embark on their own schemes- indeed, some have already showed a keen interest.  There are several ideas for evaluating and celebrating the achievements as they progress, and we look forward to seeing these.
Green energy boost for Swansea Community Farm thanks to National Lottery
Swansea Community Farm is a community farm based in Fforestfach, Swansea that is focused on supporting people in the community with voluntary opportunities as a means to improve people's health, wellbeing and mental health.
Earlier this year they received a National Lottery Community Fund Green Top-Up grant of £9,900 to, with support from Renew Wales and Sustainable Communities Wales, install solar panels on their roof to improve the energy efficiency of their building.
The Green Top-Up grants a pilot in Wales that is supporting existing National Lottery projects to make small changes to their projects to tackle climate change in their communities. The Green Top-Ups pilot is part of our environmental strategy to make positive change to tackling climate change in communities. Find out more on how to reduce your environmental footprint on our website.
We spoke to Kate Gibbs from Swansea Community Farm about their grant, and how what difference it's making to their work.
Taking care of the local environment
"We are an environmentally focused charity and the top-up grant was a great opportunity to invest in the infrastructure at the farm to make our work more environmentally-friendly. In just a couple of months that the solar panels have been active they have saved 1,310.84 kg of CO2 Emissions and generated 5.13 MWh so far, which is the equivalent of planting 60 trees.
We worked with Sustainable Communities Wales to assess how much energy we were using on the farm before implementing the changes. Their energy report was really helpful in getting staff and volunteers to change their practices. For example, we have already regained a full understanding and control of our heating system, improving the timings for efficiency. We are also looking to invest in some of the other suggested changes from the report.
Another useful part of the process was that we had designed a conservation grazing project – working in partnership with PONT and the local authority's nature conservation team. Whilst we went with the solar project because of the short timescale of the Top-Up pilot we have since been able to pick up these discussions and are working towards grazing some animals on a local nature reserve for the future helping reduce the fire load and improving the habitat."
Expert advice makes a difference
"The Renew Wales and Sustainable Communities workers and support that we had were great and really took on parts of the task rather than just talking about what needed doing. This was particularly helpful given the tight timescales and capacity of staff. The energy survey by Sustainable Communities is a very useful document that will shape the farm's activities and plans for some time. Owen from Sustainable Communities Wales was fantastic to work with and was quick to answer our questions.
The capital investment from the Green Top-Up towards solar panels has been amazing and means that we can generate more clean energy and educate others about climate change. I don't think we could have done this without the funding; we have very tight budgets and investing in capital like this would have been impossible.
We have a large number of ideas and projects that we could run in the future that could impact climate change, educate others, and improve the physical infrastructure of this community facility; it's really important to us that we can help make these changes in our local community. Diolch!"
Swansea Community Farm received a grant from The National Lottery Community Fund of £9,900 to install solar panels and an interpretation panel for visitors. Find out more about Swansea Community Farm.
Greener Kirkcaldy
In Fife, National Lottery funding is helping Greener Kirkcaldy and partners to take collaborative action on climate change.
For the last 12 years, this community led charity and development trust has been working locally to combat the climate emergency, tackle fuel poverty and food insecurity and bring people together for a more sustainable community.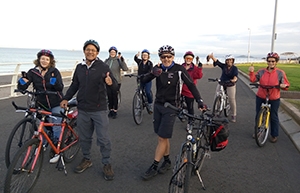 And thanks to an award of £197,289 from our Climate Action Fund, Greener Kirkcaldy is working in partnership with Fife Council, Fife College and Fife Communities Climate Action network to deliver the Climate Action Fife project. Together they are piloting a range of climate related activities, engaging people from all backgrounds and sectors, tackling carbon emissions and delivering ambitious longer-term plans.
Senior Development Worker, Craig Leitch says, "Since our award we have been able to engage a Fife-wide audience on a wide range of climate issues, including travel, how we manage our homes, work, eat and holiday. We have also been able to help build capacity in our community by creating a tree planting strategy, a community cycling plan, a climate engagement toolkit and have funded ten climate action activities in Fife through our small grants fund.
"Working with local partners has been fantastic. It has allowed the project to reach a much wider audience across the whole of Fife and gives a deep pool of expertise and creativity to draw on."
Other exciting parts of the project include a Young People's Climate Action team which is engaging a younger audience and developing a social media campaign in the lead up to COP 26, and a four-module course signed off by the Carbon Literacy Project.
"We are very excited that we can now deliver this course in our community," says Craig. "It will be rolled out to staff, volunteers and the general public in October and November 2021 and learners who complete it will become Carbon Literacy accredited."
"Our Young People Climate Action Team created a carbon footprint food game that was the main attraction at a number of family fun days that we ran over the summer. Their enthusiasm has been both infectious and inspiring."
With still much to plan, the Trust will soon be sharing their experiences to date with a wider audience. Craig continues, "Our Climate Action Toolkit is a collection of how-to guides, resources, write-ups and case studies that will allow other communities to deliver climate activities and to learn from our experiences. These will be available for download on the Climate Action Fife website."
Craig added; "So far this project has allowed us to learn a lot about what our community wants and needs to help them take action on the climate emergency. We will use this learning to inform our work going forward and continue to build capacity across the region, through activities, workshops, sharing resources and providing training. We want to build on the momentum that's been created across Fife and we look forward to continuing our work empowering communities to start taking action."
The Climate Action Fife project led by Green Kirkcaldy received their Climate Action Fund development grant in August 2020.
Women's Environmental Network (WEN)
In Tower Hamlets, National Lottery funding is supporting Women's Environmental Network and partners to support communities to act for a healthier planet.
Since 1988, WEN has been working to create a movement, which offers a more active and pioneering approach to tackling environmental, gender and health issues that impacts those living in and around Tower Hamlets.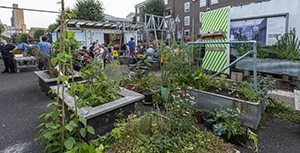 The charity has now taken one step further to achieving more systemic change in the local area. With more than £2 million in funding from The National Lottery Community Fund's Climate Action Fund, WEN has created a new and ground-breaking project, 'Just Food and Climate Transition' (Just FACT). The project, which brings together local partners, hopes to go beyond individual behavioural change, and create a community-driven system of approach. The partners involved with Just FACT include WEN, Blueprint Architects, Be.Green Youth Programme, Parkview & Cranbrook Climate Taskforce, St. Hilda's Food Co-op and several community hubs and climate markets.
Just FACT Programme Manager, Elle McAll explained the difference National Lottery funding has made: "Since receiving the grant from the Climate Action Fund, we have been able to go from strength to strength in Tower Hamlets. We have been able explore what sustainable and equitable food production would look like in the borough, as well as really focus on community outreach and engagement.
"The partnerships we have formed because of the funding have really been a great asset to Just FACT and WEN. We've been able to build strong relationships with housing estates and really explore and concentrate on the challenges people face and the opportunities available within Tower Hamlets.
"There have been Bengali cooking workshops, a local composting club has opened up and more recently, the young people from the Be.Green Youth Programme have been learning about the link between food and climate change. Providing young people, a voice and platform in this way has given them an opportunity to create their own climate campaigns to reach younger generations."
Working closely with Cranbrook Community Food Garden, Just FACT is planning to plant fruit bushes that will provide a source of free fruit to residents in local estates. The group has also implemented a sustainable water system by increasing the capacity to harvest rainwater in the garden.
Elle continued: "More recently, WEN brought together more than 50 people from the local community to celebrate the official start of the Just FACT programme. We encouraged all attendees to get stuck in and join us by planting trees for the local community to enjoy.
"Just FACT is more than just about thinking of ways to make Tower Hamlets sustainable. It's about encouraging and creating a system of change that we can share from one borough to another. It's creating a system that doesn't just focus on individual action on climate change, but praises and encourages community led climate action."
You can read more and find out what Just FACT and its partners have been up to here: https://www.wen.org.uk/2021/09/07/launching-climate-action-in-tower-hamlets/
Acorn Farm Project
August 2021
Hayley Doman and her family have been growing their own veg throughout lockdown. "It's not only great for the kids and I to have our own food supply, but it also looks wonderful growing in the garden, the strawberries have been great this year," said Hayley, from Derry/Londonderry.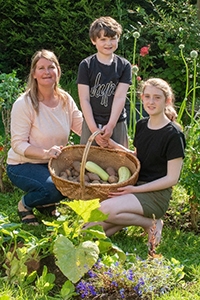 The Domans are just one family involved in The Community Foundation NI's Acorn Farm Project, run in partnership with Derry City and Strabane District Council, the Conservation Volunteers and University College Cork, which was awarded £200,000 in National Lottery funding last year.
"We just love getting out in the fresh air, weeding together and seeing what we produce, all while helping the climate and I am delighted that this money has been awarded to Derry and Strabane, as more of this is needed in the area," added Hayley.
The Acorn Farm, I Can Grow project, mentors 260 families on how to grow their own fruit and veg over an 18-month period. Those involved are encouraged to take up tools and learn the basics of food production at home.
Families are given everything they need to grow food at home, learning from horticultural experts to begin the creation of a more sustainable food system throughout the city. Research into the local food system is also being carried out and the longer-term vision is to create an innovation hub for sustainable food production in St Columb's Park.
As a Primary 1 teacher and mum of an energetic nine-year-old boy, Aine Kivlehan, has a great grasp of the positive impact of growing-your-own on children and family life.
Following the Acorn Farm, I Can Grow Project's call out for local people to get involved she signed up to be part of it straight away. Since then, Aine and son John have embraced growing together; reusing old wiring and containers to nurture their very own fruit and vegetables and taking great care of the seeds in the raised bed supplied by the project's horticulturalist.
"John really loves checking on the veg and watering the plants and I've enjoyed getting some tips which I've passed onto friends. It's lovely being able to lift something from your back garden and bring it into the kitchen to cook for dinner," said Aine.
It has been catching too with neighbours popping over to have a look and being inspired to give growing a go themselves. Aine looks forward to the time when, as a community, they can begin to come together, share produce and have little tasting sessions in each other's gardens.
She added, "We have to take care of our community and 'I Can Grow' is empowering us to be more self-sufficient while cutting out all the pollution involved in transporting food. We hope it's the start of a wider movement saving families money, helping them eat a bit healthier while caring for our environment & instilling that ethos within our children."
Shauna Kelpie, Fund Officer from Acorn Farm Project said: "We're delighted to receive support from The National Lottery's Climate Action Fund for this exciting and truly collaborative project. Through the COVID-19 pandemic, people have become more aware of how important a sustainable food supply is.
"Our focus is starting a wider conversation on issues and educating local people about their food choices. Take the tomato in your sandwich, this has been imported from another country, but by growing your own at home you get what you need and help reduce the carbon miles of its travel and in turn improve the quality of the air we breathe. Small things together can make a big difference."
The Mayor of Derry City & Strabane District Council, Alderman Graeme Warke, is also a supporter, he said, "Acorn Farm I Can Grow, is giving families in the Derry and Strabane area the confidence to grow their own and it's having a ripple effect with our growers becoming influencers in their own families and networks. It has become a great conversation starter with people taking more of an interest in where food comes from, its journey from farm to fork. We hope it will make local people more conscious of their eating habits opting for fresher, healthier meals and helping our environment by reducing the carbon miles associated with importing food; all while saving families money.
"This project is taking climate action and is building on a growing movement of people who have connected with nature during the pandemic. We hope it is another step towards building a cleaner, healthier, more prosperous, and sustainable district where people are confident and empowered to feed themselves. Our ambition is to become a sustainable food place as part of the food system movement to work with a network of others to affect change with our goal being the creation of Acorn Farm Geodesic Domes in St Columb's Park as a practical eco-demonstration venue for learning, growing, and sharing food and culture."