Cost of living - warm spaces
Cost of living - warm spaces
Many people are now living in cold homes. An estimated one in four households are in fuel poverty and nearly half of low-income households are living in energy-leaking homes.
This has led to people taking extreme measures to save energy: leaving their home during the day to avoid heating it, heating only a single room, or even switching off utilities all together.
Charities and community groups have stepped up to support people through this hard, expensive winter. Some are helping people to reduce energy costs by draughtproofing homes, running home energy audits, or providing blankets and heaters for people to take home. Many are sharing money saving tips, lending energy-saving cookers, or helping people to maximise their income.
Some have started to offer warm spaces: places where people are invited to spend their days, keeping warm at no extra cost. From an almost unknown concept just a year ago, over 6,300 organisations across the UK have now registered with the Warm Welcome network, offering free, warm, welcoming spaces for the public.
While they don't solve the cost of living crisis, we're seeing that they can play a valuable role as part of a wider set of support, helping people through a very difficult winter and making sure they are not alone.
Here we are sharing more about them: where they are, how they operate, what they offer, and what we're learning about what works in setting up and running warm spaces.
This analysis focuses on 105 National Lottery funded grants made between July and early December 2022. Many more have opened since, and others now have more experience in running their services – so we know that there are things we've missed or haven't seen yet. We'd love to hear what you're learning about warm spaces in your community, so that we can make this work practical and useful.
Where can you find warm spaces?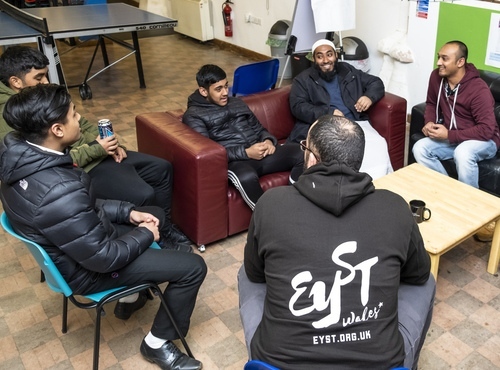 There are warm spaces all across the UK. To find one in or around your community, you can start by checking Warm Welcome's map of registered warm spaces. Your council website is another good starting point. You could also check what funders are doing.
We're seeing warm spaces being set up in both new and existing settings. Many familiar community hubs, such as cafés, village halls or libraries, work well because they are established and well known to residents. Therefore we're funding some of them to stay open longer or open up more frequently.
For example, the Church of All Saints and St James in Northamptonshire runs a warm community café on Friday mornings. We've awarded funding to help heat the building for the rest of the day and on Sundays, "as not many other places are open that day". And the Tiferes Yisroel congregation in London has been able to extend its opening hours to cover the weekend - so as to provide a warm space where the community can meet and support one another while reducing the cost of heating at home.
We're also seeing groups coming together to provide a coordinated response. A federation of community organisations in Carlisle has set up warm hubs in 11 community centres across the city. As well as food and hot drinks, these hubs offer advice and information from specialist agencies, with money-saving tips, and training in energy saving.
Some warm spaces have been newly developed - for instance, by rearranging the layout of a food hub to create a new social space, or repurposing a popular community café into a warm bank.
The North Ayrshire Foodbank in Ardrossan remodelled its premises to set up a Heating Hub after learning that 92% of its customers were already rationing their energy use in the spring/summer of 2022. The hub stays open four days a week until the end of February 2023, providing hot meals and drinks during the day. The foodbank's own welfare rights officer and partner agencies are on hand for advice.
To get started, many of these places have just needed a small grant to redecorate a space, or buy new furniture. After a community consultation, the South Stanley Partnership in Durham upgraded its café equipment to develop a warm space, open six days a week, with free wifi funded by Durham Council. A £9,000 National Lottery grant enabled the group to buy two new double ovens, paint and decorate the space, and pay some of the utilities. And following feedback from listeners, Leek Radio, a community radio station in Staffordshire, has opened up a Warm Hub in its community room and canteen.
When are they needed?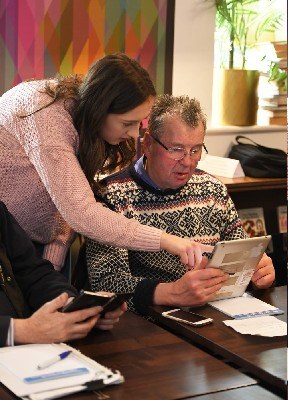 Finding somewhere warm might be harder at particular times. So organisations are tailoring their opening hours to fill gaps, recognising that demand changes at weekends, at half term, and at different times of the day.
South Mitcham Community Association's "Home from home" space is open at different times of the week, to reach as wide a range of people as possible. The service is promoted through cultural groups, local GP surgeries and schools.
While most warm spaces are open during the day, others are opening up later. In Port Talbot, Ysgol Cwm Brombil School's Hwb Dysgu is a National Lottery-funded warm space which can be used by the whole community for three hours an evening, with internet access and refreshments. There's space for children to do their homework and the team help adults with job applications.
Parents in Totnes have asked for safe and warm spaces for their children at half term, so we've supported Soundart Radio to expand its holiday activity programme to cover half term holidays. Throughout 2023, it will provide free family workshops at half term.
When you haven't [got money], it's trying to decide whether it's £5 for gas or £5 for potatoes, bread and some milk.

Citizens Advice
What do warm spaces offer?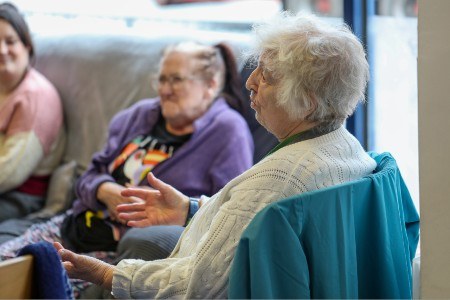 As well as providing a warm, welcoming place for people to spend time in, most of the warm spaces host activities, bring people together, and offer support.
The heating hub at Dudley's Lighthouse Café has now added a drop-in service two evenings a week, offering support with housing, mental health, benefits, or substance use treatment. The Café also coordinates several craft and training groups. Its after-school clubs are a warm place to do homework and take part in activities.
Some spaces bring in a range of services under one roof, acting as one stop shops for different community needs. Like the Garnsychan Partnership's Wellbeing Hub in Torfaen, Wales, which is now a warm bank, operating five days a week. It offers refreshments, computers and free internet access, employability support, financial advice, and help with homework. It also offers thermal socks, hot water bottles, and slow cookers, helping people to save energy at home.
And charities are helping people to keep warm in their own homes. To address mould as well as cold, Citizens Advice Eastleigh has received National Lottery funding to offer clients small, portable dehumidifiers, helping to prevent dangerous damp in homes. As part of a wider resilience building programme, NSPCC Scotland is providing 450 "winter warmer bundles" with cosy blankets, house coats and long sleeved pyjamas to primary school pupils in Govan, who may be living in unheated homes.
Who is most affected?
Cold homes are a reality for many of us this winter, but some groups are more affected than others. Those running warm spaces may want to think whether they can provide additional support for any of the following groups.
In September 2022, the Financial Fairness Trust found that nearly half of disabled households (48%) had struggled to keep their home warm, compared to 30% of non-disabled households. Anecdotally, some charities tell us that people have switched off gas to ensure they can afford to pay for the electricity needed to run life-saving equipment, such as respiratory support.
To support the most vulnerable residents in Aberdeenshire, Laurencekirk Church in Aberdeenshire is working with partners to provide free transport to and from its warm space. This includes many disabled people and older residents.
Those on lower or insecure incomes often pay more for essential goods and services. They may not have access to the best fuel tariffs, or have to use expensive prepayment meters for energy. Some demographics are disproportionately affected: the New Economics Foundation estimates that Black, Asian and other minority ethnic households experience a 1.6 times higher average increase in the cost of living than their white counterparts.
The same applies to low-income families with multiple dependents and who claim benefits. In April 2022, poorer households were already experiencing higher inflation, on average, than wealthier households: a 10.9% inflation for the poorest 10% of households vs 7.9% for the richest 10%.
Dorking Christian Centre supports many newly arrived residents from Syria and Ukraine through its own foodbank and the community fridge. People had nowhere to meet without incurring costs, so were queueing outside in the cold from 9:00am for a 10:30 opening. The Centre now has National Lottery funding to open its café two hours earlier, at 8:30am.
Cold homes have been found to contribute to a 30% increase in mortality in winter among people over 75. To reduce the risk of older residents getting cold at home, Small Acts of Kindness in Hertfordshire distributes Warm in Winter gift bags with items such as fleece blankets and thermal hats.
We know that families worry about keeping their children warm and safe. Research suggests that children living in cold homes are twice as likely to suffer from chest and breathing problems as children living in warm homes.
To offer inexpensive family activities in a warm environment, the Chantry Centre in Gloucestershire is extending its family sessions, offering soft play, a light lunch and tea/coffee for just £2 per child + carer. It will then stay open until 7pm, offering an affordable evening meal and activities for adults and older children, such as crafts, skittles, and table tennis.
What makes warm spaces effective?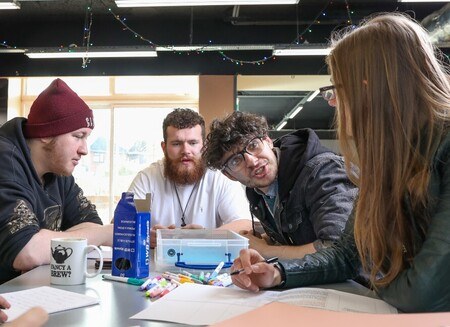 We know that warm spaces don't address the root causes of the crisis, and that people will still need to heat their homes some of the time. Not everyone will be able to get to warm spaces while others may not know about them or want to use them.
But early evidence suggests that warm spaces can play a role, offering immediate support and helping people to feel cared for.
And we're learning more all the time about what make them effective. Here are our initial impressions.
Make sure travel to and from the venue is affordable. Travel can be expensive, putting warm spaces out of reach for those who live further away, can't afford a bus fare, or who have a health condition. Cobhair Bharraigh SCIO has opened a warm space on the Isle of Barra. Using a National Lottery grant, the organisation plans the most efficient ways to bring people in, including car sharing and a small electric bus for larger groups.
Purpose matters. People are more likely to use the warm space when it offers something they want to do. Roots4Life's HEAT Club offers a warm space where children aged 10-14 can do homework, have a hot dinner and join in for cooking, crafting, and boxing classes.

Part of a wider package of support. The warm space is an opportunity to signpost to other support, from mental health services and help with benefits to giving people energy advice and blankets to keep warm at home. St Catherine's Church Centre in Wakefield is training residents to act as energy champions in its warm space. Champions run energy awareness workshops, linking to other agencies for help with insulation and heating upgrades.
Make people feel cared for. A space should be welcoming as well as warm – you can find tips below on how services can make people feel at home.
How to create a warm welcome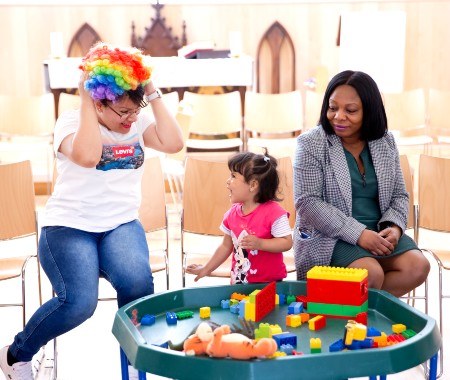 Warm spaces should be a "beacon of warmth and friendship," explains Paula Stringer from Christians Against Poverty. We are seeing this in practice, with many groups responding with kindness to foster connections and build belonging.
Many start by providing a warm welcome for anyone attending, knowing that people won't return if they feel the space isn't welcoming. So groups have explicitly planned for a friendly atmosphere - not assuming it will happen automatically. For example, the team behind Hirwaun Village Halls in Aberdare organised Community Cuppas with free tea and biscuits as a way of encouraging residents to spend a couple of hours in the warm chatting to people.
Others emphasise strong interpersonal skills during recruitment for staff and volunteers. In Fife, Community in Cupar has volunteers from the communities it serves, including refugee volunteers supporting recently arrived families with connections and language.
It's good to have someone available to meet and greet people when they arrive at a warm space, especially those attending for the first time. Simple things help, like getting tea and introducing new joiners to someone else, making a name badge for newcomers, and making sure names, roles and photos of all staff and volunteers are available on the wall so that people know who they can turn to. And it helps to explain what is available and what happens when.
To create a welcoming feeling while avoiding stigma, the Craignish Village Hall committee in Argyll and Bute promotes its warm space as accessible to all, without focusing on relieving poverty. They've also made sure there is something for everyone, from discussion groups to games, crafts, music and arts.
The look and feel of the space matters. In A Warm Welcome, its review of warm spaces, the library and information association CILIP highlights how furnishing and lighting can create a cosy environment where people feel at ease. Also, "comfortable seating for longer stays is vital […] together with clear signage around the space so that people know what is available, where." To achieve this with a limited budget, CILIP suggests looking for free furniture from organisations such as Freecycle Network and Gumtree Freebies.
We've funded a lot of other welcoming, community spaces over the years. The demand for warm spaces is new, but we already understand how important the welcome is. Here is what we've learned from investments such as Ageing Better.
The art of hosting. Great community groups have great hosts who help to build friendships and engagement. People tell us that community hosts need "humour, a positive attitude and a warm, caring, non-judgmental and encouraging personality, in order to create a warm and welcoming atmosphere." Being neutral is also key.
The importance of familiar faces. To help people manage their social anxiety about coming to (new) community spaces, some groups have found volunteer or staff buddy schemes useful. The buddies help residents find the venue, and support during and after the event.
Checking in makes people feel cared for. This could include phone calls after their first visit to hear how they got on, letting them know they've been missed when they haven't attended, or offering reminder calls for those who might need them.
The power of food. Sharing food and having a cup of tea can make people feel comfortable together, and often provides good conversation starters.
The legacy of COVID-19. The pandemic eroded the confidence of older and vulnerable people in particular, so groups may need to invest time in giving people the confidence to return or join groups again.
Avoid cliques. Perceptions of existing groups can be a barrier, as newcomers may see them as cliques. Think about ways to manage that perception – for example, encourage mixing through activities, seating, and introductions.
Being transparent reduces anxiety. It's good to have a sign about prices, whether everything is free, a what-you-can-pay donation is expected, or if the space has a formal price list. People feel less embarrassed if they know what they are expected to pay.
What are the practicalities?
Whether you're opening a new venue or adapting an existing service, setting up a warm space means looking at energy costs, comfort, safety, and accessibility. In A Warm Welcome, financial adviser Martin Lewis and CILIP offer practical advice for developing warm spaces. Here we provide a summary of those, alongside additional suggestions.
Calculating heating costs

Setting up a warm space means considering your heating costs and projected spend. This will depend on the type of space (how big it is, how well insulated, the age and energy efficiency of your boiler) and how energy prices might change over time.
Capacity and comfort

Just being indoors doesn't guarantee comfort. If you're planning to open a warm space, think how many people your space will accommodate. What is the right temperature, and what measures will be used for hygiene?
Warm spaces should aim for 18-20°C as a minimum temperature. Evidence, and expert discussion, suggest 18°C as a basic level of warmth for a healthy person wearing warm clothing. Young children and older people often need a slightly warmer temperature.
Room capacity matters, both for COVID-19 safety and for general comfort. Workplace health and safety regulations state that total volume of room, divided by the number of people working in it, should equal at least 11 cubic metres (assuming a hight of 3 metres). This is a minimum number – if the room has a lot of furniture, more space will be needed. For a community room, guidance suggests at least one 1 metre square per person, even at the busiest times. A Warm Welcome has advice on calculating enough space.

Consider opening hours, and how many users you expect – both in total and when they expect demand to be highest. Consider what people will be doing: you need more space for exercise than for reading library books. Ideally, welcoming spaces wouldn't restrict customer numbers. Can you extend hours to help ease demand, or change the layout to create more space?

Warmth encourages people to stay longer, so hygiene matters. Hand sanitising stations and regularly cleaning surfaces are recommended, along with furniture that can be wiped clean.

Is the building accessible? Can people approach it easily? This might mean improving signage, making sure there are dropped curbs, level access or ramps to the entrance, and handrails. Doors and lifts should be accessible, while aisles, corridors and doorways should be free from obstruction, with space to accommodate wheelchair and buggy users. Alarm systems should be suitable for the hearing impaired.
How will the space be ventilated?

Community spaces should be safe as well as warm. It's important to minimise the risk of COVID-19 and flu, particularly when working with those who are vulnerable to infection. Good ventilation is associated with improved health - but opening windows will lower temperatures. Venues need to find a balance between warmth and safety.
CO2 monitors can help assess whether a space is well or badly ventilated. They can also point to infection risk, as people exhale airborne viruses when they breathe out CO2. A well-ventilated room has CO2 levels of 600 to 800 parts per million (ppm).
Look out for poorly ventilated areas. Do any rooms lack both windows and mechanical ventilation? Recirculation systems don't help, because they just move existing air around. And though fan heaters can heat a space quickly, they also circulate air, requiring more ventilation. Mechanical ventilation, which uses fans or ducts to bring fresh air inside, can help without lowering the temperature. Air filtration units can improve air quality, reducing the risk of infection. Opening up a space will improve air flow – for example, can you remove room dividers?