Innovation: it's our middle name
Innovation: it's our middle name
Riffat Nasser, Programme Co-ordinator, explains how Better Start Bradford used their Innovation Fund to start new projects.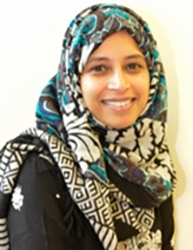 Our Innovation Fund was set up as a way of enhancing and extending our core programme offer and addressing gaps and priority areas identified through a coproduction workshop which also reflected local need, community assets and learning from the wider programme so far.
With funding of up to £100,000 available for each project, it allowed organisations to pilot new, innovative approaches robustly over a period of a year, with potential for it to become a fully-fledged Better Start Bradford project.
The main criteria were that projects:
Addressed one of the ABS outcome areas:

Social and emotional development
Language and communication
Health and nutrition
System change

Were aimed at our core audiences of expectant families and/or families with children aged 0-3
Addressed a gap in terms of the local community/families (e.g. dads/male carers, families from Central and Eastern Europe)
Addressed a gap in terms of our existing programmes (e.g. oral health, Adverse Childhood Experiences).
The successful innovative applicants
Following a rigorous application and selection process, the following five projects were approved:
Older Yet Wiser - ChildsSide
The Older Yet Wiser project gave local grandparents who have childcaring responsibilities an opportunity to attend a series of six group sessions so that they could contribute to the early years of their Grandchildren's development thus helping them foster secure healthy family relationships.
Resilient Dads - Sharing Voices
The Resilient Dads project worked with dads and male carers to develop their ability to support the social, emotional and cognitive development of their children, whilst preventing the risk of Adverse Childhood Experiences. Participants were encouraged to develop secure attachments with their children through group-based trauma awareness sessions, mentoring and a dedicated programme of social activities where they could spend quality time with their children, play and meet other dads and male carers.
Growing Together - Horton Community Farm
The Growing Together project ran seasonal sessions with a focus on food-growing and play, utilising local green spaces and sharing knowledge with families and practitioners about when and how best to grow specific fruits and vegetables that could be used for cooking and eating. The idea was that families and practitioners would then be able to use this learning at home and within the community to 'grow their own'.
Enhancing the HABIT (Health Visitors delivering Advice in Britain on Infant Toothbrushing) - The University of Leeds
This oral health project allowed the HABIT intervention to be developed further and tested within early years settings, with parents and practitioners and with non-English speaking South Asian and Eastern European parents. The intervention was also trialled and tested with a large group of Health Visitors as part of our MECSH project (Maternal Early Childhood Sustained Home Visiting).
Play Gym and Hubert Street Kitchen - Womenzone
This project developed a brand-new play gym for young children within a local community organisation, with dedicated play workers on hand to encourage and support parents to talk and play with their children, demonstrating how much can be achieved with simple interactions which are easily intertwined with the family routine.
Along-side this, the on-site kitchen offered subsidised healthy meals to families who accessed the free sessions and linked them to wider support.
Further innovation required
Unfortunately, the delivery of the Innovation Fund projects coincided with the start of the COVID-19 pandemic which meant they were only able to part-deliver what they intended and hence, were extended.
Certain projects were more suited to virtual or hybrid working, such as the Resilient Dads project who were already experienced in offering counselling and support sessions virtually to individuals and groups. Older Yet Wiser, on the other hand, found it difficult to engage with grandparents virtually despite their best efforts.
As documented in another article, Growing Together started distributing seed packs to people so they could grow something themselves at home.
Once all the projects were able to start delivery properly, it was clear there was an appetite for all of them, and many went onto build good relationships with our engagement workers and other projects. This resulted in further innovations such as 'Dads Zone' which allowed dads and male carers to use the Womenzone Play Gym exclusively on a Sunday morning and participate in fun and interactive activities with their children.
What did we learn?
Due to the pandemic and some of the limitations that emerged in the projects, it wasn't possible to extend any of them into core Better Start Bradford projects. However, all projects did manage to develop links, capacity and skills, and were able to share the ABS vision and key messages in creative ways that had not been tested before. The majority of the Innovation Fund projects came to an end in September 2022.
Satisfaction surveys and case studies demonstrated that participating families really gained from the experiences and would recommend them to others. A grandparent who attended the Older Yet Wiser Course said:
"I will continue to refer to the tools. I enjoyed socialising after almost two years of lockdown. I have gained new information, better ways to use words to encourage my grandchildren and other children, and connected with other grandparents."
"Thank you so much for this opportunity – it's been an eye opener and these skills I will share with family and friends."
The Womenzone project has established itself as a place of play and is a successful offer for families.
The Resilient Dads project successfully engaged with and supported 73 vulnerable dads and male carers, and Sharing Voices will continue to invest in it.
Horton Community Farm is continuing to work with our Better Place project and is delivering growing activities with our families.
The Habit intervention with now linked to MESCH and will continue to be delivered.
In summary, the Innovation Fund has allowed us to develop new areas of activity that families have benefited from that have proven to be sustainable in their own right.
About A Better Start
A Better Start is a ten-year (2015-2025), £215 million programme set-up by The National Lottery Community Fund, the largest funder of community activity in the UK.
Five A Better Start partnerships based in Blackpool, Bradford, Lambeth, Nottingham and Southend are supporting families to give their babies and very young children the best possible start in life. Working with local parents, the A Better Start partnerships are developing and testing ways to improve their children's diet and nutrition, social and emotional development, and speech, language and communication.
The work of the programme is grounded in scientific evidence and research. A Better Start is place-based and enabling systems change. It aims to improve the way that organisations work together and with families to shift attitudes and spending towards preventing problems that can start in early life. It is one of five major programmes set up by The National Lottery Community Fund to test and learn from new approaches to designing services which aim to make people's lives healthier and happier
The National Children's Bureau is coordinating an ambitious programme of shared learning for A Better Start, disseminating the partnerships' experiences in creating innovative services far and wide, so that others working in early childhood development or place-based systems change can benefit.
Sign-up to join our mailing list
Visit the A Better Start website to find out more.