Sowing seeds of hope: Growing Together Bradford!
Sowing seeds of hope: Growing Together Bradford!
Charlie Gray from Horton Community Farm, and Ama Chaney from Grow To School, show how community growing projects can bloom despite social restrictions.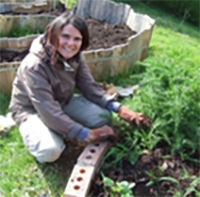 With the knowledge that lockdown was bringing fear and worry into people's lives across the country and the globe, we didn't want our project to be another casualty. Knowing how important being connected to the great outdoors is and the wonders of growing is for health, we certainly felt it shouldn't be cancelled.
We share our passion for growing and being outside and have done so with the help and support of the inspiring community centres and organisations across Bradford. During the Covid crisis, we are very proud to have been able to support and engage people to reduce loneliness and isolation and link diverse communities together through growing.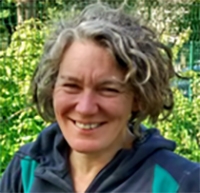 One of the first things we did was to share seed packs with community members across the A Better Start areas in Bradford, so that they could sow and grow in whatever way they had accessible. The reaction was terrific, and people absolutely loved the seed packs we put together for them. It was a privilege to share something fun and life affirming with people at a time when everything was so serious and worrying.
It was inspiring to get a sense of the value to people seeing things grow, and to share something positive to nurture and provide nourishment of a different kind.
For the smallest children they begin learning through touch, so getting up close with the soil can bring sensory benefits to playing outdoors. Even the smallest children can benefit, even if you have to think a bit more about where to put your pots to let them grow. Parents were really creative at engaging their children to grow plants and finding spaces to grow.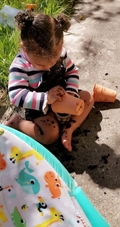 We also supported two centres to create demonstration sites where vegetables were grown and local people were encouraged to learn some new skills. The produce was then given away to the community. Sam Thirkill from SHINE West Bowling said "I have absolutely loved this project! I have been learning to grow and being able to share my enthusiasm and the produce and seed packs with the community has been such a joy!'
Feedback from families was very encouraging. Sarah Khan and her kids enjoyed eating homegrown strawberries and ice cream for the first time. She posted on our Facebook page that: 'They tasted amazing - homegrown strawberries and ice cream for us today'.
We started the project with the idea that people could download the written resources and instructions from the Growing Together Bradford Facebook page. However, feedback from the groups distributing the packs told us that many people either do not have access to the internet, did not know how to use it or only have limited data packages so cannot afford to download the materials and/or did not have access to printers.
We also found that families liked to do the activities together and have the instructions to look at while doing them. Because of this we ended up printing all the instructions and activities and providing them in a pack to local residents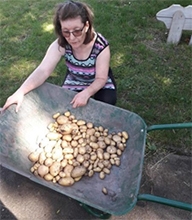 We also started the project just sharing the seeds, plants and instructions alone. It quickly became apparent that many people did not have access to pots and compost to grow the seeds and plants in. This was either because they were shielding, had disabilities and could not get out or because they could not afford to buy them. In response we bought bags of compost and plant pots and shared them with the packs when required through our four community drop-off points.
For our next steps, we have spoken to neighbourhood centres and we are increasing the number of distribution points so we can continue sending out seed packs to families for indoor growing of 'microgreens' on windowsills and engaging new community spaces where we will develop further demonstration beds over the winter.
What we've learnt is that to truly share the passion for growing and how it can build resilience in community, we have to listen to our communities and adapt to our circumstances. That is what we have done and through great partnership working we have built a project we hope will continue to support communities in their growing journeys into the future. You are never too young to start growing!
At Horton Community Farm we are determined to support our communities to enjoy all the benefits of growing, from playing with the soil when very young to parents growing produce for their families. Growing can brings both happiness and a source of high quality nutrients, whilst building a sense of community. Delivering the Growing Together Bradford project with Grow to School has been a real joy.
Charlie Gray is from Horton Community Farm, and Ama Chaney is from Grow to School, and they deliver the Growing Together Bradford project for Better Start Bradford.
About A Better Start
A Better Start is a ten-year (2015-2025), £215 million programme set-up by The National Lottery Community Fund, the largest funder of community activity in the UK. Five A Better Start partnerships based in Blackpool, Bradford, Lambeth, Nottingham and Southend are supporting families to give their babies and very young children the best possible start in life. Working with local parents, the A Better Start partnerships are developing and testing ways to improve their children's diet and nutrition, social and emotional development, and speech, language and communication.
The work of the programme is grounded in scientific evidence and research. A Better Start is place-based and enabling systems change. It aims to improve the way that organisations work together and with families to shift attitudes and spending towards preventing problems that can start in early life. It is one of five major programmes set up by The National Lottery Community Fund to test and learn from new approaches to designing services which aim to make people's lives healthier and happier
The National Children's Bureau is coordinating an ambitious programme of shared learning for A Better Start, disseminating the partnerships' experiences in creating innovative services far and wide, so that others working in early childhood development or place-based systems change can benefit.
Sign-up to join our mailing list.