Black Thrive Global Growing Great Ideas
Black Thrive has been working with statutory and community partners in Lambeth since 2016 to address the inequalities that Black people face throughout their lives which negatively impact their mental health and wellbeing. These include poor experiences and outcomes in education, employment, housing, health, social care and the criminal justice system.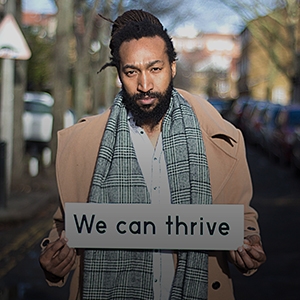 "We know that these negative experiences and outcomes are not unique to Black communities in Lambeth," says Lela Kogbara, one of Black Thrive Global's Directors. "That's why we feel privileged and excited that The National Lottery Community Fund, via its Growing Great Ideas programmes, has awarded us just over £5 million over 10 years to establish a Thriving Futures Collective – a long term, transformational change project." Black Thrive will use their National Lottery funding to start working with Mind in Haringey and Catalyst4Change in Birmingham to extend and deepen the work of Black Thrive Global.
Lela Kogbara, continues, "This is the beginning of us achieving our vision of a world in which, across the UK and beyond, Black people thriving is the norm. It is rare for organisations like Black Thrive Global to get long term funding without unhelpful top-down targets. This funding means we are being trusted to achieve our own vision in our own way. This isn't just about us, though. We have to work collaboratively with individuals and organisations that share our vision."
With this funding, The Thriving Futures Collective will centre Black communities in driving change. Black Thrive will bring together Black individuals and organisations representing the full spectrum and intersections of our communities in terms of national origin, gender, age, disability, faith, class, sexual orientation and other identities. They aim to create spaces to heal from the traumatic impacts of relentless anti-Black racism. It is also integral that Black voices are central in articulating the issues, as well as imagining and actioning the solutions.
Black leadership is key. While there are excellent Black leaders already, prevailing cultures and practices do not always allow them to flourish and there is still underrepresentation in many key sectors. Through their Leadership Academy, Black Thrive will make connections and support those already focussed on leadership, gaps can be filled, whilst also reflecting on their own organisational leadership.
To date, the knowledge, evidence and research that has been used to inform policies and practices have excluded Black voices and perspectives and have not served Black people well. Black Thrive want to see knowledge construction, dissemination and acquisition to be a communal process. By working with communities to go beyond statutory indicators and existing research, Black Thrive will incorporate measures and narratives to build a shared understanding of what the real issues are for Black people, and the outcomes and actions communities want to see. As a community, they want to disrupt and critique existing Eurocentric research by exploring and embracing Afrocentric learning paradigms that challenge existing norms around knowledge production and ownership.
Black Thrive Global, Catalyst4Change and Mind in Haringey have always seen systems change as essential to their work. They understand short term projects come and go and the impacts don't always last. Building on frameworks and practices such as Water of Systems Change, Human Learning Systems and work done in Canada by Tamarack Institute, project they will co-develop a Black-led model of systems change to influence national, regional and local policy, as well as service design and delivery across all sectors that touch the lives of citizens.
Lela says, "We have been awarded a significant grant from The National Lottery, but our vision cannot be realised until Black-led voluntary and community organisations get a fair share of the national cake, and the trillions of pounds in the public purse are routinely applied to address the needs of Black people alongside all other citizens. Is that really such a radical idea!?"
Lala adds, "Hope is essential, despite the undeniable traumas of systemic, societal and interpersonal racism that Black people have faced over many decades, as well as the recent negative impacts of the Covid-19 pandemic. Without hope we lose sight of our vision for a better, fairer world. There have been key victories in the fight for equality for women, disabled people and LGBTQ+ people. There have been protections for Black and other racialised communities in Equality legislation, but these have not translated into significant victories as it has done for other groups."
"Black people across the globe have a long history of responding with resourcefulness, resilience and innovation when confronted with adversity, which has nevertheless enabled us to survive, if not thrive. The Thriving Futures Collective is pursuing the dream that it is possible to create a movement that equals the lasting positive change that allows Black people to thrive."