Grimsby: Opportunity knocks
Grimsby: Opportunity knocks
We've given nearly £7 million to local organisations and charities in Grimsby over the past five years. These grants have helped to bring people together, allowed the community to renovate places and spaces that matter to them, and enabled grassroots groups to help residents take advantage of the town's abundance of local jobs.
Temoor Iqbal spoke to some of the organisations bridging the gap between local pride and local opportunity in this North-East Lincolnshire town.
Funding Overview
In the five years to 2020-21, The National Lottery Community Fund has invested over £7 million in Grimsby, through 134 grants to local organisations and charities.
We've supported 109 local groups through small grants of £10,000 or less, with an average award size of £9,282, and given out 25 larger grants, with an average value of £239,419.
Our largest award was a social impact bond of £1 million to North East Lincolnshire CCG, through the Commissioning Better Outcomes programme, to support social prescribing for people with long-term conditions. The project began in 2018 and aims to reach 2,515 patients, connecting them with a link worker and external agencies to self-manage their long-term conditions through exercise, social activities, and other non-medical interventions.
Our smallest award in Grimsby was £1,540 to West Marsh Development Trust Association to run community events including an older people's meal, a disco and a Christmas fair.
71 projects, worth around 60% of our local funding, have brought people in Grimsby closer together. Hammond House received £39,400 to run a course to help over 200 vulnerable people in high-poverty areas to improve their literacy, while making friends and building confidence.
We've supported the construction, maintenance and ongoing work of 36 community spaces. A £35,942 grant enabled West Marsh Community Centre to continue supporting isolated people during the Covid-19 pandemic, as well as distributing £45,000 in support to 244 people facing financial hardship.
Our funding has enabled community groups to provide volunteering opportunities, employability support and skills training to help people make the most of Grimsby's opportunities. Synergy received £135,000 to help 50 young people develop their own business ideas, supporting a talented, entrepreneurial future workforce.
We've supported 30 local projects focusing on children and young people, an investment of over £500,000 to give the next generation the support they need to thrive. Fusion Health and Wellbeing received £8,930 to run pop-up boxing lessons, providing an accessible diversion for those at risk of criminal exploitation.
As the UK looks to move out of the Covid-19 pandemic, one of the most important areas to focus on will be jobs. While the pandemic has had a big impact on our economy and labour market, earlier innovation and progress could stand communities that would otherwise be hit hardest in good stead.

Grimsby is one of the leaders here, with a growing renewable energy sector now home to Ørsted, E.ON, Innogy and GLID/Siemens. Ørsted's operations and maintenance base, the world's largest for offshore wind, employs 350 people, 83% of whom are local, with 650 employed at the port overall in offshore wind operations and maintenance services.

Sitting alongside a seafood sector that has changed since Brexit but is still-thriving due to demand from new markets, it's clear that Grimsby is not short of opportunities. However, opportunities only matter to local people when they feel relevant to them and they have the support to take them up.
In May 2021, as part of an ongoing series of convening sessions across the UK, the Fund's UK Knowledge and Learning team held workshops with voluntary and community sector representatives from Grimsby. We wanted to find out how grassroots groups and the people they work with viewed the town's strengths and challenges, and to explore their vision for its future.
The feedback we received included a perception that Grimsby still felt to many people like 'the end of the road', with a lack of opportunities and a need to tackle the root causes of family and neighbourhood issues. What came across was that some residents did not feel that the abundance of local opportunity was accessible to them.
Root causes
However, the sessions also shone a light on the positive, responsive work going on in the town to address these concerns. The Grimsby Full Families project, funded through Reaching Communities and delivered in partnership by local organisations CatZero and CPO, is a prominent example here.
"The project works with families approaching crisis point," explains CatZero's Programme Manager Sean Cahill. "We help them identify the issues holding them back and causing them problems, then guide them to the support that's available. If it's appropriate and if they want it, we and CPO can then support them with our employability programmes."
In the project's first three years, ending December 2020, it achieved its target of working with 100 families. This year, as the pandemic has increased pressure on families, jobs and education, the figure is already at 198 families referred and 181 supported (as of June).
"The pandemic has made life harder for a lot of people, but demand is also growing because we're now recognised as an example of good practice", says Stephen Ryder, Managing Director of CPO. "Grimsby Full Families is the glue that brings all the other elements of our delivery together, helping us to solve families' problems from the inside out."
The partners look for where the crisis points or triggers lie for a family, and then work with them to mitigate those while building on positives. "We ask families three questions", says Sean. "To find out what's great about their life, what's worrying them, and what they want to change."
This allows a trusting relationship to build, from which the two organisations can start to guide families towards a more stable position that allows them to take advantage of local opportunities.
As Stephen explains: "Families could tell us something simple like they love going swimming, but don't really have the opportunity to do it. We can help with that so they feel more positive, and then we can also look for where the gaps are.
"They might then tell us 'my son isn't going to school' and we'll look into that and find that, because the kids aren't going to school, the parents aren't necessarily looking for work properly or meeting the requirements for their benefits. At that point, we can start going into the house to help with breakfast, and help with buying and washing uniforms. And then, between CPO and CatZero, we've got four or five courses which should be absolutely right for the parents to help them get on track with their employability or skills training."
Sustainable solutions
National Lottery funding has been crucial to Grimsby Full Families' success, allowing disparate employability schemes to come together as a holistic project.
"The fact that the Fund is looking at areas like Grimsby is great," says Sean. "You'll be able to look back in 10 years time and say 'our funding made a real difference'. Without it, we couldn't have worked this closely with families.
"By the end of the funding, it'll be in the region of 250 families supported, but then it's not just the 250 – it's the knock-on impact of supporting the children not to go through the same issues as their parents."
The next step of this support is to start building links between the families supported and the local employers providing opportunities for stable work.
"We're now trying to build a sense of community with local industry," says Sean. "Young's is looking to hire 400 people at the moment, and we're arranging factory visits to show people the conditions are good and how much they can earn.
"Our offer to the employer is that if they employ through us rather than an agency, we'll support people through the first six months. We'll keep working with the family at home to make sure problems that could cause issues at work are resolved before they become a matter for the HR department."
This will help people get through the critical early phase, making Grimsby Full Families' employability support sustainable rather than a box-ticking exercise.
"In a very basic sense, getting someone a job isn't difficult," Sean explains. "Getting someone a job they can stay in sustainably is the challenge. You don't fail at work because of the work; you fail at work because of outside and home influences. That's where we can make a difference."

Getting someone a job isn't difficult – getting someone a job they can stay in sustainably is the challenge [...] That's where we can make a difference.

Sean Cahill, Programme Manager, CatZero
This approach is also being taken by Greater Lincolnshire Move, a project we co-fund through the Building Better Opportunities programme. Using a grant of over £4 million, Greater Lincolnshire Move has so far supported 948 people who've found it difficult to find a job.
Each participant is supported by an advisor, who can make referrals to a network of 24 different local organisations so that specific needs and gaps can be addressed.
For example, those in need of further training might be referred to the courses at Boston College, people with family or parenting issues might be directed to Children's Links to build a support network, and those in need of social activity to build their confidence might be referred to Green Synergy to take part in the organisation's community gardening projects.
Participants are also offered financial help for travel, childcare and respite care, so that practical barriers don't exclude anyone. As of March 2021, the project had already managed to get nearly a quarter of participants into employment (219) and one in ten (103) into education.

Self-starters
Of course, employment is only one route to a stable and financially secure life; for some people, independence and supporting others is the best path to stability.
Power to Change, a trust created by the Fund to support community enterprise, launched the Empowering Places programme in 2016 in order to target resources in areas that had good conditions for community businesses to thrive. Centre4 is the project lead for the Nunsthorpe and Bradley Park areas of Grimsby, and is working to build a community business network in neighbourhoods often listed as 'deprived'.
"We can offer small seed grants for people to test their ideas, as well as coaching, space and access to Empowering Places partners to help them address the barriers to starting a community business," explains Programme Manager Paul Gutherson.
Centre4's local focus is on the bigger issues that can limit local people's ability to take up opportunities, such as mental and physical health, employability and skills, and loneliness. "We've supported over 10 groups and individuals to explore ideas for community businesses," says Paul.
ERA Employment, one of Centre4's supported community businesses, has placed over 60 people in temporary work and a number of others in permanent roles. The group also helps people get social action work, such as local gardening and cleaning roles. "This was hugely important during lockdown", Paul adds. "Participants earned points they could exchange for local shopping vouchers, and built their confidence too."
Nunny's Farm, a local petting farm and another community business supported by Centre4, averaged over 400 visitors per day in May 2021, many of whom were local repeat visitors keen to volunteer and responsive to the opportunity to do so in a safe, positive environment.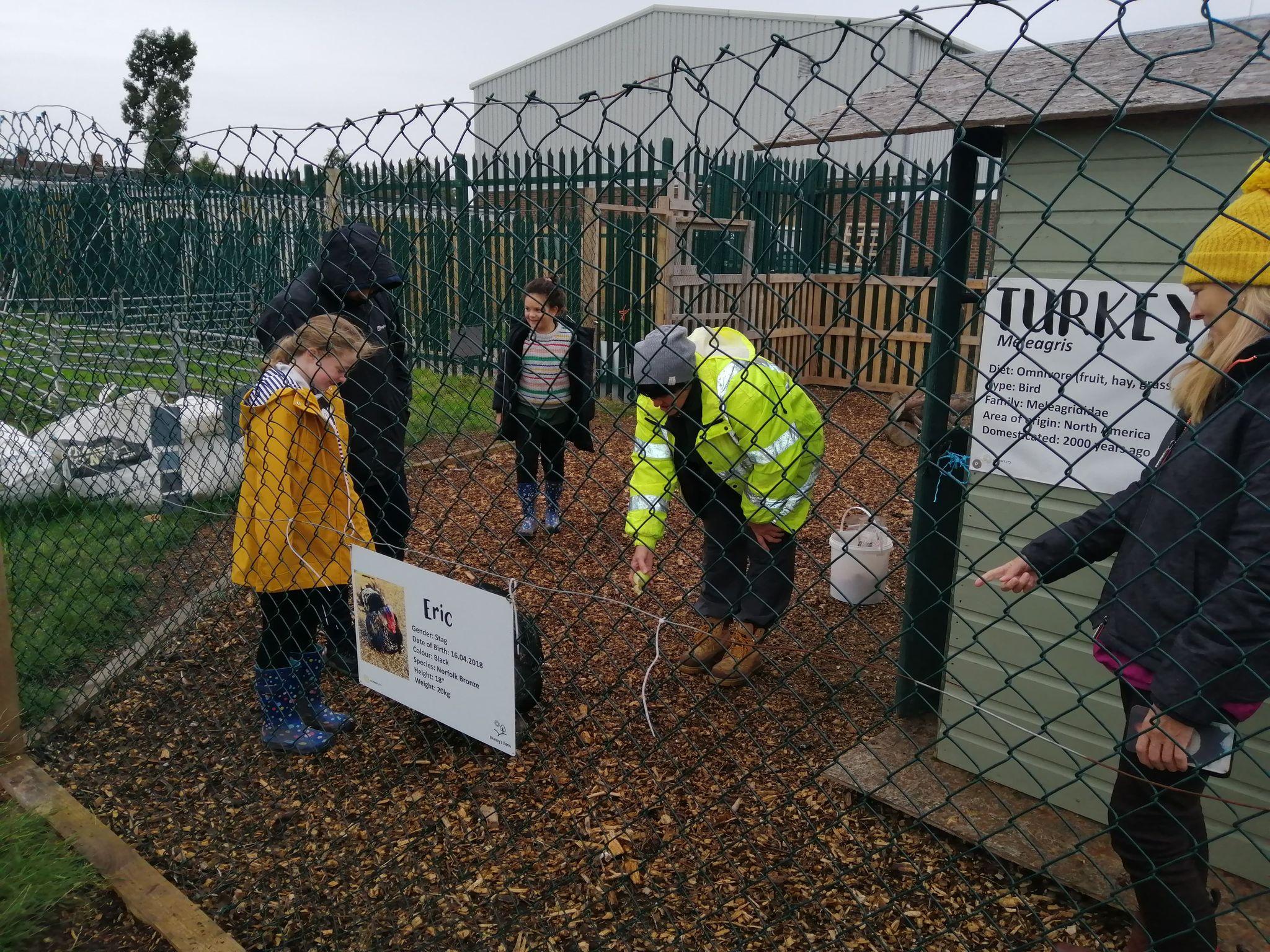 This type of support for people who sometimes don't find what they need through conventional services can be hugely beneficial, both for the end users and for the community entrepreneurs Centre4 helps.
"Community businesses offer second and third chances to people," as Paul puts it. "They are often more patient and empathetic, and geared to supporting people to succeed. For some, developing confidence or improving their sense of wellbeing through a singing group or a community gym is an important step to getting back into work. For others, developing an idea into something that could change people's lives is invaluable – it's about having somebody believe in them."
Developing confidence or improving their sense of wellbeing through a singing group or a community gym is an important step to getting back into work.

Paul Gutherson, Programme Manager, Centre4
Seizing the moment
Developing and building on this self-belief is vital for Grimsby if the town is to make the most of the opportunities before it.
"If we want to stop Grimsby feeling like it's stuck at the end of the road, we need people to start saying 'there's massive opportunity here, we don't need to go anywhere else,'" says Stephen.
This chimes with what participants told us at the convening sessions, with feedback highlighting residents' pride and passion for proving themselves against media negativity, and the work they put into achieving this goal in spite of acknowledged local challenges.
The circumstances are certainly in place for this to happen, and National Lottery Community Fund support is a key factor. "I genuinely believe that this is the time for Grimsby," says Sean.
"We've got one of the largest wind farms in the world, a growing renewables sector and a thriving seafood sector – I can't think of a better time to be here. And that's important because you only really get a sustainable change when people either stay in an area when they make it, or move to the area when they make it, and you only get that by building the community. So, from the point of view of the Fund's investment in Grimsby, I'd say it was money bloody well spent!"
If we want to stop Grimsby feeling like the end of the road, we need people to start saying 'there's massive opportunity here, we don't need to go anywhere else.

Stephen Ryder, Managing Director, CPO