Angus: Back to basics
Community organisations in Angus, on Scotland's east coast, are putting the region in a strong position to make the most of its economic and natural strengths by looking after core needs such as food provision and social connection, and listening to what is important to local people.
Temoor Iqbal spoke to some of the grassroots groups working to celebrate what's great about rural life while working to mitigate the challenges it poses.
Funding overview
In the five years to 2020-21, The National Lottery Community Fund has invested £2.3 million in Angus through 96 grants to community groups and charities.
We've supported 83 local groups through small grants, with an average award size of £7,214, and we've given out 13 larger grants, with an average value of £137,478.
Our largest grant of £381,000 went to Montrose Playhouse Project towards transforming a derelict swimming pool into a community hub for arts and education, including a three-screen cinema, education and exhibition rooms, a retail space, a café and activity rooms for community use.
Our smallest grant of £499 went to Tayside Dynamos Powerchair Football Club towards the purchase of a new powerchair for sports. The group runs weekly powerchair football sessions as well as holiday clubs, enabling more people to take part in sports.
Around 30% of our local funding has been invested into projects that work to combat loneliness and isolation, including £158,500 to Monifieth Befriending Scheme to match bereaved older people with volunteers who provide company and help them develop and pursue their interests.

Seven projects, worth 10% of our total funding, help distribute food. Brechin Community Pantry used £10,000 to install a consultation room to provide one-to-one support for people facing food poverty. By installing broadband and IT equipment people can now use the space to apply for jobs and look for opportunities.
We've supported 32 children and young people's projects through around 13% of our local funding. £10,000 for Arbroath and Montrose District Scout Council made the Ponderlaw Scouting Centre more accessible through a stair lift and anti-slip flooring. New kitchen facilities broadened the range of activities on offer.
The ongoing levelling up agenda means different things to different communities, but is most closely associated with inner-city areas dealing with the decline of local industry.
The Institute for Fiscal Studies' 2020 report on levelling up stated that the places most in need of levelling up are concentrated in large towns and cities in former industrial regions, along with "coastal and isolated rural areas".
These latter categories are often at the end of the list, noted but not necessarily attracting the same attention and focus.
There are a number of reasons for this, as the Local Government Association's report on rural wellbeing found, including a tendency to associate the countryside with beauty and wealth, and wide-area statistics that are "not sufficiently fine grained to pinpoint the pockets of deprivation that exist among rural affluence".
This can lead to such issues as social isolation, food poverty and a lack of connection remaining embedded – root issues that need to be looked at if the longer-term infrastructure and employment goals of the levelling up process are to be achieved.
A centre of one's own
With National Lottery Community Fund support, local organisations are working to address these underlying issues. In Angus on Scotland's east coast, which has an ageing population, projects like Rural Wisdom are working with older people to ensure their voices are heard in a society increasingly moving towards centralised services in urban areas away from rural towns and villages.

"Older people in rural communities deal with additional challenges contributing to isolation," explains Anne Connor, CEO of Outside the Box, the organisation behind the project.
"Rural Wisdom in Angus focused on participation and asking those people what's important to them. We found that what people in every area told us was not necessarily what local government and other authorities thought were the priorities."
In Angus, the project mainly focused on the town of Brechin and the nearby village of Edzell. People were looking for places to use for community activities after the library in Edzell closed, facilities in the centre of Brechin closed due to the local council moving its community space into a new building at the edge of town, and charges for community halls went up.
"It felt to people like they no longer had places they were in control of and they could use easily. The result was that people weren't meeting as often and this was contributing to people having fewer social connections, feeling lonely and all the other poor consequences that follow," says Anne.
The project responded to this by working to identify activity spaces that could be made available for community use. One example was a singing group, which is open to all residents. The group uses music as a way of bringing locals together to create a sense of community and, with the help of the project, is now able to do that in the common room of a sheltered housing unit.
It felt to people like they no longer had places they were in control of and they could use easily. The result was that people weren't meeting as often and this was contributing to people having fewer social connections, feeling lonely and all the other poor consequences that follow.

Anne Connor, CEO, Outside the Box
Bringing generations together
Rural Wisdom also included intergenerational work. "There were lots of reasons why people found they had few connections with their neighbours," says Anne. "People were aware of it and wanted to do something positive to bring people together and get to know each other."
Older people and children at the primary school in Edzell started a project, using the local bowling club as a place to meet.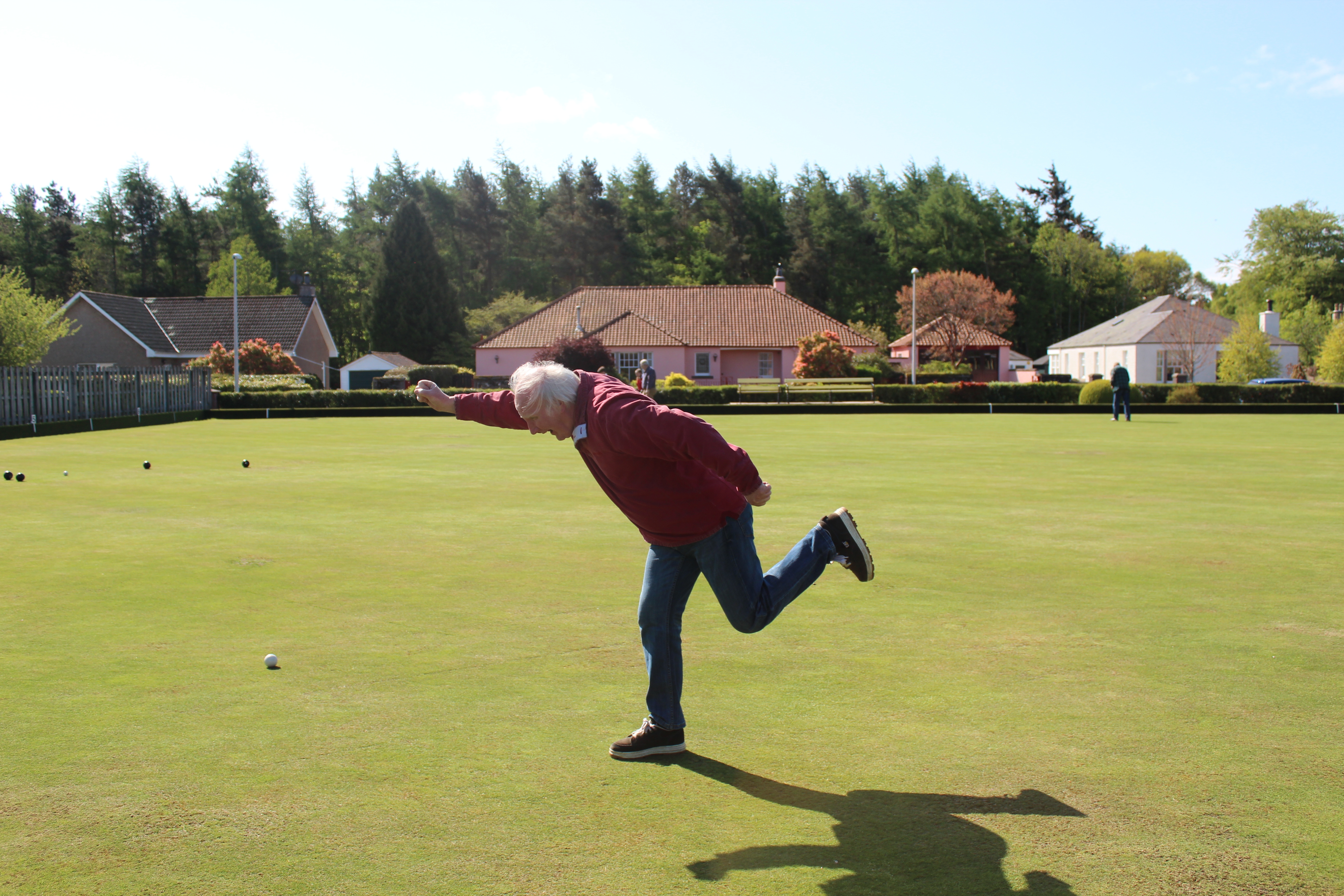 This led to the production of Intergen, a film about bringing generations together, which the participants shared with the school and then the whole village. The launch event was a very successful intergenerational day in itself, and the whole project attracted significant local media attention.
Healthy and happy
Intergenerational connections, however, aren't the only connections people in Angus are concerned about.
Over the past few years, a number of primary care and hospital services have relocated to Dundee, leaving Angus residents – particularly those in the north of the region – facing significant journeys to receive some health services.
A number of projects have started to address this, providing local access to GP services, for example, so that older people who can't easily travel to Dundee don't lose out on medical care. Younger people, however, have less specific but no less important connection needs emerging from the isolation and distances inherent in rural life.
As well as access to services, there's a wellbeing aspect to this, as the erosion of local hubs and facilities makes it harder for young people to form communities and a sense of belonging to where they live. Covid-19 has only made this harder, with the 2020 RuralCovidLife study finding that 38% of people in rural Scottish areas felt lonely some or all of the time.

Murton Trust aims to address this through its education work for young people, funded through the Young Start programme from dormant bank accounts. "We work to reduce rural isolation and bring people together," says Executive Manager Alison Elliott.
"Young people who are isolated at school come to us, and even though they might be working with someone from the other side of Angus while they're here, they're both part of our community. It doesn't matter what their background is, what they're struggling with, or what they're achieving – they're welcome here and part of our community at Murton."
The project gives young people a hands-on outdoor experience on Murton's 100-acre nature reserve, where they work with animals and learn about food growing. The organisation works with around 120 young people a year, plus hundreds more during organised work experience days.
Young people who are isolated at school come to us. It doesn't matter what their background is, what they're struggling with, or what they're achieving – they're welcome here and part of our community

Alison Elliott, Executive Manager, Murton Trust
Rethinking food
As part of the Supporting Communities Fund, a Covid-19 response fund which we helped to distribute alongside seven other funders on behalf of the Scottish Government, Murton Trust was made an anchor organisation to boost food growing and production during the pandemic.
"Rural Angus is one of the country's biggest producers of food, yet we have people in horrendous food poverty," says Alison.
Murton's role saw the trust run three food projects as well as overseeing a number of others. The work included training people with gardens how to grow food, finding local spaces for those without their own gardens to grow food, and expanding and amplifying the work already provided by other groups in the area.
The organisation distributed raised bed kits and seeds so that people could start growing in small areas, advised people on where they could go to grow food, and worked with local farmers and supermarkets to connect them to food banks.
"On the back of that networking, we managed to get another three years' funding from Scotland Food and Drink and the local authority," says Alison. "We've now got a person in post to oversee the connection between food hubs and businesses to ensure supply and reduce waste, which has previously been a challenge."

At the other end of this work, Community First, a social enterprise supported by the Fund, used a combination of Covid-19, Awards for All and Improving Lives support to set up the S-Mart social supermarket project.
This began as "a way to provide access to affordable food in a dignified environment, taking away any stigma or identification of personal circumstances", according to co-founder Carol Malone.
The shop sells surplus food from local suppliers and producers at a reduced cost, as well as offering free grocery packs for those in need and providing a facility for people less in need to pay extra to discount someone else's shopping.
By focusing on the positives of reducing waste and promoting local food, Community First has managed to provide a lifeline throughout the Covid-19 pandemic and beyond, redefining what basic provision for those facing food poverty looks like.
"During the first full lockdown, we were able to provide 35,991 meals to people across Angus," says co-founder Pauline Lockhart. "We've also supported 150 families per week through discounted groceries since S-Mart began in July 2020. Families that shop with us save up to £600 per year, and customers also tell us they prefer the warm and welcoming environment compared to local supermarkets. It really has brought the Angus community closer together."
Bottom up
Whether driven by a response to the Covid-19 pandemic or not, work we've supported in Angus is clearly addressing the basic need for a sense of community agency, access to services, and provision of affordable food. By addressing these needs, however, local organisations are also making the region a better place to live through innovative, people-focused solutions that put communities in the lead rather than merely serving them.
"It was so important that Rural Wisdom was National Lottery funded," concludes Anne. "That allowed us to give people space for in-depth conversations, and the long-term nature of the funding means we have been able to take what we piloted in Angus forward in other areas."
As the mixed fortunes of post-industrial redevelopment projects across the UK have taught us, top-down solutions to social issues that do not involve the community directly are less likely to succeed.
By following the approach of grassroots organisations in Angus, communities will not just address their immediate needs sustainably; they'll also find themselves immeasurably better-placed for the process of levelling up through infrastructure and job creation, with local people and local groups ready to work together for the benefit of the whole community.

It was so important that Rural Wisdom was National Lottery funded. That allowed us to give people space for in-depth conversations, and the long-term nature of the funding means we have been able to take what we piloted in Angus forward in other areas

Anne Connor, Outside the Box