Businesses with a social purpose: the School for Social Entrepreneurs
Businesses with a social purpose: the School for Social Entrepreneurs
It takes a lot to run a social enterprise; a business with a social purpose. You need all the attributes and skills of an entrepreneur, like business acumen, financial skills, people management, and marketing. But you also need passion and insight into the social issue you're trying to address, in order to succeed in spaces which are avoided by private businesses or under-served by public services. It can feel like "running a business with your arm tied behind your back", explains Mike Partridge from the School for Social Entrepreneurs (SSE).
The Lloyds Bank and Bank of Scotland Social Entrepreneurs Programme helps people across the UK to gain the skills, confidence and networks to develop their idea for a social enterprise, and a grant to help make it happen. It's the largest programme of its kind in the UK. The programme has supported over 2,600 social entrepreneurs since it was set up in 2012 and has helped them to reach over 740,000 beneficiaries.
Programme in numbers
Participants and location
This is a free programme for people who wish to set up or expand a social enterprise. Participants benefit from learning opportunities, a mentor, a supportive community of peers, and financial support.
It's the largest programme of its kind in the UK, delivered in 12 locations in England and Scotland, with over 2,600 participants since 2012.
Anyone can apply, regardless of background and education. SSE champions diversity, equity and inclusion, which is reflected in the profile of participants:
two thirds of the social entrepreneurs are women,
one in five are from ethnic minority backgrounds
one in ten self-identify as having a disability.
The programme is popular and well thought-of. Over 85% of participants say they are 'extremely likely' or 'very likely' to recommend SSE to a friend or colleague.
Funding and partners
The programme is delivered by the SSE, in partnership with and funded by the National Lottery Community Fund, Lloyds Bank, the Bank of Scotland and the Scottish Government.
The total combined value of the programme is around £22 million over ten years.
People can access the programme at three different levels:
Start Up is for learners who are about to, or have just set up a social enterprise,
Trade Up is for people who've been running their enterprise for at least a year,
Scale Up if for people who've been running their enterprise for a while and will probably have paid staff to support their work.
The programme has distributed over £13 million in grants to social entrepreneurs, of which around £9.3 million is National Lottery funding. Lloyds Bank and Bank of Scotland staff also help to deliver the programme by providing mentors for participating social entrepreneurs.
Skills for social change
Almost all (99%) of students report improvements in business skills, leadership, emotional resourcefulness, impact measurement and confidence.
The greatest improvements are in business and entrepreneurial skills, and in networks and networking (20% increase on average).
Participants report an average 10% increase in leadership and emotional resourcefulness, and impact measurement.
Networks and peer support
Students value learning from their peers: almost 87% find peer sessions 'useful' or 'extremely useful'.
People also welcome the networking opportunities: 85% of students find these 'useful' or 'extremely useful'.
19 out of 20 students stay in touch with other participants after they finish the programme, giving them an informal network of peers to go to for practical advice and emotional support.
A community impact
Over a third (37%) of the social enterprises supported through the programme operate in the 20% most deprived areas of the UK.
Between 2017 and 2020, participating enterprises worked with 431,324 additional beneficiaries - a median average of 15 per enterprise.
Some reported increases are especially large, bringing the mean average to 1,042 additional beneficiaries per enterprise.
In the first five years of the programme, 1,349 participants created around 4,000 jobs.
Nine out of ten participants are now recording their organisation's social impact to show the value of their work.
Social enterprises that grow and last
From ideas to enterprises
Madeline Alterman runs Artbox London, an inclusive art studio and gallery which sells art by people with learning disabilities and autism. Participants can take part in workshops, trips and exhibition opportunities. Through these they develop and learn new skills, make friends and earn an income. As Shruti explains so well in this video, they, "become artists, and are no longer just defined by their disability."
Madeline has completed all three levels of the Social Entrepreneurs Programme, and says that without it, Artbox London probably wouldn't exist. When she joined the Start Up course it was still just an idea, something she talked to friends about at the pub on a Friday night. By the end of the course, she was running weekly art workshops in a local gallery. When Madeline moved on to Trade Up, she began to explore how to make Artbox London more financially sustainable, and by Scale Up, the third and final level, was looking for support to grow the organisation.
"It was very much a charity organisation – the sessions were free and we only made a tiny bit of money from selling the art which paid for materials", said Madeline. "But then Trade Up altered my thinking quite a lot […] the course and the witnesses […] made me think differently – more about being sustainable".
Madeline came up with the idea for Artbox London based on her own experience. Growing up, she'd seen the lack of opportunities available to her younger brother, who has Down's Syndrome, and wanted to help fill that gap.
Around two-thirds of participants have lived experience of the issue they are trying to tackle. Like Frankie Graham, who set up betknowmore UK, a charity addressing gambling-related harm, after recovering from a serious gambling addiction which started in his teens. This experience means Frankie has an insight into how betknowmore can help others: he knows how hard the recovery process can be.
Others have seen a need in their community, an injustice, or a challenge that hasn't been addressed by existing services. All see their social enterprise as the "vehicle to make the change in the long-term", says Claire Mulry, who manages the programme.
I realised I was a social entrepreneur when I wanted to do more than make money. I wanted to make social change.

Danna Walker, Built By Us
Open to anyone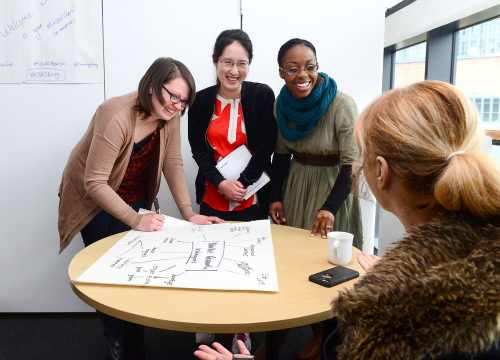 The diversity of each cohort is one of the programme's strengths: it's designed to be accessible to people from all walks of life and all backgrounds. And SSE actively looks for ways to improve on this. Recently, this has been through collaboration with disability charity Leonard Cheshire and by involving a diverse range of programme alumni in assessments, interviews and panels.
SSE has also introduced a confidential one-to-one call for every participant before they join, as recommended by their evaluator. This gives learners a chance to discuss any access and support needs they might not feel comfortable to disclose in front of the group, or to have mentioned in their application.
There are no entry requirements, so it doesn't matter what level of education applicants have. And because the programme is split into different levels, it's open to people at all stages in their journey, whether they're still working on an idea, or have an established enterprise that's ready to grow.
This openness brings together a variety of businesses and causes. From Big River Bakery, a community bakery in Tyneside which is trying to change the world, "one loaf at a time," to Built By Us, an organisation increasing diversity and inclusion in the built environment sector.
A boost in finances and confidence
Competition for a place in the programme is high: every year between 800 and 1,000 people apply and around 260 are selected. For participants, successfully pitching their business idea in this competitive process boosts confidence, both in their own abilities and ideas, and in the programme itself.
Receiving funding is another vote of confidence. The money can make it possible to start delivery or trading, even if it's used to cover simple costs.
Pasna Sallis set up Weekday Wow Factor, a social enterprise promoting health and wellbeing through fun, social activities for older people in Scotland, when she was working as an occupational therapist in the NHS. She'd met two people with dementia who had lost all ability to communicate and seen a powerful transformation in them when listening to music. She decided to set up daytime discos for older people, the first in a range of activities to enhance physical, mental and social wellbeing, using an occupational therapy approach.
After a six-month pilot, Pasna left her job at the NHS to focus on Weekday Wow Factor. An SSE grant helped her to pay for running costs - a DJ, coffee, tea and sandwiches – as well as a computer for administrative work.
For some, the chance of financial support is what first attracts them to the programme. But it's linked to participation in the learning opportunities – and, Claire says, the entrepreneurs come to realise that this is what makes the difference. "The money is a great tool to make changes in your organisation […] but people find the learning itself – especially the support from peers - is transformative."
The programme outperforms its completion targets, which is impressive considering that it's free, and a substantial commitment over the course of a year. At 97%, the completion rates for Trade Up and Scale Up students are even higher than for the entry-level Start Ups (still a strong 92%), showing a high level of satisfaction amongst participants. This satisfaction is confirmed by those who, like Madeline and Pasna, continue through the different levels.
A package of support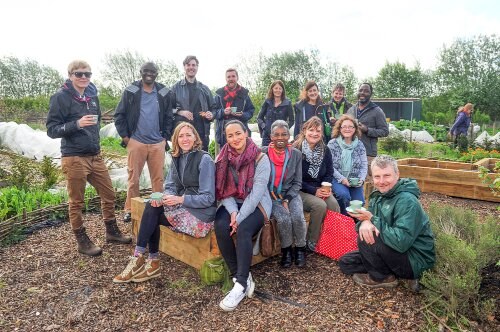 "SSE believes that you can't teach entrepreneurship," Claire says, "but you can learn by doing." Mike agrees: "It's all about being very practical, very hands-on, and putting ideas into action." Sessions are spaced apart so that people can put what they've learned into practice, then come back and tell their peers how it went.
At the start of a course, participants sit down with their course facilitator to co-design what they want to learn. This means each individual programme is bespoke, reacting to the needs of the cohort.
Participants take part in 14 learning days where they attend workshops delivered by subject experts and "witness speakers", fellows of the programme and leaders of well-known social enterprises like the Big Issue. Mike says their stories can be, "not only inspiring but also just affirming that it's possible, that this can happen." This is especially important for people who are just starting out, "because the doubt and imposter syndrome can kick in and overwhelm."
Students also take part in Action Learning Sets, a method of solving workplace problems. Groups come together to explore real-life challenges and develop potential solutions. The method can take a while to get used to, but around 80% of participants say they find these sessions useful. Groups often continue to apply the method informally, years after the programme has finished.
Mentors from Lloyds Bank or Bank of Scotland offer specialist business expertise in areas such as human resources or marketing. Their role is to be a critical friend, helping participants to think through the issues they're facing rather than telling them what to do.
Pasna met her mentor every three months. She says he was both a listening ear and a helpful steer towards focus and action. "Being an entrepreneur, you've got about 100 things on your to do list and out of those 100 things 99 will be priorities. So it was really nice to have a mentor who could appreciate the amount of work," help her to prioritise, and offer a different perspective.
Her confidence increased as Weekday Wow Factor began to grow. "Getting his feedback was such a great boost and helped me know I was on the right track." He helped her to come up with new ideas and to look differently at the problems she was facing.
The idea behind this varied learning approach is to show people that there's no one way to be a social entrepreneur, Claire explains. "What we really want is for people to see lots of different versions of leadership and entrepreneurship and not feel like there's only one model of that. So the witnesses and peer learning really help people gain confidence in leadership, build their networks and learn different approaches to dealing with challenges."
Initially I thought I had to be a certain way, talk a certain way, to be able to start up and develop my business. SSE gave me the confidence and understanding that actually the most effective way for me to develop my business is just to be myself.

Frankie Graham, betknowmoreuk
From business skills to social impact
The programme covers the fundamentals of running a business. Participants learn about income generation, pitching, social media, managing people, and community engagement. Pasna, who was new both to the third sector and to running her own business, had a steep learning curve. "The word procurement used to scare me!", she says.
Almost all students (98.7%) report improvements across all skill areas. The average self-assessed increase across "all skills" (business and entrepreneurial, emotional resourcefulness, networks, and social impact) is around 15%. The biggest impact is on the skills where students rate themselves lowest at the start, like pitching and sales.
But the gains go way beyond knowledge of marketing, business plans and sales. Madeline's cohort was encouraged to set up their enterprises before they graduated from the programme. This gave her something to work towards: "They gave the skills for me to actually do it but also that gentle push that I think I really needed at that point."
The programme also covers social impact. It's important for social enterprises to be able to measure this, as the information can be used both in funding applications, and to help the organisation retain focus on its social purpose. Students have recognised this, with 90% of recruits putting social impact measurement into practice, against a programme target of 81%.
A network of peers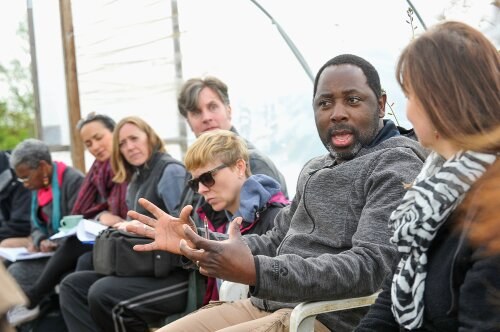 The programme brings new social entrepreneurs together in a space where they can be both honest and vulnerable. Building up a social enterprise is hard work, and Mike says, "it is really difficult when you feel like giving up and doing something else. When you hear of people [on the programme] talking about their lows and highs it can kind of demystify that and say this is just the normality of it and it's ok."
Danna, who runs Built By Us, says she knew what she wanted to achieve with her social enterprise but also knew she needed some support along the way. The social entrepreneurs programme filled that gap. "I don't come from a family of entrepreneurs and most of my friends are not entrepreneurs. So actually having a group of people who really understand what the journey is like is fantastic."
And these connections last: 19 in 20 students stay in touch with other participants after they finish the programme. Pasna has even gone on to develop a joint venture with another social enterprise from her cohort: Lunch Club at Home. The two social entrepreneurs are combining their expertise to run trips and discos together.
It was the people I met, both the participants and the witnesses, who were incredibly inspiring and so that helped with ambition.

Madeline Alterman, Artbox London
Match trading: a new approach to funding
SSE wanted to find a way to distribute funding but at the same time to encourage and reward entrepreneurship. So the charity came up with the concept of Match Trading®. This new funding model is linked to the growth of the business: if you increase your trading income, you receive a grant that matches that growth (up to an agreed cap). It creates an incentive for grantholders to develop their trading base and grow their organisation.
Match Trading was piloted through the Programme, starting in 2017. Its success has led SSE to implement it with other funding partners too, including the Rank Foundation and the Foundation for Social Investment. Match Trading grants have been awarded to over 600 voluntary, community and social enterprise organisations as part of SSE learning programmes. Analysis carried out by the charity shows that, over one year, a typical Match Trading recipient increases their share of trading income from 58% to 69% of their overall income, thereby reducing their reliance on traditional grant funding.
When Covid-19 hit, a rethink was needed. Two-thirds of the 2020-2021 cohort faced a decline in traded income, so SSE adapted the grant model, creating Trade Back. It comprises a traditional grant to kickstart recovery efforts (£2,000 for Trade Up and £3,000 for Scale Up), and the remaining finance in match trading (up to £2,000 for Trade Up; up to £4,000 for Scale Up). This combined approach supported social entrepreneurs to build back their customer base, protect their employees, and continue to make an impact.
Being part of the programme has helped me to better serve the people that I'd like to help, because I'm able to accelerate what I'm doing.

Danna Walker, Built By Us
Surviving, thriving and making a difference
Social entrepreneurs need time and space away from the day-to-day of running a business to reflect on their future plans. This is easier said than done, especially in the early days. But Pasna says by the Trade Up course, she had learned how important it was. "I think I had a mind shift. Because I felt as though, 'we need this in order to grow.'"
Both Madeline and Pasna's enterprises are expanding. Artbox London is about to move into a new, larger studio. And Weekday Wow Factor now has three members of staff; when Pasna started out, it was her children who helped her to make flyers for the first disco.
With the growth in income, comes a growth in social impact. Participants' enterprises support more people, create more jobs, and expand their services.
Like Change Please, founded by Cemal Ezel. Using "coffee as a way out of homelessness", Change Please provides a job paying the London living wage, housing, a bank account and therapeutic support to former rough sleepers. Starting out with one coffee cart and six baristas, Change Please has now supported over 250 people, with over 85% of its trainees moving on to further employment. Its coffee is sold in over 200 coffee bars and outlets as well as on Virgin trains, and Change Please retail coffee is now available from Sainsbury's supermarkets.
Cemal credits the Social Enterprise Programme for this success. He refers to the invaluable support of his Lloyds Bank mentor and says that the programme "has made a massive difference to how we've grown and developed, who we help, how many beneficiaries we can support, how we measure our social impact, how we raise funding. It's […] increased the speed and trajectory of our growth."
It takes a lot to run a social enterprise, but with the right support, that social enterprise gives a lot in return.
Sources and interviewees
This case study is based on data, information and case studies from the SSE website; Phase 1 evaluation and 2021 Phase 2 interim evaluation of the The Lloyds Bank and Bank of Scotland Social Entrepreneurs Programme; and Jo Woodall's interviews with:
Madeline Alterman, Artbox London
Claire Mulry, School for Social Entrepreneurs
Mike Partridge, School for Social Entrepreneurs
Sarah Pattinson, National Lottery Community Fund
Pasna Sallis, Weekday Wow Factor
Unless otherwise indicated, data has either been provided by SSE or taken from the 2021 Phase 2 interim evaluation of the Social Entrepreneurs Programme, conducted by ERS Research and Consultancy.