Trauma, adversity and young children: evidence-based practice
Trauma, adversity and young children: evidence-based practice
Professor Eamon McCrory, Co-Director of the UK Trauma Council, considers the importance of frontline carers and professionals being able to access accurate and up-do-date information on the effects of trauma on children.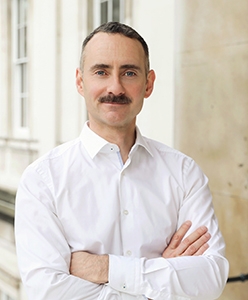 In June this year, I was privileged to be part of a knowledge exchange between the UK Trauma Council (UKTC) and the five A Better Start
(ABS) partnerships across England. Both UKTC and ABS are funded by The National Lottery Community Fund
and have common aims to transform support for children, young people and families who have experienced trauma and adversity.
Here I reflect on the shared understanding and approaches of the ABS and UKTC programmes and how important it is to ensure that we make the latest research and science in this field accessible to all.
Working together to improve trauma informed practice
I was really delighted to have the opportunity to learn more about the work of ABS when our team met with Leads from the five regions in June this year. The event aimed to share the work of ABS and UKTC in the area of trauma-informed practice, the successes and challenges, and future priorities. It was inspiring to hear about the ongoing efforts to transform the systems of support for those who experience childhood trauma and adversity.
The principles underpinning ABS are shared by the UKTC. Both aim to increase understanding and knowledge among those caring for and working with children and young people who have experienced trauma. There is also a shared focus on a family and whole community approach to improve the support young people receive. This moves away from locating the 'problem' within the individual child to addressing the relational and systemic factors that can help promote resilience and recovery following potentially traumatic events and experiences.
Childhood Trauma and the Brain
My own research focuses on understanding the impact of childhood maltreatment on emotional development and mental health through the lens of the developing brain. The long-term aim of this work is to understand how and why mental health problems can unfold following trauma, and how we might intervene to promote more resilient outcomes for children.
Our first UKTC resource portfolio, Childhood Trauma and the Brain, summarises for carers and professionals what we have learnt from neuroscience and aims to shed light on the link between childhood trauma and mental health.
At the UKTC we also publish regular Research Round-Ups across the year to help professionals stay up to date with the latest advances in research. As a researcher and clinician, I have seen first-hand how hard it can be for frontline carers and professionals to access accessible, accurate and up-do-date information. Much of the valuable knowledge produced by research groups ends up locked away in scientific journals.
The Childhood Trauma and the Brain portfolio and our Research Round-Ups to aim to help bridge that gap. One key research finding is that brain alterations following trauma are measurable well before a child shows a mental health problem. This finding should send a compelling message to policy makers, funders and commissioners: we need to move much more towards a model of preventative help. In this context it was incredibly exciting to see the breadth of work across ABS including the investment in prevention through workforce training, specialist interventions and a focus on systems change.
Collaboration is key
During our meeting we also explored how ABS and UKTC can best support each other in our work going forward. There is clearly so much fertile ground for collaboration, and we have already jointly presented with Blackpool Better Start at a conference in North-West England, looking at the gaps in child and adolescent mental health support. Such collaboration among ourselves, and everyone in this field, is essential if we are to create a world where all children and young people receive appropriate and timely support following trauma.
About A Better Start
A Better Start is a ten-year (2015-2025), £215 million programme set-up by The National Lottery Community Fund, the largest funder of community activity in the UK. Five A Better Start partnerships based in Blackpool, Bradford, Lambeth, Nottingham and Southend are supporting families to give their babies and very young children the best possible start in life. Working with local parents, the A Better Start partnerships are developing and testing ways to improve their children's diet and nutrition, social and emotional development, and speech, language and communication.
The work of the programme is grounded in scientific evidence and research. A Better Start is place-based and enabling systems change. It aims to improve the way that organisations work together and with families to shift attitudes and spending towards preventing problems that can start in early life. It is one of five major programmes set up by The National Lottery Community Fund to test and learn from new approaches to designing services which aim to make people's lives healthier and happier
The National Children's Bureau is coordinating an ambitious programme of shared learning for A Better Start, disseminating the partnerships' experiences in creating innovative services far and wide, so that others working in early childhood development or place-based systems change can benefit.
Sign-up to join our mailing list.