Swapping roles, clothes and toys: when four parent volunteers ran their own event
Swapping roles, clothes and toys: when four parent volunteers ran their own event
Emma, Isla, Selam, Cara are Parent Representative volunteers at LEAP. In their own words, they explain how they planned and delivered a 'Pre-loved Clothes and Toys' event to support families with very young children.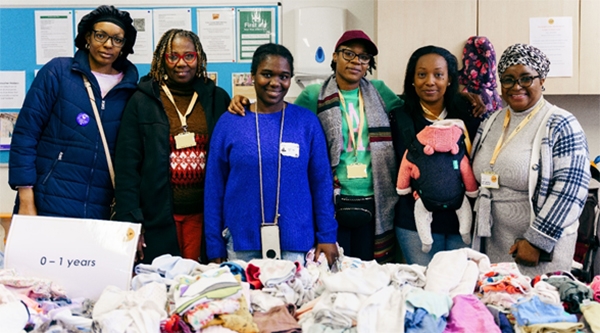 The cost of living is increasing faster than at any point in recent history. Up and down the country, clothes are more expensive, fuel bills are rising and the cost of the weekly shop is increasing. As mums we know what this means to families. A clothes and toys swap seemed a good way to help out.
Delivering this event was an opportunity to promote swapping and re-using clothes and to take monetary pressure off parents. We also wanted to give the children a fun and memorable experience, so we arranged for family activities and healthy food to be served too.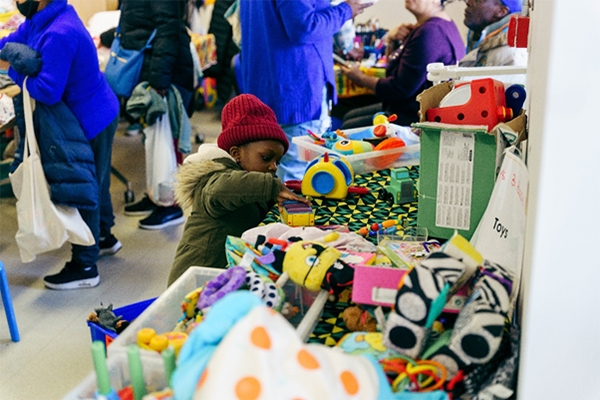 Word of mouth was key
We started working on the project in January 2022 and we held the event at the end of March. First, we met to decide our team roles and the tasks that needed doing. Then we set up meetings with LEAP staff to support learning and development during the planning process.
LEAP's Programme Manager showed us how to write a project plan, make a budget and do a risk assessment. We found it particularly useful to work with a Gantt chart.
LEAP's Communications Manager gave us a mailing list for places we could promote the event. Emma made a flyer to share with families and took our plans to a LEAP parent focus group. The feedback was encouraging – they were all excited. Most of the families from the focus group ended up coming to our swap event.
Cara and Emma attended LEAP parent volunteer groups and recruited volunteers to support the event on the day. Talking with all these different stakeholders helped us to understand what families were looking for and to spread the word. Word-of-mouth promotion helped a lot more people to come.
Putting an event like this together takes more time and energy than you might imagine. We were attending a children's centre twice a week to receive and sort donations from families, as well as communicating with families about when to bring their donations. We organised the event registrations, booked partners to provide food and craft activities, made communications materials and evaluation forms for the event, and promoted the event on social media.
Balancing planning with childcare was challenging
Planning went well because we got on well as a team and supported each other. We met weekly online, then towards the end of the project we met twice a week because there was so much still to do.
Everyone had access to the information they needed. We had two WhatsApp groups – our official Parent Reps group, and a group that Isla started so that we could update each other and stay on top of all the planning. Attending meetings was sometimes challenging while looking after our children – it would have been easier with a creche.
For example, one of us had her daughter with her during a meeting with LEAP colleagues. She had to worry about keeping her entertained and stop her from throwing milk around, instead of being able to concentrate properly on the meeting.
Three weeks leading up to the event, we felt a bit overwhelmed. We were thinking about cancelling or postponing it. But we decided to carry on and support each other as a team.
We actually underestimated the amount of stuff that people were willing to donate. On the day before the event, two of us organised all the toy and clothes donations on tables – we wouldn't have been able to do this without family support for childcare. Another of us had a new baby in February and kept volunteering to plan the event despite being busy and tired as a new mum.
The day before the event one of us became ill and couldn't come in. It felt like a big challenge. In a way though, this helped to focus the rest of us on what needed doing. We surely wouldn't have been able to run the day so successfully if we hadn't put all the clothes and toy donations on the tables the afternoon before.
They went crazy for the toys
The Preloved Clothes and Toys event was very successful. 41 families came and we got lots of great feedback:
"Great idea, lovely staff, nice to have music playing. Thanks for organising :)"
"Everything was done well."
"So friendly!"
"The help is really good. Amazing people."
One parent shared photos of her child with the new toys, to say thanks. Everyone asked when we were going to do it again.
People liked being sustainable. Families enjoyed both donating and receiving the used clothes and toys. Parents said they wanted to return and recycle the toys they chose, and were interested in a regular toy library – people went crazy for the toys! We hadn't expected it but toys were more popular than the clothes.
Put the time in
If you are a parent thinking of doing a similar event, we would give this advice: don't underestimate the amount of time and work it takes to put on a community event, especially when your children are with you. Make sure you've got a good rapport with your fellow volunteers and set up good communications. And finally, always have a plan B and work together to support each other.
(Emma, Isla, Selam, Cara)
About A Better Start
A Better Start is the ten-year (2015-2025), £215 million programme set-up by The National Lottery Community Fund, the largest funder of community activity in the UK.
Five A Better Start partnerships based in Blackpool, Bradford, Lambeth, Nottingham, and Southend are supporting families to give their babies and very young children the best possible start in life. Working with local parents, the A Better Start partnerships are developing and testing ways to improve their children's diet and nutrition, social and emotional development, and speech, language, and communication.
The work of the programme is grounded in scientific evidence and research. A Better Start is place-based and enabling systems change. It aims to improve the way that organisations work together and with families to shift attitudes and spending towards preventing problems that can start in early life. A Better Start is one of five major programmes set up by The National Lottery Community Fund to test and learn from new approaches to designing services which aim to make people's lives healthier and happier.
The National Children's Bureau is designing and delivering an ambitious programme of shared learning and development support for A Better Start, working within, across and beyond the five partnership areas. The programme is funded by The National Lottery Community Fund using funds raised by National Lottery players.
Our aim is to amplify the impact of A Better Start by:
Embedding a culture of learning within and between the partnerships.
Harnessing the best available evidence about what works in improving outcomes for children.
Sharing the partnerships' experiences in creating innovative services far and wide, so that others working in early childhood development or place-based systems change can benefit.
Sign-up to join our mailing list