Spitting up and vomiting: allergies and infant feeding
Spitting up and vomiting: allergies and infant feeding
Claire Dorris, Senior Research & Development Manager at the National Children's Bureau, shares what we know about infant food allergies and looks at how practitioners are getting to grips with the evidence in Lambeth.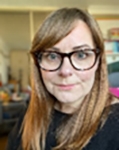 Continued learning is one of the 'five steps to mental wellbeing' messages, and today, the Lambeth Early Action Partnership (LEAP) supported an audience of 109 practitioners and professionals to achieve that through their webinar on supporting infant feeding, the challenge and prevalence of allergies and identifying 'normal' feeding behaviour.
Dr Tom Marrs, Consultant Paediatric Allergist from Guys and St. Thomas' Hospital, shared that around 2% of babies born in the Lambeth area each year have some form of food allergy.
While this is individually challenging for the baby and their parents, food allergies are actually much less common than is generally thought. It is therefore important that new parents, and those who support them, are well equipped to efficiently identify where food allergies exist, and to ensure the family is referred for appropriate support in a timely manner.
Lisa Whipp, Lambeth Peer Support lead, highlighted the wide range of baby and parent experiences in the early feeding journey, the early concerns and challenges faced, and signs and symptoms which may indicate a potential food intolerance.
Approaches to support include peer support, professional guidance, and, if needed, signposting to a GP for blood tests to diagnose intolerance. However, given the relatively low incidence of food allergies, a priority must be to educate and reassure new parents and remove unnecessary worry.
Tom shared that a new-born baby must drink 15-20% of their body weight each day in order to thrive, yet their developing body is not yet able to fully coordinate the process. Therefore, it is completely normal (and understandable!) that some of this fluid will come back up through spitting-up/reflux. This will not always be a concern, and parents should only need to seek further support when, for example, the baby begins to lose weight as a result, refuses to feed or is becoming unsettled on feeding. Helping new parents to recognise these signs helps to avoid unnecessary worry in the early weeks and months.
So what does 'normal feeding' look like?
As with all areas of development, this is different for all mum-baby dyads. Lisa stressed the importance of supporting the parent/carer to recognise and respond to the baby's early feeding cues through responsive and paced feeding. Information and resources are available to support responsive feeding, for example the UNICEF Responsive Feeding Info sheet.
There are, however, incidences when difficulty feeding or keeping food down do point to an illness or allergy.
Tom shared some examples of more serious conditions where medical intervention will be required, including Pyloric Stenosis, which causes a thickened muscle, leading to blockage and an inability for the baby to clear their stomach or even take in food.
Additionally, conditions such as colic, eczema or wider generalised infection may exacerbate vomiting or reflux. Tom highlighted some 'red flag' signs to watch out for, such as lethargy and not waking to feed, fast breathing or a distended abdomen, and stressed the importance of educating practitioners to support identification when medical intervention is required.
Emma Illidge, Senior Specialist Paediatric at Guys and St. Thomas' Hospital, then provided an overview of how a cow's milk allergy (CMA) works, including the variety of onset patterns and severity of symptoms, which may affect the skin, the gastrointestinal system, or respiratory system.
Again, prevalence is much lower than suspected, with less than 1% of infants having a confirmed cow's milk allergy, and there are many other more common conditions which may produce similar symptoms.
She shared some guidelines for practitioners in identifying CMA, noting that there are no evidence-based tests for diagnoses, therefore a home-challenge is required to confirm. This involves the exclusion of cow's milk for at least four weeks to confirm that symptoms reduce, then following the home challenge protocol to gradually reintroduce cow's milk, supported by the health visitor.
Where cow's milk allergy has been diagnosed, the infant will be referred to a dietician and/or allergy clinic, and a dairy-free diet implemented, with a hypoallergenic formula prescription. If there is evidence that baby has reacted to cow's milk transferred from breastmilk, then the recommendations will include removing dairy from mums diet too (with an appropriate calcium supplement).
The session finished with an overview of hypoallergenic formula and plant-based milk alternatives that are available to support feeding where an allergy has been identified. In line with the overestimation of allergy/intolerance prevalence, hypoallergenic formula is widely oversubscribed, with estimates of around 10 times the amount needed for the actual milk allergy prevalence. Continued education and awareness-raising of the signs and symptoms of food allergies can save not only money, but more importantly unnecessary worry for new parents.
If you were unable to attend, you can view a recording of the session
About A Better Start
A Better Start is the ten-year (2015-2025), £215 million programme set-up by The National Lottery Community Fund, the largest funder of community activity in the UK.
Five A Better Start partnerships based in Blackpool, Bradford, Lambeth, Nottingham, and Southend are supporting families to give their babies and very young children the best possible start in life. Working with local parents, the A Better Start partnerships are developing and testing ways to improve their children's diet and nutrition, social and emotional development, and speech, language, and communication.
The work of the programme is grounded in scientific evidence and research. A Better Start is place-based and enabling systems change. It aims to improve the way that organisations work together and with families to shift attitudes and spending towards preventing problems that can start in early life. A Better Start is one of five major programmes set up by The National Lottery Community Fund to test and learn from new approaches to designing services which aim to make people's lives healthier and happier.
The National Children's Bureau is designing and delivering an ambitious programme of shared learning and development support for A Better Start, working within, across and beyond the five partnership areas. The programme is funded by The National Lottery Community Fund using funds raised by National Lottery players.
Our aim is to amplify the impact of A Better Start by:
Embedding a culture of learning within and between the partnerships.
Harnessing the best available evidence about what works in improving outcomes for children.
Sharing the partnerships' experiences in creating innovative services far and wide, so that others working in early childhood development or place-based systems change can benefit.
Sign-up to join our mailing list