Reframing infant mental health
Reframing infant mental health
Melanie Farman, Development Manager at Blackpool Better Start, describes how Blackpool reframed Infant Mental Health Awareness Week for the local community.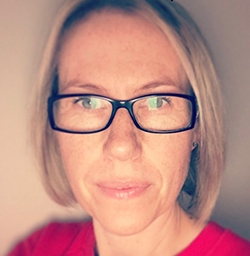 Every June, Blackpool Better Start supports the Parent Infant Foundation's Infant Mental Health Awareness Week through initiatives with local professionals and our community. This year the theme was Understanding Early Trauma, creating awareness around what early trauma is and how it can affect babies' wellbeing and development. This week also provided an opportunity to raise awareness about how early parent-infant relationships play a protective role and can buffer the impacts of adversity on a child.
Across Blackpool, families have access to support ranging from universal care from our maternity team, Baby Steps perinatal education programme, enhanced eight contact health visiting model, the Family Nurse Partnership, the HENRY infant feeding support, early years speech, language and communication, and our early help and support services offer, as well as our specialist services like For Baby's Sake. All these services aspire to work in a trauma-responsive way to help support parents to develop positive relationships with their babies.
To help develop our local response to this awareness week, we set up a working group with representatives from across the Blackpool Better Start partnership.
The consensus was that the Understanding Early Trauma theme was a brilliant way of raising awareness with professionals and starting a conversation on what we need to do to address this.
On June 14, Tracy Greenwood, a specialist health visitor, held a workforce learning session which offered insight into the voice of the infant/child and considered lived experiences when working with families about an often overlooked and misunderstood subject.
Information was also shared about our local North West Coast Clinical Network Parent Infant Mental Health Assessment Care Pathway from conception to aged 2. The session was attended by 20 local early years workforce.
In our initial meetings, it was agreed within the group that a slightly reframed version of the message would possibly be better suited to the Blackpool community.
Infant mental health is a very difficult concept to explain to our families, and sometimes the language can feel scientific and causes barriers for parents.
To help combat this, it was decided that the focus for the community campaign would centre around promoting bonding for parents-to-be with their unborn baby, and highlighting the importance of making connections, responding, and building relationships with little ones through everyday activities. The aim for the activities and literature was to encourage and reassure parents that they are working towards positive infant mental health every day, without even realising it.
Following several brainstorming sessions and discussions, it was decided the comms team would develop several assets including a keepsake book that could be read to the unborn child, and activity cards for parents to use to promote bonding with their baby. A timetable of events in the community was also agreed, with special infant mental health park ranger sessions and literacy sessions planned for the week.
The book Hello in There Little One was written by Lisa Robbins from our communications team and provided a beautiful keepsake for parents-to-be to record name ideas, hopes and dreams for their baby and how they imagine they will be when they arrive. It also included a story to read to the baby about the world they will discover together when they are born, and bonding activities to encourage building relationships between the parents and the unborn baby along with a list of where parents can access support and help, should they feel overwhelmed, and a QR code to the resource page on our website.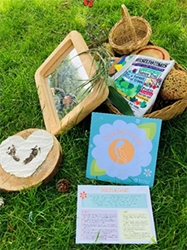 Activity cards were also created to give bonding ideas for parents. The ideas are split into 0-3 months, 3-6 months, 6-12 months and over 1 year. The card explains that small, everyday activities help a baby's brain develop and strengthens the bond between parent and child. Suggestions included talking, asking questions, making eye contact, dancing with your baby and messy play. By providing age-appropriate activities, the cards are useful for a wide range of parents.
To date over 200 books and cards have been distributed through community events and through midwives, health visitors and Baby Steps, our antenatal service. The reaction from professionals and parents has been fabulous and now we are looking to provide them as an on-going resource for parents-to-be in Blackpool.
Resources
About A Better Start
A Better Start is the ten-year (2015-2025), £215 million programme set-up by The National Lottery Community Fund, the largest funder of community activity in the UK.
Five A Better Start partnerships based in Blackpool, Bradford, Lambeth, Nottingham, and Southend are supporting families to give their babies and very young children the best possible start in life. Working with local parents, the A Better Start partnerships are developing and testing ways to improve their children's diet and nutrition, social and emotional development, and speech, language, and communication.
The work of the programme is grounded in scientific evidence and research. A Better Start is place-based and enabling systems change. It aims to improve the way that organisations work together and with families to shift attitudes and spending towards preventing problems that can start in early life. A Better Start is one of five major programmes set up by The National Lottery Community Fund to test and learn from new approaches to designing services which aim to make people's lives healthier and happier.
The National Children's Bureau is designing and delivering an ambitious programme of shared learning and development support for A Better Start, working within, across and beyond the five partnership areas. The programme is funded by The National Lottery Community Fund using funds raised by National Lottery players.
Our aim is to amplify the impact of A Better Start by:
Embedding a culture of learning within and between the partnerships.
Harnessing the best available evidence about what works in improving outcomes for children.
Sharing the partnerships' experiences in creating innovative services far and wide, so that others working in early childhood development or place-based systems change can benefit.
Sign-up to join our mailing list