Pregnancy: the start of the journey
Pregnancy: the start of the journey
Carla Stanke, Public Health Specialist at the Lambeth Early Action Partnership (LEAP) and Lia Brigante, Policy and Practice Advisor at the Royal College of Midwives (RCM) explain how their work is improving outcomes for pregnant women and their babies.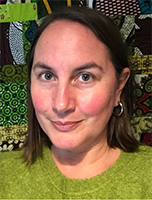 Pregnancy marks the start of every child's best start in life. The first 1001 days are well-established as a critical time for development. Events that happen during this crucial time can have a lasting impact on a child's physical and mental health into adulthood.

Pregnancy provides a wealth of opportunities for supporting pregnant women* to have better outcomes for themselves and their babies.
Responding to inequalities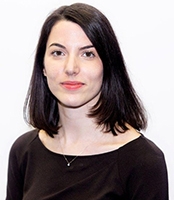 The statistics about inequalities in pregnancy are sobering:
Women from Black ethnic groups are four times more likely to die during pregnancy than women from White groups.
Women living in the most deprived areas are twice as likely to die than women living in the most affluent areas.
In response to this harsh reality, LEAP developed a comprehensive package of support around pregnancy. At the heart of this is our Caseload midwifery service.
Caseload midwifery provides midwifery continuity of care (MCoC) by a named midwife and a small team of midwives throughout pregnancy, labour, birth and the postnatal period.
This model of midwifery care is well-evidenced to provide benefits for women and babies. A recent study about the LEAP Caseload team demonstrated a reduction in pre-term births and caesarean births in women living in deprived areas under LEAP care.
One service user said this:
"I always felt so at ease for every midwife appointment, listened to, excellently informed, and genuinely cared for. I felt the service was just above and beyond anything I could have imagined, and the home visits were a dream both practically and personally to be able to have appointments in my familiar environment. I have felt so incredibly privileged to live in Lambeth and to have access to such high-quality midwifery care.''
Three approaches we are exploring to improve outcomes during pregnancy:
We're working with an academic team to understand the psycho-social outcomes of midwifery continuity of care (MCoC). This will complement our findings in relation to improved obstetric outcomes.
The LEAP Health Team developed the Maternity Vulnerability Assessment Tool, designed to help midwives assess and support social complexities in pregnant women. An evaluation of the tool is underway, and we are hopeful it will be scaled nationally.
We have implemented a pilot project called My Village. It explores the ways in which the Lambeth Social Prescribing team can support the social needs of LEAP caseload service users across pregnancy and in the early postnatal period.
The power of a collective-impact approach
Additional enhanced support during pregnancy reinforces our belief in the power of a collective-impact approach to improving outcomes.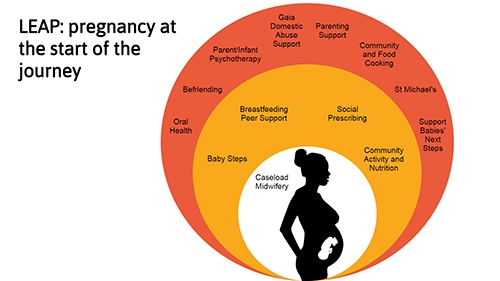 LEAP offers a range of services that support women during pregnancy:
Baby Steps provides antenatal and postnatal education about having a baby, being a parent and giving babies the best start in life
LEAP also supports parents emotionally, while pregnant or in the early postnatal period, to build a strong relationship with their baby and to connect with other new parents.
The importance of providing strong support doesn't stop when a baby is born. Improving care pathways between maternity services and health visiting is a national priority too, and LEAP is supporting colleagues at NHSE by sharing examples of good practice from our Health Team.
In everything we do, LEAP tries to reduce inequalities and improve equity for the people we serve, and for us this starts with an excellent and supported pregnancy experience.
A healthy, planned pregnancy sets the foundation for better outcomes for women and their babies, addresses inequalities and helps achieve good health and wellbeing for all children, now and in the future.
Notes
*We use the terms 'woman/women' in this document but since LEAP actively promotes inclusion in all its services, the words 'woman/women' should be interpreted to include 'birthing people' as well.
About A Better Start
A Better Start is the ten-year (2015-2025), £215 million programme set-up by The National Lottery Community Fund, the largest funder of community activity in the UK.
Five A Better Start partnerships based in Blackpool, Bradford, Lambeth, Nottingham, and Southend are supporting families to give their babies and very young children the best possible start in life. Working with local parents, the A Better Start partnerships are developing and testing ways to improve their children's diet and nutrition, social and emotional development, and speech, language, and communication.
The work of the programme is grounded in scientific evidence and research. A Better Start is place-based and enabling systems change. It aims to improve the way that organisations work together and with families to shift attitudes and spending towards preventing problems that can start in early life. A Better Start is one of five major programmes set up by The National Lottery Community Fund to test and learn from new approaches to designing services which aim to make people's lives healthier and happier.
The National Children's Bureau is designing and delivering an ambitious programme of shared learning and development support for A Better Start, working within, across and beyond the five partnership areas. The programme is funded by The National Lottery Community Fund using funds raised by National Lottery players.
Our aim is to amplify the impact of A Better Start by:
Embedding a culture of learning within and between the partnerships.
Harnessing the best available evidence about what works in improving outcomes for children.
Sharing the partnerships' experiences in creating innovative services far and wide, so that others working in early childhood development or place-based systems change can benefit.
Sign-up to join our mailing list