Learning from policy, research and practice to improve the use of outcome measures for parent-infant relationship services
Learning from policy, research and practice to improve the use of outcome measures for parent-infant relationship services
Karen Kinloch, Research and Evaluation Officer at Blackpool Better Start discusses learning from policy, research and practice to improve the use of outcome measures for parent-infant relationship services.
A secure, responsive relationship between parents and their babies is central to positive developmental outcomes from pregnancy through the whole life course, affecting social, emotional and mental wellbeing, physical health, and educational attainment (refs). Forming this positive relationship between parent and infant can help to break intergenerational cycles of trauma and act as a buffer against other adversities (Granqvist et al., 2017).
At the Blackpool Better Start Partnership, supporting parents and young children to have the best possible relationships was central to our vision from the start. In 2022, the Centre for Early Child Development, the Integrated Care Board (prev. CCG) and the Blackpool Teaching Hospitals NHS Foundation Trust worked together to launch the Blackpool Specialised Parent-Infant Relationship Service (Blackpool PAIRS). This will deliver intensive support to parents and infants experiencing relationship issues and upskill the local workforce in recognising and supporting relationship issues through training and consultation.
In the development of both the service and the evaluation of the service, through conversations with practitioners, researchers, and professional networks (Parent Infant Foundation) we learned that the need to support parent-infant relationships was undoubted but there was no agreement on which outcome measures are most suitable to evaluate parent-infant relationship interventions.
What we did
The research team at CECD, working with the programme development team for Blackpool PAIRS, planned a review of current guidance and use of outcome measures which we hoped would go some way to filling the gap in knowledge around best practice. The aim was that this research would inform not just the evaluation of the Blackpool service but would be useful for practitioners, service managers and commissioners across the UK. In particular, we really wanted to hear from practitioners providing parent-infant relationship support about their ideas and experiences around using outcome measures to evaluate this work.
The research study had three elements.
A review of current literature including guidance from professional bodies (e.g. Institute of Health Visiting, Royal College of Psychiatrists, Parent Infant Foundation), published evaluations of current services, and journal articles reviewing outcome measures or reporting on evaluations of interventions for parent-infant relationships.
An online survey for practitioners about the measures they use and their opinions and experiences of measuring outcomes which received 48 responses.
Interviews with eight practitioners to explore in more depth what can be learned from their experience of using outcome measures.

What we learned
Although this review aimed to reveal compelling evidence for a particular measure or set of measures, there was no clear agreement either in the literature or in responses from practitioners. However, several measures were found to be robust and valid, thus a crucial first step may be to agree which measure best captures the primary outcome of the service.
Comparing published studies of interventions and professional guidance with reported practice indicated a divergence between practice and research. Many academic studies (usually of randomised controlled trials – RCTs) focus only on work which measures this using standardised observational procedures measuring attachment as a primary outcome. In contrast, in our survey responses, parent report measures were used more frequently than observation and parental mental health measures were used in all services. This may result from codelivery of parent-infant relationship work with perinatal mental health, but it may also result from the drive for brief measures which are simple to complete and can be used to measure change in a short time period.
Despite the lack of observational measures in use, practitioners stressed that their observations of the parent-infant relationship are essential when gauging progress in their work. There are very few measures for children under 12 months so observation of the relationship is crucial to hear the voice of the baby.
While implementation of outcome measures is often driven by commissioners and funders, in this study the vital role of practitioners in successful use of outcome measures was a key theme. We learned from practitioners that measures need to work therapeutically to explore sometimes difficult topics with families as well as showing pre-post intervention progress. Practitioners appreciated the ability to visualise progress which they felt outcome tools can enable, but also expressed concerns about the burden of completing questionnaires for vulnerable families. The additional burden of completing measures for already over stretched services may mean that choice of measures is influenced by most valuable use of time.
All stakeholders valued learning from data about the outcomes of services for families and we hope that the five recommendations we developed from the research can be used to support this ambition.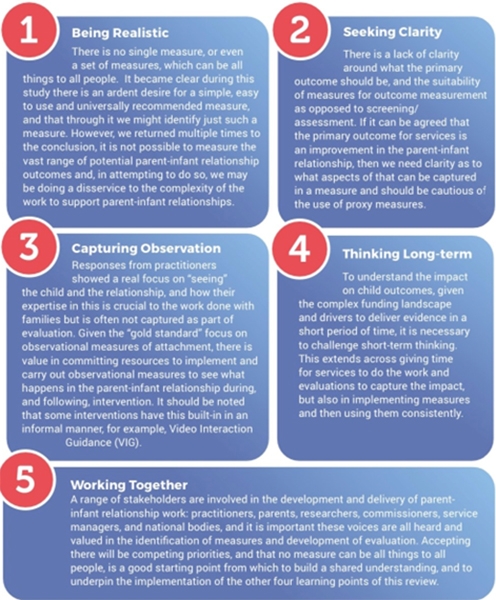 About A Better Start
A Better Start is a ten-year (2015-2025), £215 million programme set-up by The National Lottery Community Fund, the largest funder of community activity in the UK.
Five A Better Start partnerships based in Blackpool, Bradford, Lambeth, Nottingham and Southend are supporting families to give their babies and very young children the best possible start in life. Working with local parents, the A Better Start partnerships are developing and testing ways to improve their children's diet and nutrition, social and emotional development, and speech, language and communication.
The work of the programme is grounded in scientific evidence and research. A Better Start is place-based and enabling systems change. It aims to improve the way that organisations work together and with families to shift attitudes and spending towards preventing problems that can start in early life. It is one of five major programmes set up by The National Lottery Community Fund to test and learn from new approaches to designing services which aim to make people's lives healthier and happier
The National Children's Bureau is coordinating an ambitious programme of shared learning for A Better Start, disseminating the partnerships' experiences in creating innovative services far and wide, so that others working in early childhood development or place-based systems change can benefit.
Sign-up to join our mailing list
Visit the A Better Start website to find out more.