Infant mental health – giving babies' emotional development a better start
Infant mental health – giving babies' emotional development a better start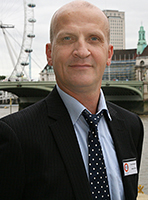 Richard Newson, Media and Communications Manager at the National Children's Bureau considers how work spanning the five A Better Start partnerships aims to improve awareness of early mental health.
Is there a 'baby blind spot' when it comes to policy and practice on child mental health?
That was one of the central concerns raised during a recent webinar organised by the A Better Start partnerships to mark Infant Mental Health Awareness Week 2021.
The simple fact of the matter is that while children's mental health has been recognised as an important issue, the focus is definitely on older children and young people: pregnant women, babies and toddlers are often overlooked.
This should not be the case.
Research shows that a baby's brain is 'wired for connection' and that their early development is supported by loving relationships with parents and carers, and a healthy environment full of rich interactions in which to grow.
If a baby feels safe and secure and experiences the world as a consistent, loving place, they will develop and grow into a confident person who enjoys happy relationships.
So, building parent's capacity and confidence on how to increase positive, attuned and responsive interactions with their children can reap mental health benefits for both.
This was certainly the thinking on which the Big Little Moments campaign was based.
For those who haven't encountered the instantly recognisable campaign that ran across parts of Nottingham, Southend, Bradford, Blackpool and Lambeth, the idea was to share how everyday interactions with babies can significantly boost their happiness and development.
Following the success of Big Little Moments, The National Lottery Community Fund has made all the resources freely available to anyone wishing to replicate the campaign.
But there are also families who could benefit from more specialist mental health support.
The five A Better Start partnerships are providing just that, and a range of different initiatives are evolving within their local areas, including:
A community-based approach to improving infant mental health in Blackpool
A service in Lambeth that is mindful of bringing the unborn baby into view
A dedicated pathway to providing support for little minds in Bradford
A focus on positive paternal mental health in improved emotional outcomes for infants in Nottingham
Together with baby – a project supporting the development of good parent-infant relationships in Southend
You can find presentations about this work here.
All these services are embedded in communities that, for one reason and another, felt the effects of the last year keenly.
Unfortunately, the pandemic is likely to have exacerbated mental health issues, as parents have lost access to their informal support networks, coupled with a reduction in support from mainstream practitioners (such as Health Visitors offering a reduced face to face offer or none at all in some areas) and the increased anxiety caused by COVID-19.
Unless appropriate support is made available, especially for children, the impact on families' emotional welfare could be long-lasting.
So, it is inspiring that services across A Better Start are aware of the mental health challenges facing families and are providing the support that can enable parents and children to cope in difficult times.
We hope it is the beginning of the end to the baby blind spot in child mental health.
About A Better Start
A Better Start is a ten-year (2015-2025), £215 million programme set-up by The National Lottery Community Fund, the largest funder of community activity in the UK. Five A Better Start partnerships based in Blackpool, Bradford, Lambeth, Nottingham and Southend are supporting families to give their babies and very young children the best possible start in life. Working with local parents, the A Better Start partnerships are developing and testing ways to improve their children's diet and nutrition, social and emotional development, and speech, language and communication.
The work of the programme is grounded in scientific evidence and research. A Better Start is place-based and enabling systems change. It aims to improve the way that organisations work together and with families to shift attitudes and spending towards preventing problems that can start in early life. It is one of five major programmes set up by The National Lottery Community Fund to test and learn from new approaches to designing services which aim to make people's lives healthier and happier
The National Children's Bureau is coordinating an ambitious programme of shared learning for A Better Start, disseminating the partnerships' experiences in creating innovative services far and wide, so that others working in early childhood development or place-based systems change can benefit.
Sign-up to join our mailing list.