Evaluating the success of Literacy Champions in Nottingham
Evaluating the success of Literacy Champions in Nottingham
Amy McDonald, Research and Learning Officer at Small Steps Big Changes, looks at the factors driving the success of local Literacy Champions in Nottingham.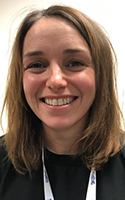 This summary presents the finding from an exploratory research project undertaken in partnership between National Literacy Trust and Small Steps Big Changes. It explores the factors that support the engagement of volunteer Literacy Champions with the project, the enablers, and barriers to working digitally during Covid 19 and highlights some key learning.
One of Small Steps Big Changes (SSBC) outcomes is to support effective and age-appropriate communication and language skills in children. We want to ensure they are: ready to learn at 2, ready for school at 5 and ready for life at 16.
As part of its portfolio of activities to support this goal, SSBC commission and work collaboratively with the National Literacy Trust, Nottingham City Council, and other partners to support the Read-on Nottingham Hub. The Literacy Champions project is a key component of the work of the Nottingham Hub. The project aims to engage a network of volunteer literacy champions; people who have relevant lived experience of their communities, who understand the challenges and opportunities for local families, enabling them to support local literacy building initiatives. Nottingham is one of 14 hub projects operating nationally.
As the Covid 19 pandemic hit, the Literacy Champion project responded by moving to operating via a digital model. What was evident is that Literacy Champions in Nottingham were particularly successful in terms of engaging volunteers and in the variety of digital activity that was initiated.
The National Literacy Trust, alongside SSBC, were keen to understand the factors that enabled engagement with the project broadly and also in particular the transition to digital delivery, but also factors that were barriers. The hope was the learning from the project could be used to inform other Literacy Champions projects nationally. The National Literacy Trust have already begun to utilise the findings and share the learning with the other hubs nationally who will build on the successes of Nottingham in their own communities.
As part of an exploratory research project, Nottingham's Literacy Champions were invited to share their views and experiences. Eleven champions were interviewed 1:1 online, between July and September 2021. Interviews were recorded, transcribed, coded, and analysed thematically, by the research team.
The analysis points to four key themes which explain the engagement of the Literacy Champions in Nottingham.
Engagement of volunteers was supported by their personal motivations, skills, and interests. There was a strong passion and willingness to improve literacy in their communities. Volunteers were enabled to use their own skills and interests to support their volunteering experience and were motivated seeing the impact of their work.
I know when I give the book to them, and [see] how happy they are and what it means to them, it just makes me so happy that I can't explain it.
Support and resources available both from the National Literacy Trust and SSBC were highlighted as fundamental to the Literacy Champions engagement. The local National Literacy Hub and in particular the project manager was viewed as a key part of the infrastructure, offering help and guidance. This combined with the provision of high-quality resources such as books and website resources were used to support activities and were highly valued.
National Literacy Trust Literacy Champions had always been flexible in their approach and this flexibility proved particularly useful in terms of transitioning to digital delivery. Literacy Champions were able to do as little or as much as they were able to, depending on their own situation, and felt valued for their contributions.
I get to choose what I want to do. I don't feel obliged to do things that don't take my interest. So, the freedom, I really enjoy the freedom.
For some, working digitally provided additional flexibility, with content developed and delivered, around other commitments. Some felt they had more time to support the digital delivery and for others digital delivery took less time. Inevitably, for some Literacy Champions, digital delivery did not suit. The flexibility allowed them to take a step back during the pandemic.
The importance of community also emerged as an important factor that supported engagement. The champions themselves felt part of a Literacy Champions community, which was enabled during the pandemic via a WhatsApp group and regular newsletters. The work of the champions was also embedded within their wider community, something they felt a part of and keen and willing to support.
Key learnings from this research.
It is important to foster personal motivations, skills, and interests in volunteers.
High quality resources and support for volunteers should continue.
Flexible volunteer opportunities should be encouraged and grown.
The community aspect of volunteering should be a focus and should be strengthened.
The full report is available to download here – https://www.smallstepsbigchanges.org.uk/knowledge-hub/learning-hub/engagement-of-literacy-champions-in-nottingham
We will be sharing the findings of our evaluation alongside the National Literacy Trust as part of a virtual webinar later this year. Please contact ncp.ss.bc@nhs.net if you would like to be notified when details become available.
About A Better Start
A Better Start is the ten-year (2015-2025), £215 million programme set-up by The National Lottery Community Fund, the largest funder of community activity in the UK.
Five A Better Start partnerships based in Blackpool, Bradford, Lambeth, Nottingham, and Southend are supporting families to give their babies and very young children the best possible start in life. Working with local parents, the A Better Start partnerships are developing and testing ways to improve their children's diet and nutrition, social and emotional development, and speech, language, and communication.
The work of the programme is grounded in scientific evidence and research. A Better Start is place-based and enabling systems change. It aims to improve the way that organisations work together and with families to shift attitudes and spending towards preventing problems that can start in early life. A Better Start is one of five major programmes set up by The National Lottery Community Fund to test and learn from new approaches to designing services which aim to make people's lives healthier and happier.
The National Children's Bureau is designing and delivering an ambitious programme of shared learning and development support for A Better Start, working within, across and beyond the five partnership areas. The programme is funded by The National Lottery Community Fund using funds raised by National Lottery players.
Our aim is to amplify the impact of A Better Start by:
Embedding a culture of learning within and between the partnerships.
Harnessing the best available evidence about what works in improving outcomes for children.
Sharing the partnerships' experiences in creating innovative services far and wide, so that others working in early childhood development or place-based systems change can benefit.
Sign-up to join our mailing list