ESOL with Infants - a new way to provide English language support in the community
ESOL with Infants - a new way to provide English language support in the community
Esther Derbyshire, Head of English, ESOL and Languages at Shipley College and project lead for Better Start Bradford's ESOL for Pregnancy project, considers new ways of offering English language support to local families.
The ESOL for Pregnancy project, delivered by Shipley College, thrived as an online course during the pandemic, with students feeling more able to attend sessions from their homes. As a result, courses will continue to be delivered online for the foreseeable future through a combination of WhatsApp, interactive online activities, text, email and Zoom.
With COVID-19 restrictions lifted, the project team is now testing out a new way to provide English language support back in community settings.
Initially conceived as a follow-on course for graduates of ESOL for Pregnancy, ESOL with Infants is aimed at all parents with children under two in the Better Start Bradford area who feel they would benefit from support in speaking or reading English. The beauty is that parents attend along with their children.
Each session centres around a popular children's book, with activities to build parents' confidence in reading the book aloud to their child. They then take a copy of the book away to read and continue using at home. A range of English language skill levels are catered for within the class and the model appears to be working, with fantastic comments from attendees, like mum Valeria (pictured), who has shared how much she's enjoying reading to her daughter at home: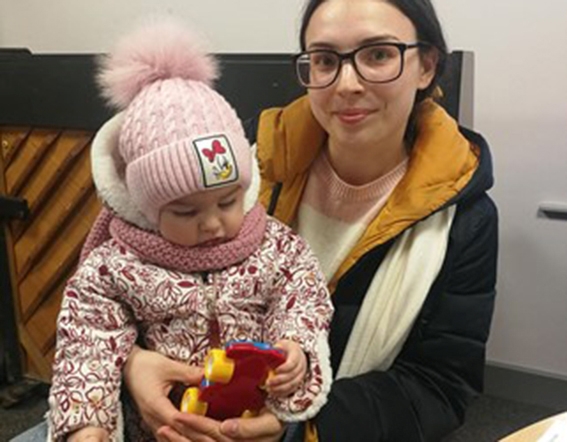 Valeria joined the course with nine-month-old Beatrice at SHINE, a community organisation working out of St Stephen's Church in West Bowling. She is from Romania and has lived in Bradford for two years. She really enjoyed the English learning aspects of the course, has developed her reading skills and is really happy to be reading books to Beatrice at home in English and Romanian. She said: "I enjoyed this course. We discussed different stories and topics. The time I spent here was perfect and I had a lovely time!"
She also added that Beatrice's new favourite book is The Very Hungry Caterpillar!
In the final session of the ESOL for Pregnancy course we look at referrals and where women can get further support once their babies have been born. ESOL courses hardly ever have any childcare provision so further English support can be tricky. The online model not only solves this issue, but means both the parents and the children are often benefitting directly from the sessions.
Sessions are currently running at SHINE, with courses planned at other local community venues.
About A Better Start
A Better Start is the ten-year (2015-2025), £215 million programme set-up by The National Lottery Community Fund, the largest funder of community activity in the UK.
Five A Better Start partnerships based in Blackpool, Bradford, Lambeth, Nottingham, and Southend are supporting families to give their babies and very young children the best possible start in life. Working with local parents, the A Better Start partnerships are developing and testing ways to improve their children's diet and nutrition, social and emotional development, and speech, language, and communication.
The work of the programme is grounded in scientific evidence and research. A Better Start is place-based and enabling systems change. It aims to improve the way that organisations work together and with families to shift attitudes and spending towards preventing problems that can start in early life. A Better Start is one of five major programmes set up by The National Lottery Community Fund to test and learn from new approaches to designing services which aim to make people's lives healthier and happier.
The National Children's Bureau is designing and delivering an ambitious programme of shared learning and development support for A Better Start, working within, across and beyond the five partnership areas. The programme is funded by The National Lottery Community Fund using funds raised by National Lottery players.
Our aim is to amplify the impact of A Better Start by:
Embedding a culture of learning within and between the partnerships.
Harnessing the best available evidence about what works in improving outcomes for children.
Sharing the partnerships' experiences in creating innovative services far and wide, so that others working in early childhood development or place-based systems change can benefit.
Sign-up to join our mailing list