Dads can cook too
Dads can cook too
Better Start Bradford's, Dads Engagement Worker, Zafar Kayani, looks at how 'cook and eat' sessions have proved to be another effective vehicle for dads to learn new skills and bond with their young children.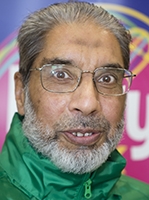 In this previous article we explored how we recruited our first dads/male carers and their toddlers for a series of woodworking sessions at local community venue, Womenzone, and how coming together to learn new practical skills helped them open up and share their experiences and concerns about parenting.
The group had lots of ideas about other activities they'd like to do together, including cooking, and the resulting 'cook and eat' sessions have proved to be another effective vehicle for dads to learn, bond with their young children, gain confidence and share experiences. Best of all, they've enjoyed some fantastic feasts along the way!
Zafar explains: "We started the cook and eat sessions at the request of dads who'd previously participated in the woodwork sessions, plus other men who had heard great things about it all and wanted to meet other dads. We've had people from all walks of life taking part, including: builders, civil servants, software engineers, delivery drivers and taxi drivers.
Most had never really cooked with their children before but were really keen to learn.
Although the venue is called Womenzone, we ensure that on a Sunday we make it into 'Dads and Children's Zone' which helps the group feel more comfortable and means they have sole access to the whole building, with me leading the sessions and offering encouragement along the way.
As obesity levels continue to increase in children and adults in Bradford (source: JSNA Bradford), and with many families often opting for ready-made meals and takeaways, the sessions focus on making fresh, affordable healthy food, based on the HENRY principles. I also weave in key messages about diet, nutrition, and early childhood development during each session.
Our cooking together with children sessions brings many benefits:
The dads have gained confidence to cook at home themselves.
They've learnt to cook things that are quick, easy, healthy and affordable – the latter being particularly important right now during the cost-of-living crisis.
Enabling the children to cook helps them learn what foods are healthy and what are not. It allows them to try new foods and encourages them to eat these at home, rather than less-healthy options.
Cooking is a task that the entire family can enjoy! Dads can be creative with their children and ultimately this can bring everyone together, creating a bonding experience.
When a child has successfully completed a recipe with their dads, we've seen that they feel a sense of pride and confidence. As they cook more, their level of independence increases which further-boosts their levels of self-confidence and self-esteem.
Activities such as: mixing ingredients, rolling dough, and using tools such as cookie cutters all improve children's fine motor strength and control skills. Helping the children to slowly pour ingredients into bowls or quickly mixing ingredients further improves these skills.
Through measuring and using the scales, children are also learning numeracy skills.
Without realising it, they are also getting a science lesson! Children learn what happens when certain ingredients are mixed together, as well as what happens when the measurements are incorrect.
The sessions promote language development, as the children (and the dads) are learning new vocabulary. Also, whilst cooking, we explain each step to the children and ask them to describe their understanding of the steps, again, to enhance language development.
Cooking teaches children various safety lessons such as not to touch a hot stove or how to use a knife correctly.
The children are learning valuable life skills early, including how to make their own sandwiches, pour milk or heat something in the microwave.
Here are some comments and feedback from the dads:
"Prior to these sessions, my daughter was clingy to her mum and not interested in spending time or interacting with me. I have previously taken her out to the park etc. to improve on my relationship with her, but it wasn't working. However, during these cook-and-eat sessions, the relationship has developed and improved. Both her mum and I are much more happy at home, as the whole atmosphere at home has changed for the better. Thank you for these sessions, they have been very important in developing the bonding and attachment between me and my daughter. Please, please keep them going!"
"Brilliant session for me and the kids - very interactive and enjoyable. My son loves it and being around so many dads and children has really motivated me to be more involved in my child's life. At first, I was very hesitant to come, thinking there will be lots of mums and not any dads. Secondly, I didn't think I would learn anything and questioned why I would bring my son along. Well, I have totally changed after the first session and these initial thoughts and couldn't recommend it enough".
"The way the sessions that Zafar has set, is totally brilliant. We do the cooking for one hour and then we sit together and read books with our children. The books came to life through Imran and Zafar, and it was awesome, as my son sat quietly for two minutes, which never happens. We then took the books home and I learned to read to my son in a more interactive and better way. I'd never read a book with my child before. And now I read to them each night."
Reflecting on the importance of dads spending time with their children, Zafar says: "We asked our group the question: What's one thing from your childhood that you wish you'd done more of?"
For many dads, answers revolved around quality time spent with their parents – whether playing with them outside, connecting face-to-face, or even cooking with them. By answering this question, many of the dads continued to reflect that they didn't want their own children to miss out and were going to make efforts to ensure they did more with their own children.
The learning from the initial dad's woodworking group helped develop these cooking sessions and, going forward, these latest sessions will help Better Start Bradford to continue to widen its work with Dads and share our experiences.
About A Better Start
A Better Start is a ten-year (2015-2025), £215 million programme set-up by The National Lottery Community Fund, the largest funder of community activity in the UK.
Five A Better Start partnerships based in Blackpool, Bradford, Lambeth, Nottingham and Southend are supporting families to give their babies and very young children the best possible start in life. Working with local parents, the A Better Start partnerships are developing and testing ways to improve their children's diet and nutrition, social and emotional development, and speech, language and communication.
The work of the programme is grounded in scientific evidence and research. A Better Start is place-based and enabling systems change. It aims to improve the way that organisations work together and with families to shift attitudes and spending towards preventing problems that can start in early life. It is one of five major programmes set up by The National Lottery Community Fund to test and learn from new approaches to designing services which aim to make people's lives healthier and happier
The National Children's Bureau is coordinating an ambitious programme of shared learning for A Better Start, disseminating the partnerships' experiences in creating innovative services far and wide, so that others working in early childhood development or place-based systems change can benefit.
Sign-up to join our mailing list
Visit the A Better Start website to find out more.