Connecting dentists to local children's centres
Connecting dentists to local children's centres
Claire Benzies, LEAP's Oral Health Promotion Practitioner, has been innovating to increase access and attendance to dentists for very young children. Claire describes how she partnered with a local dental practice and children's centre to put on a fun event, offering first-time visits to the dentist.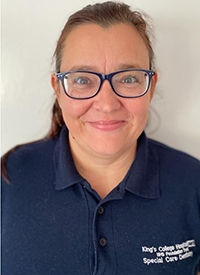 Roughly, only 1 in 6 children in Lambeth aged 0-3 attended the dentist for a check-up between December 2020 and December 2021. It means that the majority aren't having their teeth and mouth examined and, therefore, are at greater risk of tooth decay and its negative health effects.
To put it in further perspective, nearly 10% of 3-year-olds living in Lambeth have tooth decay.
Difficulty accessing dental care
The pandemic has led to fewer children seeing a dentist – depriving them of access to mouth care, fluoride varnish and the opportunity to build the lifetime habit of regular attendance.
In response, we identified a local dental practice willing to work in partnership with us and test out a new pilot project.
Organising the event
I wanted to create a fun environment for families to attend and discuss oral health – and give their little ones the opportunity to visit the dentist for the first time.
Due to the pandemic, dental practices were not providing waiting areas, so I had to consider alternative options, including:
Offering a playgroup at a nearby children's centre while families waited for their time slot.
Running activities at a marquee in front of the practice to entertain the children.
Waiting outside the practice to meet the families and answer their questions.
Having already built a working relationship with the Oval Dental Clinic, I met with the practice manager who spoke with the dentist about offering two hours of her time on a date which suited us both.
I approached the manager of Henry Fawcett Children's Centre, which is a 5-minute walk from the dental practice. The manager agreed to give us a room for a stay-and-play type event, and from there we'd walk families across to the clinic.
LEAP's Community Engagement team supported us with promotion. We created a flyer and included my contact details, making it as easy as possible for families to enquire about the event. We displayed the flyer at the Oval Dental Clinic and Henry Fawcett Children's Centre. Families could register on LEAP's festival page which included Eventbrite booking and Henry Fawcett also created a waiting list for the event.
Negotiating more appointments
A week before the event, I realised that we had far more interest than dental slots. I spoke to the dentist who agreed to increase the number of appointments within the two hours she had put aside.
I also asked families for permission to share their details with the dental practice so that we could prepare all the paperwork in advance, saving time on the day. For the families who couldn't get an appointment slot, I created a waiting list to get them seen at a later date.
Hand-in-hand support
On the day, we hand-held 14 families from the children's centre to the dental practice for their first dental check-up. A colleague led the stay-and-play event, providing information to families on looking after little teeth while keeping track of the appointment times.
All the families who attended the stay and play event received a toothbrush and toothpaste pack.
Four additional families – from the waiting list – got to see the dentist the following week. I met them outside the practice to support them on their visit. This meant that in total the dental practice saw 18 children for their first check-up.
Parent feedback
"Fantastic, I love the songs which promote good teeth cleaning and brushing. I hope there is another session."
"The team were helpful on the phone and very professional with a friendly manner, I appreciate them getting back to me and explaining about the afternoon."
"Loved the unbiased information about toothpaste brands and the need for fluoride content."
"Very good time, I learnt so much."
Dentist feedback
"It was an absolute pleasure. Timings were generally good, as long as we know they've got a slot booked it's all good, just takes 5 mins to add anyone onto the computer systems. Might be able to see more if they've done their forms beforehand (especially for those who are holding their babies/toddlers as it can be quite difficult to fill in one handed)."
Key findings and challenges
Parents learnt new information, for example, about the impact that sugary food and drinks have on teeth, including many ready-made baby foods and drinks.
18 children will hopefully go on to develop good oral hygiene habits and not be fearful of visiting dentists. All the families that attended the stay and play event had access to fluoride.
Managing the needs of the two organisations was a challenge. We made sure that both were fully included in the planning stage to allow for smooth running on the day.
Making sure that families didn't feel rushed from one setting to the next, while also preventing delays was a fine balance. We found that the hand-held approach to getting families to their appointments was a great success.
The next steps will be to:
Show how cost-effective the event was
Share knowledge and lessons learnt
Showcase the event to other local dental practices
Map local dental practices to local children centres
Expand delivery throughout the LEAP area.
About A Better Start
A Better Start is the ten-year (2015-2025), £215 million programme set-up by The National Lottery Community Fund, the largest funder of community activity in the UK.
Five A Better Start partnerships based in Blackpool, Bradford, Lambeth, Nottingham, and Southend are supporting families to give their babies and very young children the best possible start in life. Working with local parents, the A Better Start partnerships are developing and testing ways to improve their children's diet and nutrition, social and emotional development, and speech, language, and communication.
The work of the programme is grounded in scientific evidence and research. A Better Start is place-based and enabling systems change. It aims to improve the way that organisations work together and with families to shift attitudes and spending towards preventing problems that can start in early life. A Better Start is one of five major programmes set up by The National Lottery Community Fund to test and learn from new approaches to designing services which aim to make people's lives healthier and happier.
The National Children's Bureau is designing and delivering an ambitious programme of shared learning and development support for A Better Start, working within, across and beyond the five partnership areas. The programme is funded by The National Lottery Community Fund using funds raised by National Lottery players.
Our aim is to amplify the impact of A Better Start by:
Embedding a culture of learning within and between the partnerships.
Harnessing the best available evidence about what works in improving outcomes for children.
Sharing the partnerships' experiences in creating innovative services far and wide, so that others working in early childhood development or place-based systems change can benefit.
Sign-up to join our mailing list