Bringing young children, books and writers together
Bringing young children, books and writers together
Nicola Hancock, Contract and Implementation Officer at Better Start Bradford, explains how they brought early years into the Bradford Literature Festival.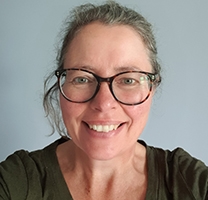 The Bradford Literature Festival was launched in 2014 and provides a platform for diverse and marginalized voices and stories, whilst working to engage as many people as possible in celebrating how words and literature encourage understanding of the world and each other.
The annual festival also delivers a year-round cultural outreach offering, delivering a schools and education programme and also working with a wide range of grassroots community organisations to develop their creative practice and support cultural engagement.
Better Start Bradford began working with Bradford Literature Festival in 2018 to support the extension of the schools and education programme to the early years. The aim was to increase the opportunities to bring children, books and writers together in exploring and celebrating the world of words.
Why is Better Start Bradford involved?
We know from established research and from our projects and families, that sharing books with very young children helps to build their language skills and also strengthens family relationships.
Better Start Imagine, our project which is part of the Dolly Parton Imagination Library, delivers a book a month to every child from birth to five and encourages parents and children to enjoy books together through community-based story and rhyme time sessions and activities. Evidence is now showing this does indeed help with early communication and helps children to reach the milestones they need to be ready to learn to read.
Better Start Bradford and the Bradford Literature Festival recognised the synergies between the two programmes and came together to enhance the early years offer with the latest learning emerging from the Better Start Bradford programme and beyond.
Initially, our partnership led to a series of shared events, some in the Better Start Bradford area and some in the city centre in the middle of the main festival. This coincided with the launch of our Big Little Moments campaign which focused on how small interactions between child and parent/carer can strengthen bonding, emotional health and communication.
Our objectives were:
To engage more families with Better Start Bradford projects and the Bradford Literature Festival
To increase awareness and understanding of the Big Little Moments campaign, through our patch and across the district
To increase awareness and understanding of the core Better Start Bradford messages, including:

Building babies' brains
Building early language
Building resilience
Better Start Bradford became sponsors of the Bradford Literature Festival in 2020 with plans for a number of events aimed at young children and their parents. Unfortunately, due to COVID, the festival was scaled back and delivered digitally, but we collaborated so that the festival content was incorporated into Baby Week Bradford in November 2020.
A hybrid programme was offered the following year with a mixture of digital and in person activities. A digital storytelling experience, Aladdin and the Stolen Stories, was developed with Wrongsemble Theatre Company. Aladdin and the Stolen Stories was set in Bradford and was told through five short episodes that were free to watch on the Bradford Literature Festival website. Families could also download a 'Story Map' for one of six community parks across Bradford, including Horton Park, Bowling Park and Peel Park in the Better Start Bradford area, where families had to follow the map to discover QR code posters hidden in the parks which led to hidden online episodes.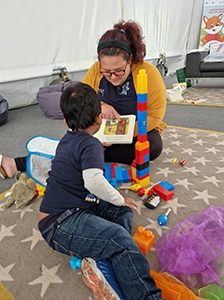 We were all thrilled to be able to meet up and participate in outdoor and indoor events in this years' Bradford Literature Festival, 24 June – 3 July 2022. We know that although our programme kept in touch with our families and our 0-3s during the pandemic, all of our children had missed out on social interaction which has had a negative impact on their language and communication as well as their social and emotional development.
In 2022, the first weekend was the family festival and our sponsorship helped to provide an exciting range of activities for 0-5s. We introduced our ESOL for Infants project, provided by Shipley College, offering fun sessions for parents and children to practice English and build confidence – sharing books is a significant part of these sessions. We also supported Baby Raves, baby yoga, signing for babies and rhythm time. Our projects were out in force attending the events to support the family festival, meeting local families and introducing Better Start Bradford projects, activities and messages to new audiences.
Due to our involvement, a focus on early years will remain a key element of the Bradford Literature Festival and we're happy to have helped to progress that. Better Start Bradford has prioritised support for the development of early language through the continuing portfolio of language and communication projects in our programme, such as Talking Together and Better Start Imagine
We know that language and communication is a key issue for many of our children. Data shows us that a high number of children in areas of disadvantage in Bradford achieve lower than expected levels of language and communication development than the national average and these have been further adversely affected by the pandemic (Dept for Education 2020) and that there is a link between early oral language skills and later literacy outcomes (Griffen et al., 2004)).
Due to its high profile, extensive coverage and diverse audiences, our ongoing involvement with the Bradford Literature Festival will help us to continue to get key messages across to many more families which will have a positive impact on children's development.
Whilst it's hard to assess the overall impact of being involved in the Bradford Literature Festival, we know that families who attended events really enjoyed them. Several joined the library as a result of attending literacy events there. Our profile was raised as a sponsor and the Bradford Literature Festival will continue to include an early year's element as it goes from strength to strength.
About A Better Start
A Better Start is the ten-year (2015-2025), £215 million programme set-up by The National Lottery Community Fund, the largest funder of community activity in the UK.
Five A Better Start partnerships based in Blackpool, Bradford, Lambeth, Nottingham, and Southend are supporting families to give their babies and very young children the best possible start in life. Working with local parents, the A Better Start partnerships are developing and testing ways to improve their children's diet and nutrition, social and emotional development, and speech, language, and communication.
The work of the programme is grounded in scientific evidence and research. A Better Start is place-based and enabling systems change. It aims to improve the way that organisations work together and with families to shift attitudes and spending towards preventing problems that can start in early life. A Better Start is one of five major programmes set up by The National Lottery Community Fund to test and learn from new approaches to designing services which aim to make people's lives healthier and happier.
The National Children's Bureau is designing and delivering an ambitious programme of shared learning and development support for A Better Start, working within, across and beyond the five partnership areas. The programme is funded by The National Lottery Community Fund using funds raised by National Lottery players.
Our aim is to amplify the impact of A Better Start by:
Embedding a culture of learning within and between the partnerships.
Harnessing the best available evidence about what works in improving outcomes for children.
Sharing the partnerships' experiences in creating innovative services far and wide, so that others working in early childhood development or place-based systems change can benefit.
Sign-up to join our mailing list