Breastfeeding initiatives: Sharing our expertise
Breastfeeding initiatives: Sharing our expertise
Jennifer Nicol, Marketing & Communications Officer at Small Steps Big Changes, considers how expertise in supporting breastfeeding mothers is being shared with the next generation of public health professionals.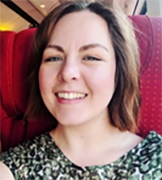 Across the A Better Start sites, we're well-practised at sharing our learning with each other. In Nottingham, an opportunity arose to share knowledge and expertise about public health campaigns and service design with a group of students at the University of Nottingham.
Increasing breastfeeding rates is a public health priority across Nottingham. Accordingly, Small Steps Big Changes'(SSBC) breastfeeding campaigns and services have scaled up significantly over the last two years. By designing new services and leading localised campaigns, we're helping partners to deliver key messages and support to more families.
As a result of SSBC's work to increase local breastfeeding rates, we were invited to give a guest lecture to a group of postgraduate students at the University of Nottingham. The students were from a range of degree programmes (including Master of Public Health, Clinical Nutrition, and Nutritional Sciences) and were learning about the relationship between nutrition and human diseases. Part of this involves examining population-wide approaches to preventative strategies.
The students had already learned about the benefits of breastfeeding to child and family health, and its impact on the economy and environment. SSBC was able to show the ways that a positive attitude to breastfeeding can be promoted through public health campaigns, partnership working and co-produced services.
To promote breastfeeding awareness across the city, we've created banks of infographics and videos featuring midwives, nutrition peer supporters, and local breastfeeding parents. Materials were distributed across our partnership, enabling other organisations working with families to share new and relevant information to support breastfeeding uptake and continuation in Nottingham. This year, we have also commissioned a behaviour change marketing agency to deliver a breastfeeding public health campaign in Nottingham City.
We're also designing and launching new services. We have begun trialling a breastfeeding incentives project, and we are working with partners on a city-wide breastfeeding welcome scheme.
As well as sharing our expertise, the lecture was a rare opportunity to engage with a young and diverse group of people about a topic that can divide opinion. The aim of our breastfeeding public health campaign launching this year is 'to make Nottingham a breastfeeding-positive place to live, work and study'. Given that we were in the room with a group of Nottingham-based students, we were able to take away as much useful insight from the session as we would a focus group. They were extremely receptive to the interactive parts of the lecture and keen to share their views. Although they all had good knowledge of the benefits of breastfeeding, many still did not think that women should breastfeed in public. But others were supportive of our incentives project and saw the benefit of aligning breastfeeding with economic value.
The lecture was an opportunity to reflect on SSBC's achievements so far in breastfeeding promotion and service design and enabled us to gather insight for our current projects. Most importantly, it allowed us to share our learning and to increase awareness of the value of whole-system partnership working and co-production with the next generation of public health professionals.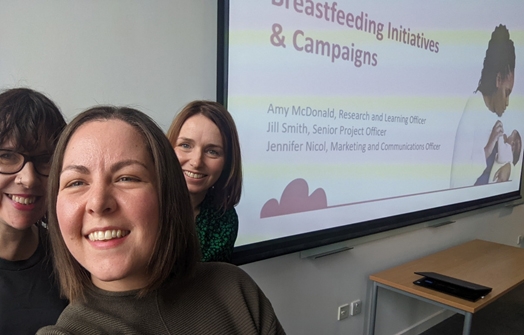 The lecture was well received. As Jemma Orr, Assistant Professor in the Division of Food, Nutrition and Dietetics at the University of Nottingham said:
"Amy, Jen and Jill from SSBC provided our students with a very engaging and informative session, which enhanced the students' learning of the topic. They provided students with real and authentic examples of public health and nutrition-related activity happening locally. This complemented the learning around the topic of breastfeeding excellently."
We hope that in doing this, we will see the programme's influence continue beyond its ten years and beyond Nottingham by instilling these values in our future health professionals and leaders.
About A Better Start
A Better Start is the ten-year (2015-2025), £215 million programme set-up by The National Lottery Community Fund, the largest funder of community activity in the UK.
Five A Better Start partnerships based in Blackpool, Bradford, Lambeth, Nottingham, and Southend are supporting families to give their babies and very young children the best possible start in life. Working with local parents, the A Better Start partnerships are developing and testing ways to improve their children's diet and nutrition, social and emotional development, and speech, language, and communication.
The work of the programme is grounded in scientific evidence and research. A Better Start is place-based and enabling systems change. It aims to improve the way that organisations work together and with families to shift attitudes and spending towards preventing problems that can start in early life. A Better Start is one of five major programmes set up by The National Lottery Community Fund to test and learn from new approaches to designing services which aim to make people's lives healthier and happier.
The National Children's Bureau is designing and delivering an ambitious programme of shared learning and development support for A Better Start, working within, across and beyond the five partnership areas. The programme is funded by The National Lottery Community Fund using funds raised by National Lottery players.
Our aim is to amplify the impact of A Better Start by:
Embedding a culture of learning within and between the partnerships.
Harnessing the best available evidence about what works in improving outcomes for children.
Sharing the partnerships' experiences in creating innovative services far and wide, so that others working in early childhood development or place-based systems change can benefit.
Sign-up to join our mailing list