How Better Start Bradford are helping develop Future Leaders in the National Health Service
How Better Start Bradford are helping develop Future Leaders in the National Health Service
Dr. Claire Gilbert, Future Leaders Fellow at Better Start Bradford discusses her experiences of being part of the Future Leaders Programme at Better Start Bradford.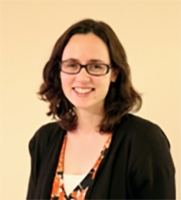 I'm Claire Gilbert, the current Future Leaders Fellow at Better Start Bradford. I'm a medical doctor by background and usually work as a Public Health Registrar in a training programme to become a Consultant in Public Health.
What is the Future Leaders Programme?
The Future Leaders Programme in Yorkshire and the Humber is run by Health Education England. It offers opportunities for people from a wide range of medical, dental, public health, nurses/midwives, allied health professionals, pharmacists, and health care scientist backgrounds to spend a year doing a leadership fellowship to help grow and develop their personal leadership skills.
Fellows split their time between working on projects at their host site and pursing leadership development and training opportunities, including a Postgraduate Certificate in Leadership or Medical Education. My placement is with Better Start Bradford, who are funded by The National Lottery Community Fund.
What sort of work have I been able to get involved with?
Doing this leadership fellowship has given me the opportunity to work for a Voluntary Community and Social Enterprise organisation for the first time. I've been able to use my public health skills to explore what factors can influence uptake of the Better Start Bradford HENRY programme and share the evaluation findings from the Better Start Bradford Innovation Hub more widely. This was done in two ways, firstly across the wider HENRY Bradford District steering group, and secondly via the A Better Start National Learning Event.
I've also led on a piece of work to map out services related to health and nutrition during pregnancy and childhood. Local healthcare professionals have fed back that it can be really challenging to know what services are available where, and to whom, and have really appreciated having a summary of services. I'm working with colleagues in Bradford Council to ensure that all this relevant service information is available on the Bradford Families and Young Persons Information website. Similarly, I'm working with colleagues at the West Yorkshire Health and Care Partnership to develop further relevant webpages for families with young children, practitioners, and healthcare professionals. For example, developing pages on infant feeding for the West Yorkshire Healthier Together website.
As part of the Leadership Fellowship I have been able to undertake a Postgraduate Certificate in Leadership in Health and Social Care at the University of Bradford, completing modules in leadership theory and how to manage people. This has allowed me to be given the opportunity to lead on an analysis of recent exit interviews, to help inform staff retention policies.
What impact has this post had on me and how will it influence my future work?
The skills I've learnt this year will be invaluable for me in my future role as a Consultant in Public Health. During this post I have been part of the leadership team at Better Start Bradford, giving me the experience of observing and contributing to leadership discussions. This will help me much better understand how leaders make decisions in my future roles.
Through the work I've been leading on at Better Start Bradford, I've been able to develop my own leadership skills, particularly how I connect people and knowledge across the system. I've also been able to be a mentor for two Health Equity Fellows, and encouraged other Better Start Bradford staff to apply to be Health Equity Fellows. The role of the fellows is to support the work the West Yorkshire Health and Care Partnership does to tackle health inequalities and make West Yorkshire an equity informed system.
What sort of work have previous fellows been able to get involved with?
There have been five previous Leadership Fellows at Better Start Bradford, who all brought their expertise to help develop and impact on the work of Better Start Bradford. In addition, by supporting the Leadership Fellows, Better Start Bradford is ensuring its legacy by impacting on future NHS and Public Health leaders.
Previous fellows have been involved in a wide range of different pieces of work, including:
Supporting the setup of the programme in the early days by developing our service design approach (now published as part of a toolkit).
Supporting the development of the midwifery project, the perinatal mental health support service and being part of the Bradford District Perinatal Mental Health Strategy.
Leading on oral health work and developing key messaging for Better Start Bradford's Better Start Brushing campaign.
Leading on the development of the Adversity, Trauma and Resilience (ATR) Strategy for the district and the subsequent ATR work in Public Health.
Establishing a regional Infant Mental Health Network.
Establishing a sleep network locally and leading on early discussions about sleep services which have led to its inclusion in Public Health service planning.
Presenting at conferences and publishing research posters, for example Virtual Antenatal Classes during COVID lockdown and working with grandparents through the Older Yet Wiser project.
Representing Better Start Bradford at a wider district level and within our integrated care system.
What is my proudest moment at Better Start Bradford?
Working at Better Start Bradford has highlighted to me that many people still don't appreciate the importance of the first 1001 days in a child's life, and how important it is to raise issues that affect the youngest people in our society. I'm proud of having been able to represent Better Start Bradford at a wide range of different events, including a workshop to build the children, young people and families partnership priorities within Bradford; teaching paediatric doctors across Yorkshire about prevention including the work of Better Start Bradford; presenting my work to other Future Leaders Fellows; participating in the National Children's Food Summit; and participating in the sub-regional 'living with obesity' workshops in West Yorkshire.
About A Better Start
A Better Start is a ten-year (2015-2025), £215 million programme set-up by The National Lottery Community Fund, the largest funder of community activity in the UK.
Five A Better Start partnerships based in Blackpool, Bradford, Lambeth, Nottingham and Southend are supporting families to give their babies and very young children the best possible start in life. Working with local parents, the A Better Start partnerships are developing and testing ways to improve their children's diet and nutrition, social and emotional development, and speech, language and communication.
The work of the programme is grounded in scientific evidence and research. A Better Start is place-based and enabling systems change. It aims to improve the way that organisations work together and with families to shift attitudes and spending towards preventing problems that can start in early life. It is one of five major programmes set up by The National Lottery Community Fund to test and learn from new approaches to designing services which aim to make people's lives healthier and happier
The National Children's Bureau is coordinating an ambitious programme of shared learning for A Better Start, disseminating the partnerships' experiences in creating innovative services far and wide, so that others working in early childhood development or place-based systems change can benefit.
Sign-up to join our mailing list
Visit the A Better Start website to find out more.