A Year of Big Little Moments
A Year of Big Little Moments
Matt Riddell, Funding Manager at The National Lottery Community Fund looks back at a creative campaign helping local parents make the most of everyday interactions with their child.
I like to think he's going to grow up to be a really confident adult, to be able to handle anything life throws at him because of the memories and the moments he's had when he was younger.

Lambeth parent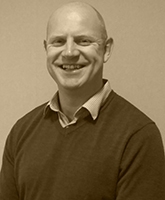 Big Little Moments is a National Lottery-funded campaign that forms part of the A Better Start funding programme. The campaign aims to improve early emotional, social and language development in babies and very young children. Sounds complex? It is - and yet also as easy as playing Peek-A-Boo.
Big Little Moments takes sophisticated science and - using three metaphors and a clique of colourful characters - boils it down to 15 simple but striking positive parenting and caring behaviours. The underpinning principle is that everyday activities, no matter how basic, can have a big impact on child development - and the metaphors help families to better understand why little moments matter.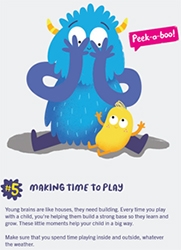 Throughout 2019, communities in Bradford, Nottingham, Blackpool, Lambeth and Southend-on-Sea were introduced to The National Lottery Community Fund's Big Little Moments characters to boost such positive interactions. The campaign was 'multi-channel': it involved everything from adverts and billboards to flashcards and fridge magnets to videos and social media content.
Parents played a big part in co-developing the campaign. This video from Nottingham parents demonstrates how the characters have helped local families enjoy and understand the importance of their Big Little Moments.
What difference has it made?

It's just good to see how open he is, how friendly he is, and I think that's all due to these little moments we share and to the confidence we build.

Bradford parent
We know from our conversations with parents that Big Little Moments had a positive impact on them. We also know that the digital campaign – led by 23Red – had excellent reach. Overall,
our online campaign materials were displayed more than 13 million times;
there were nearly 67,000 clicks to our campaign web pages; and
there were more than 550,000 views of video posts.
In recognition of this, the campaign was shortlisted for two awards at the 2020 Drum Social Purpose Awards for Best in Community Engagement and Best Integrated campaign.
The independent evaluation the Fund commissioned provided statistical evidence proving that Big Little Moments raised people's knowledge of the promoted behaviours. As a lesson for next time, it showed that early years staff - such as GPs and children's centre employees - found the campaign's resources (freely available here) to be effective tools when speaking to caregivers who, in turn, saw such staff as a 'trusted source' or intermediary.
Well that was fun, so what next?
There are many lessons to be learned from the Big Little Moments campaign which are shared on The National Lottery Community Fund's A Better Start webpage. 23red have developed a campaign resource pack – including: videos, a recorded webinar, digital and hardcopy resources, designs, and scripts - that can be downloaded free of charge by anyone who may be interested in replicating it. Ultimately, we hope others will use it and introduce more caregivers to positive parenting and caring behaviours (as well as our fun characters, of course).
Being a parent myself A Better Start is brilliant at highlighting what I do well (and why this is important) and reminding me where I can improve. I don't think anyone gets it right all of the time, but I feel proud when I can say "I do that" or "I might try that". Little moments have a big impact on early child development – so it's rewarding to know that the interactions I have with my children can have such a powerful effect on their brain and long-term development. This sense of gratification is echoed by parents in our A Better Start partnerships across England. From pregnancy onwards, positive interactions between caregivers and young children are so important and I'm proud to have played a small part in bringing Big Little Moments to life.
Acknowledgements
Big Little Moments was a collective effort from the outset and a great example of coproduction. There are too many names to mention but it is important to note that the campaign was only made possible through the support from A Better Start parents and staff in Bradford, Nottingham, Blackpool, Lambeth, and Southend-on-Sea. Also thanks to The FrameWorks Institute, 23red and Ecorys for designing, executing and evaluating the campaign.
Matt Riddell, Funding Manager at The National Lottery Community Fund
About A Better Start
A Better Start is a ten-year (2015-2025), £215 million programme set-up by The National Lottery Community Fund, the largest funder of community activity in the UK. Five A Better Start partnerships based in Blackpool, Bradford, Lambeth, Nottingham and Southend are supporting families to give their babies and very young children the best possible start in life. Working with local parents, the A Better Start partnerships are developing and testing ways to improve their children's diet and nutrition, social and emotional development, and speech, language and communication.
The work of the programme is grounded in scientific evidence and research. A Better Start is place-based and enabling systems change. It aims to improve the way that organisations work together and with families to shift attitudes and spending towards preventing problems that can start in early life. It is one of five major programmes set up by The National Lottery Community Fund to test and learn from new approaches to designing services which aim to make people's lives healthier and happier
The National Children's Bureau is coordinating an ambitious programme of shared learning for A Better Start, disseminating the partnerships' experiences in creating innovative services far and wide, so that others working in early childhood development or place-based systems change can benefit.
Sign-up to join our mailing list.