A walking group kickstarted my volunteering journey
A walking group kickstarted my volunteering journey
Saiqa, a Bradford mum of two, describes how joining a local walking group led to a fulfilling role as a Community Champion with Better Start Bradford.
When Saiqa, 38, joined a Better Start Bradford walking group in 2018, little did she know that a few years down the line she would be a Better Start Bradford Community Champion. Nor that she would have the confidence to talk about her story at a National Lottery Community Fund Conference for all the A Better Start sites across England!
In this article, Saiqa shares how thanks to volunteering with Better Start Bradford she 'came back to life'.
Saiqa's Story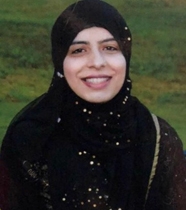 When my children went to Canterbury Nursery back in 2018, I noticed a walking group being run by Sally Teasdale, one of the community engagement workers from Better Start Bradford. I was feeling very low at the time and felt I had lost my way after the death of my father. I had always loved the outdoors so I thought it might be a nice way to meet other people, while getting exercise and fresh air.
That weekly walk with Sally's group became my 'safe place', a place to walk and talk and share whatever fears I had. Sally has such a warm nature and her beaming smile helped me more than she will ever realise.
As my confidence grew and I realised how much I enjoyed being around people, I was encouraged by Sally to set up a Chill and Chat Group at Canterbury Nursery through Better Start Bradford's Parents in the Lead Activities Fund.
I was so nervous when I completed the application form, but I did it and successfully got funding to run the group. I was so thrilled to receive the funding and I also gained another skill in writing applications.
After several months of walking, Sally asked if I would like to take over as walk leader as she recognised leadership skills in me. I was amazed that she saw that in me, but I agreed and our walking group continued.
Sally then asked if I would like to consider being a Better Start Bradford Community Champion as a volunteering position had become available. As usual Sally was my 'cheerleader' and pointed out all the skills that I had that I hadn't had the confidence to recognise in myself. Once I had done the in-depth and informative training, I started my Community Champion role in 2019.
Although I have worked for 20 years as an early years' practitioner, I gave up working after I had my second child to become a stay-at-home parent. After the grief of losing of my father, I lost my way and confidence in my knowledge and abilities, but Sally helped to bring them back to the surface.
Through Better Start Bradford, I have had access to so many different opportunities. I have had lots of training and I have also done the Forest Schools Project Level One Training, so I am able to support the activities that the Forest School Play Project run. They have really empowered me to make something of myself and I know that I would love to find a role working within the community. Being a volunteer can really open doors. The commitment that you have as a volunteer and the skills you can really impress employers and help you with finding a job.
I have had the opportunity to meet so many different people, including local families, people from the many different projects and services from across the area.
Most importantly I have a voice and I know that it is valued and heard. Better Start Bradford really do put the community voice at the heart of everything that they do. I have never seen that level of community co-production from any other organisation.
Through volunteering, I have grown in confidence, found my voice, I have positive self-esteem, I have increased knowledge of working within the community, I have confidence in communicating with different agencies and earlier this year I did a presentation at the A Better Start Conference: 'Parents and Communities in the Driving Seat', hosted by the National Children's Bureau on behalf of The National Lottery Community Fund. I shared with an audience of 250 people how Better Start Bradford were key to my recovery in finding myself again.
I have recently trained and qualified as a Holistic Wellness practitioner primarily working with women and children. I want to help others heal and grow as I have and as I continue to do so.
They say it takes a village to raise a child and I believe that Better Start Bradford have built that village around their community and I am so happy to be part of it. If Sally had told me on that first walk, that I would be presenting at a conference within three years, I would have turned around and said: "You're having a laugh. No Way!"
Further information
Volunteering with Better Start Bradford
There are lots of ways to support Better Start Bradford as a volunteer, developing your skills, confidence and social circles in the process. People volunteer for a whole variety of reasons and there are a range of opportunities with Better Start Bradford and several of our projects
If you have any questions about volunteering with Better Start Bradford, please contact Emma Stafford on 07709 643864 or email: emma.stafford@betterstartbradford.org.uk
About A Better Start
A Better Start is a ten-year (2015-2025), £215 million programme set-up by The National Lottery Community Fund, the largest funder of community activity in the UK. Five A Better Start partnerships based in Blackpool, Bradford, Lambeth, Nottingham and Southend are supporting families to give their babies and very young children the best possible start in life. Working with local parents, the A Better Start partnerships are developing and testing ways to improve their children's diet and nutrition, social and emotional development, and speech, language and communication.
The work of the programme is grounded in scientific evidence and research. A Better Start is place-based and enabling systems change. It aims to improve the way that organisations work together and with families to shift attitudes and spending towards preventing problems that can start in early life. It is one of five major programmes set up by The National Lottery Community Fund to test and learn from new approaches to designing services which aim to make people's lives healthier and happier
The National Children's Bureau is coordinating an ambitious programme of shared learning for A Better Start, disseminating the partnerships' experiences in creating innovative services far and wide, so that others working in early childhood development or place-based systems change can benefit.
Sign-up to join our mailing list.