£100 million National Lottery lift for charities and community groups making a difference this winter
Over £100 million of crucial National Lottery funding has gone to charities and community groups in England over the last three months [1], providing a huge boost to local grassroots projects as they continue to offer valuable support this winter to those in their communities.
This substantial investment, distributed by The National Lottery Community Fund, the largest funder of community activity in the UK, has been awarded to nearly 2,500 community groups and projects across the country, enabling them to bring people together and provide the tools and support they need to better prosper and thrive.
Grants awarded range from £350 up to £500,000 and have been made in direct response to community needs, including for mental health support, improving employability skills, tackling issues of social isolation and loneliness, and offering vital support and advocacy for those at risk of experiencing homelessness through the cold winter months.
Projects funded here include a group that provide young people with new hands-on skills through upcycling in Scarborough, supporting mothers' mental health in Greater Manchester after traumatic births, a homeless outreach service in Exeter, and a London-based children's charity that aims to spread laughter and joy through professional performers.
Emma Corrigan, England Director at The National Lottery Community Fund, said: "Almost 2,500 charities and community groups will benefit from vital National Lottery funding this winter in England, and that's all thanks to National Lottery players. We're delighted to be able to distribute over £100 million to groups responding to their communities' challenges and supporting them to prosper and thrive."
Examples of projects funded in the last three months:
One of the groups to receive funding is Futureworks NY CIC in Scarborough, which is using over £285,000 to develop a workshop upcycling donated furniture, designed to build confidence in disadvantaged young people. Available to disadvantaged young people aged 16 years upwards, as well as unemployed adults, the project will see those involved use restoring old furniture as a tool to build skills and confidence to help them towards meaningful employment.
The funding will help the community organisation provide support and guidance to those who need it most, with an aim to reduce poor mental health including anxieties and isolation, especially for those living in areas of high deprivation.
Michelle Padron-Kitching, Director of Futureworks NY CIC, said: "This funding is so important right now for us, as an organisation that provides support to local people in need, at a time that is fraught with uncertainty and high anxiety. Thanks to National Lottery players, we are able to continue this much needed project that provides valuable support to the local community, building skills and wellbeing."
Spoons in Greater Manchester is using their £157,000 funding to helps mothers and families recover from traumatic birthing experiences. The funding will help to increase provision for extra Family Support Coordinators, and these roles will help families better transition from hospital to home, supporting vulnerable parents to attend local groups and sessions, and making referrals to other services that may be able to help them give their babies the best start in life.
Kirsten Mitchell, Operations Director at Spoons said: "The effects of neonatal care can have a real and long-lasting impact. This wonderful grant will help us to support families through traumatic times and look to the future. As we face more economic uncertainty ahead, our families are relying on us more than ever. On behalf of parents of neonatal babies in Greater Manchester, a huge thank you to the The National Lottery Community Fund and National Lottery Players."
St. Petrocks in Exeter has received £10,000 in National Lottery funding to continue the Homeless Outreach Service, providing twice daily (weekdays) outreach to people sleeping rough and people in insecure housing who are likely to become homeless. The project aims to provide tailored support in a calm and safe environment, including essentials such as access to showers, toilets, washing machines and clothing, and more complex interventions such as mental health support, access to healthcare, finding housing, claiming benefits and emotional support.
Peter Stephenson, Director at St. Petrocks said: "This award comes at a vital time to ensure we can keep delivering this essential Mobile Rough Sleeper Service following a challenging few years for us. A big thank you to all the National Lottery players who've made this possible."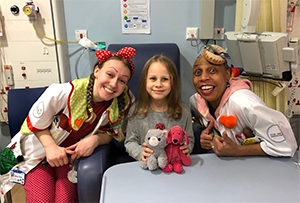 London-based Theodora Children's Charity has received £10,000 funding for their Giggle Doctors programme, which provides virtual or face to face visits from professional performers to children in hospital or specialist care centres living with disabilities and serious health challenges. The project aims to improve their wellbeing through laughter and fun activities.
Judi Byrne, Chief Executive of Theodora Children's Charity said: "A big thank you to National Lottery players and the National Lottery Community Fund for supporting the work of our Giggle Doctors. Whilst we are a small charity based in London, our Giggle Doctors work across England to bring joy and laughter to thousands of children and their families when they need it most. It is thanks to kind support like yours that we are able to continue to improve children's wellbeing in hospital."
National Lottery players raise over £30 million each week across the UK for good causes. The National Lottery Community Fund as a distributor ensures a share of this funding goes straight to communities, helping them to tackle important issues such as supporting young people into employment, mental health and climate action.
To find out more visit www.TNLCommunityFund.org.uk