Young people in Hackney celebrated this International Youth Day for the positive impact they have had on communities
This International Youth Day, Hackney is celebrating the impact local young people have had on their community, thanks to National Lottery funding.
Hackney received almost £1.5 million of National Lottery funding over the last year for 33 projects involving young people**.
The National Lottery Community Fund has awarded almost £100 million to 1,355 community organisations involving young people across England over the last year.**
This International Youth Day (12 August) The National Lottery Community Fund, the largest funder of community activity in the UK, is highlighting the positive impact National Lottery funding has had on community projects and charities involving young people in Hackney and is celebrating the difference they have made.
Today it was announced that The National Lottery Community Fund has awarded almost £100 million to 1,355 community organisations involving young people across England over the last year**. Over the past five years The National Lottery Community Fund awarded £1.2 billion across 14,600 projects involving young people in the UK.
The long-term effects of the pandemic on young people, and how it has affected their mental health and education, are yet to be fully realised. Issues such as unemployment, loneliness and poor wellbeing have been on the rise among young people across the UK.
Over the past year alone, young people across Hackney have been impacted by the COVID-19 pandemic in numerous ways. From disrupted exams to school closures, young people have been forced to adapt to a new way of doing things. New research from Young Minds revealed that 83% of young people in the UK agreed that the coronavirus pandemic had made their mental health worse. The COVID-19 pandemic has forced many community organisations and charities to adapt their current projects or start new ones to actively engage with local young people.
In total, 275 charities and community groups across London involving young people have been awarded more than £20 million of National Lottery funding throughout 20/21 so far**.
Lambeth Action for Youth C.I.C is just one of many local groups that have stepped up to support young people during this challenging time. It has been awarded almost £20,000 of National Lottery funding over the last year to run the Freedom Youth Project in Hackney which provides young people with access to multi-media activities including music studio, photography and video production workshops. The project also focuses on building the confidence of young people, improving their self-esteem, enhancing their social skills and giving them a heightened sense of achievement.
Trevor Elliott MBE, Manager of the Freedom Youth Project at Lambeth Action for Youth C.I.C, said: "The funding from The National Lottery Community Fund has enabled us to provide young people with a range of weekly activities and workshops to participate in, supporting the ongoing development of more than 200 young people over the years. We provide a safe, caring and sociable environment, as well as provide additional support to help them overcome the impact that COVID-19 has had on them. On behalf of the team and all the young people we have supported, I'd like to say a massive thank you to the National Lottery players for making our ground-breaking work possible."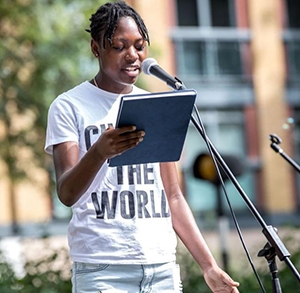 Angel Reid has been attending the Freedom Youth Project weekly since it was first set up in 2013. The talented young musician plays piano, guitar and drums, but singing and the spoken word is what she is most passionate about.
"The Freedom Youth Project is very much focused on what we want to achieve from each session, we're allowed to take control of the afternoon and what we want to get from it. We have an input into how our music is edited and assist with the production of the tracks," explained 16-year-old Angel.
"The project has inspired me to continue with my passion for music and hopefully, eventually, get a job within the industry someday. I have become a lot more confident since joining the project, I would never have performed in front of people before and always thought of that as scary. But being around other young people with similar interests has been really important, it's a great project to be a part of."
Helen Bushell, Senior Head of Regional Funding for London, South East and East of England at The National Lottery Community Fund, said: "I am incredibly proud to see the positive impact this funding is having on young people in communities across London. The past year has highlighted the many challenges they have to face, and how groups like Lambeth Action for Youth C.I.C have dedicated themselves to helping young people in the community to prosper and thrive.
"On International Youth Day, it is important we recognise and celebrate the difference these community groups, and the young people involved, are making to their communities. Thanks to National Lottery players, this funding has given a much-needed boost after what has been an extremely difficult time for so many."
In 2020, The National Lottery Community Fund set up a Young People in the Lead Advisory Panel (YPiL), comprised of 10 young people recruited from across National Lottery funded projects with a passion for Youth Voice. YPiL works to make sure that young people's voices are included across The National Lottery Community Fund's work, whether it's through the grants they make, the people they influence or the things they learn.
Due to the success of YPiL England, The National Lottery Community Fund has now invested in setting up a YPiL for each country in the UK to ensure Youth Voice is represented across their funding so that decisions made about young people are led and decided by young people.
The National Lottery Community Fund distributes money raised by National Lottery players for good causes. National Lottery players raise £36 million each week for good causes throughout the UK**. Thanks to National Lottery players, last year we awarded over half a billion pounds (£588.2 million) of life-changing funding to communities across the UK. Over eight in ten (83%) of our grants are for under £10,000 – going to grassroots groups and charities across the UK that are bringing to life amazing ideas that matter to their communities.
To find out more visit www.TNLCommunityFund.org.uk