New future for landmark school following Scottish Land Fund award
£1,331,800 for 4 community ownership projects
A primary school in Newhaven, which was about to fall empty, is set for a new role at the centre of the community following an award £792,000 from the Scottish Land Fund.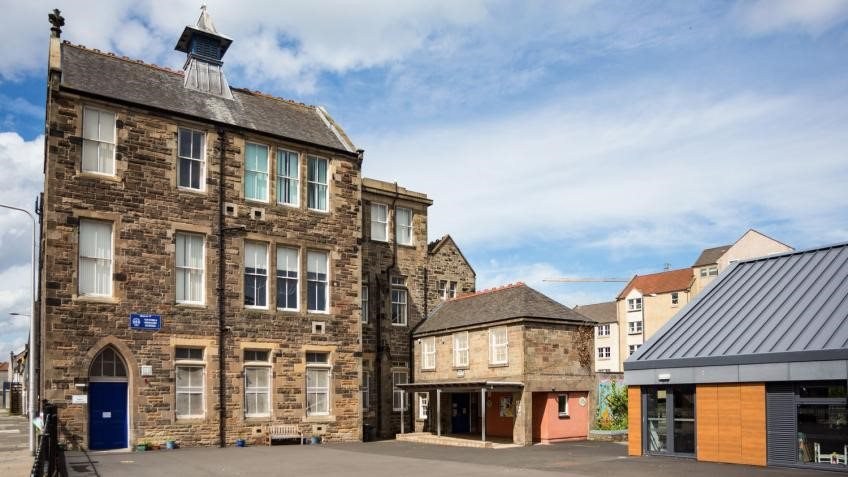 Heart of Newhaven Community (NDC) has been given the money in order to buy Victoria Primary School and turn it into a hub for local groups as well as space for an early years day-care nursery.
An announcement of the funding and of three further grants was made yesterday (29 July) by Environment and Land Reform Minister, Mairi McAllan, while visiting EATS Rosyth, which in November of last year received £284,500 from the Scottish Land Fund in order to purchase a disused Clydesdale Bank Building in order to relocate and expand its community activities around cooking and food.
Ms McAllan said: "Communities across Scotland are achieving great things with support from the Scottish Land Fund. These awards will be a boost to the four communities who've worked so hard to keep their projects going through all the challenges of the last year.
"Visiting the Rosyth Community Garden and Orchard has shown the value of placing ownership and decision-making in the hands of local communities. By relocating the community hub to the new premises acquired through the Scottish Land Fund, EATS Rosyth aim to expand their existing services and offer a suite of new activities aimed at growing and sharing food, reducing waste, helping the environment, and improving food education. These projects will make a big contribution to their communities, to local resilience and recovery."
Stephen Lynas, Chairman of EATS Rosyth said: "We're grateful to the Scottish Land Fund for their assistance in helping us purchase the building. Following a successful round of fundraising and getting in place the various consents required, we will be starting the renovation works for our new hub premises in the very near future. We're looking forward to providing a brand-new community facility that will give us with a fantastic platform to grow our services and support our local community in Rosyth and Southwest Fife."
On hearing news of its successful application, Rodney Matthews, Chair, Heart of Newhaven Community, said: "This grant will cover the purchase price of the property and help with initial development costs.
"While the date when the children will move into their new school in Western Harbour is not yet known, we are now able to move forward confidently with our plans for what is a much-loved icon of Newhaven."
Other projects benefiting during the current round of funding include Forgan Art Centre, which has been given £292,800 to buy the Leng Home, a disused care home in Newport on Tay and turn it into a space for social and economic activities and to increase social interaction.
Forgan Art Centre Chairperson, Gillian Burch, said: "The management team at Forgan are really delighted that we have secured the funding to buy the Leng Home and take the Forgan Arts Centre forwards onto the next phase of its journey. The continued support from our local community, who want to see the Leng Home kept for community use, has encouraged us to keep going and we now look forward to expanding the Forgan Arts Centre in its new home."
Carluke Development Trust has been awarded £112,000 to buy a two-storey house adjacent to Carluke High Mill, which the Trust already owns. This will allow it to continue its project to reduce dereliction and promote regeneration in the town.
Bill Anderson, Carluke Development Trust, said: "We are delighted to receive support from the Scottish Land Fund for the acquisition of the former Millers House that sits within the Carluke High Mill and ONECarluke Community Growing & Learning Garden site. The acquisition of the house will complete the community ownership of the whole site and allow the project to create a larger Community HUB and move into an even more exciting period of delivery and further development."
And Edinbane Community Company on Skye has been given £135,000 with which to buy three serviced building plots on which it plans to erect six affordable homes that will be rented to the community.
Alistair Danter, Chair, Edinbane Community Company, said: "This is great news for the community who have been working for over three years to tackle the lack of affordable housing in Edinbane. We are immensely grateful to the Scottish Land Fund for its support of our community initiative, and we look forward to working with the private developer SLL to deliver six new affordable homes in 2023."
The new Chair of the Scottish Land Fund, Cara Gillespie, said: "We are delighted to make these awards, the first for our new Committee. It is a privilege to support communities with their efforts to improve where they live. These awards will make a positive difference, strengthening communities and empowering local people."
The Scottish Land Fund is funded by the Scottish Government and delivered in partnership by The National Lottery Community Fund and Highlands and Islands Enterprise (HIE) and Sandra Holmes, Head of Community Assets at HIE, said: "It's great to see more dynamic communities taking control of resources for the long-term benefit of their local areas and people. Having greater control over such assets will help ensure their long-term future. I am delighted we have been able to provide Scottish Land Fund support and wish all the groups the very best in their new ventures."
Scottish Land Fund
Supporting urban and rural communities to become more resilient and sustainable through the ownership and management of land and land assets.