£200 million of vital support to communities in England, thanks to National Lottery players
In the first six months of this year, nearly £200 million in vital National Lottery funding has gone to communities across England, supporting them as they seek to overcome social and economic challenges caused by the pandemic and build back stronger.
The life-enhancing sum, distributed by The National Lottery Community Fund, the largest funder of community activity in the UK, was awarded to over 4,500 community groups and projects between 1 January, when the country was struggling through the winter lockdown, through to 25 June, when communities were seeking to re-build and reconnect again.
It comes on top of over £650 million of National Lottery funding distributed to communities across the UK last year throughout the pandemic*, plus £200 million allocated by the Government to the Coronavirus Community Support Fund in England.
The £200 million cash injection this year has funded activities in over 99% of constituencies. 40% (£78 million) has gone to all areas in England identified as most in need of levelling up, including Durham, St Helens and Walsall. The activities are important to communities emerging from the pandemic and range from a mentoring scheme for vulnerable young people to steer them away from crime and improve their employment prospects, a 'handy helpers' service for older and disabled people, and singing sessions to help support those experiencing long COVID and loneliness.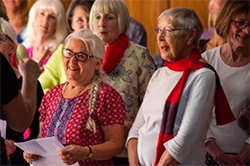 Salisbury Breathless Singers in Wiltshire has received a £10,000 National Lottery boost to support people, through singing, who have lung conditions and breathlessness, including those with long COVID which according to a recent government study, two million people in the UK are thought to be experiencing. Established in 2017, the group has kept going throughout the pandemic by holding weekly virtual sessions. Now, thanks to its new funding, the choir will be able to reach even more people and return to face-to-face sessions at long last. With many of its members having faced isolating months of shielding, the singing get togethers will help reduce loneliness and build friendships and connections.
Tony, 84, suffers from Chronic Obstructive Pulmonary Disease (COPD) and bronchitis, and has been part of the Breathless Singers Choir for four years. He said: "Before joining the choir, I couldn't go up the stairs without stopping, or walk and talk at the same time, but I can do that now too. Every morning I wake up, go downstairs, make myself a cup of tea and go back up again. In fact, once you get me going you can't stop me. My daughter jokingly said to me the other day, 'I preferred it when you couldn't talk!'. So I'm happy to say this National Lottery funding will have a huge impact on people's lives."
Fix Your Crown, in Birmingham, led by Jonah's Project, has been awarded almost £150,000, thanks to National Lottery players, which will benefit more than 400 young people, aged 11 to 25, who are at risk of becoming involved with crime and gang violence. They will each be provided with a mentor, who has lived experience of being a young person involved with crime but has since reformed and turned their life around. Working with local schools, this support will steer young people away from crime and gang violence, and raise their aspirations so they are empowered to progress onto education, training and employment.
Natalie Wilks, Lead Mentor at Jonah's Project and Fix Your Crown, said: "With the lockdowns in the past year resulting in youngsters being off school, it was a priority for us to ensure we could offer support and a safe place for positive reflection. We wanted to show that there is a life outside of criminal activity. Thanks to National Lottery players, we have been able to offer stability and continuous guidance in a time when young people in Birmingham needed it the most. The funding has meant that we could keep going and offer mentoring sessions and help young people to see the benefits that come with education, enterprise and employment."

Handy Helpers, run by Manchester Care and Repair, is another group to benefit after receiving over £8,000 of National Lottery funding. The charity will recruit a team of voluntary 'handy helpers' for the first time, to work alongside its qualified handy people, some of whom have been supporting the community for over 20 years. They will provide help for people aged over 60, and those with disabilities, by completing odd jobs around their homes such as changing light bulbs, fixing dripping taps and fitting grab-rails. Supporting 6,000 people across the city of Manchester every year, the charity will now provide even more people with a friendly face and a helping hand, after a surge in demand due to the pandemic.
Alice Mason, Executive Director at Manchester Care and Repair, said: "Thanks to National Lottery players, we're now able to recruit five local volunteers to enable our resident handy helpers to do jobs that require two people, like fixing gutters, moving furniture or putting up a fence panel. Many of the people we support have been shielding throughout the pandemic, becoming increasingly isolated, and losing their mobility and confidence. Now we can visit again, we have a lot of requests for our handy helpers to fix problems that have been mounting up all year, which thanks to this vital funding, we'll be able to support with."
Elly De Decker, England Director at The National Lottery Community Fund, said: "I am incredibly proud that we have awarded almost £200 million across England so far this year, responding to needs and changes in our communities brought on by the pandemic. We know that people care about issues including employment and employability, supporting young people, supporting the vulnerable and creating better connections within communities to tackle loneliness. It's fantastic to see that this funding, raised by National Lottery players, is having a significant impact on people's lives across the country, helping to build back stronger communities."
National Lottery players raise an incredible £36 million each week for good causes throughout the UK**. The National Lottery Community Fund awarded over half a billion pounds (£588.2 million) of life-changing funding to communities across the UK last year. Over eight in ten (83%) of its grants are for under £10,000 – going to grassroots groups and charities across the UK that are bringing to life amazing ideas that matter to their communities. To find out more visit www.TNLCommunityFund.org.uk