£5.5 million of National Lottery money helps Scottish projects go the distance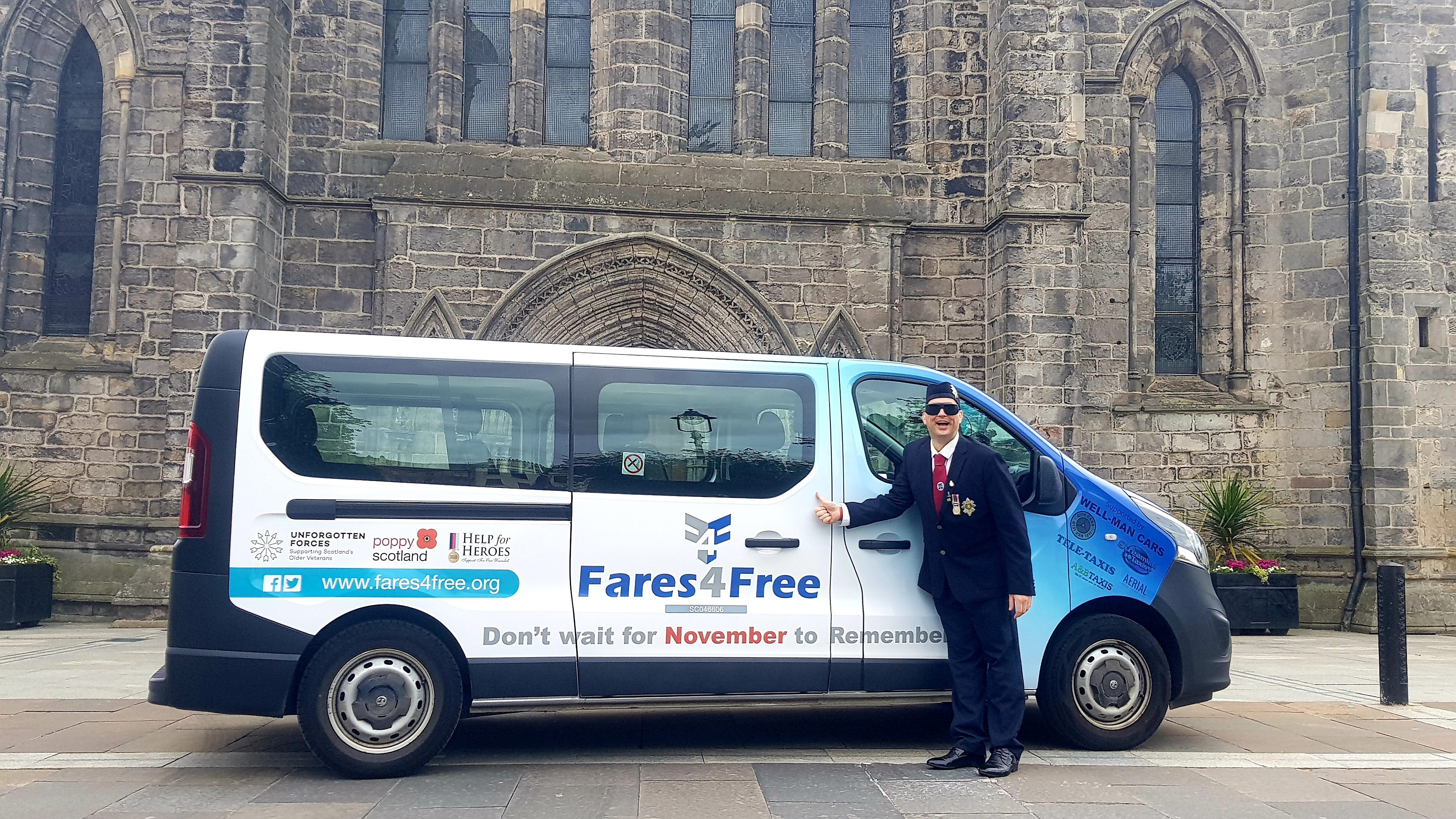 Thanks to National Lottery Players, The National Lottery Community Fund today (TUESDAY 8 SEPTEMBER) announces a bumper package of grants worth £5,568,354 to a wide range of community projects in Scotland.
Across the country 257 groups are receiving awards from The National Lottery Community Fund for a range of activities, many of which will help people to support each other through the COVID-19 crisis and beyond. See link to list of awards by local authority here
With a focus on supporting isolated and vulnerable people, today's awards to community transport projects mean for many there is now a community travel option flexible enough to help them to participate more fully in local activities.
Glasgow based charity, FARES4FREE only own two vehicles but that has not prevented their collaboration with a wide network of local taxi firms and volunteer drivers leading to thousands of free journeys for veterans and their families.
The charity can continue their vital work thanks to an award of £70,000 which will help hundreds of veterans like 37-year-old David Martin from Barrhead.
David said: "I left the Army with a brain injury and I totally understand just how important charities like FARES4FREE are to people like me as they have helped give me my freedom and independence back.
"Over the past four years they have given me so much support; taking me to medical appointments and even as far The Help for Heroes Recovery Centre in North
Yorkshire so I could re-connect with friends and colleagues from the Armed Forces Family.
"I am now an Ambassador for the charity and want to help other veterans, so I am very grateful to everyone who plays The National Lottery for helping FARES4FREE be in a position to help many more people like me."
David Gibson, Founder, FARES4FREE, said: "It means so much to receive this support from The National Lottery Community Fund. They were the very first funder to support us back in 2016, back then the £8,000 award not only helped us prove our concept worked but it really was instrumental in getting us up and running.
"Four years on our service is evolving. Today's funding provides us with security for the next two to three years and helps sustain our Scotland wide community transport service, providing support to hundreds of veterans who need our help.
"Thanks so much to National Lottery players who are helping us fight isolation one mile at a time. FARES4FREE is much more than just a journey for the people we work with it's a potential lifeline for them."
Tay Valley Timebank will use their award of £59,430 to run a community transport project connecting people living across Highland Perthshire. Over the next three years they will work with over 2,500 people offering them a range of transport options using volunteer drivers, bike rental scheme and a lift share scheme.
Sadie Fraser, 88, from Aberfeldy struggles getting out and about since her macular degeneration mean she could no longer use the bus. She said: "I am so delighted to have the opportunity to use this community lifts service. Now I'll be able to get to the doctors and the optician for appointments and hopefully back to my exercise class when it starts up again as well as seeing my friends again. I am so lucky to live in a caring community and benefit from this wonderful transport scheme which makes me feel like I am not alone."
Emma Birtles, Development Officer, Tay Valley Timebank, said: "It's a massive boost for our 'Better Transport for Community and Environment Project' which will create more transport options in our rural community. This means people, who currently cannot travel to where they need to go can do so and people who travel regularly have more choices so they can make more sustainable journeys.
"This funding enables our project to grow and develop whilst also becoming more sustainable. It will really make a difference to our community and to people's lives. Thank you so much to the people who buy National Lottery tickets for supporting our community."
Announcing today's funding totalling £5,568,354, The National Lottery Community Fund's Scotland Chair, Kate Still, said: "These awards, made possible by National Lottery players, are making an amazing contribution to the nation-wide response to combat the impact of COVID-19 on local communities across Scotland.
"I am delighted that some of this funding will provide a range of community transport options which will help thousands of people across the country retain their independence, be able to be an active part of their communities and help them access vital public services. As David and Sadie's stories demonstrate this work makes a real impact to people's lives and adds real social value."
The National Lottery Community Fund is currently focusing its National Lottery funding in Scotland on those projects which are supporting organisations and communities to respond to the challenge of COVID-19. To find out more visit www.TNLCommunityFund.org.uk


National Lottery Awards for All Scotland
A quick way to apply for smaller amounts of funding between £300 and £10,000.
Improving Lives
Grants from £10,001 to £200,000 to help people facing challenging circumstances
Community Led
Funding to support community-led activity and wellbeing.