Scottish groups receive special National Lottery 25th birthday funding to bring their great community ideas to life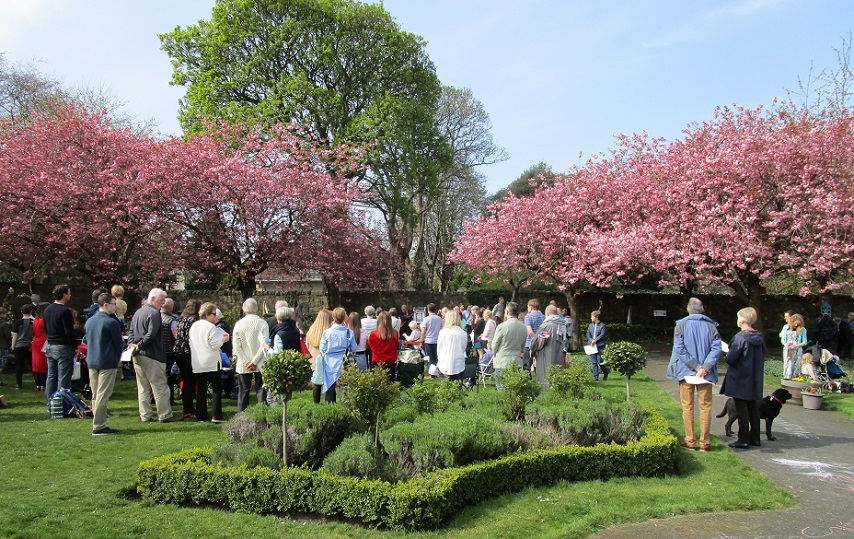 Scottish projects are among the lucky recipients of The National Lottery's special 25th birthday fund
Minishant Social and Leisure Club in Ayrshire, Kinellar Community Hall in Aberdeenshire and Friends of Starbank Park in Edinburgh are amongst the groups spreading love in their communities and bringing people together
#CelebrateNationalLottery25 invited applications from anyone with a great idea to make a difference in their local community
The National Lottery is using Valentine's Day to reveal some of the local champions who love their community so much that they applied for a special grant to do something positive locally – and were successful.
Over 200 projects in Scotland will receive money from the fund – called #CelebrateNationalLottery25 – after they applied to the £2 million pot last December.
The fund, which has now closed, invited applications from anyone with a great idea to make a difference in their local community. Up to £1,000 was available to them, showing that no individual or idea is too small to make a big difference and bring people together across the Scotland.
An award of £1,000 to Minishant Social and Leisure Groupmeans that the small village in South Ayrshire is able to host its first community gala for 20 years. Jackie Murray said: "This is amazing, we have little amenities here and we are extremely grateful to have received this money from The National Lottery to help us organise our Gala Day in June this year.
"As many of us who live here will remember this used to be such a highlight that everyone looked forward to each summer. The money will be used to lease the grounds and buildings required, hire inflatables and the carriage for the king and queen. Our Gala Day will see neighbours of all ages coming together to socialise and I can't think of a better way to pull community spirits back together."
In Aberdeenshire, Kinellar Community Hall receives £1,000to organise a very special party for the local community which will celebrate the hall's 15th birthday.
Kirsty Quin said: "What a wonderful way to celebrate our community hall's birthday. We are having an afternoon tea party on 29 February with lots of entertainment and a performance from the local school choir. The hall is in the heart of our village and this event will be a very special way for the whole community to get together. Thanks so much from all the Kinellar Community Hall staff and board."
An award of £250 means that the Friends of Starbank Parkwill be able to organise a very special Cherry Blossom Picnic at the picturesque community park in North Edinburgh.
Graham Buckley said; "This brilliant funding from The National Lottery means that this year in May we can open up this even further by inviting groups of disadvantaged people from surrounding areas to join our annual Cherry Blossom picnic events.
"We hope that this will lead to these groups and individuals, especially the children, start using this unique park on a regular basis in the future."
The National Lottery Community Fund Scotland Director, Neil Ritch, said: "It's fantastic to see people's love for their communities inspiring them to use National Lottery funding to make great things happen – we've been blown away by all the great ideas.
"#CelebrateNationalLottery25 is supporting a wide variety of projects across Scotland this year, all bringing people together to show the impact that small grants can make."
Thanks to National Lottery players, more than £40 billion has been raised for good causes in the areas of arts, sport, heritage and community over the last 25 years. #CelebrateNationalLottery25 is funded and delivered by The National lottery Community Fund, the largest funder of community activity in the UK. The #CelebrateNationalLottery25 fund marked the culmination of a major campaign by The National Lottery celebrating its impact over the past 25 years and thanking players for contributing £30 million to good causes every week.
The National Lottery Community Fund is responsible for giving out money raised by National Lottery players for good causes. Last year it gave out over £36m of National Lottery funding to community projects across Scotland. Over 1291 projects benefitted from this, enabling people and communities to bring their ideas to life.
To find out more visit www.TNLCommunityFund.org.uk