Friendships blossom and people bloom thanks to local allotments and community gardens
Friendships blossom and people bloom thanks to local allotments and community gardens
The National Lottery Community Fund is using National Allotments Week (12th-19th August) to highlight the incredible difference allotments and community gardens are making to the lives of people across the country.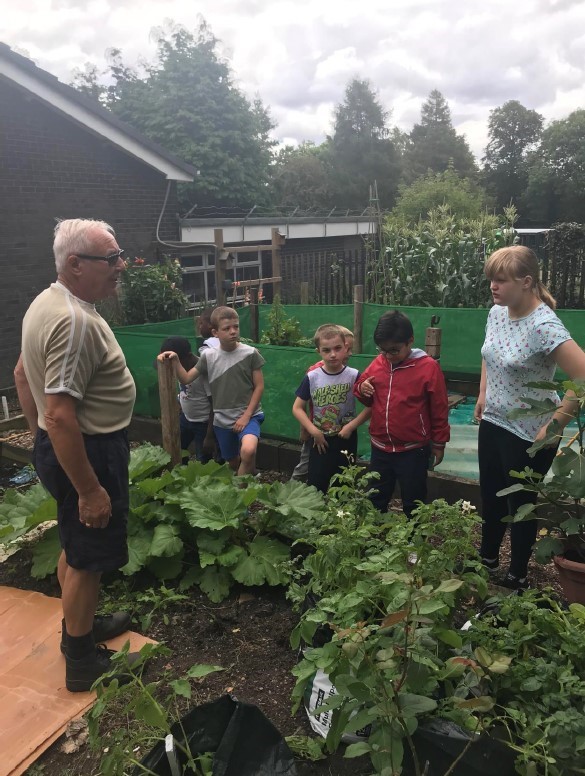 While people initially go to grow fruit and veg, sharing the space and experience with others means that they can enjoy personal growth and other health and well-being benefits too. As a result, many find themselves feeling better rooted within their community – branching out to make new friendships and reducing feelings of loneliness and social isolation.

Such is the power of allotments to transform lives as well as eating habits, that over £270 million of National Lottery funding has been granted to allotment and community garden projects across the UK over the last 25 years.
And with research showing that 9 million people in the UK often or always feel lonely, and the number of over-50s experiencing loneliness set to reach 2 million by 2025*, the need for these spaces is continuing to grow.
One such project is The Albany in Deptford, London, which received £10,000 for The Albany Community Garden. The project runs a range of weekly gardening clubs for families and schools, groups of older people and individuals with disabilities.
Many of the participants of the gardening clubs are residents of the local, social housing provider, Lewisham Homes, and the community garden allows them to enjoy a local and accessible green space. The garden is particularly beneficial for vulnerable people at risk of social isolation, as it brings together the local community and provides the opportunity to learn and develop new skills, whilst socialising. For many, the gardening club has positively impacted the participants' overall mental and physical wellbeing through the therapeutic benefits of gardening and harvesting their own food.
One participant of the gardening club has spoken of the benefits of gardening to their mental health: "I found my way of being happy by volunteering at the Albany garden. It has proven to be a great way to engage with my local community, make some friends and learn about gardening. Being in touch with Mother Nature is nurturing, grounding and therapeutic, as it makes me feel present, taking other thoughts away from my busy mind."
Another great example is The Great Bridge Community Forum, which was awarded almost £10,000 last year to bring people together at Farley Community Allotment in Sandwell, West Midlands. Thanks to the National Lottery funding, around 50 people and 12 volunteers have benefited from the project over the past year.
Older people spend time on the allotment, where they grow vegetables and water plants, whilst socialising and making new connections. There are also intergenerational sessions where local school children join in with making bird boxes and bug hotels and older people have the opportunity to share their skills.
Leke Celaj, Development Coordinator of The Albany Community Garden, said: "The community garden has become an intrinsic part of the Albany over the past few years. Thanks to the National Lottery players, the raised beds, greenhouse and polytunnel provide visitors and residents with an opportunity to engage with the garden and discover how food is produced, in turn, providing them with an array of benefits such as augmented health and wellbeing."
According to The National Lottery Community Fund, the largest funder of community activity in the UK, these most-cherished of community spaces provide a wide range of benefits and opportunities for local residents.
Aside from being a place where people of all ages and backgrounds can relax, recharge and grow healthy, organic food, there are often also opportunities to volunteer, learn new skills, find out about healthy living and even take part in therapy sessions.
James Harcourt, England Director at The National Lottery Community Fund, said: "Allotments and community gardens up and down the country are doing a fantastic job of bringing people together and helping local communities to thrive. The story we hear back from projects across the country is that these spaces are where friendships blossom and people strengthen and grow. We're delighted to have been able to support so many great allotment and garden-based projects since the launch of The National Lottery 25 years ago."
Phil Gomersall, National Allotment Society President, says: "National Allotments Week is an opportunity for allotment sites to open their gates to share the delights of allotment life with their neighbours and the local community. Allotments are often a welcome green oasis in built up areas, supporting local bio-diversity and offering social contact, healthy exercise, connection with nature, mental well-being, fresh seasonal produce and a wonderful sense of achievement when you eat your first plot-grown spud."
The National Lottery Community Fund recently launched its latest insight paper: Bringing people together – how community action can tackle loneliness and social isolation. This paper was researched and produced to share learnings gathered from some of the thousands of projects funded across the UK that bring people together.