Middlesbrough: The right environment
Middlesbrough: The right environment
In March 2021, Knowledge and Learning Manager Temoor Iqbal spoke to a number of grantholders in Middlesbrough, where the town aims to be carbon neutral by 2039.
He heard how some of those National Lottery Community Fund grants are being used to focus on the natural environment, and how local grassroots organisations are ensuring that the younger generation and new arrivals to the area have the green skills, employment opportunities and voice to contribute to the town's climate-friendly future.
Funding overview
In the five years to 2020-21, the National Lottery Community Fund has invested over £9 million in Middlesbrough, through 171 grants to community organisations and charities.
We've supported 140 local groups through small grants, with an average award size of £9,399, and we've given out 31 larger grants, with an average value of £234,827.

Our largest award was £1,596,727 to Middlesbrough Environment City through the Climate Action Fund, to change individual, community and organisational behaviours and increase action to tackle climate change and reduce the town's carbon footprint. Our smallest award was £315 to Easterside District Residents Association to run weekly community café sessions, providing low-cost food to residents who might otherwise struggle to afford hot food, and bringing the community together to reduce isolation.
Around 20% of the projects we fund in Middlesbrough work with food, either providing it to those in need, helping people to grow it themselves, or selling it through community cafés. Trinity Family Friendly Centre, for example, used a grant of £10,000 to improve the kitchen at the organisation's community centre, allowing it to run as a community café that hosts catering and cooking training and provides a focal point for the local community to bring people together.
In September 2019, Middlesbrough Council declared a climate emergency, committing itself to becoming carbon-neutral by 2029, with the town as a whole to achieve the same goal by 2039. The council aims to reach these targets, which are well ahead of the UK-wide target for carbon-neutrality by 2050, through a green strategy linked to Bioregional's One Planet Living framework. The framework sets out 10 principles for sustainability, touching on such areas as local economy, water, food, transport and waste.
The success of this approach will depend on the town's ability to harness the post-Covid period to implement a green recovery that fits with the government's commitment to levelling up. The UK Community Renewal Fund, which is part of the government's levelling up offer, highlights that "net zero ambitions represent a key pillar in our commitment to build back better". Middlesbrough, which has been listed as a priority location for the programme, has a head start in this respect, thanks to the local presence of Middlesbrough Environment City (MEC).
Green ladder
We have supported MEC through large strategic investments over the past seven years, beginning with a £1m Communities Living Sustainably award for the One Planet Middlesbrough project in 2013. This was delivered over five years through 15 different sub-projects, including signposting residents to funding for sustainable home improvements, educating the community on recycling, offering a local bike hire scheme with cycling training, and guidance and space for growing and cooking local food.
MEC's evaluation revealed positive outcomes, including proportional improvement in local residents:
Reducing their fossil fuel use through behaviour change (58%) and home improvements (49%).
Being aware of ways to protect themselves from the effects of climate change (61%).
Using non-car transport at least one day a week (54%).
Reducing their waste (47%).
Buying local produce (39%).
The project also resulted in some interesting spin-offs, including back-alley improvement work in the large network of paths behind Middlesbrough's Victorian housing blocks. "It's a lovely story", says Joe Dunne, MEC's Food Partnership Manager.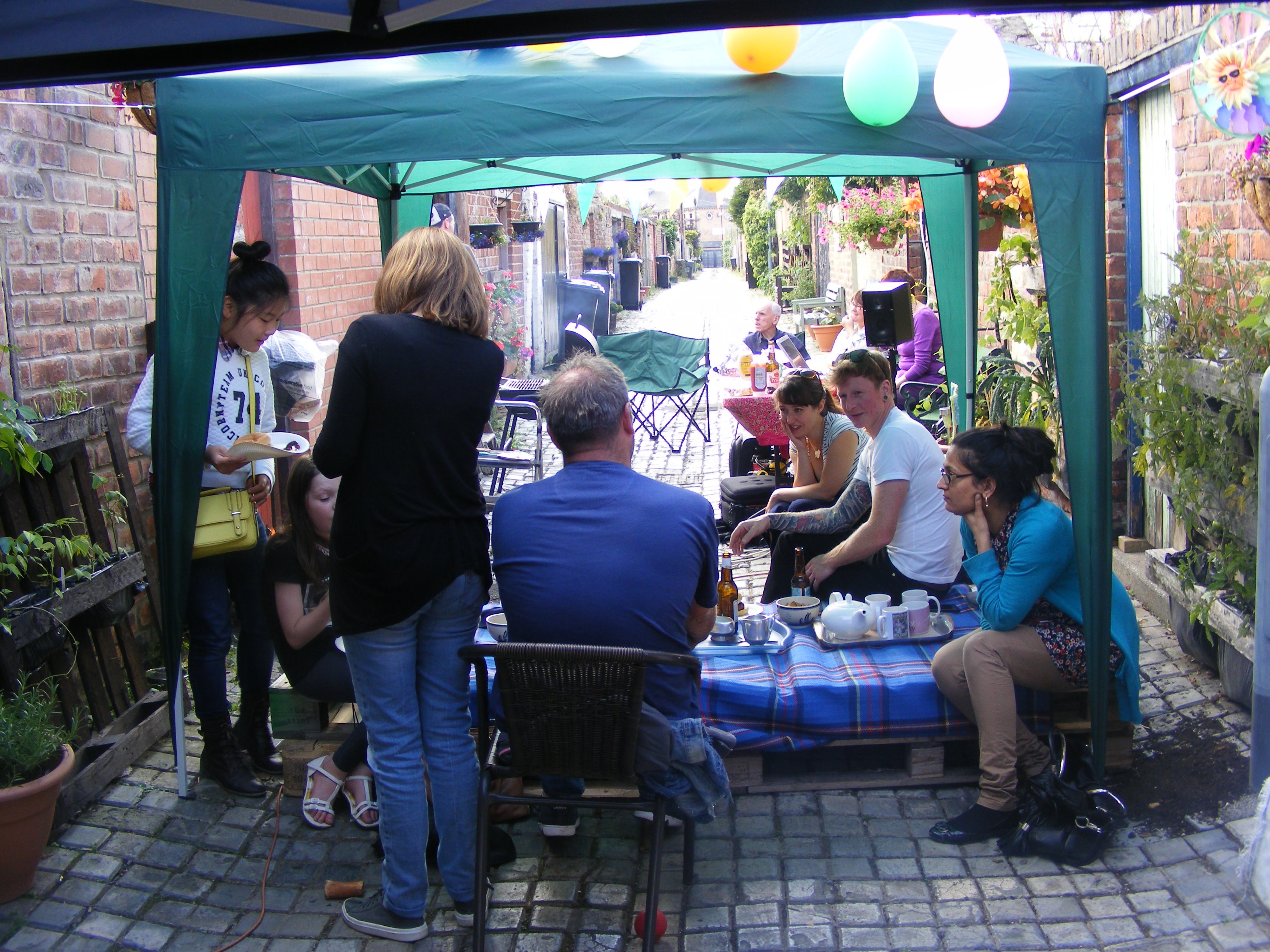 "We really focused on upskilling the community to take ownership of the space." This resulted in the creation of unconstituted groups of residents, gardeners, veg growers and artists who have taken the project forward, giving it a life of its own, particularly in Gresham and North Ormesby. "It's now not within our control at all", explains Joe. "It's very much owned by the community in what is traditionally quite a deprived part of the town, which is fantastic!"
However, it's arguable that One Planet Middlesbrough's most important legacy in the context of a green approach to levelling up has been in highlighting environmental progress as a key asset and growth area for the town.
"The food growing aspect of the project, in particular, transformed the look of the town", says Joe. "It played a key part in supporting local independent businesses to either open establishments or supply existing ones, including larger contracts with hotels, Teesside University and larger businesses. Although it's hard to quantify, this will have had a knock-on effect on jobs and employment."
[One Planet Middlesbrough] played a key part in supporting local independent businesses to either open establishments or supply existing ones, including larger contracts with hotels, Teesside University and larger businesses. Although it's hard to quantify, this will have had a knock-on effect on jobs and employment.

Joe Dunne, Middlesbrough Environment City (MEC)
Future proofing
Economically, embedding an environmental approach is now more important than ever, as the Covid-19 and climate crises intersect. A 2020 report from the London School of Economics emphasised this point, finding that the combination of the UK's carbon reduction and levelling up commitments "creates a whole-economy opportunity to drive economic recovery and growth through sustainable investment, innovation and creativity, while providing international leadership on climate change".
In this respect, Middlesbrough is on the road to becoming a beacon from which other communities can learn, demonstrating how towns that may have struggled in the past to keep pace with their metropolitan neighbours can redefine themselves for a changing economy and a changing world.
And of course, this approach doesn't just encompass job creation and greening the local economy; future sustainability depends on there being a pipeline of employable young people trained in environmental skills and aware of how to create an impact.
MEC has explored this aspect through the One Planet Pioneers project, supported by our £33m Our Bright Future programme. The project offers young people aged 14-21 apprenticeships and volunteering opportunities to learn practical environmental management and growing skills, while renovating and improving Middlesbrough's community green spaces.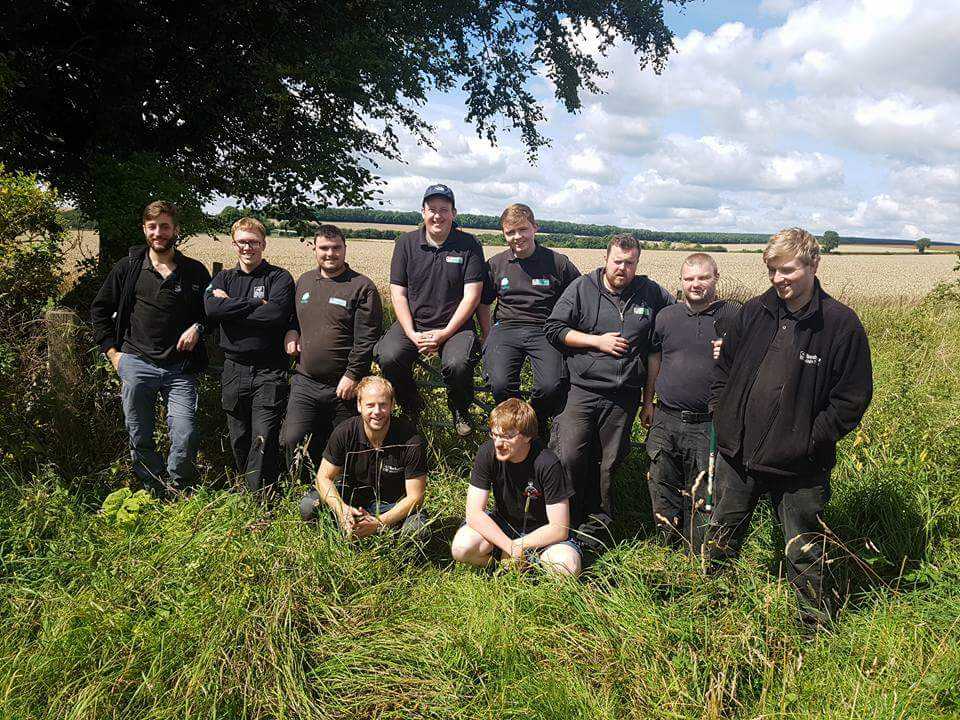 As of December 2020, the project had engaged 2,793 young people since it began in 2016, none of whom were in employment and all of whom reside within the 20% most deprived areas of the country.
Of these, over half have gone on to start employment, volunteering positions, apprenticeships or other paid training positions, with participants also gaining qualifications in such areas as cycle maintenance, machine safety, mentoring/peer support, and environmental conservation.
This offers young people in Middlesbrough a progressive pathway to employment or training, harnessing the town's growing environmental awareness to provide a qualified, enthusiastic workforce for the future.
Alongside this practical approach, MEC's most recent project with the Fund – a town-wide, community-led approach to changing individual and organisational behaviour to tackle climate change – looks to offer young people a voice in shaping the future community they are to inhabit.
Supported by a £1.5m grant through our Climate Action Fund programme and building on One Planet Pioneers' youth engagement work, the project includes a youth forum that will "be a part of the decision making process for both this project and the council's green strategy", according to Joe.
This will include evaluation, peer reviewing and driving the practical direction of the project, alongside working with Actes and Linx – local organisations with a track record of empowering young people – to engage more of Middlesbrough's youth in wider environmental work.
More than half the 14-21 year-olds who took part in the One Planet Pioneers project have gone on to employment, volunteering, apprenticeships or other paid training positions. Participants have also gained qualifications in areas like cycle maintenance, machine safety, mentoring/peer support, and environmental conservation.
Culture change
In a broader sense, a community's environment doesn't just refer to the natural world around it, but also includes the people who make it and the culture they create. Port towns have historically been very inclusive in this respect, welcoming such a variety of individuals and cultures that diversity becomes part of their identity.
The Tees Valley is part of the City of Sanctuary network, which aims to make the UK a welcoming place of safety for people fleeing violence and persecution, and Middlesbrough has been one of the UK's largest dispersal areas for refugees and asylum seekers over the past decade, continuing this historical trend in a modern context.
"I'd like to think that Middlesbrough provides a welcoming and supportive environment for refugees and asylum seekers", says Bini Araia, Director of The Other Perspective (TOP) and Project Manager at Investing in People and Culture (IPC). We have supported both of these organisations through small and medium grants totalling over £80,000 and £150,000 respectively, facilitating projects that help refugees and asylum seekers integrate into the wider community and access the support to which they're entitled.
"When I arrived in Middlesbrough 20 years ago, smaller community organisations running on shoestring resources weren't supported. Now, thanks to the Fund's local approach of having officers on the ground working with grassroots organisations, our work has come a long way."
This work includes taking a strengths-based approach to what refugees and asylum seekers bring to the UK. "Through TOP, we identified some core skills people bring with them, in particular interpreting, because many people arrive speaking several languages, and catering, because many are great cooks", explains Bini.
"We then help them achieve a Level 2 qualification in food hygiene and catering, or a Level 3 qualification in community interpreting, and either offer them paid work or help them to find work to become economically independent."
So far, this project has trained over 30 interpreters, while many of those trained in catering have been able to move out of the benefits system as they're able to earn enough money for themselves through self-employment using their training.
This focus on employment has paid particular dividends during the Covid-19 pandemic, during which time online retailer Amazon opened major local sites in Darlington and Durham.
"Many people in the local community wanted to apply for jobs with Amazon", says Bini. "This included refugees and asylum seekers working zero-hours contracts in local food factories who were interested in the permanent contracts and flexibility offered by Amazon, but many lacked email addresses or equipment to go through the online hiring process. We stepped in to offer support, and managed to help 30 local people from the migrant community to secure work in the two sites."
This support included ensuring that people – some of whom moved from the Midlands and the North-West to take up this opportunity – had the support they needed in finding accommodation and help with interpreting too. As Bini says: "It's a holistic approach; we support people until they are fully stable."
When I arrived in Middlesbrough 20 years ago, smaller community organisations running on shoestring resources weren't supported. Now, thanks to the Fund's local approach of having officers on the ground working with grassroots organisations, our work has come a long way.

Bini Araia, The Other Perspective (TOP) and Investing in People and Culture (IPC).
Growing together
Employment is, of course, only one aspect of a fulfilling life. IPC has had a lot of success with its community growing work, for example through bringing the migrant community together with other local residents to grow fruit and vegetables in Middlesbrough's Albert Park, boosting mental health and wellbeing.
This link between the migrant community and the natural environment is particularly pertinent given World Bank projections of the number of people that may be forced into migration due to climate change.
"Climate change doesn't just affect one group – it needs to be a whole-society issue", says Bini. "People from Sub-Saharan Africa, for example, have been at the forefront of climate change for generations. Their stories are powerful, so we're working to ensure that the community's voice can contribute to solutions."
One way this is happening is by linking up with MEC. "We have worked with IPC and TOP to recruit people into paid positions on our Climate Action Fund and Green Shoots projects", explains MEC Project Coordinator David Scriven.
"One recruit has experience of living in Middlesbrough as an asylum seeker and working with this racially and culturally varied community, while another has experience of working with BAME groups in the town on environmental projects. In the past, these communities have not always been fully represented in local affairs which affect their lives, and have only had a limited platform to share their concerns and ideas. The new officers' roles are therefore very important, and their specific knowledge, contacts and experience will help to break down barriers and increase project participation."
If Middlesbrough is to realise its potential to become an exemplar of environmental activity, this type of inclusive approach that goes beyond consultation will be vital. All members and groups in the community need to feel a sense of agency, and job creation is key to this – even a small number of initial roles can open doors for the next generation.
At the same time, this will also be key to the town's levelling up experience, with green skills and jobs in the environmental sector shaping a sustainable, replicable new normal that offers society a way out of the two most pressing existential crises we currently face.
National Lottery Community Fund support is helping Middlesbrough lead the way in this respect, driving the creation of an inclusive, environmentally friendly local economy through behaviour change, employment and training.
Further Reading
Find out how to apply for funding to support climate action, read insights and learnings and keep up to date with the latest news and events.

Climate Action top-ups was a pilot, in partnership with Sustainable Communities Wales and Renew Wales. We provided practical advice and up to £10,000 to help existing grantholders respond to the climate emergency.