Cornwall: Prospects on the peninsula
Cornwall: Prospects on the peninsula
The National Lottery Community Fund is the largest non-governmental funder in Cornwall, supporting community activities from improving the local Girl Guides' meeting hall to managing the effects of climate change. In this piece, we focus on our funding for employment in a county where a recent surge in tourism has raised twin challenges: the need to supply enough staff to keep the hospitality industry from being overwhelmed, and the need to diversify the economy away from reliance on tourism.
Temoor Iqbal explores how, by helping local people improve their confidence and life stability, our grant holders are helping to address both issues, making sure that new industries can draw on a growing talent pool that also caters to immediate economic needs.
Funding overview
In the five years to 2020/21, The National Lottery Community Fund has awarded £75 million through 818 grants to community groups and organisations in Cornwall. Across the South West as a whole (Cornwall, the Isles of Scilly, Dorset, Devon, Gloucestershire, Somerset, Wiltshire and Bristol) our funding has reached 89% of wards, with over a third going to the 30% most deprived areas.
Our largest grant was £10.8 million to Headstart Kernow, to improve children's mental health. This included training 1,100 school staff and community workers in trauma-informed practice, helping them to be aware of the overall impact of trauma and to know how to prevent re-traumatisation.
Our smallest grant was £400 to the England Wheelchair Dance Association, to fund a one-day wheelchair dancing event, in order to help participants build self-confidence, responsibility and awareness of others.
In terms of the total money we have awarded, almost 50% of our funding in Cornwall (£36.9 million across 53 grants) goes to projects supporting employment. This includes £46,650 to Cornwall Accessible Activities to run outdoor events for people with disabilities, teaching transferrable skills for employment and improving their confidence.
Young people are our main beneficiaries in Cornwall, with over 40% of our funding supporting them (£31.4 million across 283 grants). This includes £48,525 to CSW Group to run workshops on employability and life skills identified by employers, such as problem solving, communication, customer service and teamwork.
According to 360 Giving data, we are the largest funder in Cornwall, outside government, awarding almost four times as much as the next-biggest funder (excluding government departments).
As well as facilitating employment through training and support, our funding leads to direct employment and experience. Across the South West region, 22% of our grant holders use their funding to recruit new staff members and 82% work with volunteers as part of their grant.
Our funding also supports the key building blocks of sustainable employment. Across the South West, 62% of grant holders improve people's confidence, self-esteem and resilience, while 40% improve people's education and development.
"When the fish and tin are gone, what are the Cornish boys to do?" ask the lyrics to Cornish Lads, a question that today still has meaning for a county facing employment challenges following the decline of fishing and mining.
"Visitors will make the noise, and order drinks from Cornish boys," offers the song as a solution. Indeed, tourism is currently Cornwall's biggest sector, accounting for one in five local jobs, and visitor numbers have been above average thanks to a COVID-driven boom in domestic holidaymaking.
With increased visitor numbers, however, comes a need for more staff – something the hospitality sector has struggled with recently, with the 2021 volume of visitors proving unsustainable for local services in Cornwall. Part of the problem is the nature of the work as temporary and seasonal – almost a quarter of those aged 25-49 in the South West work part-time, compared to a fifth across the UK.
This type of work doesn't appeal to everyone, meaning the tourist industry needs a bigger pool of staff to draw from. At the same time, working in tourism and hospitality doesn't meet everyone's needs in terms of finances and job security. To solve both problems, our grant holders are working to increase the range of career opportunities for residents and to build a workforce that has the self-confidence, life stability and training to take up available and new opportunities.
Almost a quarter of those aged 25-49 in the South West work part-time, compared to a fifth across the UK.
Come as you are
We've funded over 800 charities, social enterprises and community groups in the past five years that do their bit locally to improve people's lives and demonstrate an inclusive, supportive way of working with people in difficult situations. Hospitality skills can be a useful way to do this, taking people on a journey from core life skills like cooking, cleaning and organisation, to developing these into professional skills suited to the local job market of hotels, pubs and restaurants desperate for staff.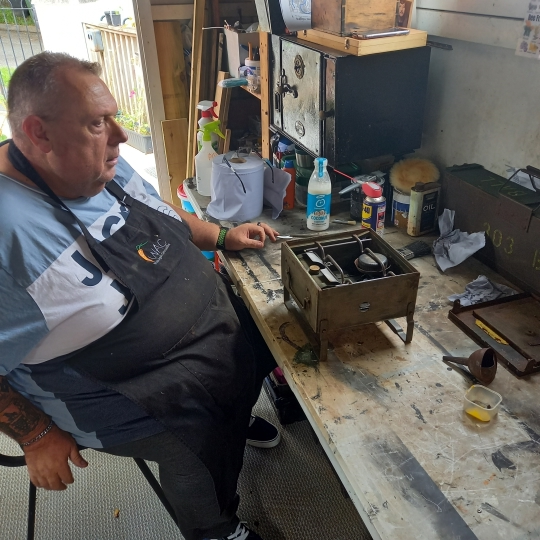 For example, we fund Whole Again Communities to run a weekly repair café, bringing the community together to improve wellbeing through food and volunteering. "We work with people to cook to improve their health, wellbeing and confidence," says CEO Lizzie Sullivan.
"Volunteers are involved at every stage – choosing recipes, cooking, taking online orders and managing the collection system. We even have one person who is really keen on admin and accounting, so they do that." These roles give people practical and personal skills that, ultimately, can help them find work and move forward with their lives.
"One of our part-time staff who worked here during COVID learned how to make amazing food. She's now set up her own café in Truro," says Lizzie. "Another person came to us when she was living in a temporary women's aid refuge. She started out needing intensive support, but her passion, enthusiasm and willpower to improve her life really shone through – she managed to secure housing, got her children into school, and then became a regular volunteer with us.
"Once lockdown finished, we were able to offer her work as our cleaner and maintenance manager to help her progress towards coming off Universal Credit. Then, when we had someone else leave, we were able to offer her the opportunity to be our weekly kitchen lead. She's now not just leading in the kitchen, she's also running workshops and is in the middle of project managing an online course, where we send ingredients out to people's houses and do an online cooking workshop."
Importantly, though, Whole Again Communities sees itself as one piece of the employment and skills puzzle in Cornwall, rather than a standalone solution. "Virtually everyone who comes to us works with other organisations as well," says Lizzie. "Many of those other organisations have got to know us for how good we are at community engagement.
"People walking past see us outside gardening or upcycling, and they want to find out more. We're friendly and open, and we've got a good reputation with other organisations for being a great place to help the most vulnerable and the most lacking in confidence, which means they want to refer people to us."
Bigger picture
While recent staffing concerns in the hospitality sector are a well-documented aspect of Cornwall's employment challenges, they don't tell the full story. The South West has experienced the slowest decline in unemployment since the post-recession peak in 2011. "Young people in Cornwall can often feel that there is a lack of opportunities, and that they would need to move elsewhere to progress," says Emma Wescott of Positive People, a project funded through our largest employment programme, Building Better Opportunities (BBO).
Fortunately, variety is a burgeoning strength of the local economy. "Cornwall is a very entrepreneurial county, with sectors from space to marine, and agriculture to creative," says Kate Rowlands, Programme Lead for Game Changer, a BBO-funded project for young people aged 15-24 who are not in education, employment or training.
The county has a higher proportion of energy, geo-resource and marine businesses than the rest of the UK, all high-productivity sectors which rely on the natural assets of the region. The Celtic Sea, for example, is one of the UK's most viable sites for offshore wind farms, with projects currently in the pipeline. Mining may even make a return, thanks to local lithium deposits that are in demand to support rising battery production for the renewables boom.
Cornwall also now boasts the second-highest regional employment in the creative sector outside London and the South East. Cornwall Council's Creative Manifesto 2021-2025 aims to capitalise on this niche, to make what the Arts Council has described as "a source of inspiration for local authorities around the country" into the UK's leading rural creative economy.
These sectors will all provide jobs and related training programmes; the challenge lies in connecting the skills, confidence and motivation of local people with these opportunities. Our grant holders are working to ensure this doesn't become a gap, so that Cornwall can reach its potential as a modern, successful and varied economy.
We're friendly and open, and we've got a good reputation for being a great place to help the most vulnerable and the most lacking in confidence.

Lizzie Sullivan, Whole Again Communities
Tailored approach
The BBO programme works to achieve this at scale, helping thousands of people develop their skills and progress towards work or training. Since 2016, BBO has supported over 150,000 people on their journey to employment, including more than 7,900 in Cornwall and the Isles of Scilly.
The projects work by connecting people, who are self-referred or referred by agencies such as Jobcentre Plus, with navigators or 'change coaches'. "A navigator is the young person's point of contact, providing advice and guidance" explains Kate. "They find out more about what the individual enjoys doing, their hopes, concerns and identified barriers to employment, and they support them or signpost them to partners depending on their interests."
"Each participant is offered a bespoke journey tailored to their needs," explains Emma. "We support people along that journey depending on their need. Services such as counselling, training, confidence building, life coaching, debt advice, work experience and voluntary work have all been used in the past."
"For example," adds Kate, "if a young person is interested in a career as an artist, a referral may be made to Creative Kernow, who may match the individual up with someone in the industry who could provide mentoring. A young person interested in food and hospitality may be referred to our programme coordinator who specialises in this area, who could support them to gain a food safety certificate and work experience with a local employer."
This approach is paying off. More than half of all young people supported by Game Changer, more than 825 out of almost 1,600 to date, have moved into employment, self-employment or education/training. Many others are working towards their career goals, building confidence and undertaking work placements.
New thinking
Positive People has also made a significant impact. The project has worked with over 4,000 people in Cornwall, helping nearly half of those into employment or education (850 into employment and over 1,000 into education/training). Alongside this, it is also working to address some of the root causes of low employment in Cornwall.
"We don't perceive ourselves as an employment programme," says Emma. "Although we do have lots of successes getting people into work, we primarily focus on providing the support people need to overcome the barriers preventing them from accessing training or employment.
"Positive People is about empowering people; we aim to give them the skills and tools to be self-sufficient once they leave the project, whether this is applying for jobs, managing their finances, or simply having strategies to cope with the demands of everyday life."
As well as skills, however, there are other barriers to employment in the local area. In Cornwall and Devon the number of jobs reachable within 60 minutes by car is two times below the UK median. Thankfully, rather than waiting for costly infrastructure solutions to this problem, local employers are innovating by rethinking what makes a viable candidate for a job.
"Employers are becoming more engaged in working with young people who perhaps might not have previously been considered for roles, while also creating roles and work that is more flexible, inclusive and dynamic," explains Kate.
"Game Changer has been involved directly in this in different sectors, engaging businesses much earlier in the journeys of young people, creating new approaches and exploring how talent might look and be attracted differently. By working alongside businesses and young people, we're able to bring together opportunities on both sides and carve out long-term change for the future."
We don't perceive ourselves as an employment programme; we focus on providing the support people need to overcome barriers.

Emma Wescott, Positive People
The road ahead
Over the next few years, Cornwall may see ever-greater tourist volumes, a pivot to new industries, or both at the same time. As a result, it's unclear whether the main goal will be to provide an increased pool of staff for an under-pressure hospitality sector, or to build a talent base to allow those new sectors to grow and attract investment.
However, what all the projects discussed above demonstrate is that the focus should be on the journey as much as the destination. That means addressing the root causes of unemployment – the personal, financial and mental challenges that come before training and skills – is the most sustainable and practical approach. This will give local people the best possible chance to flourish, take up new opportunities and move Cornwall towards a sustainable future, regardless of what happens with the wider economy.