Online mentoring for veterans: Shoulder to Shoulder Online
Online mentoring for veterans: Shoulder to Shoulder Online
Ex-service people add incredible value to our society. Their teamwork and leadership skills, coupled with strong work ethic and experience in handling stressful situations, benefit many companies and community groups across the country.
But some need time to process the experiences they've gone through, or a helping hand to transition back to civilian life. That's why many charities and community groups support veterans by pairing them with volunteer mentors who can help them readjust. Face to face mentoring is a well-established practice, but there's less evidence on the effectiveness of online mentoring for veterans.
The Shoulder to Shoulder Online pilot was created to fill this gap. It matched vulnerable veterans with volunteer mentors, supporting them to make lasting changes in their lives through regular, virtual catch ups. After mentoring, 80% of participants reported increased mental wellbeing, trust, and hope. More than half said they were ready to move on to new hobbies, volunteering, training, or employment.
This case study takes a look at those results and how they were achieved, while also discussing how the learning from this online programme continues to benefit other veterans.
Project in numbers
Location and partners
Funded by Forces in Mind using National Lottery proceeds, Shoulder to Shoulder Online was delivered across 12 local authorities in Scotland by TimeBank, a national volunteering charity.
It piloted the use of video conferencing for mentoring and built on TimeBank's face to face mentoring with vulnerable veterans, which they had delivered since 2014.
The results informed the work of Soldiers', Sailors and Airmen's Families Association (SSAFA), an armed forces charity that supports more than 90,000 people every year.
Participants
23 pairs were matched, and 284 sessions were delivered, with an average of 12 per pair.
70% of mentees had served in the Army bringing a range of skills and experiences, but 91% were unemployed or retired. Ages ranged from 25 to 84, with an average of 53.
Either currently or in the past, 78% experienced depression, 52% had issues with crowds, noise and transport, and 39% had issues with alcohol or drugs. 65% had experienced suicidal thoughts in the past.
Wellbeing outcomes
All participants recorded improvements in emotional wellbeing, or at least held steady – despite the complex issues many participants faced, and the additional strains of lockdown.
Using the Outcomes Star to measure how the mentees felt, average scores for 15 participants increased from 23 to 32 out of 50 over the course of mentoring, with the biggest gains for "identity and self-esteem" and "trust and hope" scores.
Using the Short Warwick-Edinburgh Mental Wellbeing Scale to explore the mentees' mental wellbeing, the average score for 14 participants increased from 18 to 22 out of 35 over the course of mentoring. The largest increases were in "feeling optimistic" and "feeling close to others".
Wider social outcomes
After mentoring, more than half of participants said they were ready to move on to new hobbies, volunteering, training or employment.
They had improved technology skills through taking part, and mentors supported them with numeracy, literacy, and social and conversational skills. As a result, they're spending more time outside the home and engaging with their communities.
The most valuable element throughout lockdown was "having someone to talk to".
What do they do?
We know that mentoring can support veterans in making the transition to civilian life. Starting in 2019, the Shoulder to Shoulder Online pilot explored how working virtually could be more inclusive. This is particularly important for those who find it difficult to leave their homes, who have poor mobility or who live in remote areas. The pilot was funded by Forces in Mind, a National Lottery-funded Trust, and carried out by TimeBank, a charity training volunteers to deliver mentoring.
The new pilot built on learning from the original Shoulder to Shoulder project, which TimeBank created in 2014, in partnership with the Scottish veterans' charity, Erskine. Working face to face, volunteer mentors had trained veterans to manage their finances, seek employment, improve their mental health and sort out housing issues, among other areas of support. Shoulder to Shoulder Online gathered evidence about the suitability of video conferencing technology to deliver this service, and the impact it can have on veterans.
He's a completely different person now – from someone that struggled to leave the house he has built a social network and even has a girlfriend. If you had known him before he started mentoring you just wouldn't think it would be possible to see him where he is now.

Referral partner, Shoulder to Shoulder Online
Supporting people to get online
Even before the pandemic, TimeBank recognised the opportunities in online support. Yet at first, the concept of video mentoring was anxiety-inducing for many participants.
"You know, because my generation, we didn't grow up with computers, we didn't even grow up with calculators," said one. "So it's all kind of new, if you like. And so, it's a bit daunting at times, not that I'm a stupid person, I'm just not used to technology… I'm more of a face-to-face person."
Recognising that people might be out of their comfort zone, Shoulder to Shoulder Online worked to make the process as straightforward as possible. The online platform was developed for the project by the video technology company Odro, with ease of use as a priority. From seeing technology as "daunting", the same mentee was surprised to find that it wasn't a barrier.
It was essential to get the setup right. At the start of the project, the team made significant investments of time and money on support, encouragement, and practical troubleshooting for users. Shoulder to Shoulder Online provided tablets, but also made sure people were able to use them with confidence. Mentors, the TimeBank team and Odro support staff were on hand to help mentees, dealing with teething problems and reducing anxiety.
And before the first session with their match, volunteer mentors received full training in how to set up and use the video platform.
It was vital that participants had a stable internet connection. "When lockdown happened, I never had any internet," explained one veteran, who had had little to no human contact for extended periods of time. "The only form of outside communication I had was with my phone."
So when the project supported people to get online, it was a gateway to wider social networks. "It's opened up my world completely," the veteran continued. "I'm used to playing PlayStation by myself but all of a sudden I can speak to my mate and it sounds like he's sitting next to me. Having the internet has made a huge difference." At a time of intense isolation, when face to face support was often unavailable, this was an important contribution to mental health.
Making it work for everybody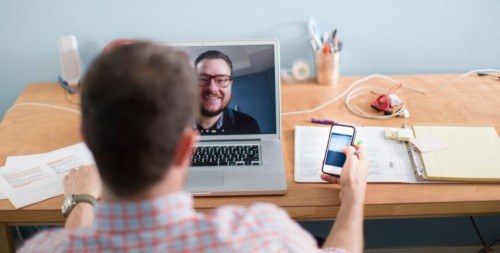 The project went on refining the process, looking for ways to make access easier. After early trials, most mentees received a tablet, with a bookmarked link to the video platform saved and ready in its web browser. This was very popular. People liked the simplicity of using the same link every time, with no passwords to remember.
Though the link was simple, it was also safe. This was essential for at least one partner, who said they wouldn't refer their service users unless they were confident about safety.
Even those with little experience of video conferencing felt comfortable and confident after the first couple of sessions. Satisfaction was high, with survey scores averaging over 8/10 for comfort and ease of use. Problems such as poor Wi-Fi or picture quality were rare.
Participants and referral partners agreed that online delivery was more inclusive for many. For some mentees, it was less stressful than face-to-face meetings. "When I went out for counselling appointments, I used to build myself up to a tension and go 'I'm not doing this', so I'd literally get to where I'm going and go 'right I'm cancelling'," one veteran remembered. "Whereas this, it's simpler, it's made me more relaxed and it's made my life better."
Just one mentee rejected video calls, preferring the telephone. They explained that – despite the support on offer - they just weren't comfortable using a computer. Even where every effort is made to make online work inclusive, fallback options are useful.
Setting goals, defining boundaries
Mentors worked with veterans to set and achieve goals, usually over the course of 12 sessions. This structured support was a way to build confidence and motivation for lasting change – including accessing other support and care services.
The project provided clear guidelines, but gave mentors the freedom to tailor their approach to the personality and circumstances of their mentee. One was "wary about taking on goals", so the mentor suggested they start with smaller tasks and build up. Another enjoyed being pushed.
Despite concerns about maintaining boundaries, there were few problems in practice. Even where pairs got on well, both sides recognised that meeting up socially wouldn't be appropriate.
A few incidents showed the importance of guidelines for mentors. One mentee phoned at Christmas to discuss feeling suicidal. The mentor contacted the TimeBank team for advice, and the situation was handled successfully.
It's important to get the appropriate level of contact. One mentor was careful not to reply to messages in the evening, recognising that it was important to maintain distance. On the other side, a mentee felt overwhelmed by receiving too many texts early in the relationship. Most pairs quickly found the right level.
I thought 'goal-setting, do me a favour… please don't tell me we'll do this and we'll do that. But it wasn't like that. Not so much goal-setting but looking at things, positive aspects of my life and seeing where we could build on that.

Participant, Shoulder to Shoulder Online
The Perfect Match
Feeling safe, secure and like you can be yourself is an important part of building trust with someone you are unfamiliar with. Mentors and mentees repeatedly said that effective pairing was the main success factor for Shoulder to Shoulder Online, helping people to relax and open up. "I would say one of the biggest parts is being able to have someone to talk to who is not judgmental, in any way," one explained. Feeling "like you can say anything and how you feel, that's really, really important".
Face-to-face projects look for local matches, having to take distance and travel expenses into account. Working online, Shoulder to Shoulder could prioritise personality and shared interests and experiences. The matching process also included a review of mentors' inductions and references, and separate phone calls with mentors and mentees. "[We] had an instant recognition or link or familiarity," said one mentee. "So, we got on great. And, certainly, a lot depends on that link or relationship."
Five matches ended prematurely for reasons such as ill health and difficulties rearranging sessions. Changes of mentor need delicate handling: one participant wanted to take time off from the programme, because beginning again felt overwhelming. It's important to discuss the idea of a new match, and ask people how they feel.
Though rapport is essential, there was a risk that the social element could dominate sessions. The aim was mentoring, with progress towards agreed goals, rather than befriending. Particularly during lockdown, some participants faced social isolation, so addressing this was their priority: they might lack interest or motivation to set other goals. For future programmes, evaluators recommend making it clear to participants that support is time-limited and goals-based – while recognising the need for connection and general conversation.
Through Shoulder to Shoulder I have been able to make a small contribution in helping someone who gave lots to our country.

Volunteer, Shoulder to Shoulder
Lasting change
Regular meetings and goals helped to build routines, leading to increased confidence. One mentee changed their approach to housework, improving their home and even regaining custody of their dog. Another began doing voluntary and paid work. His mentor explained, "For him to do that, that was a huge thing… Listening to him speak about it, you could see the pride in what he's done."
Goal-setting led to more physical activity for some. Going for walks was a common goal, a safe lockdown activity that often led to social interaction or other benefits. One veteran took on the challenge of hiking sections of the North Coast 500. At his mentor's suggestion, another listened to audiobooks while walking, which became a favourite habit.
Shoulder to Shoulder Online helped to destigmatise mental health for participants. Before the pilot, three quarters had experienced depression, and 65% had felt suicidal. Offering a safe space and a sympathetic ear helped people to open up.

"I'm communicating a lot better than what I used to," said one. "…With my family I don't open up, I keep things to myself… It's the stigma that goes with mental health – my dad's old school, he thinks I should get a grip. I don't like telling them my problems. I don't want to worry them."
Matching helped people to gain skills and make connections. Some joined groups at their mentors' suggestion, or proactively joined groups themselves. Others developed better understanding of their health issues, or accessed new services, such as funded transport to visit the local supermarket.

And veterans have seen and recognised changes in their lives. "[Mentor] has been terrific, I've learned a lot from her," one said. "And she's got me working again, reading. I'm a lazy learner, so I listen to these audio books… That's all down to [her], getting me started to think about these things again… you're never too old, are you?"

Beyond the pilot
The pilot has had a wider impact. Now colleagues at SSAFA, a leading armed forces charity, are embedding learning from Shoulder to Shoulder Online in their mentoring work.
"We are using the findings of the pilot to look at how we can use them to build on our successful mentoring programme," explains Gary Williams, head of Specialist Services of SSAFA. SSAFA now offers a blended approach to mentoring, with both face to face and virtual sessions," ensuring the mentee accesses mentoring according to their needs." TimeBank's shared learning has helped SSAFA to make sure that "any online or virtual service we offer is the best it can be and safe for those that use it."
Forces in Mind Trust was founded in 2011 by a £35 million endowment from Big Lottery Fund (now The National Lottery Community Fund). It supports the wellbeing of veterans and their families, enabling them to make a successful transition into civilian life.
The Trust awarded £154,906 to the Shoulder to Shoulder Online project in March 2019, to trial online mentoring using video technology. The Trust awarded a TimeBank second grant of £21,283 to work with SSAFA, the Armed Forces charity, to explore how learning and practice from Shoulder to Shoulder Online can be consolidated into wider veterans' support services in Scotland.
If you would like to learn more about our grant holders' work to prevent loneliness and social isolation, please read our report Bringing people together, which highlights stories from charities across the UK.
For more information on the impact and difference our funding makes, please read our other impact features.