Saving money, building connections: Foothold Cymru
Saving money, building connections: Foothold Cymru
Communities across the UK are facing a cost of living crisis. For many people, affording everyday necessities is a growing challenge. "Before we had people who were just about managing, and the people who were just about managing are now totally not managing at all. Little things have just put them over the edge," says Janice Morgan, Foothold Cymru's Deputy Chief Executive and Operations Director.
Based in Carmarthenshire, Foothold Cymru has a vision of Wales where people are thriving and not just surviving. It works with communities to find solutions to poverty, and to help people to "live well" – from access to fresh food to better-maintained, more comfortable homes. It also supports people to gain qualifications, and offers employability training and paid work placements.
Since 2018, The National Lottery Community Fund has supported Foothold Cymru with grants of £1.6 million. Y Fasged Siopa ("the shopping basket") is a membership scheme offering weekly boxes of healthy food at subsidised prices, including produce harvested from the community garden. Back2Basics works with young people to improve independent living skills and reduce food insecurity, with access to a community pantry and support with cooking, DIY, money management, and self-care.
We're now supporting Foothold Cymru's work through our flagship Helping Working Families programme, which is working across Wales to bring about positive change in the lives of working families who are affected by poverty. Stronger Together started with a community tool library and there is now something for every family – from free children's toy and clothes libraries and DIY courses, to repair workshops and community get-togethers to help people to connect with and learn money saving tips from each other.
By listening to what people want, and co-designing the response, Foothold Cymru has developed practical, on-the-ground support. It's helped to ease some of the financial pressure, and to build peer support networks, with positive impacts on wellbeing and mental health.
Listen to this article
You can listen to this article as a sound recording, lasting 17 minutes and 19 seconds, by clicking the button below.
Foothold Cymru in numbers
Context
Foothold Cymru works to support both urban and rural communities in Carmarthenshire, west Wales.
Established in 1991, Foothold Cymru has supported 198,000 residents in 30 years.
Many of them face issues relating to rising living costs and affordability: stagnant wages, lack of time, the reducing real value of benefits, high childcare costs, and often a lack of confidence. Poor mental health is an increasing concern.
The role of National Lottery funding
Since 2018, The National Lottery Community Fund has supported Foothold Cymru with grants of £1,608,818, including £490,606 for Helping Working Families: Stronger Together, £440,768 for Back2Basics, and £577,634 for Y Fasged Siopa.
The National Lottery funded services have supported approximately 592 families and 253 young people since 2018.
Money saved and waste reduced by encouraging reuse
Foothold Cymru is helping residents' income go further by borrowing rather than buying. To do this, they've opened tool, toy, and children's clothing exchanges where residents can donate and borrow items free of charge.
Together, these exchanges have saved an estimated 3.3 tonnes of useable tools and 3.5 tonnes of clothes/toys from being sent to landfill over the course of the project.
303 Stronger Together households have saved an average of £426 per family per year by using the different libraries, doing home improvements by themselves, and picking up practical money saving tips – showing how community led initiatives can make a difference to household finances.
In a 2022 survey of participants, 72% said services had helped their household budget go further, and 89% said they learnt new ways to reduce, reuse, repair, and reduce waste.
Stronger Together is expected to deliver a social return on investment (SROI) of £3.50 for every £1 invested.
Improved access to healthy food at affordable prices
Foothold Cymru has developed a three step approach to addressing food poverty in the area. They collect and share free surplus food from shops and suppliers, deliver affordable food boxes to families in rural areas, and grow their own food in newly established community gardens.
These have helped people save money and reduce waste. Y Fasged Siopa initiative has saved an estimated 4 tonnes of food from going to waste in the first 2 years.
The same initiatives save 289 participating households £27-£30 per week, with expected annual savings of £1,404 per household per annum.

People report increased food security and resilience, and improved health and mental wellbeing.
In-work poverty in Carmarthenshire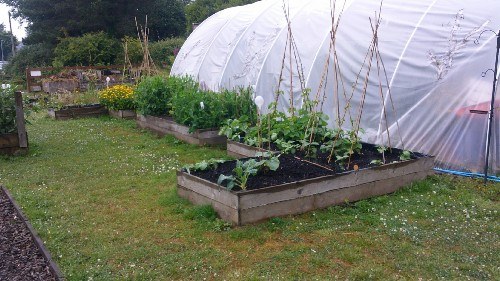 Also known as the Garden of Wales, Carmarthenshire is famous for its impressive natural environment and rich local heritage. It's home to a strong food and agricultural sector, and a growing tourism industry.
But poverty and hardship have increased for working families in the area. The county's estimated median household income is £25,365, the seventh lowest in Wales. Local child poverty levels are higher than the Welsh average, affecting 31% of children up to 15. The number of pupils eligible for free school meals rose by 27% between 2019/20 and 2021/22.
When Foothold Cymru consulted local families, they found that a lack of affordable childcare made it harder to work, or to work more hours. The rising costs of housing, food, fuel, clothes and household goods were outstripping income already in 2018: 22% struggled to provide enough food for their families, with 38% struggling to heat their homes in winter.
With the cost of living increasing at its fastest rate in 40 years, it's hard to afford holidays, evenings out or school trips – all contributing to higher levels of stress and worry.
People describe "a sense of being alone", with no support systems.
What working families need
This is where Foothold Cymru comes in. The charity tackles the causes and consequences of poverty in Carmarthenshire. It provides a range of services: from practical, immediate help (for example access to quality clothing and food) to longer-term skills training. Across these services are opportunities to meet, share experiences, and build support networks.
Solutions are community-led. To understand the effects of in-work poverty and find solutions, Foothold Cymru dedicated a year to listening to people and finding out what was needed most. They organised consultation events, interviewed residents, and ran surveys. Working across Carmarthenshire, the group set up local hubs to make sure everyone was heard.
People welcomed the chance to share their problems and look for solutions. In consultation, people found that they weren't alone: they faced many of the same issues, and were keen to share ideas and coping strategies. The Helping Working Families grant brought an opportunity to do some longer-term, more in-depth work of this kind.
Many of the families were short on free time, so couldn't commit to substantial involvement. But a core group of residents came together to set up a working group to develop ideas, which then became a management and steering group for the cost of living work.
Foothold Cymru emphasised that "we were there to take solutions from people," says Janice: "trying to create an atmosphere where people think of it as a collaborative process. There was never anybody who put together a bad idea."
We are on a limited income – we can't afford to spend £50 on a drill we will use just a few times!

Tool Shed user
Maintaining homes for less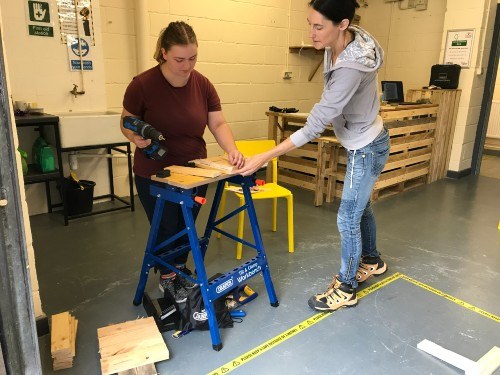 It can be expensive to maintain and improve our homes and gardens. Tools alone cost a lot. You can buy a power tool for £50, but the average drill is used for just 14 minutes in its lifetime. A hedge trimmer, which you might use just once a year, is expensive – whether you buy it, hire it, or pay someone else to do the work for you.
Foothold Cymru found that these costs were having an impact on people's ability to maintain their homes, with 62% of residents saying they couldn't afford to keep their home in a decent state of repair.
To help people make more of their homes, the charity set up a tool library. The Tool Shed is Carmarthenshire's first tool lending library - it's free, with no fees for joining or borrowing.
Residents can borrow tools for DIY, gardening, and crafts: drills, sanders, electric saws, carpet cleaners, sewing machines, spades, workbenches, and more. Its stock includes smaller equipment, such as knee pads, measuring tape, and extension cables, so users don't need to spend any extra money to do the job safely and accurately.
In addition to manuals and videos showing how to use the tools, the Tool Shed has online guides to making quick, simple projects, using only equipment available from the library, with repurposed materials where possible.
Quickly proving popular, the Tool Shed has already made 392 loans of tools, saving just under £20,000 for residents. This is despite operation of the library being limited for long periods at a time due to the various coronavirus (COVID-19) lockdowns.
The success has inspired the group to start other zero waste initiatives too, including its Zero Waste Scrap Store offering free crafting materials, donated specifically for reuse. The Community Re-Paint Store now sells high quality, low-cost recycled paints, which both reduce decorating budgets and save paint from going to landfill.
Tool libraries save money and help the environment. The Edinburgh Tool Library has saved households £1.5 million – and estimates that, if a customer bought its tools rather than borrowing, that would generate an extra 180 tonnes of CO2.
Skills and knowledge to help money go further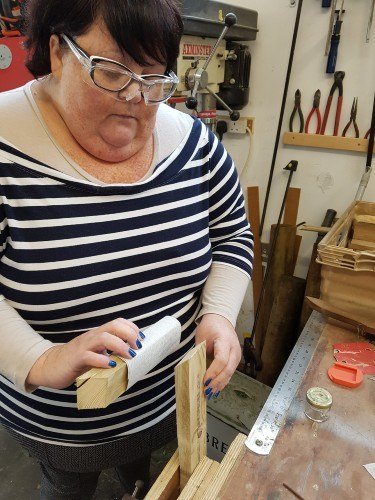 Having access to free tools makes a big difference - but many of us also need help with building the skills and confidence to do more odd jobs around the house. Putting up shelves, fixing broken kitchen units or mending leaky taps all require skills we may not have learned growing up.
Learning these skills can save a small fortune. The average cost for painting a two-bedroom flat, for instance, is estimated to be around £2,000.
Foothold Cymru listened to residents and has now run 120 DIY workshops – all designed to reduce families' reliance on paid tradespeople to complete jobs around the house parents can safely do themselves.
As well as saving money, the workshops have increased confidence. "I'm more likely to DIY and upcycle," one workshop attendee explained. "I'll also feel more self-reliant with tasks at home." 81% of people felt they had learnt new skills and had new experiences.
And parents are welcome to bring their children to workshops, meaning that the cost of childcare – often a key barrier for working families - hasn't prevented involvement.
After learning that four out of five residents (82%) couldn't afford to replace worn-out furniture, they've organised 113 upcycling workshops. At weekly "Craft and Chat" sessions, people can meet, make and repair items, and share experiences. Members have generated income by selling creations, saved money by learning to mend and alter clothes, and repaired donated items for the clothing exchange.
Swapping skills has a positive impact on wellbeing. Prior to the group being set up members were strangers; they are now a crucial source of support for each other, with many now meeting up outside the sessions. 86% of project participants said they connected with other people and made new friends.
For Craft and Chat member Lucy, learning new skills and saving money has helped her to feel more confident, addressing her sense of being alone as well as her money worries. "If it wasn't for Stronger Together and the Tool Shed we would be sitting on concrete floors and the girls sleeping in my bed," she said. "The money we saved meant we could start to make the house our home, and I have new friends too who all help with giving tips on saving money day to day."
Clothing exchange: saving money, cutting waste
Foothold Cymru launched the children's clothing and toy exchange in response to feedback from families. It gives an opportunity for local families to get pre-loved clothes and toys free of charge, reducing financial pressure. Once children have outgrown items or are ready to return toys, they are then brought back to the exchange, and cleaned and re-loaned out.
The uniform exchange has been particularly popular. In 2022, the Schoolwear Association found that the average cost of compulsory secondary school uniform was £95.68 per pupil. And families earning more than £7,400 a year aren't eligible for Welsh government support with uniform costs, meaning many working families struggle to afford them.
Foothold Cymru supplies basic uniforms, along with shoes, trainers, and bags – as well as new hair bands and hair elastics. Where they don't have the right size or colour, the uniform exchange will call for donations, contacting the family when stock becomes available. Parents are now returning uniforms, exchanging them for bigger sizes as their children grow.
The exchange also supplies other clothes, for ages from newborn through to 16, and children's toys. Families can request specific clothing sizes, and the team will put together a bag, ready for collection or delivery. Clothing bank user Melissa, who lives in a rural area, was struggling to afford Christmas presents for her children – particularly since there would be delivery costs or an expensive three-hour journey to town. She was delighted when Foothold Cymru delivered parcels of toys and clothes – and her family donated toys they had grown out of, so others could play with them.
As well as saving money, it's environmentally sustainable: the Kirklees Uniform Exchange estimates that, without such measures, every student will create 7kg of school uniform waste each year. And considering that it takes 2,700 litres to produce the cotton needed to make a single t-shirt, every opportunity taken to reuse rather than buy new is having a small impact on scarce resources far beyond the county.
The uniform exchange, the toy exchange, that all grew out of people saying well this [is] the support that's needed now.

Janice Morgan
Access to nutritious, affordable food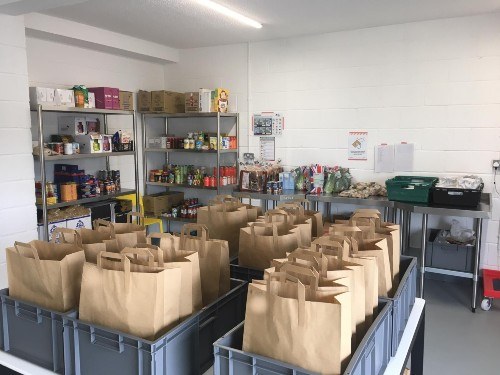 It can be difficult to get fresh, nutritious food at affordable prices – even more so in rural areas where transport is expensive or limited. Foothold Cymru make this easier, through affordable food boxes, a community fridge, and community food growing.
Y Fasged Siopa takes affordable fresh produce to remote communities, offering regular and sustainable support for food insecurity. The project collects good quality surplus food from local suppliers and from Foothold's community gardens, making this available at set collection points in easy-to-reach locations, at reduced cost. Members can buy a food box for £4 or £5 each week, and receive a box with a retail value of between £25 and £30, dependent on box size.
Delivery is available for households who aren't able to collect. 289 families who have been identified by local schools, social workers, town councils and care homes have benefitted, helping budgets go further and ensuring access to varied and healthy food.
Community fridges are spaces where anyone can access good, free food that would otherwise go to waste. Like Y Fasged Siopa, Foothold's Community Fridge makes use of surplus from local shops and suppliers. And individuals can donate, making it a community-building activity and a way to reduce waste. It helps approximately 250 residents each month who are struggling to make ends meet, and is conveniently under the same roof as other Foothold services at its Community Hub.
Community gardens take food back to its roots, offering places to learn about growing and generate produce. Foothold Cymru's Village Community Garden in Llanelli was reclaimed from a derelict site, with a community orchard developed nearby. As well as contributing produce to Y Fasged Siopa and the Community Fridge, the garden hosts workshops on growing and the environment, teaching residents to grow food at home. Since 2019, 289 people (volunteers and beneficiaries) have taken part in community growing and 509 people have accessed training and guidance on healthy food preparation.
Looking to the future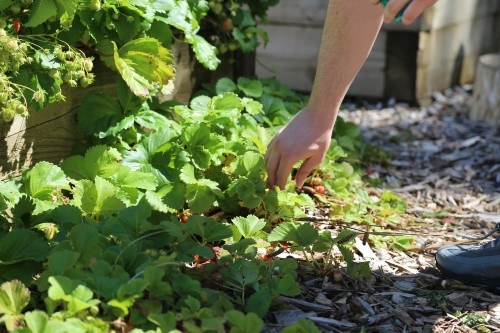 By being responsive and flexible, Foothold Cymru has made tangible and lasting differences to people's lives. The branching out of services – like adding clothes libraries in response to feedback, or developing DIY courses to supplement the free tool loan service - has become a key strength.
It's also made it easier to keep the different elements going. Service users now act as volunteers in many of the different services, which Janice calls "mini projects in their own right." She sees this as the way forward: "Don't design big bang projects, have small projects within an umbrella, so that you have far more chance of keeping them going, and sustainable in the long term."
This longer-term vision is also central to their food initiatives. Alongside food boxes for immediate needs, the organisation is building local resources and infrastructure to make more lasting changes. It's working to establish local food hubs across the county, with additional services aimed at reducing food insecurity and building resilience: things like community gardening and bulk buying opportunities, and healthy eating advice.
Foothold Cymru are also sharing their learning, creating a toolkit for other groups who are interesting in establishing food hubs or delivery schemes.
This feels fitting for the ethos of the organisation, which prioritises community. The Craft and Chat initiative illustrates the power of sharing and connection for practical change and wellbeing. Foothold is building on its success, with plans for a second group in the Ammanford area.
Event - community responses to the cost of living crisis