Community participation: Every One Every Day
Community participation: Every One Every Day
In Barking and Dagenham in East London, the Every One Every Day programme – run by Participatory City Foundation – is providing the framework and infrastructure to give ordinary people the confidence, tools and connections to participate in their community.
Supported by a £1.9 million National Lottery Community Fund grant, the programme gives residents the tools, support and infrastructure to get involved in neighbourhood activities without the stress of applying for funding or setting up charities, enabled by a co-design approach supported by experienced staff to help with project design, planning and delivery, and other practicalities along the way.
This is important as a sense of community belonging can make us feel healthier, while community involvement can have mental health benefits too. These benefits don't require anything special; simple things like getting people together to support one another, improve their local area, tend a garden or cook food can offer tangible improvements to quality of life.
So far, Every One Every Day has supported 6,000 residents to come together to collaborate, make friends, and improve their community. This has allowed ordinary people to become active community members and see their ideas come to fruition.
Every One Every Day in numbers
Scale and attendance
In its first two years, Every One Every Day has enabled 6,000 Barking and Dagenham residents to get involved in their neighbourhoods, through 146 initiatives.
1,065 individual sessions have helped make everyday life better for the community – from planting trees and cooking food, to making new friends, building community businesses and learning new skills together.
Participatory City has established five shops where residents can discuss and pitch their ideas to improve the community, attracting 20,000 interested local visitors.
Community outcomes
Neighbours have spent 34,000 hours together, with the average participant meeting six people per activity.
Participation has led to people feeling safer in the community, with participants scoring 8/10 for increased trust in their neighbours and 7/10 for increased sense of safety.
To ensure inclusivity and long-term impact, 98% of opportunities welcome children, with 1,200 kids taking part in street play, family cooking, ball games, summer camps and more.
Business and enterprise
The project's open access workshop includes an industrial kitchen, machinery for woodwork and textiles, plus co-working and event spaces. 3,300m2 of collaboration space enables residents to come together to develop community and businesses ideas without worrying about costs.
450 residents have signed up to collaborative business programmes to incubate ideas, test products and services, and develop socially and environmentally conscious co-operative businesses. For example, the Design Make Sell programme helps residents to develop homeware, clothing, jewellery and gifts.
A range of community collectives and social enterprises have come out of this, including groups focusing on catering, coffee, ceramics and food distribution.
Environmental improvements
With the help of Every One Every Day, residents have made physical improvements to sites across the borough. This includes establishing 59 new bee colonies that house 650,000 bees, planting 43 fruit trees, installing 41 compost bins, and setting up three public fridges to cut food waste.
3,850m2 has been provided for recycling and repair work, including the ReWorks project – a collaboration with the Victoria and Albert Museum, which sees residents reusing and restoring the museum's waste, and selling it for the benefit of the community.

Everyday people
"We act as a supportive system and infrastructure," says Participatory City CEO Nat Defriend, explaining the Every One Every Day programme. "We enable participatory projects, activities and businesses to develop, but the crucial difference is that we do this without requiring those behind the ideas – the local residents – to take on the burden of governance, grant applications and managing funding."
The approach is simple – Participatory City has a warehouse and five shop locations around the borough, where residents can approach staff with an idea for a community initiative. The team works alongside residents to turn these ideas into inclusive participation opportunities, designed to be open and accessible to everyone. In doing so, the organisation makes available the things needed to get ideas off the ground including resources, training, physical space and anything else people might need.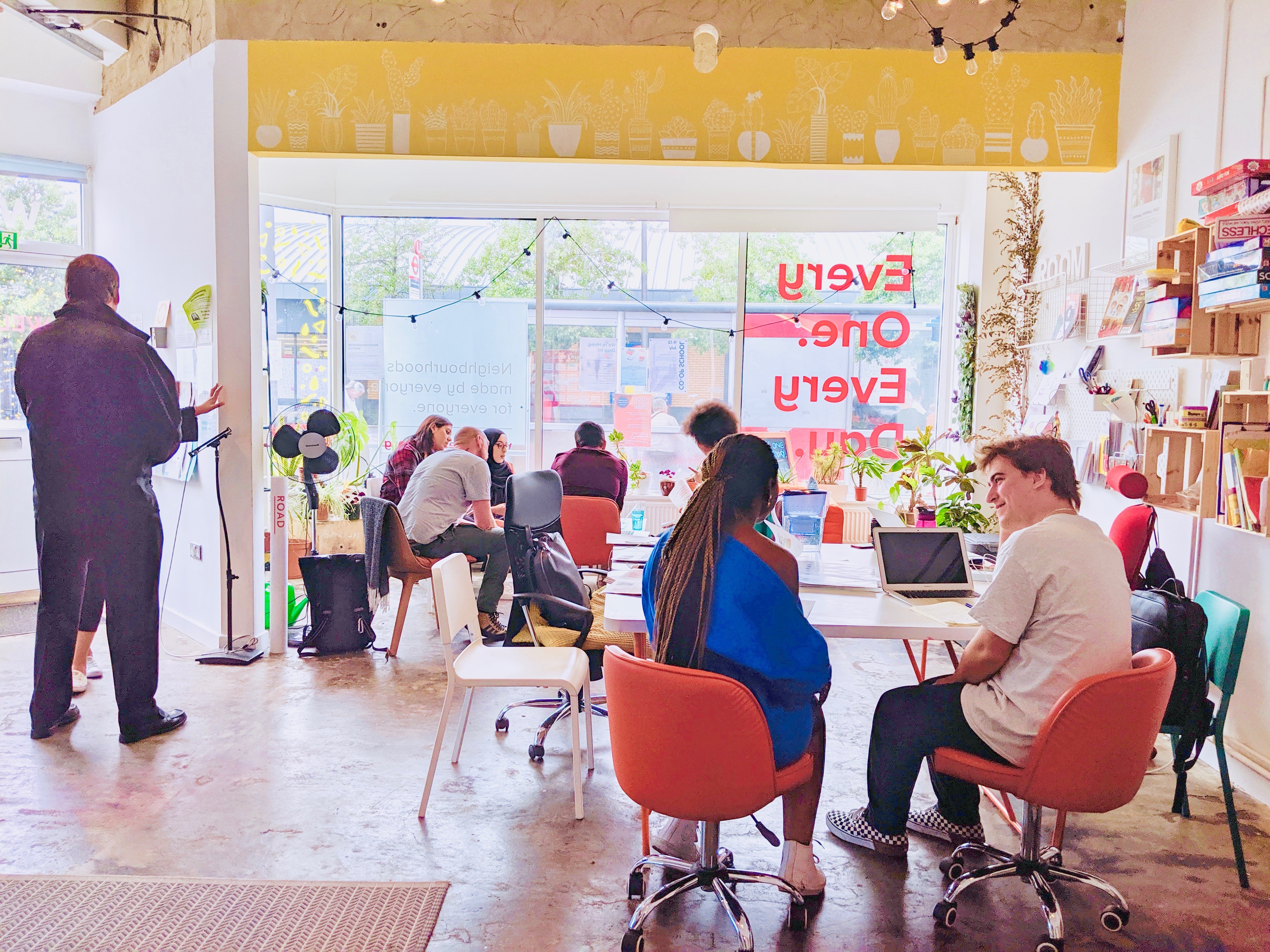 "People can access machinery and equipment, they can get resources to get things off the ground, and their ideas can develop, be tested, and potentially scale across the borough," says Nat. "And it doesn't require residents to adapt their lives just to take part. On the contrary, it's the system which does everything it possibly can to adapt around the everyday lives of ordinary people."
This marks it as fundamentally different to the normal approach of the voluntary and community sector, where projects are delivered by separate charities and community groups. This naturally entails regulatory, financial and administrative work that is very important, but that can also be a barrier to access for a lot of people.
"There's a community garden charity near where I live," says Nat. "It's run by a small group of residents, and it's amazing. But a huge amount of their time is spent, not on gardening, but on talking to the council about access to space, or applying for grants to buy tools and materials.
"In our research for Every One Every Day, we found that this kept happening – participatory activities would start off as a peer-to-peer thing that residents wanted to do together, but then to really get going they would have to find a charitable objective, go after funding, set up governance, have accounts and all the rest of it. And there's something key that's lost in that transition.
"A lot of amazing stuff happens through the charity model," Nat adds, "but you need a high degree of resilience and knowledge to navigate the systems and processes involved, network with funders, and bring that entrepreneurial edge. The people who can do that are amazing – we need them, and there's a few in every community, but not everyone is like that." Instead Participatory City aims to engage what Nat calls "the 95% of us who aren't those extraordinary people".
Success stories
All of this makes sense in theory, but how does it work in real life? One project that highlights the process is Story Box. "The idea for Story Box came from a woman who lives in Dagenham, very close to one of our shop locations," explains Nat. "She had developed severe agoraphobia, and she was looking to use participation in local activities as a way to navigate out of that – something easy to access, that she could go to with her preschool-aged daughter."
The idea she presented was for storytelling sessions, where stories would be read out and then participants would take part in related creative activities including arts and crafts, discussions and games. "The idea came from her," says Nat, "and our team co-designed the details with her and planned out the project – for example, she didn't want to host the sessions herself, as she was struggling with low confidence, so we provided a space, staff and resources to take on hosting and organising the events."
The key here is that without the supportive infrastructure Participatory City provides, this project is unlikely to have ever got off the ground. "Given this resident's circumstances, she wouldn't have wanted to set up a charity, and there was no clear business model to fund," says Nat. "But, thanks to the platform we provide, she was able to do it. Bit by bit, she has gained the confidence to take on some hosting and organisation herself, and the sessions have scaled to other locations around the borough."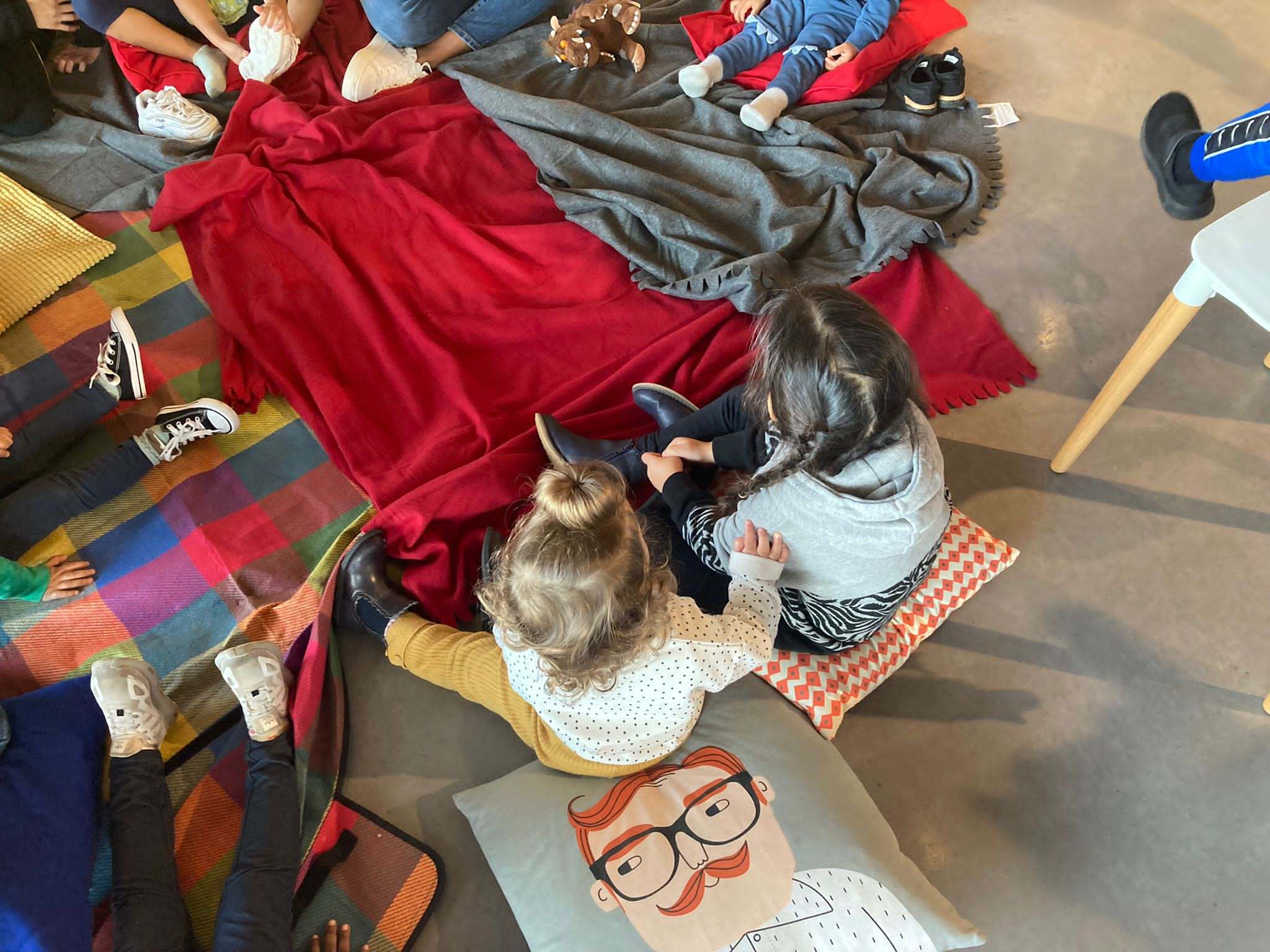 Over the first two years, there have been 42 Story Box sessions, with 575 attendees spending almost 60 hours of quality time together. The community initiative has also inspired others; Upstuff, for example, is a series of workshops started by a local resident who had been to Story Box sessions. It has been attended by almost 100 local people, with four different hosts teaching people how to creatively upcycle household waste into decorations.
Overall, Every One Every Day has helped to establish 146 resident-led initiatives, under the broad themes of: cooking, eating and chatting (e.g. Tea and Toast where people meet new friends, and Great Cook where people batch-cook meals for the week together); growing, composting, bees and chickens (e.g. Open Orchard where neighbours plant trees together, and Chicken School where people learn about and tend chickens together); making, learning and working (e.g. Handmade Workshop where people sew and mend together while making new friends, and Precious Plastics where people learn to make things out of plastic waste); and playing and walking (e.g. Street Ball where people play inclusive games together in public spaces, and Cosmic Yoga where parents and children move and stretch together).
What links all of this community work is that it is simple, accessible, and focused on practical involvement. "Most of the things we work with residents on are what I would describe as 'common denominator' activities," says Nat. "By intention, they're not hugely innovative. Rather, the innovation is in the system and infrastructure that we're providing, which is a reimagining of what a place can be."
People can access machinery and equipment, they can get resources to get things off the ground, and their ideas can develop and be tested. The system does everything it can to adapt around the everyday lives of ordinary people

Nat Defriend, CEO, Participatory City
Business time
This system has seen a huge range of social and craft-based community initiatives get going in Barking and Dagenham, but Participatory City also has broader goals for Every One Every Day. "One of the things we started to look into more during COVID-19 was business development," Nat explains.
"We've always known that some of the projects, activities and sessions residents create using the platform have the potential to develop as early-stage businesses, but local business development opportunities can have a high barrier to entry. They want to see business plans, and candidates need to know how to make loan and grant applications. Most residents developing business ideas with Every One Every Day are nowhere near ready or able to do that."
This observation led Participatory City to offer a different way in. "We're now trying to provide an environment to incubate ideas with business potential, to help very early-stage concepts develop," says Nat.
Grounded, a community cafe in the south of the borough, is a standout example of this approach in action. "It was developed by a group of 12 residents who had never done anything in relation to coffee or running a cafe before, and had never even worked together before," says Nat. Needless to say, this lack of background would have discounted the idea from the vast majority of funding and business development programmes out there, but with the Every One Every Day programme's support the cafe has been a real success.
"It started with Barking Riverside, a local developer working on a new building in the borough," Nat explains. "The developer approached us and said they wanted a cafe in the building. We suggested running a collaborative model to identify a group of residents and get them trained up so they could operate it as a community business."
Feet on the ground
This training took place through a programme called Coffeeworks, which taught residents to build a sustainable community business, make coffee, source ethical ingredients and manage finances. "I love coffee, so when my husband told me about Coffeeworks I signed up," explains Grounded co-founder Sakina Ali. "And it was great, because I was new to the area and I thought it would be a good way to meet new people and get involved in the community."
The programme lasted eight weeks, with Participatory City providing business guidance while external experts offered specialist training. "We had barista training from two guys who owned a cafe in Kent," says Sakina. "We learned all about espressos, different coffee methods, the lifecycle from bean to cup, and how to buy coffee from suppliers." After the programme ended, a group of residents was chosen, based on availability and interest, to run Grounded.
"All of a sudden, there we were setting up the coffee shop in this new development, doing the stock, the finances, the customer service," says Sakina. "It was a lot to take on, but the technical side of things – the planning permission, the insurance, the physical space – had already been taken care of by Participatory City and Barking Riverside, so we could focus on the things we'd been trained to do."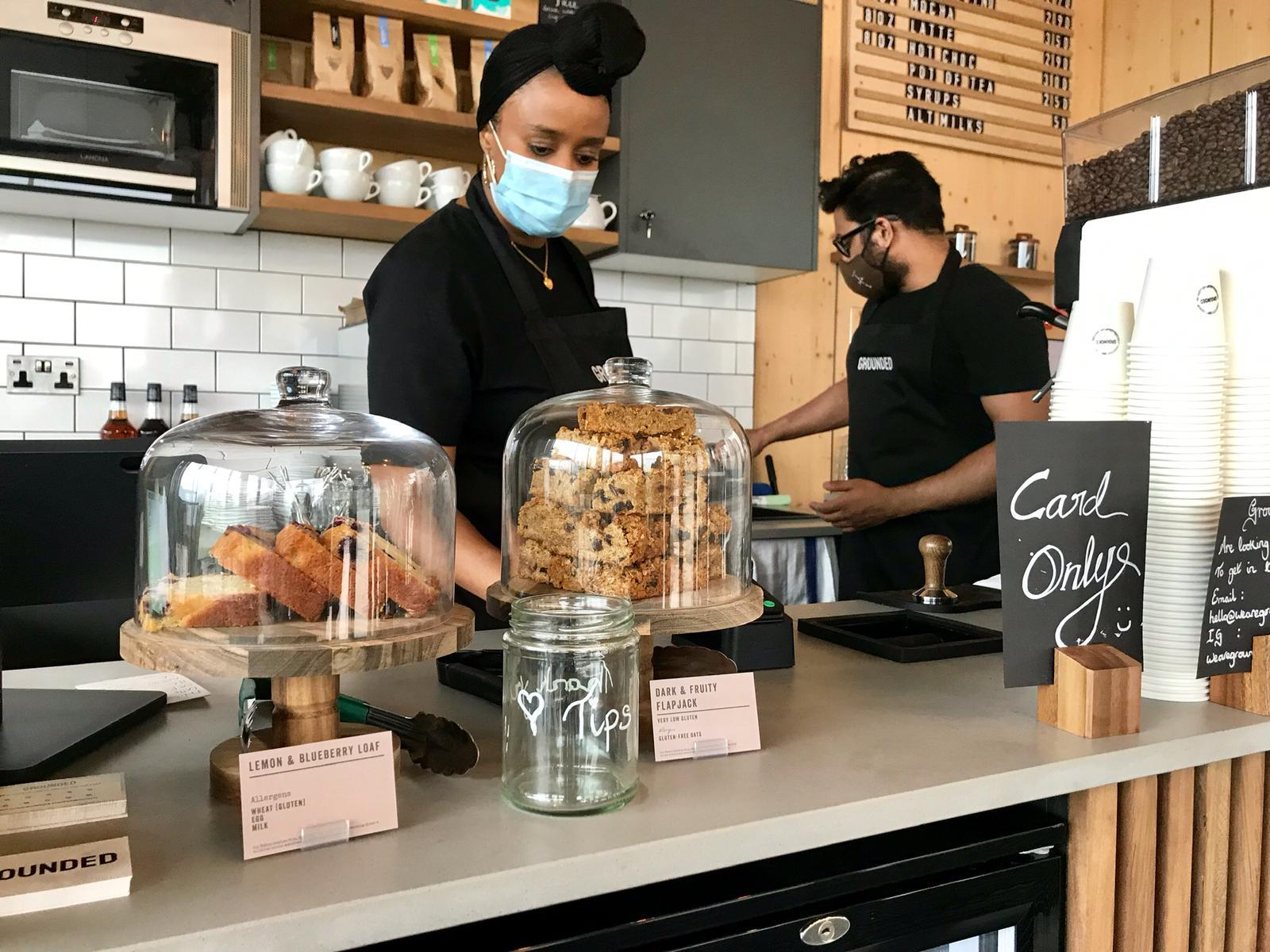 This gave a group of people who didn't fit the usual start-up mould of being well-connected entrepreneurs an opportunity to get started in business. "If we'd just gone for it as a group of friends, we wouldn't have known where to start," says Sakina. "The Every One Every Day programme eased us into managing it on our own, and since then we've been learning as we go and becoming more independent. But we know that if we get stuck, we can call on Iris or Serena from Participatory City to give us some advice or support."
One example of this support came at the end of the first phase. The initial plan was for the cafe to run for 10 months, but at the end of that period Participatory City's Every One Every Day team suggested that the participants apply to Barking Riverside for a funding extension. "We had to present a business plan, but none of us had any experience doing that, so the team at Participatory City helped us to build it up and prepare," says Sakina. "And we managed to secure another year of funding from the developer."
This support has effectively levelled the playing field, giving the residents involved in Grounded an opportunity usually reserved for a small subset of people with connections, experience, capital and capacity. "The next step is to spin the business out to make it truly self-sufficient and independent, putting all the training and support we've received into practice," says Sakina. And a key factor is that if it doesn't work out, none of the participants will be left out of pocket – there's room to fail as well as support to succeed.
Social movement
It's tempting to see the Grounded journey, from a supported training scheme through to an independent business, as a microcosm of the overall path for Every One Every Day. The programme is supported by a number of funders, so gradually reducing reliance on that support seems the obvious way forward. While that would be the conventional voluntary and community sector approach, however, Every One Every Day works differently.
"We don't really see our role as doing something, then it's done and the residents are off to do it all themselves," explains Nat. "The issue is that we're talking about this rather nebulous thing called participation culture, which used to be more prevalent in our communities. People were naturally more used to working together on things like food growing and beekeeping, but modern society has atomised that sharing culture."
To counter this, as Participatory City's research has found, maintaining the support system is key. "The ongoing infrastructure allows residents to keep bringing their ideas, connecting with things that are already happening, and accessing resources. We'd love to demonstrate that this should be a public amenity, but we're a long way off that right now."
A good example of this ongoing need is the organisation's practical provision to reduce barriers to entry. "Access to equipment, machinery and infrastructure is controlled in various ways in civic environments," says Nat. "If you look at any social space or maker space, there's usually a governing organisation to deal with and you have to pay, making it inaccessible for a lot of people."
Participatory City's warehouse is an attempt to address this issue, giving any local resident the freedom to access the building and equipment for free. However, to ensure participants are safe and the organisation complies with regulations, training is required. "We gradually train people as they build their involvement with Every One Every Day. And over time, they're able to access more and more of the equipment," says Nat.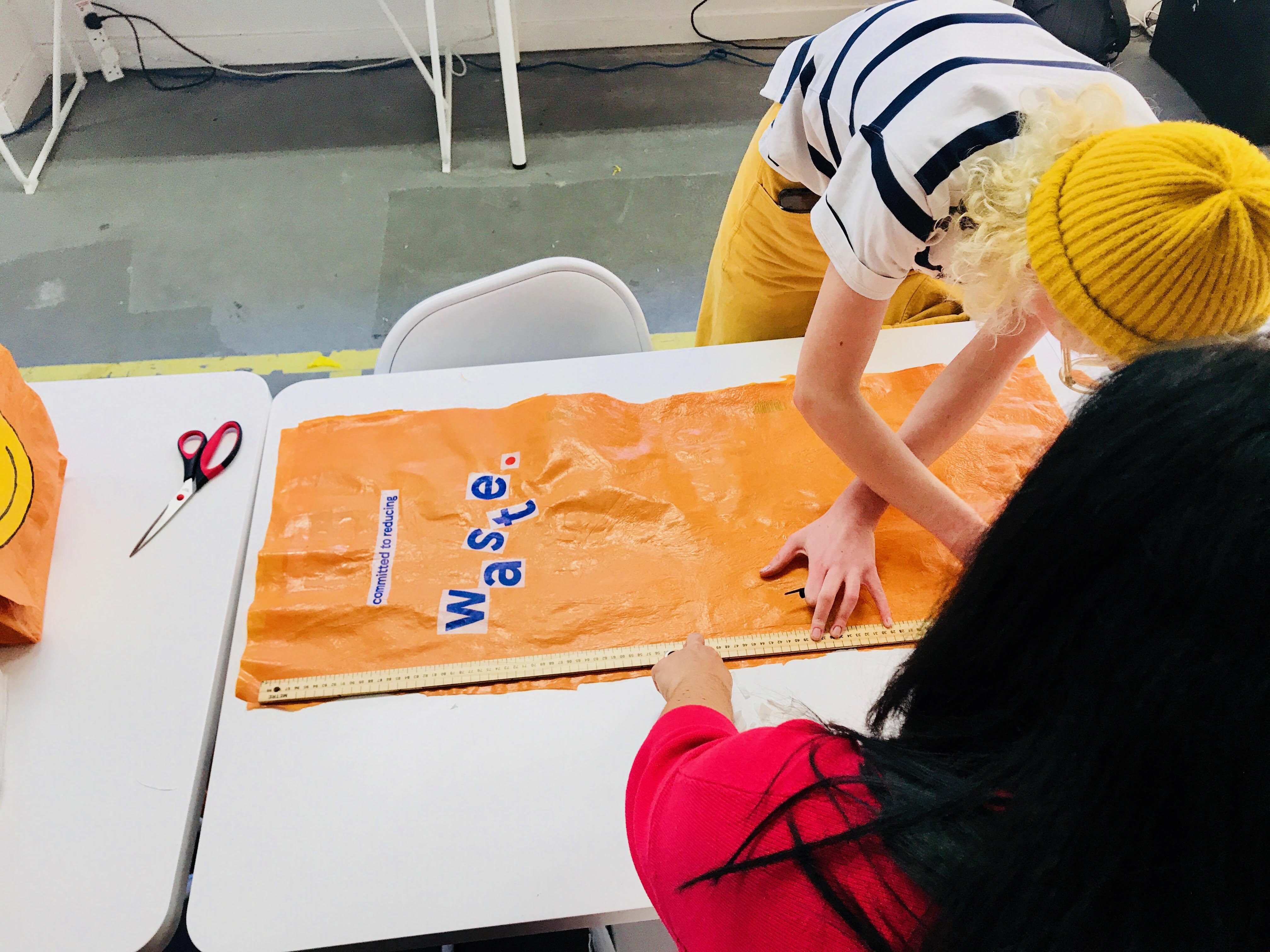 Those who have completed all of their training and inductions become 'keyholders', and are able to access and operate the building without Participatory City staff being present. But that doesn't mean the organisation can consider its job done and leave residents to get on with it. "There's a lot of dangerous machinery in there," says Nat. "That means there has to be insurance, which we're legally responsible for, and we also have an on-site team there during normal working hours to maintain things."
Effectively, for residents to enjoy the freedom and simplicity of being able to access participatory infrastructure whenever they like, Participatory City needs to stay hands-on in running it. The long-term goal might be to spark a self-sustaining social movement that provides for itself, but for the foreseeable future it is ongoing revenue funding that will allow Participatory City to gradually build that movement.
All of a sudden, we were setting up a coffee shop, doing the stock, the finances, the customer service. It was a lot to take on, but the technical side of things – the planning permission, the insurance, the physical space – had already been taken care of by Participatory City and Barking Riverside

Sakina Ali, co-founder, Grounded
Outward perspective
For a participatory movement to take root, of course, it needs to be seeded in more than one location. "We've had a lot of interest from other places," says Nat. "One of our aims is to start to foster partnerships and conditions globally so that it's much easier for the next place to adopt the same approach."
That interest has come from other London boroughs, which is unsurprising, but there has also been contact from further afield. "We've actually got a partner programme in development in Halifax in Nova Scotia, where they've set up their own participation system that's in its early stages," says Nat. "And we've also got six local authorities in Scotland looking into our approach, so there's definite interest."
One particular challenge will be adapting the programme to work outside of a dense urban area. "At present, we know the approach works best if you accumulate tens or hundreds of thousands of small instances of participation," says Nat. "But that's why it will be interesting to see how it works in different environments." There will also be cultural differences to learn from, as the work in Nova Scotia will be led by the native Mi'kmaq community.
With this outward-looking approach in mind, there's every reason to be positive that a participation culture movement can start to spread. "The challenge will be getting in a position to support growing interest while also continuing to run everything in our local programme," says Nat, but over time there's real hope that the lessons from a small corner of East London can play a part in building a more inclusive, community-focused society.
Thank you to Nat Defriend and Sakina Ali for speaking to Temoor Iqbal in June 2022.