A world without AIDS: the Zero HIV Social Impact Bond
A world without AIDS: the Zero HIV Social Impact Bond
With early diagnosis and prompt treatment, people with HIV can now live full, healthy lives. But over the last decade HIV diagnoses have been decreasing in the UK, and there are still HIV positive people who are not receiving treatment, and are at risk of developing AIDS or passing the virus on to others.
With funding from the Commissioning Better Outcomes programme, the Zero HIV Social Impact Bond (SIB), led by the Elton John AIDS Foundation (EJAF), worked in the London boroughs of Lambeth, Southwark, and Lewisham to increase HIV testing and ensure that people living with HIV received treatment and care.
Through an opt-out approach to testing, and work to identify and re-engage HIV positive people who were no longer being seen by their specialists (known as 'lost to follow up'), 265,600 people were tested, 209 were newly diagnosed and 256 HIV positive people were reconnected to treatment and support, saving lives and an estimated £90 million in costs.
We are proud to support thousands of projects each year, with most of our funding going to local and national charities, community organisations and resident-led groups. Commissioning Better Outcomes was different: it was designed to develop the social investment market in the UK and encourage investors and commissioners to invest in prevention and early action. This feature explores one example of what was achieved using this approach, which is now closed to new applications.
Listen to this article
You can listen to this article as a sound recording, lasting 17 minutes and 43 seconds, by clicking the button below.
The project in numbers
(All figures from The Elton John AIDS Foundation 'Zero HIV' Social Impact Bond: Final report on investment, implementation, and impact, or from EJAF, unless otherwise stated.)
Zero HIV Social Impact Bond (SIB)
The Zero HIV SIB was created to tackle the plateauing of HIV diagnoses in the south London boroughs of Lambeth, Southwark, and Lewisham.
The project was funded through a Social Impact Bond. This meant that the NHS was incentivised to drive up the detection and treatment of people with HIV and rather than being paid for testing, payments were made once people with an HIV diagnosis were (re)linked to treatment.
Local and national collaboration
Lambeth Council commissioned the service, and the Elton John AIDS Foundation (EJAF) worked in partnership with the NHS, public health, and commissioners, as well as people living with HIV, community groups, and professional associations such as the British HIV Association.
Alongside EJAF three other investors (Comic Relief, Big Issue Invest, ViiV Healthcare) supported the work with a total of £1 million. Board members and Social Finance provided further expertise and guidance.
The National Lottery Community Fund awarded £80,613 to develop the SIB and supported positive outcomes with a further £1.1 million.

Increasing testing
The project used a universal, opt-out approach with the aim of normalising HIV testing in hospitals and GP surgeries.
Community organisations used their trusted links to widen access to testing amongst groups who were least likely to be reached by the NHS, and to support people who tested positive.
Over 265,600 people in Lambeth, Southwark, and Lewisham were tested between November 2018 and December 2021.
With a test costing less than £7 on average, mass testing can be a cost-effective way to find undiagnosed people in areas known to have a high prevalence of HIV.
Diagnosing new cases, reducing new transmissions
Increased testing in both clinical and community settings led to more than 200 new diagnoses. This included:
124 people diagnosed in hospital emergency departments
39 people in GP surgeries
46 people diagnosed through the work of community organisations.
This universal, opt-out approach was "particularly effective" in reaching Black African, Black Caribbean, and older people. And there was strong correlation with inequality, with over 60% of people tested living in the lowest three deciles of the index of multiple deprivation (IMD).
Re-engaging people in medical care
Healthcare and community-based staff identified a total of 256 HIV positive people who had previously stopped treatment, and reconnected them with care. This included:
5 people re-engaged through follow-up and advocacy work by community groups
198 people through follow-up work by hospital clinics and GP surgeries
53 people through testing in emergency departments.
Reconnecting people with treatment improves life chances and health. It can also reduce the risk of future transmissions, and cut unnecessary healthcare costs.
Saving money, informing practice
Ensuring that people living with HIV are receiving treatment can avoid costs of around £220,000 per person, based on the lifetime costs of living with HIV and reduced transmission of the virus to others. It has been estimated that the work funded by the Zero HIV SIB has saved over £90 million of costs to the NHS, based on over 450 people now receiving treatment.
This evidence on the value of routine, opt-out testing informed the HIV Commission's 2020 report, and contributed to the UK Government investing £20 million to expand universal testing in areas with the highest prevalence of HIV.
HIV: where are we now?
HIV can now be a manageable health condition. Anti-retroviral therapy is very effective, and people with HIV can now live long and healthy lives. Treatment can reduce levels of HIV in the body to the point where the virus can't be passed onto other people.
Testing, ensuring that people receive treatment, and preventing transmission to others are all vital – both for those with a positive diagnosis, and for wider public health. The earlier HIV is detected, the sooner treatment can start, improving chances of controlling the virus. Nevertheless, there's still a lot of stigma and misinformation around HIV which means that people may be reluctant to get tested. The Zero HIV SIB's universal, opt-out approach aimed to tackle this stigma and normalise testing.
Zero new HIV cases in England by 2030 isn't a pipedream or social media-friendly date plucked from the air – it's 100% achievable.

Dame Inga Beale, Chair of the HIV Commission
A shared aim
The UK has exceeded targets set by the Joint United Nations Programme on HIV/AIDS (UNAIDS): 95% of people living with HIV are aware of their diagnosis, with 99% being treated, and 97% of these having an undetectable viral load. It's a notable achievement. But around 5,150 people living with HIV in the UK remain undiagnosed – which means they are at risk of developing AIDS and potentially transmitting the virus to others.
Building on the progress that's already been made, EJAF has led on delivery of the world's first social impact bond (SIB) with a focus on HIV treatment and care. SIBs are a model of social investment that pays by results; funding is released once outcomes have been met.
The National Lottery Community Fund's role in the SIB was different to our usual grant programmes, which award funding directly to charities and community groups. Instead, our funding supported the development, infrastructure, and management of the SIB, encouraging additional investment from other sources.
The Zero HIV SIB brought together investors, funders, healthcare and community partners and public health commissioning teams. The key to receiving funding was finding new people with HIV and re-engaging HIV positive people who were 'lost to follow up' – those who had previously been diagnosed with HIV but not currently receiving medical care. By the end of the initiative in December 2021, more than 460 people had been connected, or reconnected, to treatment.
A new approach to testing
Research considered the views of commissioners, healthcare providers, and people living with HIV, and identified universal, opt-out testing as the option that would have the biggest impact on untreated HIV.
In this approach an HIV test is offered routinely as part of wider health checks, or blood tests.
People may choose to opt-out, but the reframing helps to normalise HIV testing, remove stigma and make testing an ordinary part of healthcare. People don't feel singled out, and this approach can ease professionals' concerns about appearing to stereotype patients – making it easier to increase the number of people being tested.
It's better to know than to not know. That's how we explain it to our patients. We've found that the best way to explain it is that the HIV test is just a routine test, just like any other test. So we have lots of patients that come in and ask for a routine cholesterol check or diabetes check, and asking for an HIV test is just like that.

Dr Grace Bottoni, GP and HIV Champion at One Health Lewisham
Putting ideas into practice: hospitals and GPs
The new model was implemented in GP surgeries and hospitals. Three hospital trusts (Kings College Hospital NHS Foundation Trust, Lewisham and Greenwich NHS Trust, and Guys and St Thomas NHS Foundation) were paid for every person they newly diagnosed and began to treat. Testing in emergency departments made the most of every patient contact: during the project, over 70% of people who had blood drawn in these settings were also tested for HIV.
Emergency departments identified 177 people in total, including 124 who were newly diagnosed. 73.6% of these 124 people had a CD4 count (which measures a type of white blood cell) of less than 350 – the point at which HIV has started to damage the immune system, putting them at risk of AIDS-related illness.
Four GP groups (Lambeth Health Ltd, One Health Lewisham, Quay Health Solutions, and Improving Health Ltd) applied the same approach in their surgeries. Following NICE guidelines, they offered testing at new patient registration, or when patients were having other blood tests and hadn't had an HIV test in the past year. A total of 62,156 HIV tests were carried out and, of 39 people who were newly diagnosed, 62.5% had a CD4 count of less than 350.
Suzie was one patient who benefitted. At the end of a check-up at her new GP surgery, the nurse "really nicely asked me would I be prepared to take an HIV test and I thought 'well, why not?'"
Suzie had very few risk factors for HIV, but unexpectedly the test came back positive. She was referred to the specialist team at her local hospital, and is now on treatment. Suzie describes her experience as "A really, really good NHS [service], you know, when the NHS is at its best kind of thing. There should be more public awareness of taking this test and put over [as] 'look, this is not something you should be scared of, this is something that you might need'."
Clinical champions were key to driving up testing for people like Suzie. Six GP champions worked with consultants from HIV clinics to discuss how to make improvements in GP surgeries. They also set up HIV testing as part of health screening in hotels that were accommodating people seeking asylum, promoted National HIV Testing Week, and delivered HIV training sessions for GP staff and over 100 trainee GPs.
In hospitals, clinical nurse specialists formed a bridge between HIV services and emergency care. They kept the importance of testing on colleagues' radars by attending shift handovers and sharing stories of the real-life impact of increased testing.
Resources such as Sexual Health In Practice (SHIP) training and the LGBT Foundation's Pride in Practice scheme were important for building knowledge and confidence to discuss testing with patients. Visible commitment by senior consultants and nursing leaders to the new testing model was also vital.
Making community connections
To reach people from communities that face health inequalities the EJAF worked with trusted organisations like the Africa Advocacy Foundation, NAZ, METRO and Aymara Social Enterprise. These organisations tested 4,087 residents who weren't registered with GPs or accessing healthcare, including people whose first language was not English and recent migrants who were new to the UK. They were able to help by testing outside medical settings, using home testing kits.
Community organisations shared how their work reached people "who are invisible – [called that] because they live among us but don't appear in any statistics. They don't access any mainstream services, they're not registered with a GP and don't go to one...They don't get any support."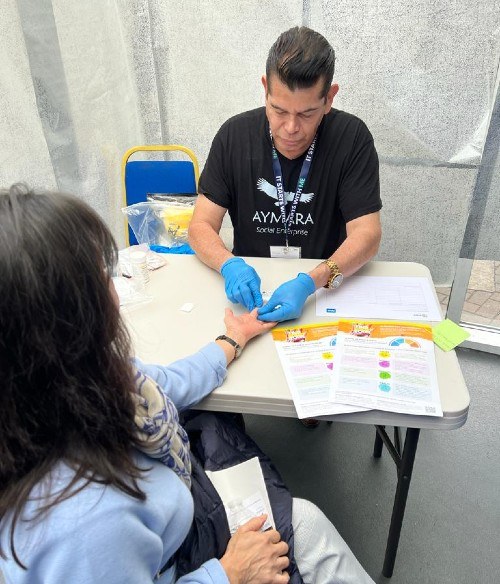 They reached people "by going to the places where they meet – in London there are hundreds of places where communities go to meet and they are totally out of sight." Carlos Corredor, who co-founded Aymara Social Enterprise, connected 21 people with support, bringing them to hospitals and clinics, where "they are all getting treatment and accessing services where they can get help regardless of their immigration status."

As well as finding people living with HIV, community organisations were able to join the dots: not just referring them to healthcare, but suggesting next steps, and providing culturally sensitive support.
During the pandemic, Carlos continued to support people through WhatsApp, and by sharing home testing kits. When one woman tested positive, he helped her to set up an appointment with a specialist clinic. His practical advice helped to ease her anxieties: explaining what HIV care would be like, whether she was able to use NHS services, and if doing so would alert the police to her immigration status.
The Social Impact Bond was the enabler for Aymara Social Enterprise to start operations back in April 2021, when we signed our first contract with EJAF. These two years have been very fruitful, largely because of our successful participation in the Social Impact Bond.

Jose Trueba, Aymara Social Enterprise
Reconnecting people with life-saving treatment
As well as new diagnoses, the project found people who had been lost to care. Hospitals and GPs reviewed information they held on file to identify and contact patients who had been out of touch for over a year. Hospitals reconnected with 153 people and GPs found 45 more. But it took time – showing the need for longer-term planning for this kind of work to reach fruition.
Community organisations were able to reconnect five people with a positive diagnosis to care and treatment. Offering the option of meeting in a community clinic helped avoid the possibility of people being recognised or stigmatised. Once diagnosed, charities helped keep people connected with support, for example, by providing ongoing practical help such as food and travel vouchers.
When Esteban (name changed) contacted Aymara Social Enterprise about his existing HIV status, they supported him in many ways. They booked him an appointment at an HIV clinic and went with him, to help with translation and offer moral support. They helped Esteban register with a GP and recommended a free training programme at the local leisure centre, designed for those with chronic health conditions. Aymara also helped Esteban in other ways, helping him get a National Insurance number, find a job, and improve his English.
Making an impact on policy
The Zero HIV SIB has changed lives in London by preventing unnecessary illness, reducing potential transmission of HIV, and saving the NHS money. And evidence of its effectiveness has helped inform both local commissioning and government policy.
Evidence about new approaches to testing and engaging people with HIV formed the basis for the HIV Commission 2020 report's support for free, routine testing across the NHS. The UK Government adopted many of the report's recommendations as part of the 2021 HIV Action Plan. This included £20 million to expand opt-out testing in emergency departments in areas with the highest prevalence of HIV. In November 2022, NHS England confirmed that over 800 people living with HIV who were not receiving treatment had been found in the six months since routine testing was rolled out.
The Zero HIV SIB was planned to run for six years from 2017, but it ended in 2021 because this early-stage intervention was shown to have worked. Local partners have now funded the work reconnecting with people 'lost to follow up' for 2022/23, a step towards making it part of "routine commissioning" for south-east London. HIV GP Champion roles were continued for three months beyond the end of the project.
The project has shown the value in funding and commissioning HIV services in a big-picture, joined-up way – recognising that the prevention of HIV and effective HIV support are linked. And because receiving funding was dependent on outcomes, it encouraged services to work in creative ways to achieve them.