A new model of mental health support: Living Well
A new model of mental health support: Living Well
People with poor mental health don't always get the right help at the right time. They can fall between services – too unwell for one, and not ill enough for another. Many face long waiting lists, or receive treatment that helps mask symptoms but fails to address the underlying reasons for their mental health difficulties. And with the NHS under pressure, it can be difficult for professionals to implement new or more joined up approaches that give people a better experience.

National Lottery-funded Living Well UK brings together practitioners and decision makers from the NHS, local authorities, and the voluntary sector with people who have experience of mental ill health. Together, they design and build community mental health systems that support people across all the challenges in their lives.

Three Living Well sites in England and Scotland have supported 6,411 people who would have otherwise fallen through gaps in the system. Their cost-effective model is improving the lives of those needing help and the experiences of staff running services.

In this feature, we'll explain how they work, what they have achieved, and what this means for wider work to transform mental health services and the systems that support them.
Listen to this article
You can listen to this article as a sound recording, lasting 26 minutes and 5 seconds, by clicking the button below.
Living Well UK in numbers
Designing a different system
The goal of Living Well is to deliver community mental health support that puts people at the centre, cuts waiting times, and reduces the need for patients to navigate a complicated system to get the help they need.
To achieve this shift, Living Well brings together practitioners, financial and strategic decision makers, and people with lived experience of mental ill health. Together they reimagine what an ideal community mental health system in their area could look like.
In Tameside and Glossop, Salford, and Edinburgh, each local design team had up to a year to work out how their vision could work in practice. They considered:
where it should be based
which professionals should be involved
how it would link with other clinical and non-clinical services in the area
how it should look and feel
how referrals would work
who would fund it, and
what support should be provided.
To work through these questions and turn ideas into reality, the three sites held 140 collaborative sessions with representatives from 50 organisations. Teams received ongoing support from experts at Innovation Unit, while hearing real-life stories that helped build understanding of people's full life experiences and how they affect mental health.
"As soon as we started talking about stories, the way that we considered support really changed," says Stacey Hemphill from Innovation Unit. Taking this wider view helped staff to look beyond diagnoses, to see the whole person in the context of their life. And it "really acted as a bit of a call to arms for a new vision for mental health […] a tool and a vehicle to unite people around."
Each site found its own answers. Edinburgh, for example, already had a strong peer support model in place, along with experience in motivational interviewing – both of which became central to its offer.
In Salford, the team could make the most of its expertise in working with adverse childhood experiences and trauma. And Tameside and Glossop's knowledge of coaching approaches helped to inform its service delivery.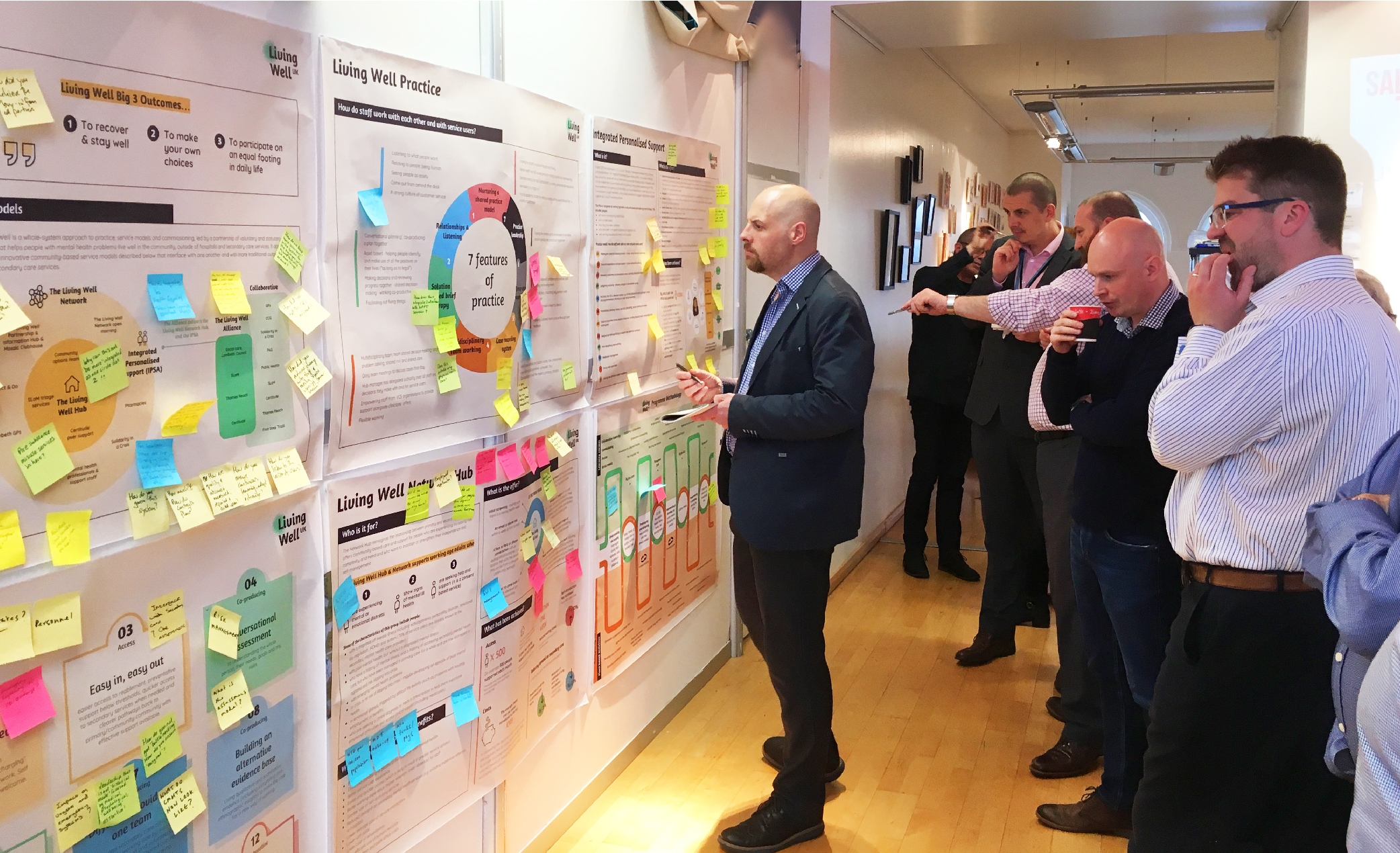 Rather than providing support to a small group of people who have the most complex needs, this work has focused on enabling our teams to see everybody, by making support easy to access, helping people to move on from support through strength-based, action-focused practice, and enabling people to re-introduce themselves and come back for support whenever they need it.

Ella Walding, Head of Service Design, Innovation Unit
A new kind of mental health support
The three new services have key things in common. Each is run by a multi-disciplinary team with practitioners from a range of backgrounds, not only clinical services. People using Living Well might be supported by mental health nurses, psychiatrists or psychologists – and may also work with employment coaches, occupational therapists, recovery workers, debt advisors, social workers, or housing specialists.
Peer mentors play a big role, especially at the start of someone's journey. "I got matched up with someone who had the same condition as me," explains one participant, which "made me feel at ease. Being with them made me see I could have this condition and still have a normal life."
Living Well prioritises listening, and easy access to help. In an initial conversation, staff work with people to identify what they'd like to address and what they want this to look like. It's about "not making assumptions, not saying no, working out how to say yes to people," says Stacey. And this focus on really hearing people comes through in feedback from participants. In Edinburgh, 95% of patients felt that the team really listened to them.
Teams use storytelling to explore the different things that can have an impact on someone's life – and to give people ownership over their own stories. The Living Well Care Plan helps people explain their needs, their journey to date, and captures other important information such as their strengths, goals, and the resources available to them. It's a document that can travel with people, so they don't have to keep repeating themselves to multiple practitioners. Instead, "the starting point of any conversation is what matters to the person, which is articulated in their own words," says Ella.
A person-centred approach is something that we have talked about in mental health services for years, but this is the first time I've seen it in reality.

 Salford healthcare professional
Helping people live better lives
Practitioners address people's basic needs first, providing or connecting patients to practical support. This could mean healthcare, but it might also be help with benefits, finances, or housing.
Next, they help build resilience and positive coping strategies: perhaps through coaching or psychological therapies, medication, or other support to manage patients' mental and physical health conditions.
Sometimes it's about in-the-moment, very human help: a mental health nurse and a voluntary sector worker helped someone fix her fence during a meeting, because this was triggering her anxiety.
Living Well isn't just about tackling people's symptoms; the approach also supports participants to take positive steps to improve their wellbeing. Staff work with people to identify achievable goals, that will help them feel greater fulfilment in their lives. This can include support to get more involved in their community, build connections, take up hobbies, or live a healthier lifestyle. In Tameside and Glossop, 48% of participants reported greater involvement in leisure and community activities, and 51% felt less lonely.
Practitioners look at the person's whole family and network too, encouraging others to access help through Living Well, where appropriate.
"It was very tailored to my situation, and then tailored to my recovery," one participant said. "They were extremely knowledgeable and compassionate – they understand you're a human not a number," said another.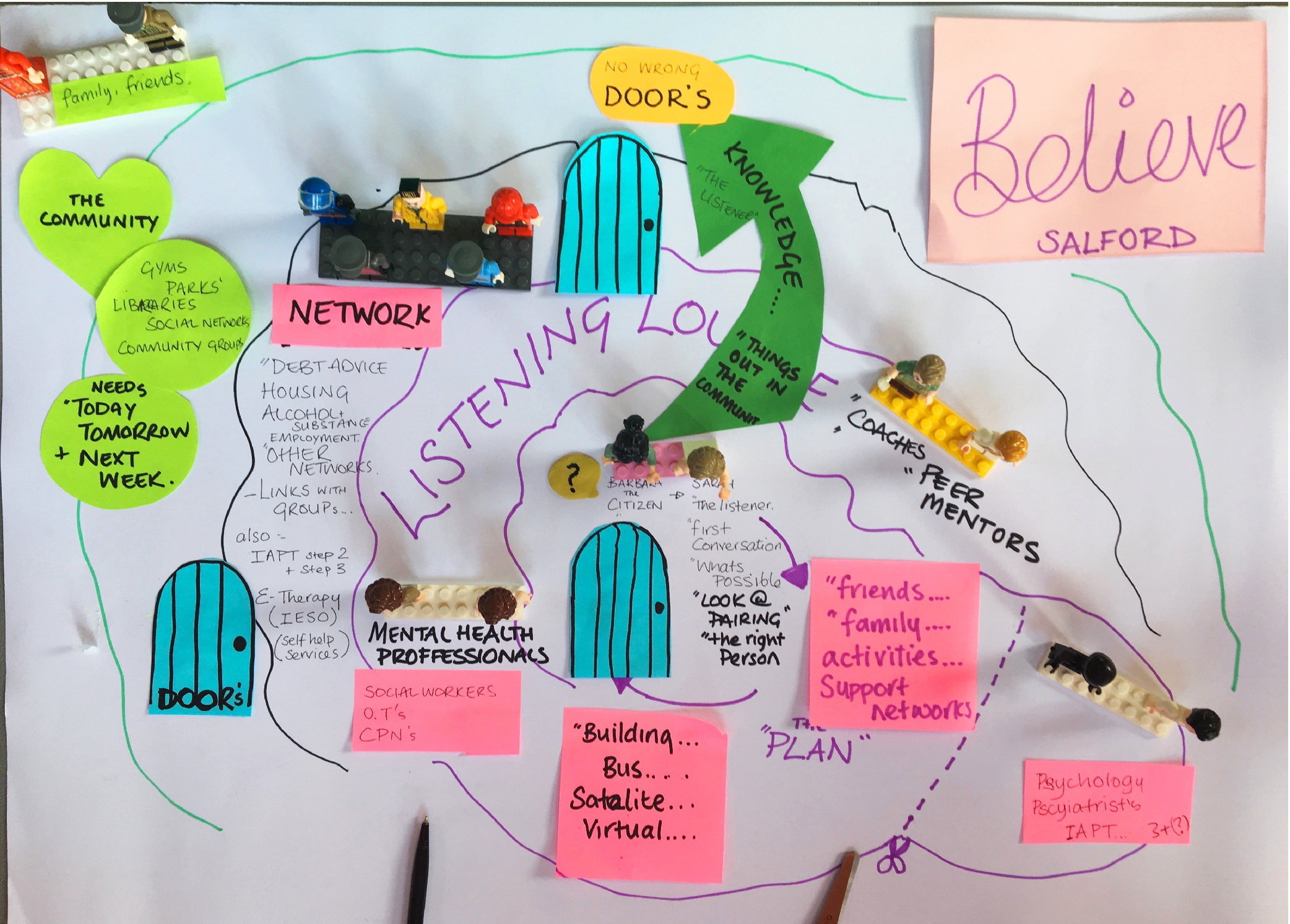 And access to services is flexible, meaning people can return if they want, without having to go through further administrative processes.
The approach means more people get help, and get help faster. In Edinburgh, of the 300 people the team initially worked with, just six were referred to formal therapy. The others could be helped in other ways, like support groups where people talk shoulder to shoulder with their peers.
"We don't want folk trapped in this big machine, sitting on a waiting list when we can [support] them in other ways," explains Wendy, chief executive of the Scottish charity Health in Mind.
I think what Living Well has done is really get us out of the 'we always need clinical services to meet clinical needs' kind of mindset. And actually, peoples' needs are often met by many other non-clinical services, whether that's somebody in a nicer home, or a nicer job, or getting rid of some debt, or all those other things that make peoples' lives better and keep us all well.

Judd Skelton, Commissioner, Salford
Local solutions
Living Well sites are designed to respond to local conditions, challenges, and opportunities – so whilst they share a similar approach, each place is different.
Tameside and Glossop
Tameside and Glossop Mental Health Open Door is part of the Living Well network. It's the single point of contact for all non-urgent local mental health services. Local people can self-refer by calling Open Door direct, or be referred by their GP, a health or social care worker or charity partner.
The Open Door team triages patients, who are usually directed to the new Neighbourhood Mental Health Team.  Rather than having a fixed location, the team can meet people where they feel most comfortable – whether that's a clinical setting, outdoors, or in a community venue.
Different support pathways are available. Charities offer peer mentoring and mental health coaching, the NHS provides therapies and support from mental health nurses and a consultant psychiatrist, and the council offers employment coaching. People are assigned a key worker to oversee their journey, usually for a 12-week period, ensuring they get joined up access to the right support.
This model has cut waiting times. Between March 2019 and May 2022, there were 1,830 referrals and all but one were accepted. The median waiting time was just 14 days between the referral and initial conversation. 
The impact on wellbeing is equally promising. Based on an initial sample of 385, more than half (58%) saw a "reliable and meaningful improvement in their recovery and quality of life".
"This service was the only one really that I counted on," said one person supported by the Tameside and Glossop team. "I'd say the word vital comes to mind – it was vital to me."
Salford
Living Well Salford offers flexible support for psychological and social issues, without time limits. Funded by the NHS, local clinical commissioning group and primary care networks, it's a front door to several broad pathways of support.
Clinical and therapeutic interventions range from talking therapies like cognitive behavioural therapy and loss counselling, to crisis support and art therapy.
To tackle underlying problems like loneliness or inactivity, about a third of participants (35%) have been referred to VCS-led interventions in the community. Therapy to address trauma has been in great demand, with nearly a third (30%) receiving help. People are always welcomed to the service by a peer mentor, who guides them through support. Waiting times here are also down to 14 days.
Salford has also set up Listening Lounges, physical spaces offering a safe welcome to people in emotional distress, and a quick connection into support from the Living Well network.
There are early indications of success. The evaluation found that many Living Well Salford participants are now "recovering and staying well enough to live the life they want to lead", with 55% making statistically significant progress. 83% made progress towards at least one life goal, and 74% on at least two. 
There's evidence that people are engaged in more self-care, with examples of some people reducing their use of their GP or hospital A&E because they are better able to manage their condition, and know they can reach out to the team when needed.
Edinburgh
The four Thrive Welcome Teams across Edinburgh are the key part of the city's Living Well system. They're a self-referral, open access service supporting those who've been on waiting lists or who might not feel comfortable going to their GP. 
People receive a welcome pack, followed by an initial conversation that informs which support worker they're matched with. Together they develop a Thrive plan, to understand what matters and what will help recovery. The support worker stays with the individual the whole time, providing ongoing help and linking clients to anything from wellbeing courses, peer support groups, and walking groups, to psychiatry or psychological therapies.  
The local evaluation concluded that people were "recovering" and "more able to live the life they wanted to lead." It found evidence of people staying well after their support ended, with 60% of 318 people from the first sample having a planned exit because they completed their intervention, met their goal(s), or were successfully linked to other support. This is considered an "encouragingly high proportion".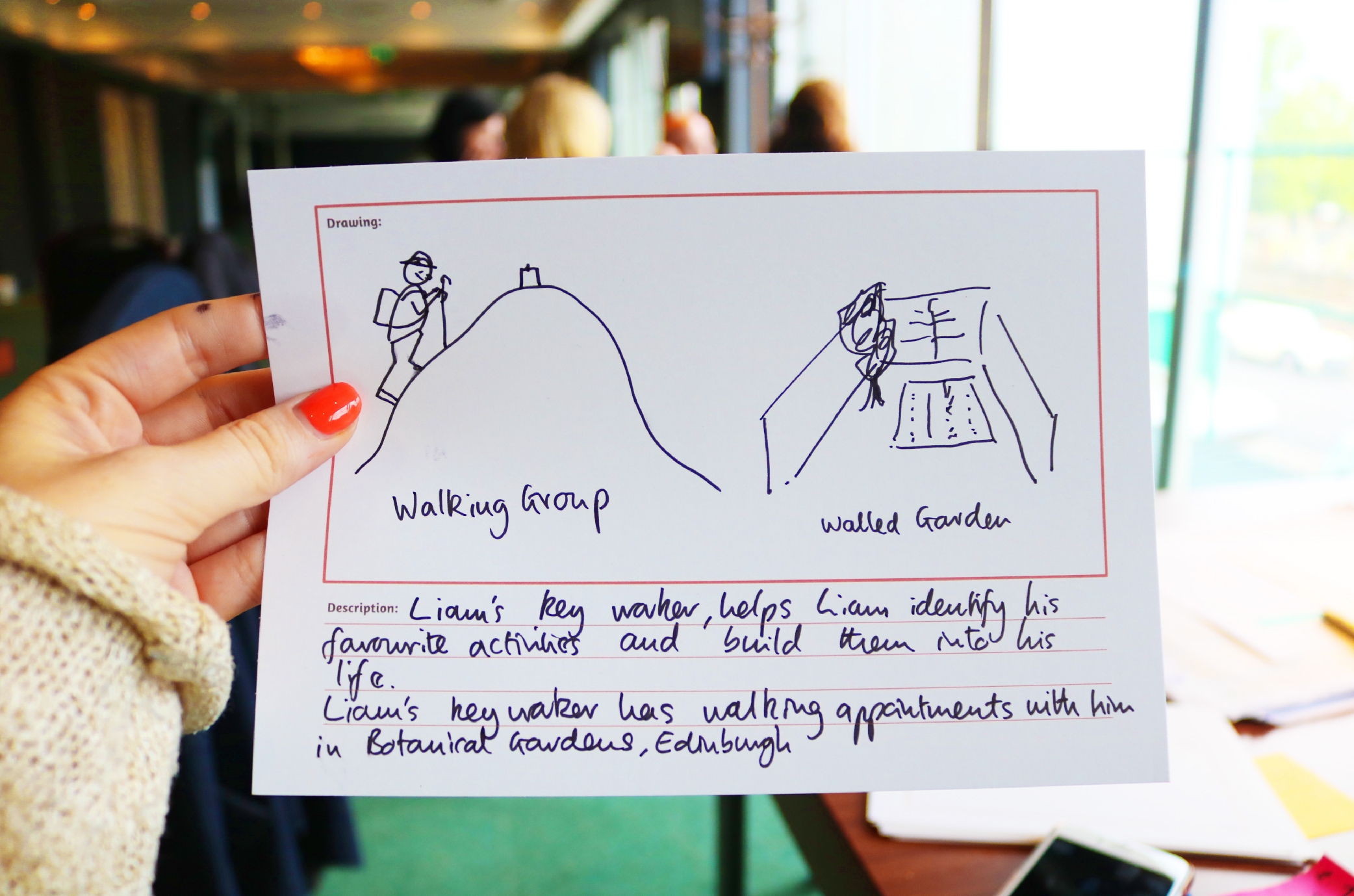 It's not just a clinical thing – it's personal. I got the feeling they wanted to help me.

Person supported by Living Well
Creating a collaborative culture
The Living Well approach brings different services and practitioners to the individual. Teamwork is essential. So Living Well invests time in developing it, making sure the different parts of the system work smoothly together.
"The skills of each individual worker are really valued, whether that's a psychiatrist or a peer worker," explains Ella. It's a non-hierarchical way of working: "Everybody's there, making contributions."
Staff involved in the co-design process were among the first employed at the new Living Well sites, so that collaborative values were built in from the start.
Site leaders and managers were coached in adaptive leadership: as Ella explains, this helped them "understand how change was being implemented, what they might need to put in place and what they had at their disposal to make sure [it] happened smoothly." As work continued, sites developed an in-depth induction process, so new starters could be fully immersed in their approach.
This work is ongoing, at all levels. Learning sessions help teams to keep reflecting and improving their practice, and to hear feedback from those accessing support. National events, leadership forums, and communities of practice connect practitioners from different regions. Daily huddles, group supervision, peer support, and development days strengthen connections and promote reflection.
In a survey of 17 staff in Salford, 100% agreed that team members trusted and collaborated with each other, and that they were supported and encouraged to work with professionals in different occupations, sectors, and organisations. For Shaz, a peer support worker in Edinburgh, bringing all this expertise under one roof solved the common problem of work being duplicated across the system.
Connected staff teams are paying off for those accessing help too. People reported that support was well coordinated: when they moved to a different service, they didn't just feel "passed on". In Tameside and Glossop, 86% feel that staff are working together to support them. In Edinburgh, 95% said the support made sense to them, and that they would use the service again.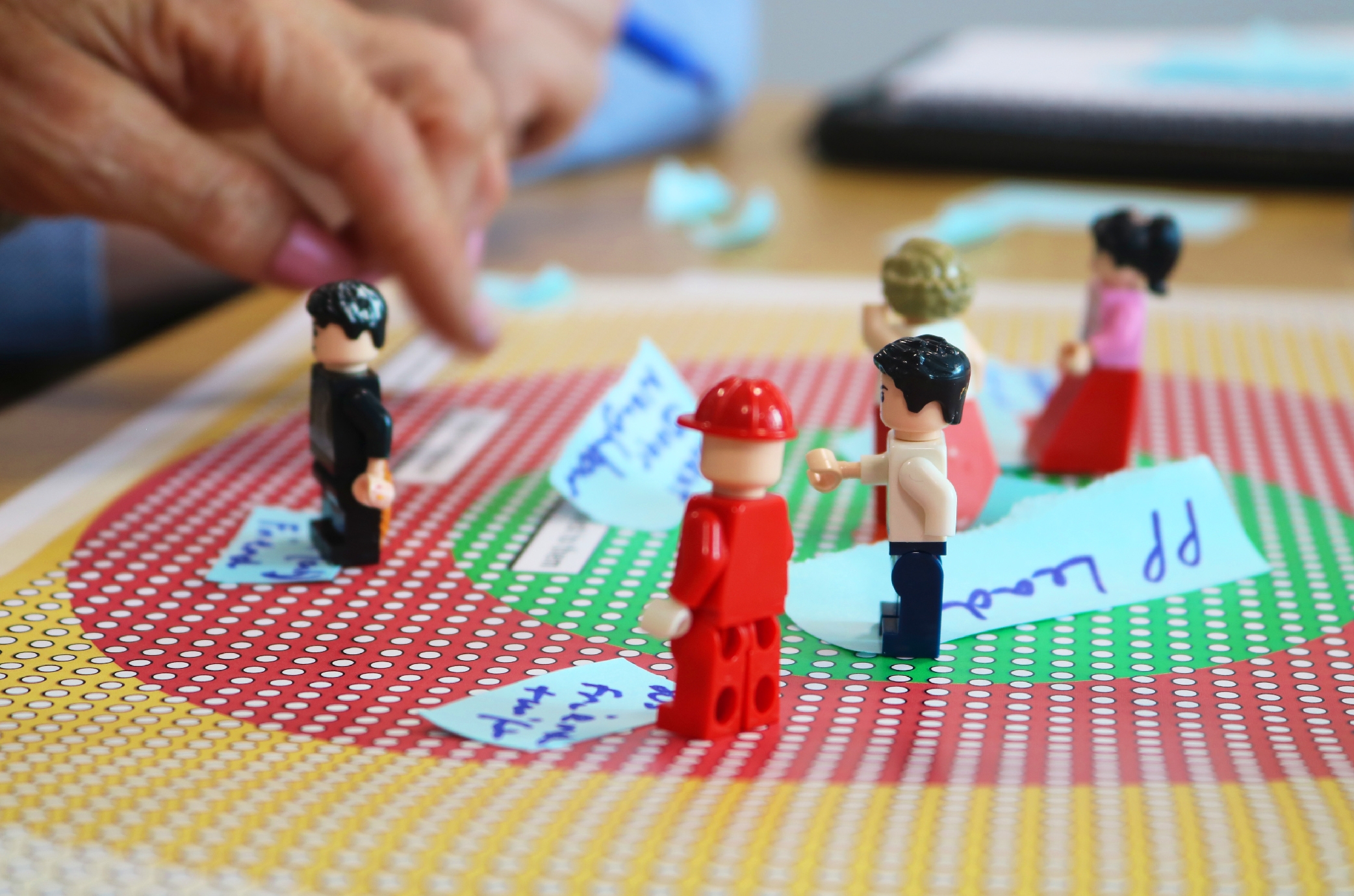 Being involved in these ways of working has been different to any other programme that I have been involved in [...] The overwhelming feeling of hope even during the days that were hard. The hope that things would change for people.

Wendy, Chief Executive of Health in Mind charity, Edinburgh
Building on success
Living Well sites continue to develop: improving the processes that help patients access support, and expanding options both within the service and when people move on.
For example, Edinburgh is building its Thrive Collective: a mental-health informed community of neighbours, friends, and community resources across the city. It includes GP practices, finance and welfare advice, drug and alcohol support, domestic abuse support, housing support, art therapy groups, and advocacy – as well as wider community organisations (such as faith groups, sports clubs, libraries) that can support wellbeing. The digital platform iThrive supports efficient connection to 300 different support services and opportunities, and provides self-help resources.
Tameside and Glossop is improving links with GPs, and setting up smaller neighbourhood teams to make its offer even more locally relevant. Salford has added psychiatry and psychology professionals to its team, and increased its peer support workforce.
And Innovation Unit has supported new UK locations to take up the Living Well model. This has included work to transform adult community mental health support across Derbyshire, a new service model for mental health services across all ten Greater Manchester localities, and York developing a new community mental health hub and longer-term transformation plan. 
Living Well work has led to more than £10 million of new investment across the three main sites, to continue their provision. And plans are in place to make larger-scale changes to mental health services, including a full city-wide offer in Salford.  
Key learning
Effective mental health support isn't just about clinical needs, or clinical responses. Living Well shows how other services must complement them.
Solutions to the mental health crisis should focus on the whole system, not just its individual components or time-limited projects. Living Well shows that whole system responses to mental health can be achieved, and achieved quickly.
A collaborative, non-hierarchical culture – between practitioners and with the people they support – makes a difference to those seeking support and to those providing it. It is essential to invest time and energy in creating and nurturing the conditions required for meaningful collaboration.
Support, time, and space are essential for multi-disciplinary mental health teams to successfully manage and implement change, and to reflect and develop a collaborative culture and shared practice.
In a whole system approach, money reaches all parts of the system. It is essential that the VCS-led community services and activities that complement clinical interventions are fairly and sustainably funded.
As people's lives are stabilised, this can lead to a reduction in the use of GPs and A&E. But reaching people who didn't previously qualify for support means that the system may see others accessing more, rather than less, support to maintain the stability they've gained.
Want to learn more? 
To find out more about Living Well UK, go to our Evidence Library. 
And for more information on the impact and difference our funding makes, please read our other impact features.
Links
Read more about Innovation Unit's Living Well work on their website, including on their learning page, or follow them on Twitter. The Living Well Dialogues podcast shares a series of conversations between practitioners. 
This feature is based on an interview, evaluations, and independent research. 
Ellen Perry spoke to Stacey Hemphill and Ella Walding on 9 May 2023.